We all know that arguing on the internet is stupid. So join me on Thursday 7 December, 8pm as I argue IRL with my fellow panelists and make war on the evil forces of cashback at Seedly's FB Live panel discussion on cashback versus miles. I look forward to once and for all proving the superiority of miles and vanquishing cashback to the pit from whence it came.
Also on the panel will be representatives from Shopback, Cardup and Mileslife, as well as long-time cashback advocate (noob) Budget Babe. And if we can't come to a reasonable consensus, we'll just settle the matter through good old fashioned mud wrestling.
There's no cost to join the event online and there will be the opportunity to ask tasteful questions. See you there!
Read more details about the event here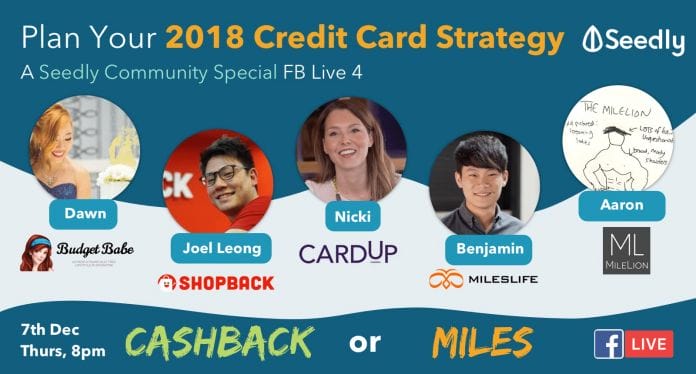 ---
2018 is just around the corner. You should definitely review your credit card strategy! We've invited a panel of Mile & Cashback hacking legends to share their ideas.
1) Aaron Wong, Founder The MileLion, the best Mile-hacking resource blog in Singapore
2) Joel Leong, Co-founder ShopBack, the leading Cashback player in South-East Asia
3) Benjamin Choo, Marketing Lead Mileslife, the first app that allows users earn miles much faster in Asia
4) Nicki Ramsey, Founder CardUp, helping you maximise your card benefits 
5) Dawn, Founder Budget Babe, early SG financial writer in the space helping people achieve financial freedom

Learn how to:
– Develop your card strategy
– Stack payments smarter (maximise both cashback and miles)
Best suited for:
– Working adults fresh to the cards world
– Couples who may be planning your wedding soon
– If you are planning to make a big purchase (e.g renovation etc)
---