This is grossly overdue as it happened back in October 2017, and yet, I still have not received a final response from my travel insurance.
I was on the last leg from Istanbul back to Singapore after a short vacation in Europe, on Turkish Airlines (which I previously had 'delayed luggage')
I wasn't able to check in online in the morning and perhaps that was the first sign of my ordeal. On arrival to the airport, I collected my boarding pass and noticed something very strange.
What did "SBY" stand for?!
So I asked and was told "standby" by the counter staff.
I didn't think much about it and totally assumed I would get on the flight eventually. I was informed to wait in the great IST lounge for my flight.
And so the time came for boarding and I was asked to fill in the compensation forms at the lounge entrance and if I wanted to wait at the gate for last minute no-shows or go directly to the arranged hotel. Transport to the "5 star" hotel will be provided as the staff repeated several times.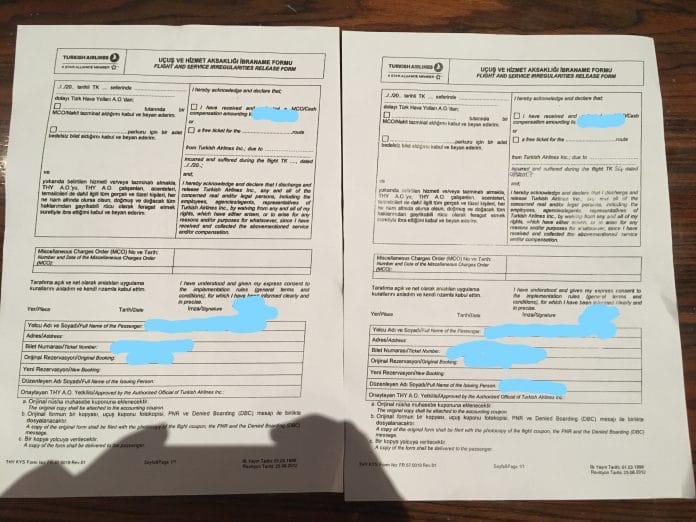 At this point, I was still in the belief I was going home that night and proceeded to the gate.
At the gate, I figured I was the only Business Class passenger denied boarding. Talking to others in the same predicament, I witnessed some couples separated as only 1 of them had a seat. One of the husbands was scolding the staff as the wife was getting left behind.
After an hour, the truth finally hit me with the closing of the doors.
I was definitely not getting on that flight.
I was escorted from the gate through immigration by 2 airline staff, while the big group of about 10 Economy passengers was managed by only one.
The destination was the compensation office, and there I was given a finalized form with the information I had supplied earlier all typed in.
The amount is 600Euros (regardless of class) as according to European Regulations and I could claim it at the sales office.
I tried to claim cash as I was out of Turkish Lira (and trying to avoid pay Forex fees), and was told they didn't have the cash.
I could either get a refund to my credit card or try again the next day.
Then I made my way to the counter managing the hotel stays and I saw several of the Economy passengers earlier as well as others from different flights, all looking very upset.
Interestingly, I was called within a short time and I reckon it was because I was on Business Class.
Joined by a couple, the three of us were escorted to a vehicle and arrived at the Renaissance Polat Istanbul (Part of Marriott).
The hotel is rather near the airport and provides its own shuttle to central Istanbul.
The room was actually rather nice and goes for about 100 Euros a night.
While checking in, I was not asked for a credit card and was told there was no requirement as the airline would be paying for the room and 3 meals. The check out time would also be 12 midnight when the airport transfer would pick me up.
Thinking I might have some additional spending, I asked the manager to add my Marriott membership number and to put my credit card on file.
I couldn't sleep well that night thinking about the events and pondering why I was so unlucky.
Thankfully, I took an extra day of leave and this extended stay wouldn't affect my clinic.
The view upon waking was not too bad and I rationalized having an additional day with free hotel stay and food isn't too bad.
I dragged myself to breakfast and took comfort in eating.
The restaurant was clean, well-furbished and not too packed. Staff was quick to respond too.
Cushioned seats
After breakfast, I went back to the room to nap as my mood was really low, and waking up for lunch.
The set menu was either chicken or beef with soup and sweets as dessert.
Main course
Turkish sweets
The restaurant was rather empty with 1 other occupied table and somehow that added to my melancholy. The blanketed skies didn't help either.
The weather was turning cold and so no one was using the gorgeous outdoor pool.
Exploring the hotel, I located the fitness club in the basement which housed a big gym, an indoor pool and a spa.
Weights
Swim caps are compulsory but I didn't feel like buying one and so missed swimming in the nice pool.
Instead I inquired about the spa and the prices seemed rather reasonable for a 5 star hotel. An "Anti Stress" massage would cost me about $80 SGD for 50 mins.
I actually wanted to try the Hamam but was told all the appointment slots were full for that evening.
While waiting for my turn, I used the gym and also looked at the baths.
Sadly I couldn't get to enjoy a Turkish bath before leaving.
The masseuse was from Bali and she was very happy to know I am from Singapore. She sounded homesick and definitely worse off than me having to spend just 1 more night.
The massage was good although the room was pretty basic, and my stress level decreased significantly indeed after the Anti Stress treatment.
Dinner was the same menu but I ordered a drink this time.
Putting my card on file during check in was a really great idea as the spa wanted me to pay cash for my massage and I didn't have enough with me, as well as, I was able to charge my drink to the room.
With that, I packed my bags again and rested before the transport arrived on time for my flight. I tried to get cash at the office for my compensation once more and was again given the negative.
After finally getting on the plane, I found myself next to an English gentleman who attempted to engage me in small talk.
"You are sitting in Business, so you must be somebody!"
After a brief exchange, the most interesting part was that he asked me about my occupation.
His exact question was "So what do you do? You are sitting in Business, so you must be somebody!"
That question threw me off as I was still in alert mode about revealing too much about myself during travels.
Finally, I was pondering between "a medical doctor" and "a travel hacker", because altruism truly does not get one into Business class.
I was very glad he moved on the his next question before I could give an answer. Perhaps I took too long to answer.
A few days later, my Marriott account was also updated with points from my spending, although no stay credit was given.
So on hindsight, there are several learning points:
 I should have just agreed to go to the hotel earlier and not waste time waiting at the gate.
Putting my credit card on file was a great idea.
Do not bother to get cash for compensation, and waste time trying to.
Get a letter from the airline about the delay for insurance claim. I am still waiting for a reply after so many months.
Why would I still fly with Turkish Airlines despite bad experiences? Perhaps because they fly to many destinations and at really more affordable prices.
Happy and healthy travels everyone!