Singapore Airlines will be the launch customer for Boeing's new 787-10, with the aircraft first deployed on the BKK and KUL routes for crew familiarization and training in April before being scheduled to serve KIX from May 2018. The airline expects to receive 49 of these aircraft in total.
The SIA website has been updated to show the seatmap for the new 787-10. Economy is 3-3-3 configured with 301 seats in total. Rows 41-47 are part of the "forward zone", which everyone other than Economy Flexi, KF Elite Gold and PPS Club members will need to pay a fee to select in advance.
Business class is a single cabin of 9 rows of 4 seats in a 1-2-1 configuration. Note how "Row 13" is missing, because although we as a species can invent amazing marvels of technology such as the 787, we're still deathly afraid of a two-digit number.
What are the seats?
The smart money says that the economy class seats will be similar in features to the seats currently used in the A350s/77Ws. These have large, modern IFE screens with the touch sensitive controllers, and are generally comfortable enough for medium haul routes (I'm not a fan of how slim the seat is but slimline seating is here to stay).
Economy seating will most likely be similar to that used on SQ's A380s, but more narrow.
However, in terms of seat width something has to give. You'll remember that SQ is one of the few airlines to still operate 3-3-3 seating on their 777s, which are much wider than the 787. Going 3-3-3 on the 787 means that SQ's economy seats on this aircraft will be more narrow than what you find on their 777s.
Where business class is concerned, AusBT has reported that SQ has chosen the Stelia Opal seat for its new regional business class.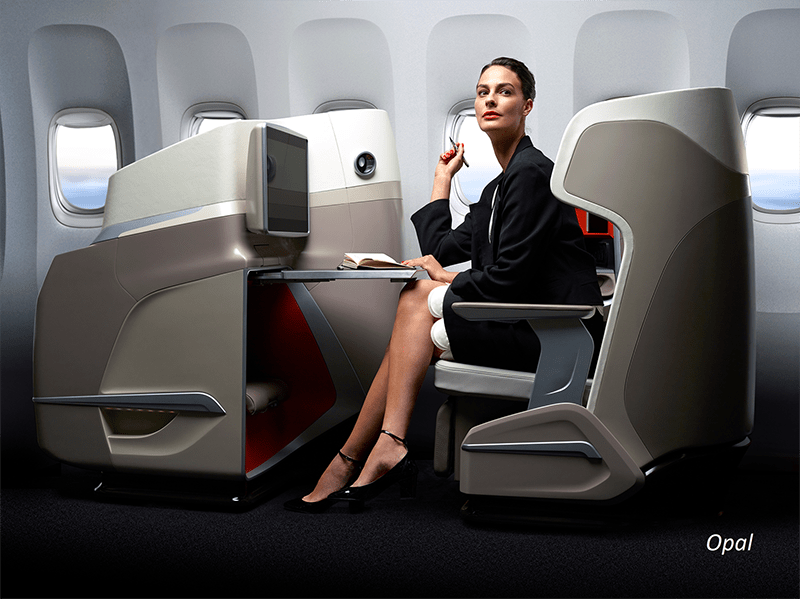 However, Runway Girl Network mentions that SQ has reached out to them to explicitly deny this, and to state that an announcement would be made "in due course". As for me, I personally think that this seat has been chosen, but SQ is still putting the final touches on its customizations and wants to hold off on PR until then.
It's fantastic that we're finally going to start saying goodbye to the awful regional business class seats that SQ currently has on its A330s, which were deployed on routes as far as Brisbane. 1-2-1 full flat seats with all aisle access is a huge step up from the cabin experience that the old regional product provided. It's also more than a little interesting, as RGN points out, that Stelia Aerospace is a subsidiary of Airbus, and for a launch customer of one of Boeing's most anticipated aircraft to pick interiors from an Airbus affiliate is, well, going to raise some eyebrows.
What's the schedule?
As mentioned previously, the aircraft is first deployed to KUL/BKK from 3 April before being switched to KIX. It's rather interesting how SQ is utilizing this aircraft, because they're really squeezing out maximum utilization from it.
From 3 April the 787-10 operates KUL as SQ118/119 AND BKK as SQ970/973. From 3 May BKK is dropped, but the aircraft still serves KUL as SQ118/119 while doing the KIX route as SQ618/619. Confused? Maybe this makes it more clear:
SIN-BKK between 3 April and 2 May 2018 (SQ970/973)
SIN-KUL between 3 April and 31 May 2018 (SQ118/119)
SIN-KIX from 3 May 2018
What's the award space situation?
First, the good news. These regionally-configured aircraft will not have premium economy, which means upgrades from economy to business class will be possible so long as you purchase an Economy Standard or Flexi ticket. As a reminder, here's how many miles you'll need to (1) redeem a business class ticket outright (2) upgrade from economy standard or flexi
| | | | | |
| --- | --- | --- | --- | --- |
| One-way mileage | Business Class Advantage Award | Business Class Saver Award | Upgrade from Economy Standard to  Business Saver | Upgrade from Economy Flexi to Business Saver |
| KUL | 35,000 | 17,500 | 16,500 | 15,000 |
| BKK | 40,000 | 20,000 | 18,000 | 15,000 |
| KIX | 70,000 | 43,000 | 40,000 | 30,000 |
You can see that it's hardly worth upgrading an economy standard ticket, given that it's almost the same mileage required as redeeming a business saver award outright. In fact, upgrading economy flexi tickets to KUL/BKK isn't worth it either, and the only scenario where upgrading a revenue economy ticket might make sense is if it's an economy flexi ticket to KIX (30,000 miles to upgrade versus 43,000 miles to redeem outright).
Still, given how expensive SQ economy flexi tickets are, I'm going to maintain my stance that upgrading economy revenue tickets should only be an option when your company pays for the base ticket.
In terms of business class award space, there is a ton of award space available in business class for KUL/BKK in April for the new aircraft, both in the saver and advantage buckets.
Osaka space is more constrained but I was still able to find business saver awards on SQ618 on the following dates in May: 7 May, 15 May, 20 May, 21 May, 22 May, 28 May, 29 May and 31 May.
Conclusion
I'll be looking forward to reviewing the new business class product as soon as I can sort out my schedule. I hope those of you with more flexibility can try and snag some business saver awards in May and be the first to try it out! I'll be expecting a trip report from you, of course…