Six Senses is known for its upscale hotels and resorts around the world which places heavy emphasis on relaxation. Their properties are mainly situated in beachside areas facing the ocean or perched high up in the mountains like the Six Senses Laamu and the Six Senses Courchevel.
Breaking away from tradition, Six Senses has opened its first city hotel in the world in Singapore, the Six Senses Duxton. The official opening of the hotel would be on 15 April 2018 and they are currently accepting reservations on their website for stays commencing on 15 April 2018 onward.
The Six Senses Duxton would be their smaller property of the Six Senses brand in Singapore with only 46 guestrooms and suites on offer. When the Six Senses Maxwell opens later in the year, it would add an additional 120 rooms to their portfolio here.
Location
The Six Senses Duxton is located in a restored shop house on Duxton Road. It's a 10 minute walk to Tanjong Pagar MRT station, making it relatively accessible via public transport.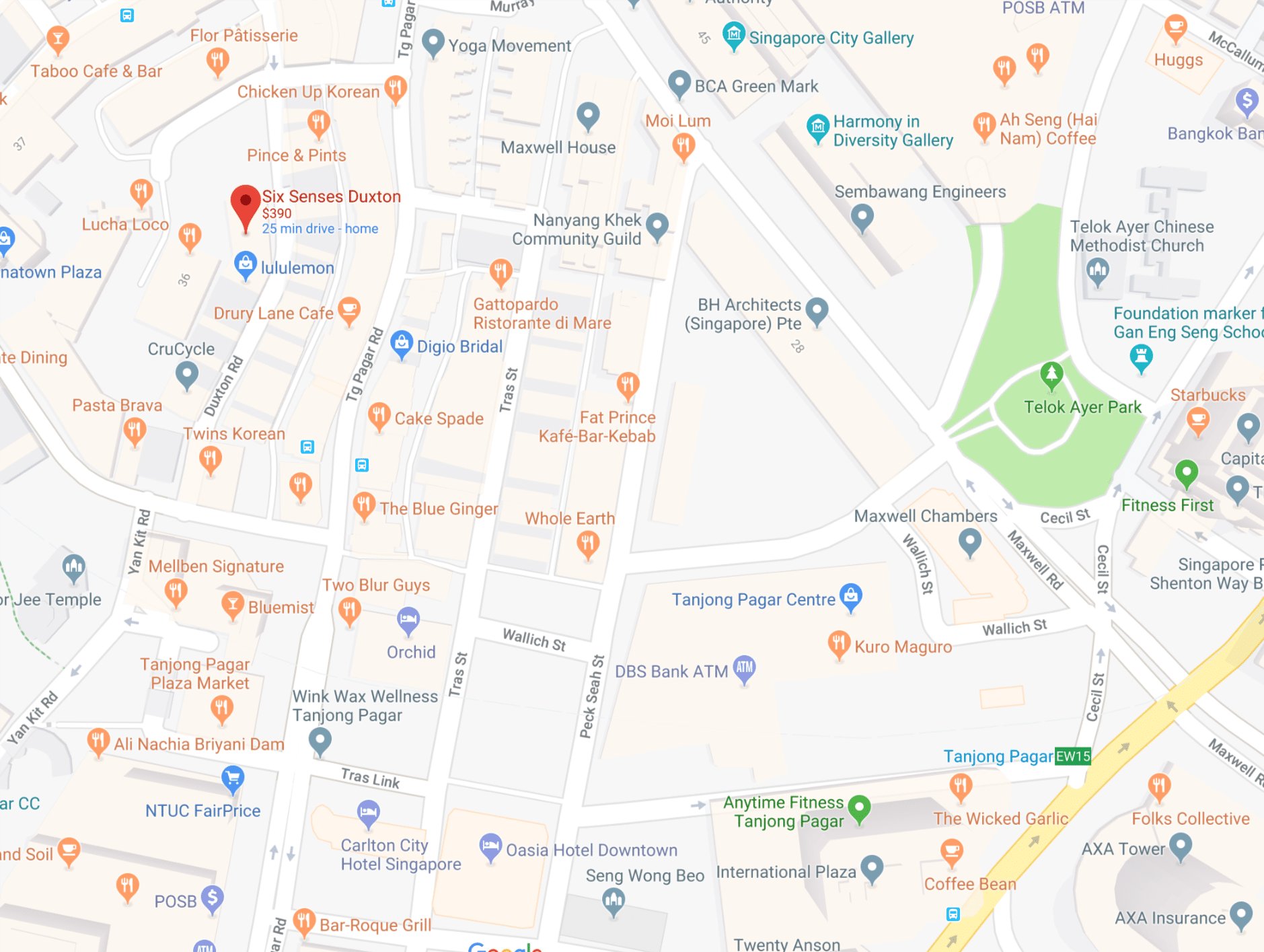 Experiences
The Six Senses Duxton will offer twice monthly yoga sessions free of charge at the park behind the hotel. In addition, they also have an in-house Traditional Chinese Medicine expert  who will be able to offer health screenings and dispense herbal medicine for guest staying at the Six Senses Duxton.
After soothing your body, you definitely have to soothe your stomach. The Yellow Pot restaurant situated in the property whips up authentic Cantonese cuisine for hungry diners visiting or staying in the hotel. After finishing your meal at Yellow Pot, you could choose to partake in other activities offered by the hotel such as a heritage walk around the area or even a Chinese Tea tasting session.
Rooms
The Six Senses Duxton has eight room categories, namely :
Nutmeg Room – 18sqm
Shophouse Room – 23sqm
Opium Room (and no you definitely won't be getting Opium with your room rate) – 27sqm
Opium Suite – 32sqm
Pearl Suite – 36sqm
Duxton Duplex Suite – 41sqm
Skylight Suite – 46sqm
Montgomerie Suite – 51sqm
The lead-in room category isn't exactly huge at 18sqm, but it'll probably be decent for a staycation. Every room is equipped with a Bose music player which is Bluetooth enabled, meaning you'll be able to stream your favourite tunes whilst relaxing in the room. Toiletries are provided by The Organic Pharmacy, a brand which I have never heard of before and would be very interested to have a bubble bath with. Retail bottles don't come cheap if you purchase them on their website, coming in at GBP28.90 for their "Neroli Shower Gel", which by the way is only 200mls.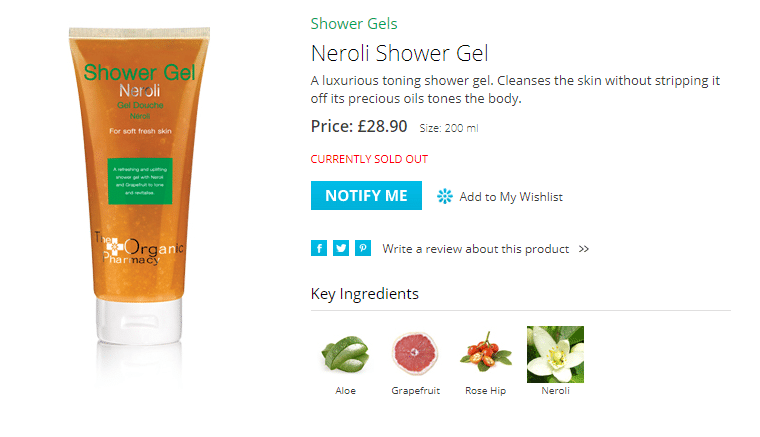 Six Senses Duxton is currently running an offer where you'll be able to get 15% off the Best Available Rate from 15 April 2018 to 30 June 2018. Rates start at S$332 per night excluding taxes and it looks like the price is staying that way throughout the June school holidays as well.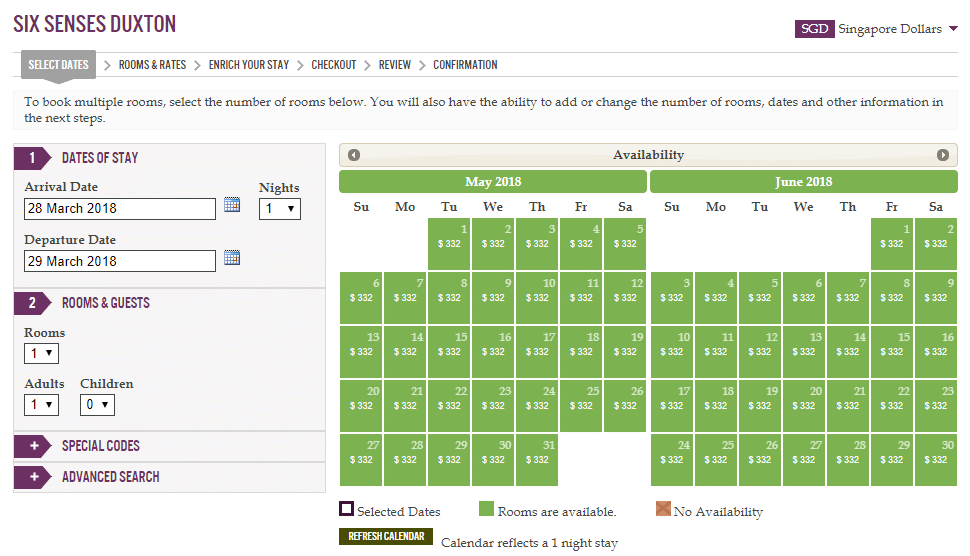 Amenities
Unfortunately, the Six Senses Duxton will not have an on-site gym for all you fitness buffs out there. They will however, provide you access to a nearby gym for your bench press needs. It will also not have a swimming pool, probably due to space constrains.
Loyalty Program
Six Senses does not run its own loyalty program.
Concluding thoughts
The opening of Six Senses Duxton is certainly a bold move by the Six Senses group given that historically, all their resorts are located in beach side areas or in the mountains. At S$332 pre-tax, it isn't the cheapest hotel to be having your staycation at but it would certainly be a new experience from staying in your cookie cutter chain hotels.
We'll be doing a media tour of the Six Senses Duxton on 18 April 2018 and we'll have our impressions of the hotel up real quick soon after the visit.