One of the unique features of Star Alliance is that there is a blanket upgrade policy allowing you to upgrade eligible fare classes on Airline A with miles from Airline B's FFP, so long as both A and B are in the Star Alliance. You won't find this arrangement in oneworld or Skyteam (although some airlines within those alliances may have reciprocal upgrade arrangements with selected members of the alliance eg Korean Airlines with Aeroflot, Air France, China Airlines etc).
Krisflyer miles can therefore be used to upgrade eligible ticket classes purchased on Star Alliance partners. The problem is that many people are unaware of this possibility (much less how to look for upgrade space), and consequently don't take advantage of it. In this post I want to explain the process of upgrading a Star Alliance partner flight with your KrisFlyer miles.
Which fare classes are eligible for upgrading?
Singapore Airlines has a chart on its website that shows the eligible fare classes that can be upgraded for Star Alliance partners. It's not the easiest to find, but I've included the link and it looks something like this:
The immediate problem that most people encounter is that it mentions "Economy to Business Class" and "Business Class to First Class", but nowhere does it talk about "Premium Economy to Business Class". This leads some people to (wrongly) conclude that premium economy fares cannot be upgraded to business class using their KrisFlyer miles.
What they don't realise is that there are fare codes for Premium Economy nestled among the Economy codes. I've gone ahead and redone that table, breaking it into 3 columns to show the full range of possibilities.
| | | | |
| --- | --- | --- | --- |
| | Economy to Business Class | Premium Economy to Business Class | Business Class to First Class |
| Adria Airways | Y, B | | |
| Aegean Airlines | Y, B | | |
| Air Canada | Y, B | O | |
| Air China | Y, B, G | | C, D, J |
| Air India | Y, B | | C, D |
| Air New Zealand | Y, B | U, E, O | |
| ANA | Y, B | G, E | C, D, J, Z |
| Asiana | Y, B | | C, D |
| Austrian | Y, B | | |
| Avianca Brazil | Y, B | | |
| Avianca-TACA | Y, B | | |
| Brussels Airlines | Y, B | | |
| Copa Airlines | Y, B | | |
| Croatia Airlines | Y, B | | |
| EgyptAir | Y, B | | C, D |
| Ethiopian Airlines | Y, G, S, B | | |
| EVA Air | Y, B | K | |
| LOT | Y, B | | |
| Lufthansa | Y, B | G, E | C, D, J |
| Scandanavian Airlines (SAS) | S, Y, B | | |
| Shenzhen Airlines | G, Y, B, M, U | | G, Y, B, M, U |
| South African Airways | Y, B, M | | |
| SWISS | Y, B, U, M | | C, D, J |
| TAP | Y, B | | |
| THAI | Y, B | | C, D |
| Turkish Airlines | Y, B | | |
| United | Y, B | | C, D, J |
Do note that you cannot upgrade partner flights from economy to premium economy, or economy to first class, or premium economy to first class.
A few points to note:
There are only 5 Star Alliance partners (Air Canada, Air NZ, ANA, EVA and Lufthansa) whose premium economy class fares can be upgraded to business
There are other Star Alliance partners which have a proper premium economy class, but those aren't recognised as eligible for upgrades to business. LOT Polish Airlines, for example, offers Premium Economy class (fare classes: P, A, R), as does Austrian (fare classes: G, E, N, R)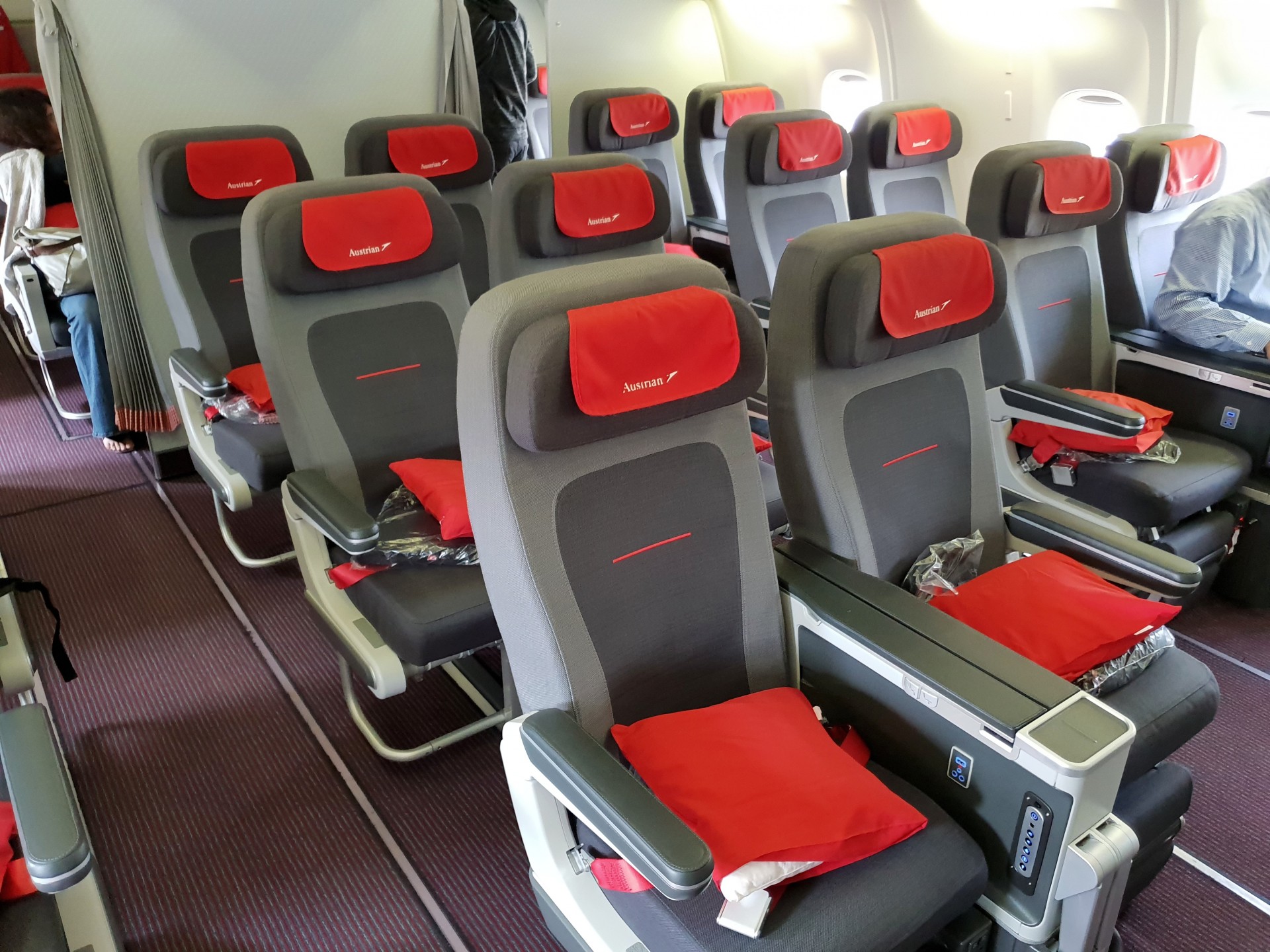 Some airlines offer "Economy Plus", which is not true premium economy (I'd define that as a completely different seat) but rather a standard economy seat with additional legroom or creature comforts. United is an example of this, and it's worth noting that these seats don't code into a special bucket per se. They're just seen as standard economy seats from the point of view of other airlines
How many miles do you need?
The Star Alliance upgrade chart survived last year's partner award gutting, and there are indeed some very sweet spots still to be had. I'm not going to go into them in detail here, but 28,000 miles for a one-way upgrade from Business to First Class between Europe and the Middle East? Das ist gut.
Where applicable, the cost of upgrading from premium economy to business is the same as economy to business, regardless of what the table above says. Also note that you may have to pay some additional taxes, surcharges and fees when you upgrade, as these amounts may be different for a ticket issued in business class than, say, economy.
How do I go about upgrading my seat?
Assuming you've got an eligible booking class and sufficient mileage, there are two steps to get yourself upgraded:
(1) Finding award upgrade space
(2) Booking award upgrade space
You could always do (1) and (2) together on the phone with the KrisFlyer agent, and and if your travel dates are locked in already that might make sense given there's only one day for the agent to search so it shouldn't take too long. If you're thinking of booking your revenue ticket around the dates where award upgrade space is available however, then you'd want to ascertain what's possible before calling up KrisFlyer membership services.
My understanding is that upgrade awards book into the same space as full award redemptions. That's to say, if you see an airline showing space for award seats, that space should also be available for upgrades. I've covered before how you look for Star Alliance award space, so you can refer to this article to check it out.
In the example below, I've managed to find space on BR32 from TPE-JFK (remember- if you're using the United search engine, look for "saver" not "everyday" awards) which means that if I'm holding an eligible economy/premium economy class ticket on BR32 for this particular date, I should be able to get upgraded by calling up KrisFlyer membership services.
When you upgrade a Star Alliance partner flight with your KrisFlyer miles, you'll enjoy mileage accrual as per your original ticketed class. The downside of upgrades is that the overwhelming majority of Star Alliance carriers restrict partner upgrades to the most expensive buckets of economy (Y and B).
A final complication- note that codeshare bookings cannot be upgraded. So be careful what you book!
Hopefully this short guide can help those of you whose companies book other carriers now and then.