An update review of the Citi ULTIMA has been published. Check it out here.
I've been gradually compiling profiles on the so-called "elite four cards" in Singapore. This segment, which includes the Citi Ultima, the AMEX Centurion, the DBS Insignia and the UOB Reserve, is aimed squarely at the upper crust of society (the kind who doesn't board the lifeboats on the Titanic because they find the seating too rickety). High incomes, big spending and mega AUMs are the order of the day, and this is a classic case of "if you have to ask…"
A reader recently forwarded me some information on the Citi Ultima, Citibank's "by invitation only" top tier card. This, together with the information available on the card's website, helped me put together the following article.
How to qualify for the Citi Ultima
The official published criteria for Ultima membership is a minimum income of more than S$500,000 a year or S$5M AUM with Citibank. That said, it's my understanding that Citibank is willing to lower the requirement to S$350,000 or S$2M AUM for selected clients. My contact claims he was still offered the card despite an annual income of "only" S$100,000, so it's possible there's some devaluation going on to drive sign ups.
The card costs S$4,160 a year
The Ultima comes with a hefty annual fee of just over S$4K. Each year you pay the annual fee, you receive 375,000 Ultima Dollars (or 150,000 miles), which I'd conservatively value at S$3,000 if you took the miles option. This does seem slightly more generous than the UOB Reserve or DBS Insignia:
DBS Insignia- 100,000 miles @ S$3,210 (3.21 cpm)
UOB Reserve- 100,000 miles @ S$3,852 (3.85 cpm)
Citibank Ultima- 150,000 miles @ S$4,160 (2.77 cpm)
Of course, it's awfully myopic to look at these cards purely as tools for buying miles, because of the suite of benefits they come with. However, all things being equal, the Reserve and Insignia cards would have to work harder on the benefits side to make up for their relatively inferior welcome/renewal gift.
You earn 1.6 mpd locally and 2 mpd overseas
The Ultima earns 1.6 mpd on local spend and 2 mpd on overseas spend, which is on par with the DBS Insignia and UOB Reserve. You also earn 10 mpd with Kaligo and 7 mpd with Expedia.
I did find a supplementary microsite which suggested Ultima members also earn 2.5 mpd for spending on Singapore Airlines, SilkAir, KrisShop and Tradewinds Tours & Travel, but I think this might have been a limited time promotion only. In any case, you can do much better than 2.5 mpd on such purchases, i.e. using your DBS Woman's World Card to earn 4 mpd on air tickets (first S$2,000 per month).
Remember that Citibank does not pool points across different cards. However, the Ultima does not charge conversion fees of Ultima $ to airline miles, so this non-pooling won't be a problem if the Ultima is your only Citibank card (it will however be annoying if you have several Citibank cards, because the DBS Insignia and UOB Reserve do pool points with other DBS/UOB cards)
Citibank has the widest range of airline and hotel programs available for transfer in Singapore. In addition to Asia Miles and KrisFlyer, you can transfer your Citibank points to
British Airways Avios
Club Carlson
Etihad Guest
EVA Infinity Mileagelands
Air France/KLM Flying Blue
Garuda Frequent Flyer
IHG Rewards Club
Malaysia Airlines Enrich
Qantas Frequent Flyer
Qatar Privilege Club
Thai Royal Orchid Plus
Turkish Airlines Miles & Smiles (if only…)
Companion airfare program
The airfare privilege program that comes with the Ultima card allows you to get a complimentary companion ticket when you purchase a full fare First or Business class ticket on eight participating airlines (American Airlines, British Airways, Delta, Etihad, JAL, Lufthansa, Qantas and Qatar…spot the missing carrier)
Here's the illustration given by the microsite of how the benefit works:
| | | | |
| --- | --- | --- | --- |
| Singapore to New York (Business Class Return) | ULTIMA Main Cardholder | Your Travel Companion | Final Cost |
| Airfare | S$9,800 | S$0 | S$9,800 |
| Tax & Airline Surcharge | S$1,579 | S$1,579 | S$3,158 |
| Ticket Issuance Fee | S$80 | S$80 | S$160 |
| Price | S$11,459 | S$1,659 | S$13,118 |
Your paid ticket is charged based on the highest available fare. The complimentary ticket is issued based on the lowest available fare. This means you won't be able to take advantage of those discounted business class fares that Qatar runs from time to time- you're looking at full fare business class.
What's more, because you still need to pay taxes and surcharges, you end up saving maybe 20-30% in practice. You'll save less when you fly airlines that build a larger amount of the price into fuel surcharges, or when you fly from airports with high taxes (eg London). So this is certainly an eye-catching benefit, but in reality you'll find the savings aren't as big as they sound in the publicity materials.
It's not published on the microsite, but as per my contact who received an invitation there's also a single traveler discount of 10-15% off the best available fare with the same eight participating airlines.
Airport Travel Assist
If you purchase a First or Business class ticket with your Ultima card, you are entitled to a complimentary one-way airport transfer at participating airports in Asia Pacific, plus fast track immigration and meet and greet services where available. You can opt to use these benefits on your outbound or return leg, provided both airports are on the participating list. There's no cap on the number of times you can use this benefit.
Citibank only provides this service when you travel on a full service carrier, so if you're on ScootBiz this doesn't apply. They've helpfully provided a link to what carriers they do not consider full service.
This benefit does not apply if you redeem a First/Business class ticket with your miles and pay for the taxes and surcharges with your Ultima card. It also does not apply if you're flying on a non-revenue ticket or got a free upgrade. My reading of the T&C, however, is that if you made a successful upgrade bid to Business Class (eg with Cathay or Etihad), you'd be eligible because that doesn't count as a "complimentary upgrade".
There's an interesting comparison to be made here between the airport transfer benefit offered by the Citi Ultima vs the Citi Prestige. On the one hand, the Ultima offers unlimited transfers plus fast track immigration assistance in Singapore or selected Asia Pacific airports, whereas the Citi Prestige only offers airport transfers, capped at 4 per quarter (and 8 per year) within Singapore.
On the other, the Citi Prestige requires you to spend only S$1,500 in foreign currency in a particular quarter to unlock the benefit, whereas you could spend hundreds of thousands on the Ultima and not get any airport transfers if you didn't buy a revenue First or Business Class ticket.
Three Unlimited Priority Pass cards
Airport lounge access is provided for Ultima cardholders through an unlimited Priority Pass. This benefit is available for both the principal cardholder and up to 2 supplementary cardholders.
There's a subtle but important difference in how the Ultima implements this benefit vis a vie the Prestige. The Citi Prestige only provides the principal cardholder with a Priority Pass, but this version of the pass comes with one additional guest included free of charge. The Ultima provides up to three Priority Passes via the principal and two supplementary cards, but these do not cover guests.
This is important because it affects flexibility. Suppose you travel frequently with your spouse. It's not too difficult to get him/her a supplementary Ultima card so that he/she has a personal Priority Pass to use. But suppose you travel a lot with colleagues- unless you're willing to give your colleague a supp card, you're not going to be able to bring them into the lounge with you. In that respect, the Citi Prestige's method of implementation is better because it comes with one free guest, who can be anyone you choose.
That said, up to 3 unlimited Priority Passes is much better than the UOB Reserve and the DBS Insignia, which only provide this benefit for the principal cardholder.
APEC Business Travel Card (but…)
I've written before about the APEC Business Travel Card, which is nothing short of brilliant and which every eligible person should get.
There's no feeling quite like breezing past a snaking queue at immigration every single time at Australia, Brunei Darussalam, Chile, China, Taipei, Hong Kong, Indonesia, Japan, Republic of Korea, Malaysia, Mexico, New Zealand, Papua New Guinea, Peru, Philippines, Singapore (what queue?), Thailand, Vietnam and selected major airports in the United States, Canada and Russian Federation.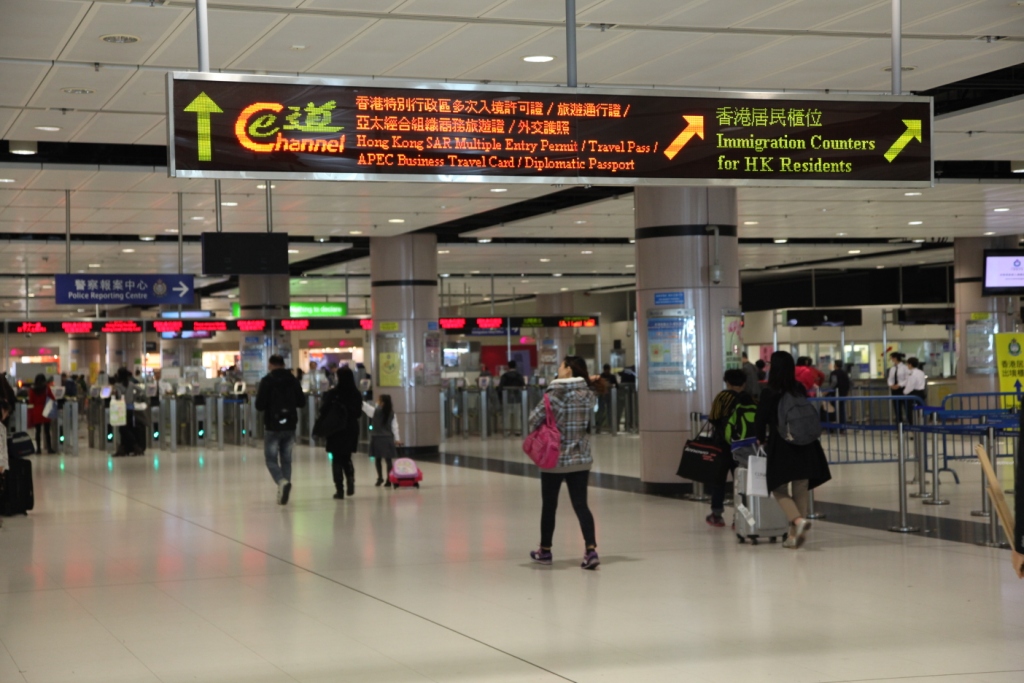 Ultima cardholders who have successfully applied and paid for the APEC Business Travel Card will be reimbursed the S$100 APEC Business Travel Card application fee. Do note that you need to use your Ultima card to pay the fee in order to get reimbursed.
There is one, rather major catch to all this. In order to get reimbursed for your APEC application fee, you need to spend a minimum of S$200,000 on your Ultima card in the 365 days preceding. I had to double check I was reading this properly, because it makes no sense to me at all. Ultima cardholders are paying four digit annual fees and parking big money with your bank, and you're going to insist they spend S$200,000 for a S$100 (0.05%) reimbursement? I don't get it.
Complimentary night stay in participating hotels with minimum 2 nights
Now this is interesting. Principal cardholders enjoy one complimentary night stay at over 900 participating hotels around the world (they're from the Visa Luxury Collection). To give you an idea of the caliber of hotels available on the platform, here are the four properties available in Singapore:
You enjoy a complimentary night when you book a minimum of one paid night. In other words, your stay must be a minimum of two nights. Whether you stay two nights or twenty nights at the same property, you get one free night. Presumably to stop people from gaming this by checking in and out, you're limited to a maximum of two complimentary nights per outward journey.
The free night benefit is only valid for bookings at hotels not located in the city where the card is issued. In other words, you can't use this for staycations.
The rest of the hotel benefits aren't anything special- the Luxury Hotel Collection is something that anyone with a Visa Platinum or higher can access, and the Starwood Luxury Privileges, Ritz Carlton STARS and the Mandarin Oriental Fan Club are not Ultima-exclusive either.
Dining benefits at selected restaurants
Dining benefits are expected from any elite card, but given Citibank's strong suite of restaurant partnerships in Singapore, the benefits available to Ultima cardholders seem a bit disappointing.
Citibank has partnered with 16 upmarket restaurants in Singapore to offer special dining privileges. In general this ranges anywhere from 10-20% off your bill (some restaurants have minimum spend requirements), although some places will throw in free champagne or prosecco as well.
The following restaurants currently have tie-ups with the Ultima card:
Artemis Grill
Aura
Adrift by David Myers
Bread Street Kitchen
CUT by Wolfgang Puck
db Bistro & Oyster Bar by Daniel Boulud
Osteria Mozza by Mario Batali
Pizzeria Mozza by Mario Batali
Rise Restaurant
Renku Bar & Lounge
The Bar at Waku Ghin by Tetsuya Wakuda
Club 55
Spago
Osteria Art
Bacchanalia
Zafferano
These dining privileges are subject to further T&C which you can find here.
It's a far cry from the veritable bounty that the AMEX Centurion has (although you'd expect that for a card with a total first year cost of S$15K). I'm sure the Ultima concierge will be able to book you tables at fancy, in-demand restaurants, but when compared to what the DBS Insignia or UOB Reserve has, the value proposition here is fairly weak (which is saying something given I felt the UOB Reserve's dining proposition was marginal).
Of course it's possible there's a separate dining program I'm not aware of, but assuming the published benefits are all there is, it's kind of a let down.
Miscellaneous benefits
Ultima cardholders get access to Club 21 Style Services, which normally cost $300 an hour. Apparently this is a style advisory service, which fortunately The Milelion does not need because he owns Crocs, the ultimate fashion symbol. There's also a discount on yacht charters, a free annual subscription to the Robb Report Singapore (which the website says expired on 28 Feb 2018 but hasn't been updated…), The Peak, ICON, and THIS Quaterly, as well as a complimentary bootcamp from UFIT.
If you're into golf, you'll be pleased to know that Ultima cardholders plus a companion get unlimited year round golf at 21 participating golf courses across Asia Pacific.
Singapore – Orchid CC, Seletar CC
China – Mission Hills Shenzhen, Wind Valley Golf Club
Thailand – Red Mountain, Springfield Royal
Malaysia – Glenmarie, Kota Permai
Indonesia – Emeralda, Bali National Golf Course
Taiwan – Miramar, The Royal Kuan-Hsi Golf Club
India – Prestige Golfshire, Classic Golf
Philippines (Manila) – Eagle Ridge
Vietnam –Dalat Palace, Palm Song Be
Australia (Melbourne, Sydney) – St Andrew Beach, St Michael's Golf Club
Japan – The Miyazaki Phoenix Seagaia Resort
The main cardholder gets an additional 3 sessions of complimentary golf at a wider list of 280 courses worldwide.
Conclusion
I like that the Ultima gives you up to 3 unlimited Priority Passes, plus I could see a shrewd user getting real mileage out of the complimentary hotel night program. The Ultima also has a more generous welcome gift than the Insignia or Reserve when annual fees are taken into account.
On the flip side, the surprisingly weak dining benefits, the 1 for 1 premium airfares that aren't quite 1 for 1 and the omission of any kind of private club access (curious, given how ubiquitous Tower Club associate membership seems to be with cards like this) count against it.