A Very Asian Conrad Christmas: Trip Planning
Cathay Pacific The Pier Business Class Lounge (HKG)
Cathay Pacific B777 Business Class HKG-HND / HND-HKG
Conrad Tokyo
Cathay Pacific Tokyo Haneda Lounge (HND)
Conrad Macao
Conrad Hong Kong
Cathay Pacific The Pier First Class Lounge (HKG)
---
Getting there
Located in central Hong Kong in Pacific Place, Conrad Hong Kong is easily accessible by MTR (Admiralty station is less than 10min walk away, mostly through air-conditioned malls). If taking the Airport Express, a complimentary shuttle bus will get you to/from Central MTR station from/to Pacific Place.
Our ferry from Macau got us to Sheung Wan, just two MTR stations away from Admiralty, so the location really served us well.
Checking in
The design aesthetic of Conrad Hong Kong is decidedly less gaudy than its Macanese cousin, with a cleaner, classier look.
There wasn't really a queue when I got to the check in desk so I decided to settle the check in procedure there instead of going up to the lounge for check in. Unfortunately the procedure took longer than expected and by the end of it I was acutely aware of how age is starting to catch up with me – next time I'll probably opt for the option that comes with a seat.
As a Diamond member, I was presented a generic letter detailing executive floor benefits (mainly lounge access on the 59th floor). I imagine this is identical to what a Gold would get if upgraded into an executive room.
The room
We were upgraded to a King Executive Harbour View Room, which is (despite its fancy-sounding name) essentially just the standard room on an executive floor (higher level with lounge benefits) with a view that includes Victoria Harbour (more on that later).
The room was nice enough, with rather old-school design and furnishings. It kind of reminded me of Conrad Centennial Singapore (pre-renovation), actually.
The work desk was pretty well-equipped with multiple power plugs, but rather than providing universal power sockets they seemed to be going for one of each (I suspect due to legacy design, from before multi-voltage devices were commonplace). Some retrofitting seemed to have been done to add adequate power points for the modern traveller.
Unfortunately, the age of the property can be felt. The rooms were last renovated at least a decade ago, and this was rather apparent.
The in-room amenities were relatively up-to-date, with a Nespresso machine instead of generic coffee makers you still find in some older properties. Below the pantry area was a well-stocked mini-fridge, as you'd expect from a business hotel.
The promised 'harbour view' included a view of the harbour – the way my room was positioned, I could simultaneously enjoy the peak view on my left and the harbour view on my right, with the Shangri-La dividing the two landscapes.
(Despite my grousing, I've got to admit that looking out the 3/4-length windows in the room can still be pretty breathtaking, even with a building right smack the middle!)

The bathroom is furnished with a rather old-school marble look; I'm not a big fan of it, and some visible chipping and aged grouting adds to the feeling that the property's due for another renovation sometime soon.
There was a little TV set installed in the bathroom, presumably for bath-time viewing. Only… the way it was angled made it rather uncomfortable for actual use. I imagine they were constrained by the existing setup when they decided to add the TV sets.
I seem to recall seeing pictures of a standard yellow duck for Conrad Hong Kong, but for the festive season I received a clear duck, like Conrad Macao's. This one comes with metallic bells inside, instead of dice.
As I was staying over Christmas Day itself, I was greeted by a rather pleasant surprise hanging on the room door on the morning of the 25th – was pretty glad to have an additional limited edition bear to add to the collection.
Breakfast (restaurant)
Though breakfast was available in the lounge as well, we opted to eat at the restaurant during our stay. There's both indoor and outdoor seating; as it was pretty busy we were seated outdoors both mornings.
The buffet spread's pretty extensive, and the quality of the food was pretty good. I was particularly impressed that the eggs Benedict from the buffet line still had runny yolk – probably nowhere near made-to-order standards, but good enough!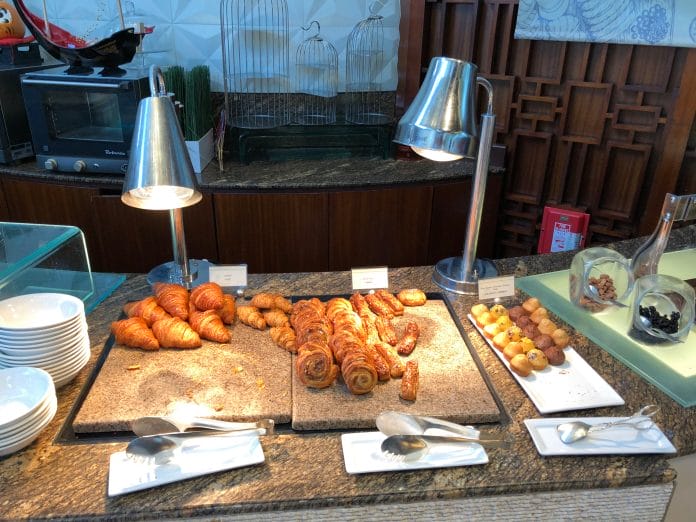 There were live stations for eggs as well as noodles. Found the noodles particularly enjoyable.
Some variety of hot foods (though I strongly suspect the labels had been placed incorrectly…)
It's certainly nice to be able to indulge in quality Western as well as Eastern dishes for breakfast!
Executive lounge
Though the rooms are clearly ageing, the executive lounge was more recently renovated in 2013, and it shows – found it a lot more comfortable.
The view's also optimised so you can enjoy the complete harbour view.
There're some workstations you can make use of in the lounge…
…but I think most people would be more interested in grabbing a bite when afternoon tea and evening cocktails are served.
The lounge is actually split into two wings – the seating areas don't look too different, but the areas where the food is served actually differs quite a bit.
Afternoon tea
For afternoon tea, some light bites were served. On the first day we saw a range of sandwiches, dessert crumble, Japanese mochi and scones being warmed in an oven.
The food offerings were essentially mirrored in the other wing of the lounge.
All in all, a pretty good supplement to actual meals you'd probably want to get while in Hong Kong.
Evening cocktails
The canapés served during evening cocktails on our first day included quesadillas, vols-au-vent, crackers and some dessert.
If I remember correctly they didn't serve champagne, but offered sparkling wine instead.
Conclusion
I actually feel rather conflicted about Conrad Hong Kong – the location's great, and I really enjoyed the executive lounge, but I also think the state of the rooms left quite a bit to be desired. When the pricing's almost at the same level as a property like Conrad Tokyo, though, I need to start making comparisons – and while I might actually be willing to splurge on the latter again, I think I'll probably look for cheaper accommodation the next time I'm in Hong Kong.
This might all change if the rooms get refreshed, though!
(Featured image from Conrad Hong Kong website)