I've often marveled how the best miles card in Singapore right now isn't actually marketed as one. The OCBC Titanium Rewards, what with its 12 mpd promotion on IKEA (expired), its 6 mpd promotion on Mileslife (ongoing to 30 June 18) and of course its 4 mpd promotion on all shopping and mobile payments (ongoing to 31 Dec 18) is a must-have card for miles chasers.
Here's another promotion that just started today.
8 mpd with Emirates, capped at S$1,000
From now till 21 May, OCBC is offering 20 OCBC$ (8 miles) per S$1 spent with Emirates, capped at S$1,000 of spending. You can find the T&C of the promotion here. I thought this was already obvious, but the T&C anyway explicitly states that there is absolutely no relationship between this promotion and the 10X promotion on mobile payments that's running till the end of the year. So even if you've maxed out your cards on mobile payments, you can still use it to take advantage of this. Remember that you need to book your flight with Emirates online to earn the 8 mpd. Bookings made offline or over the phone will not qualify.
Discounted Economy Flights with Emirates
In addition to this, OCBC is offering discounts on economy and business class flights to all Emirates destinations except the UK. Flex and Flex Plus fares are discounted by 12%; Saver fares are discounted by 10%. Travel dates for this promotion are 1 June- 31 July 2018 and 1-31 October 2018. Tickets must be booked by 21 May 2018. This promotion is only valid for the purchase of return tickets originating from Singapore to all Emirates operated destinations, including Qantas operated flights promoted by Emirates.
This promotion is available to anyone with an OCBC card who enters the code SGOCBC1 when booking (see the above screenshot for where the code goes, although when you click this link the code should be automatically added), although presumably you'd want to book with your OCBC Titanium Rewards card for maximum value. You'll see flights which qualify for the promotional code tagged with a yellow label.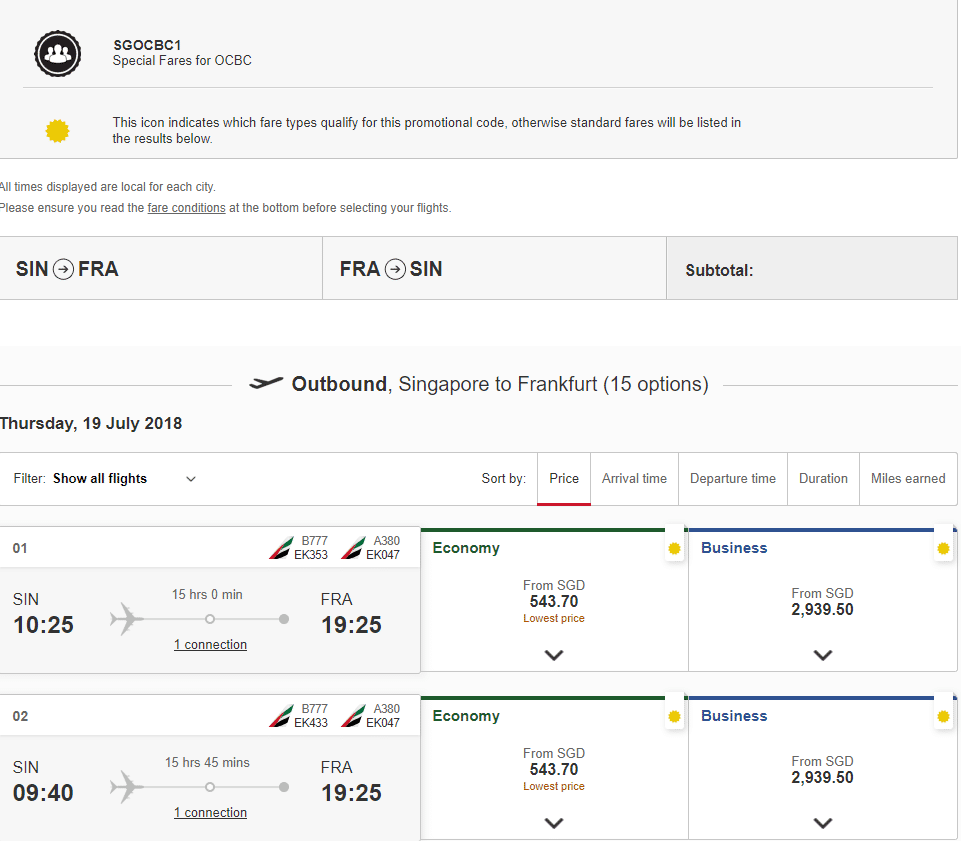 For the avoidance of doubt, you do not need to use the code SGOCBC1 when booking to earn the 8 mpd with the Titanium Rewards card. The two are concurrent but separate promotions. That's to say, you could book first class fares, or book business or economy fares outside the validity of the SGOCBC1 code and still earn 8 mpd.
Conclusion
Given the cap of S$1,000 per card, it would make sense to split your bookings so that you max out your miles. If you have two OCBC Titanium Rewards cards (you can apply for both the Pink and Blue versions) then that will cover S$2,000 of spending, and anything beyond that can go on your DBS Woman's World/Altitude for 4 mpd/3mpd respectively on the first S$2,000/S$5,000 per month.
[credit_card_shortcode cc_id="21775″]