Singapore Airlines currently has three A380 aircraft with the new business class and new Suites cabin products in its fleet: 9V-SKU, 9V-SKV and 9V-SKW. These aircraft operate
SQ 221/232 between SIN and SYD daily
SQ 322/317 between SIN and LHR daily
SQ 856/861 between SIN and HKG on selected days.
Two more aircraft, 9V-SKY and 9V-SKZ, are set to be delivered later this year after which Shanghai and Zurich should be next to see the new products.
The new A380 cabin products are nothing short of brilliant. Although I have some concerns about the Suites, I still enjoyed the overall experience and there's little doubt in my mind that the new Business Class is easily among the best hard products in the world.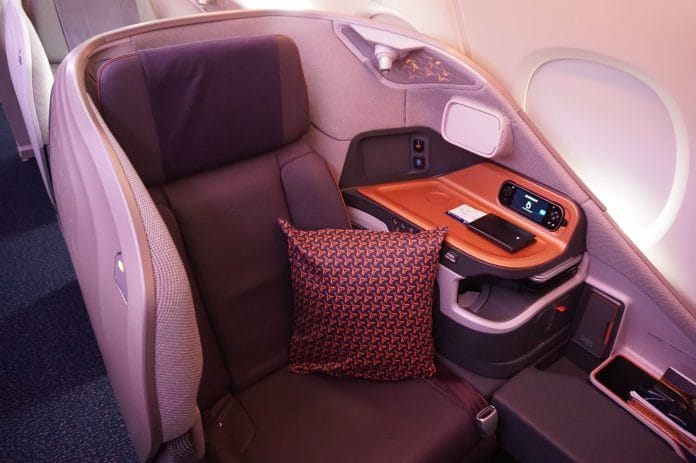 As long as Singapore Airlines only has a limited number of A380s with the new cabin products however, there's always going to be a possibility that an IRROPS situation results in an aircraft swap to an older A380.
I'm thinking in particular about SQ221 yesterday, which was operated by 9V-SKQ, an old-product configured A380. FlightRadar24 shows that this route is pretty reliably operated by 9V-SKV, but for whatever reason on 15 May was swapped to SKQ.
The older version of the A380, as you'll know from our seat and fleet guide, has SQ's 2006 Business Class seat and the 2007 Suites product. Both are high quality in and of themselves, but have been in circulation for so long that wear and tear is inevitable.
I can imagine that if you were someone who bought a ticket or redeemed miles on SQ 221 specifically so you could try the new cabin products, you'd be extremely disappointed. I mean, it's got to be up there with the most first world of first world problems, but as someone who plans vacations around trying new cabin products, I'd fully emphatize with those in this position.
The question then is: are you entitled to any compensation?
You get what you pay for (?)
The funny thing is, I was talking to David Flynn from AusBT about this exact situation a few months ago when the new A380 products were first unveiled. His take was that you'd probably get a few thousand goodwill miles if you complained, but nothing beyond that.
His point was that as is the case with all carriers, you're buying a class of travel, not a specific product type. Therefore, hypothetically, SQ could have swapped out that spanking new A380 for the oldest 777-200 ER with the purple Business Class Spacebeds (yes, I know that plane's already out of the fleet), and a Business Class passenger would still have no recourse because he/she got what he/she paid for (if you were in Suites and got downgraded to Business Class because of an aircraft swap then yes, you have a case there).
I tend to agree with that analysis. There's clearly a quality gap between the latest Business Class seat and the 2006 version, but at the end of the day you're still getting a full flat, 1-2-1 all aisle access product.
Moreover, it's not like you're paying a premium for the new products, at least in Business Class. On the dates I checked, Business Class prices were mostly the same on all SIN-SYD flights, regardless of aircraft. Where price variations exist, it's due to differences in loads (or ticket fare classes, eg Flexi vs Flexi Saver) rather than differences in product.
Even if you're redeeming miles, Business Saver and Advantage awards cost the same 58,000 and 90,000 miles respectively one-way whether you're on SQ 221 or any of the other SYD flights.
It's slightly more complicated for Suites. First, I'd argue that a 1-1 configured room in the sky with a separate bed and seat is significantly different from a 1-2-1 configured seat that turns into a bed, luxurious though they both may be. 
Second, I noticed a slight price premium for Suites on SQ221 of S$275 that doesn't exist for other SIN-SYD flights.
Third, we know that Suites Saver awards (80,000 miles one-way) are almost never available for the new A380, at least not ex-SIN (I've seen Savers available on waitlist ex-SYD, but don't know how often they clear). Suites Advantage awards are more common, but they're 150,000 miles one-way. 
In light of this, could someone who paid the small price premium for the new Suites (or large mileage premium for an Advantage award) argue that they didn't get what they paid for?
Unfortunately I'm leaning towards no again. Even where a price premium exists, one can argue that the premium is for getting a specific flight timing as opposed to a specific cabin product. In that sense, so long as SQ 221 still departs at 2020 from Singapore and gets you into SYD at 0555 the following day, the airline could argue that you've received substantially the same product (same class of travel, same departure time, same arrival time).
Look, let's not kid ourselves. We know and the airline knows that not all cabin products are made equal. Intuitively it seems the right thing to do for the airline to send you some miles or a voucher as compensation. In fact, I'd be surprised if you didn't get anything at all. But from a pure contract of carriage point of view, the airline undertook to get you from A to B in the ticketed class, and that's what they did. So any talk of a refund is probably hoping for too much.
Conclusion
I've used SQ's new A380s as an example in this post, but really, the same logic would apply to any airline. Whether you're looking forward to trying United Polaris or Qatar's QSuites but end up with a much inferior product due to an aircraft swap, you're not entitled to anything.
That said, you're perfectly at liberty to write in and express your displeasure, but be aware that any compensation you get will be discretionary. Here's some coverage on TPG and Loyalty Lobby about readers in similar situations.
Being proactive about aircraft swaps is your best defense. In the case of SQ 221, I believe the swap was made very late on, so there's not an awful lot you could have done in that situation. However, some aircraft swaps happen months in advance, for example the decision to "downgauge" a route from an A380 to a 77W. If you had a booking in Suites and were now facing the ignominy of First Class, you could try calling in to get put on a different flight with Suites, or getting a refund without penalty. With regards to the former, I've heard stories of agents being able to "force" Saver award space to open up on other flights so you don't need to pay additional miles, but this is very much a YMMV situation.
If you've got a dream redemption that has a while to go before you fly, be sure to monitor your bookings and seatmap regularly!