Asia Miles announced some major program changes come 22 June 2018. Aaron has covered some of the points in his analysis so this will be a continuation of that.
How have upgrade charts changed?
In the current Asia Miles upgrade chart, it is split up into 7 different distance zones which represent the actual amount of miles that your flight covers. Come 22 June 2018, the chart will be slimmed down into 6 different distance zones and what's particularly interesting is that there would be two different "Long" zones. With Long Type 1 being for flights on Cathay Pacific to Europe and Africa if the total flight distance falls between 5,001 -7,500 miles and Long Type 2 being Cathay Pacific flights also within this distance band but to North America instead. But this would mainly apply if you're flying out or into Hong Kong only.
Note that the examples provided in the updated chart pictured below are only applicable to flights on Cathay Pacific/Cathay Dragon and are applicable for flights departing from/landing in Hong Kong. 
For us here in Singapore, if we choose to fly with Cathay Pacific to anywhere else in the world except Bangkok and Hong Kong itself, this would require a transit in Hong Kong and thus this naturally adds to the total flight distance. The Long – Type 1 and Long -Type 2 categories mainly will not apply for Singapore flyers except for select destinations in Europe. I've come up with my own table showing how much it'll cost to upgrade a revenue ticket if you're originating from Singapore.
Award upgrades from Singapore to Bangkok are the hardest hit with the amount of miles required to do a one-class upgrade increasing by as much as 100%. Premium Economy to Business Class upgrades are also hit quite hard across the board and the least affected are the upgrades from Economy to Business where Premium Economy isn't available.
What's happened to Companion Tickets?
Louis has previously broken down the companion tickets on Asia Miles so I won't be going into these in detail. In short, these are tickets which come with a lower mileage cost when you redeem them with a confirmed revenue Business or First Class ticket.
This is the current companion ticket chart :
Here's what it will look like after 22 June :
Already we can see that even on the shortest flights, companion tickets have increased by as much as 20%. Again, the table above are applicable for flights originating or terminating in Hong Kong and I've done up a table below with some examples.
Again, flights to Bangkok from Singapore are very badly hit with the cost of redemption going up by 52%. Singapore to Hong Kong in Business Class saw the lowest increase and generally redemption costs to Europe and the United States went up 30-35%.
What about First Class awards?
Aaron covered the analysis on how business class awards have changed, but what about first class?
Cathay Pacific's First Class is one of the better products out there right now. While only available on certain routes, it's still one of the products on my bucket list. Here's how much it will cost to book a Cathay Pacific First Class award before 22 June 2018 :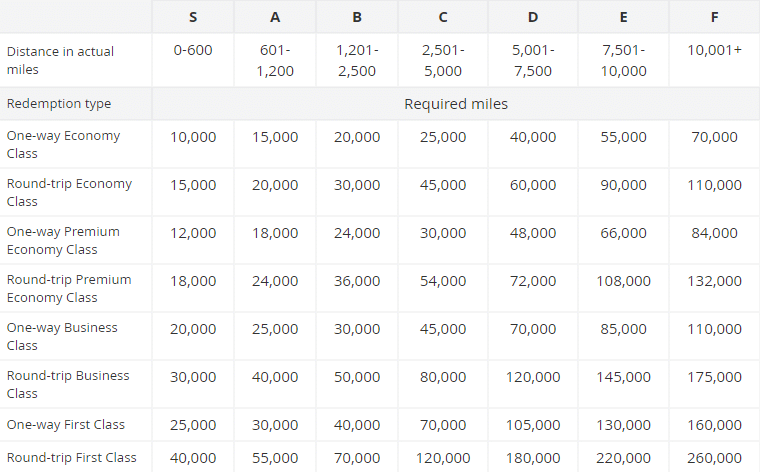 And here's how much it'll cost after 22 June 2018 :
Again, all these figures in the new award chart are for flights originating either in Hong Kong or originating in the destinations given to Hong Kong. If you were to redeem a First Class ticket from Singapore on Cathay Pacific to wherever you're heading to, do bear in mind that it will be a mixed cabin itinerary as majority if not all of the flights currently from Singapore to Hong Kong and vice versa only have Business Class as the most premium cabin. So you will be on Business Class for the short hop to Hong Kong.
I've made a table with the relevant mileage figures for those of us starting our journey in Singapore (all figures are for Standard awards):
Interestingly, one-way figures are actually the same if not lower than the previous chart. But the real pinch comes when redeeming a return journey on Cathay Pacific. Comparing the new figures to what Singapore Airlines charges for a return First Class ticket to the same destinations as above, it is going to be more expensive to redeem a First Class ticket with Cathay Pacific as compared to Singapore Airlines come 22 June.
Again, there are some exceptions where if the total distance of your flight is just below the 7,501 miles threshold so if you're looking at Frankfurt, redeeming a flight on Cathay Pacific would be the better option as you'll be saving 30,000 miles.
How have Choice Awards (Priority Awards Tier 1)  changed?
Priority Awards Tier 1 awards will be renamed to Choice Awards which are in the same league as KrisFlyer Advantage awards in terms of ticket availability where more tickets are made available in this award bucket compared to Standard Awards.
First, let's take a look at how things are changing within Asia Miles for Priority Awards Tier 1. Here's what it looks like now :
and come 22 June 2018, these are the updated figures for Choice Awards :
Again as these figures are for flights departing to or from Hong Kong, I've come up with some sample destinations with the respective award prices. Note that the mileage figures in the table below are all for a return ticket redemption.
Interestingly, as observed with Standard Awards, the cost for Economy Class and Premium Economy Class has largely remained the same or even decreased with Taipei costing 30,000 Asia Miles for a round trip Choice Awards from 22 June 2018 onward compared to now. Over in Business and First Class, there are hikes across the board.
Now if we were to compare these Choice Awards to KrisFlyer's Advantage awards, here's what we'll see :
Cathay Pacific's Choice Award prices are still very competitive relative to KrisFlyer's Advantage to certain destinations. Generally in Business Class, KrisFlyer Advantage awards are priced cheaper than Cathay Pacific's. In First Class however, things get a little interesting.
The example of Singapore to Frankfurt via Hong Kong in First Class on a Choice Award only costs me 300,000 Asia Miles while it will cost a staggering 120,000 extra on KrisFlyer Advantage. Yes Cathay Pacific imposes a higher surcharge on its tickets but at a difference of 120,000 miles, it's still a no brainer over which program to pick and redeem on if you're looking at Choice Awards.
Concluding Thoughts
Overall, these "changes" to the Asia Miles award chart for travel on Cathay Pacific is still bad in my books. However, if you were to look on the brighter side of things, Asia Miles is a very competitive compared to KrisFlyer when it comes to award pricing even after 22 June 2018. Granted awards won't be as cheap anymore, but if the distance banding works in your favour (i.e Frankfurt) you might come out ahead with using Asia Miles compared to KrisFlyer even after the devaluation.