If we're completely honest with ourselves, Cathay Pacific's Asia Miles award chart was long overdue for a devaluation. If my interweb searching skills are to be trusted, the last devaluation occured in 2007. Sure, there have been minor changes since, but the fact that you'd have to go back more than 10 years for the last award chart overhaul is staggering. It's an eternity in airline terms (Singapore Airlines, for example, does a devaluation every 5 years or so).
That still doesn't make today's announcement any less painful, nor the Cathay press office's determination to hit every frequent flyer trigger word ("enhancing customer experiences"/"listening to our customers"/"programme enhancements"/"in response to members' feedback") any less annoying.
What I will say, however, is that in the grand scheme of things, this is actually a decently mild devaluation from a Singapore flyer's point of view.
As you know, Cathay Pacific has revamped the way members earn and burn miles, with numerous changes that take effect from 22 June 2018. There will obviously be a lot more analysis in the days and weeks to come, but here's my attempt at summarizing the major changes.
On the earning side…
New mile accrual structure
Cathay's done something rather interesting here by shaking up how people earn miles when flying with Cathay Pacific and Cathay Dragon. Miles earned used to be a function of actual distance and ticket class. That's to say, if you flew Economy Class Y for 5,000 miles, you'd earn 100% of 5,000 miles. If you flew that same distance in Economy Class S, you'd get 25% of 5,000 miles.
That's going to change from 22 June onwards. Miles earned are now a function of distance zone and ticket class.
Destinations are now grouped into one of six zones- ultra-short, short, medium, medium-long, long and ultra-long. You then earn a different number of miles depending on what fare class you purchased. In the example below you can see that a flight from Hong Kong to Cairns (3,451 miles flown) in Business (D) would earn 4,630 miles, the same that a flight from Hong Kong (3,684 miles flown) to Dubai in Business (D) would earn.
Cathay claims that passengers "will earn more miles on 80% of Cathay Pacific and Cathay Dragon flights". We're going to have to take them at their word on that, although presumably the losers will be those who buy heavily-discounted fares.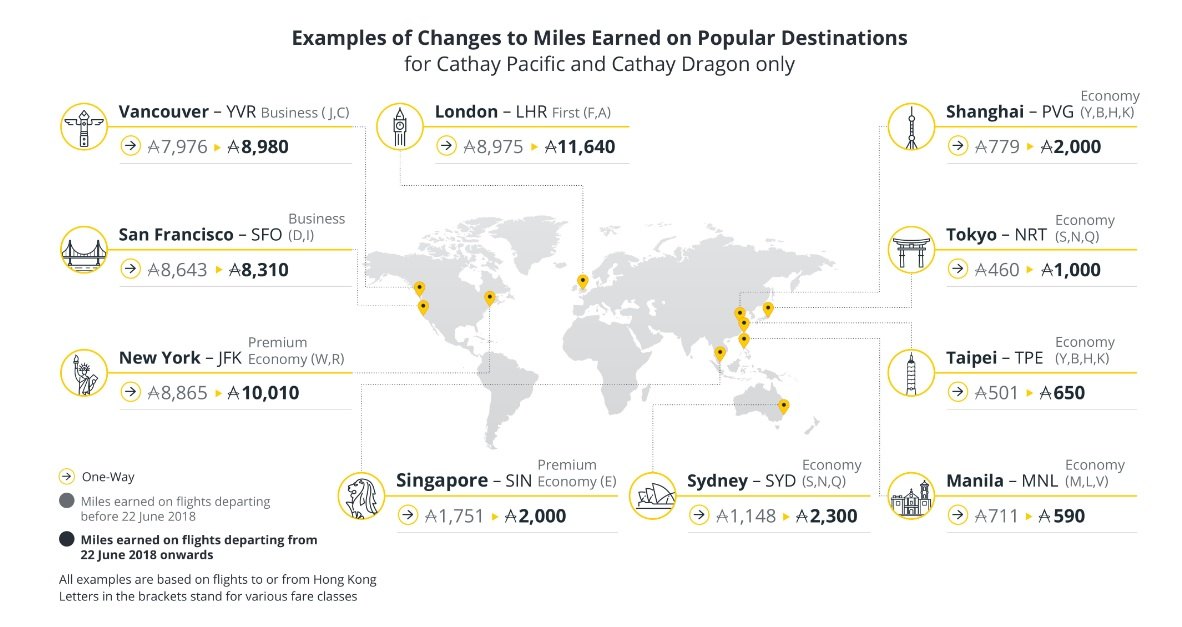 The widest zone band is "long" at 5,001-7,500 miles, so someone who regularly flew flights that were just over 5,000 miles would benefit a lot more than someone who flew flights just under 7,500 miles, all things equal.
If you have a Cathay Pacific or Cathay Dragon ticket issued before 22 June for travel on or after this date, you will be credited with the higher number of Asia Miles regardless of the changes.
Still no bonus for elite members
One disappointing thing is that Cathay Pacific still does not provide an Asia Miles earning bonus based on your Marco Polo Club status. You could say it's egalitarian in the sense that a Green member earns the same number of miles as a Diamond, but I'm sure that's a major pain point for CX elites.
On the burning side…
New award types
Cathay used to offer Standard, Priority Tier 1 and Priority Tier 2 awards. Standard was the equivalent of KrisFlyer Saver, Priority Tier 1 was the equivalent of KrisFlyer Advantage and Priority Tier 2 would find its closest equal in the now defunct KrisFlyer Full Awards.
The new line up features Standard, Choice and Tailored Awards. Cathay has promised to increase the number of seats available for Standard Awards by 20%, which is great news. If you can't find a Standard award, you can opt for a Choice, which of course costs more miles. When all else fails, you can go for a Tailored award, but be warned that these are "last seat" availability awards- they can get any seat that is available for a revenue booking, but the number of miles required is in line with commercial fares. The higher the revenue price of the seat, the more miles you need.
Award chart devaluation
This is probably what most of you are interested in. First- the good news. All economy flight awards will require either the same or fewer Asia Miles after the upcoming changes. Hong Kong to Singapore was one route highlighted in the publicity materials, and an economy class award decreases from 20,000 miles to 10,000 miles one-way. That is in and of itself amazing value.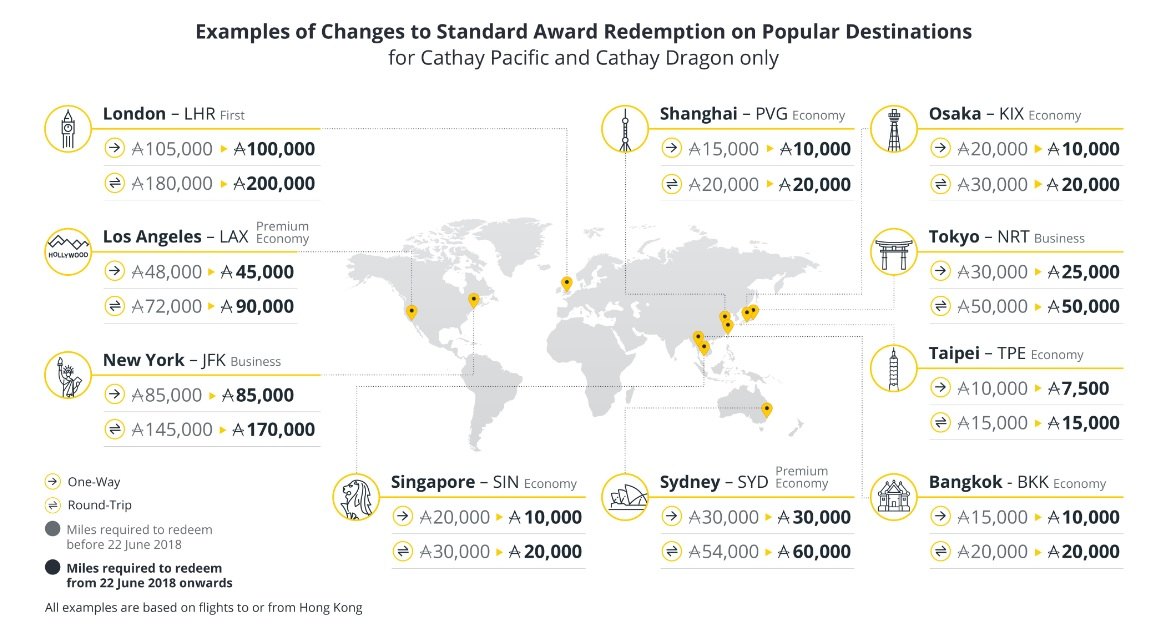 Asia Miles users will also recall that one-way awards used to cost anywhere between 55 and 75% of a round trip ticket. The chart has been tweaked such that round-trips are now double the cost of one-way awards. So that's a double win if you're in the market for economy class tickets.
Most of us in the miles game, unfortunately, are not, and that's where the devaluation bites. Some premium economy, business and first class redemptions are seeing an increase in the number of miles needed, especially on long haul routes.
I put together some selected destination costs from Singapore on Asia Miles Standard awards, adding in KrisFlyer Saver awards for comparison (remember that Asia Miles Standard awards are the equivalent of KrisFlyer Saver awards). It's important to compare the two, because all banks in Singapore convert points to miles at the same ratio for both programs.
Round trip Business Class awards have gone up by about 17% to North America and Europe, although Asia destinations have remained roughly the same or with modest increases. The revised rates are actually still very competitive compared to KrisFlyer, cheaper even on North America routes.
Here's the picture for one-way awards:
You'll note that the chart looks almost exactly the same for one-way awards. This is because Asia Mile's one-way awards used to cost more than 50% the price of round trips. So from that perspective, the devaluation is really more on the round trip side. If you, for whatever reason, used to book mostly Asia Miles one-way awards, you're pretty indifferent to this change. I'd also like to analyze the Choice awards versus KrisFlyer Standard, so look out for that soon.
An important point to raise here is it's only fair to do a 1:1 comparison between SQ and CX to the extent that you're indifferent between the two airlines and don't mind an additional stop in HKG (because SIN-LHR in this example is actually SIN-HKG-LHR). Also, remember that CX still imposes fuel surcharges on awards, unlike SQ (surcharges are applicable on flights into HKG, as they can't be levied by law ex-HKG).
Multi-carrier award chart changes
The Asia Miles multi-carrier award chart is actually one of the program's best kept secrets. Shyh Jie from Card Cow waxed lyrical about it during the recent Miles Masterclass, and the good news is that changes here have been relatively modest (~10% increase).
Here's the old chart:
And the new one:
What's unknown?
The new partner award chart
You might remember that Asia Miles used to have the same award chart for Cathay Pacific and oneworld operated flights (unless you were redeeming a flight on two partner airlines of which CX wasn't one of them). That's going to change with a separate redemption chart for partner airlines out on June 22.
AusBT believes that partner award will come in at a 20% premium to equivalent awards on Cathay Pacific, for what it's worth. I'll be particularly interested in seeing what happens to this, given that Asia Miles are our best shot for redeeming products like Qatar's QSuites and Qantas First Class.
Conclusion
As far as devaluations go, this actually wasn't anywhere as bad as I feared. I like that the multi-carrier award chart has been left mostly intact, and standard awards are roughly in line with KrisFlyer. Let's not kid ourselves, no one likes devaluations. But given the program hadn't seen one in almost 10 years, it's hard to begrudge them this.
All in all, I'd say the program is still worth transferring your points to, even after the changes. Remember that UOB is currently running a transfer bonus to Cathay where you'll get 20% bonus miles for transfers made until 9 June. Assuming the award price increases are to the tune of ~17%, then you're actually coming in about even.
I've yet to cover the changes to upgrade awards (which I understand from Flyertalk are quite bad) and companion awards, so look out for that soon.