Regional Running: Trip Planning
Singapore Airlines SilverKris Lounge Terminal 3 MNL
Singapore Airlines B777-300 Regional Business Class MNL SIN
Cathay Pacific Business Class Lounge SIN Changi Terminal 4
Cathay Pacific A350-900 Business Class SIN BKK
Cathay Pacific Business Class Lounge BKK
Cathay Pacific B77W Business Class BKK SIN
---
I was in BKK only for a short 3D2N trip, and before I knew it, I found myself back at Suvarnabhumi Airport for departure. The check in counters for CX flights out of BKK open 3 hours before scheduled departure, so do plan your city transfer accordingly – there is a limit to how long you can enjoy the lounge for.
As you can see, there was already a sizable queue in the economy line, but no such plebeian thing over at the J and F counters, so I sauntered right up and was good to go in a matter of minutes. CX uses Row M in the departure hall, which is great as it is just adjacent to the security gate (seen in the background of the photo above). Similar to when you arrive in BKK on CX, premium class passengers get a fast track immigration pass, which is an absolute godsend in BKK.
Besides the CX lounge, there are a couple other One World lounges at BKK. These include the JAL Sakura Lounge, revamped in early 2017, as well as the brand new Qatar Lounge, just opened in February this year. There used to be another one operated by Qantas / BA, but that has been shuttered since 2015. The OW lounges are all clustered to the right side of the huge terminal complex; the JAL and QR lounges are found on Concourse D, and the CX one at Concourse G. On the surface this does seem to facilitate some nice lounge hopping, but in reality the opening time for the 3 lounges only overlap during specific, short periods of the day.
The CX lounge is open from 0400hrs to 1820hrs, and JAL is only open from 0545hrs to 0955hrs, and from 1805hrs to 0055hrs. If you were hoping to enjoy the newest of them all, Qatar's lounge is mostly closed in the day, and has its doors open only from 1630hrs to 0900hrs. I'll save you the math – the only time you'd get to enjoy all 3 lounges will be between 0545hrs to 0900hrs. CX only has one BKK SIN flight daily, which departs at 1150hrs, and as such there is therefore no way to get to visit all 3 lounges if you're flying on this particular route. If you really wanted to, you could check in right on the dot at 0850hrs; that would probably give you about 30 mins or so in the JAL Sakura lounge.
I was evidently not conscientious enough to do my homework, so this was what greeted me when I found my way to the Sakura lounge.
Well, thankfully the alternative I had to make do with wasn't that shabby at all. Just a short walk away was the CX lounge. This BKK iteration first opened its doors to guests in June 2015, and follows the same 'understated luxury' design theme by Ilse Crawford from STUDIOILSE.
Once you pass through the beautiful bronze paneling, you are greeted by a simple but elegant front desk. Access to the lounge is limited to passengers flying on First / Business class, as well as OW frequent flyers. Of note, passengers flying on First Class, OW Emerald and Sapphire members (departing on OW carriers) and Marco Polo Club Gold members can bring up to 1 guest in together with them. Marco Polo Club Diamond members can guest 2 other passengers in. Full admittance details can be found on the CX website here.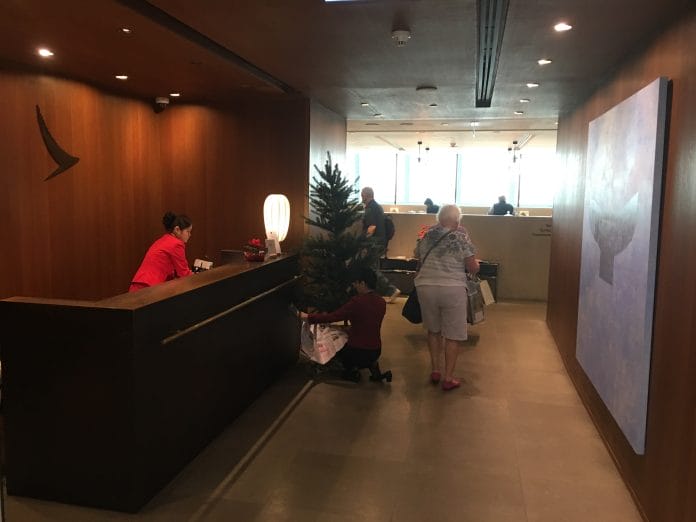 The lounge is shaped like a long rectangle. It spans quite a distance, but is relatively narrow. The first area you see upon entering is a standup / bar / eating area with a coffee machine, some salad and fruit. This area is a fair distance away from both the noodle bar to your left and the booze to the right, and there is no comfortable seating perse, so I was not surprised that it was relatively deserted. It seemed a waste of precious space to me…
Feeling a little peckish, I turned left to the noodle bar first.
I wonder if I only have this perspective because of a Singaporean-we-are-all-food-lovers mentality, but I really love how CX maintains a familiarity, quality and consistency across their new series of lounges, but adds in a local twist with their food offerings. If you recall, the CX lounge at Singapore Changi T4 had Curry Chicken Laksa on offer , whereas here in BKK it was Pad Thai instead, on top of the classic Wonton and Dan Dan noodles.
Having already tried the 2 signature offerings back in Singapore, I opted for the Pad Thai. It was disappointing though; the noodles were dry, bordering on tough, and lacking in flavor. I did not finish. There was also a self-serve drinks counter in the Noodle Bar area, complete with an out-of-order coffee machine.
I figured I would get more food on the plane later, so I made my way back to the right side of the lounge, where the main sitting area and alcohol was. There is a long passageway throughout the lounge, and the Bar can be found on the right-hand side of this passageway. A smattering of seats can be found on the left, and right at the end it opens into a small cul-de-sac with more seating.
On paper, there is room for 140 passengers in the lounge. There were maybe 50-60 other people in the lounge together with me, and while it didn't feel crowded, I still had to walk and wait around before finding a seat. I'm quite sure it gets even busier during peak hours, especially during the daytime when the QR and JAL lounges are not open.
Certain seats had decent tarmac views, but they were all occupied and I had to be contented with a little armchair by the corner. The furnishing was again similar to that seen back in Changi, with a variety of seating and generous distribution of power outlets.
The more keen-eyed among you might have spotted that the bubbly on offer is Chandon Brut, which is the poorer (half the price, to be precise) cousin to Moet and Chandon Champagne offered in the Singapore lounge. Domaine Chandon is found in the Yarra, Australia, and while it shares the same owners as its more illustrious French counterparts, the wines are definitely a notch lower in quality.
I opted for a Whiskey Sour instead, and the young lady manning the bar did not seem familiar at all. After some hushed and intense discussion, I was presented with my drink. Suffice to say, I've had better ones. Maybe I'll stick with the bottled drinks next time!
No lounge review is complete without some loo shots. The toilet also sports the same design and theme as its Singapore version, but of note, there was only generic toiletries on offer, and the Aesop hand soap we saw back in T4 was no where in sight.
I finally sat down to get some work done. The wifi provided was not the best, but functional enough for the basics – email and catching up on the latest Milelion articles. 😉 While this lounge should be relatively near to your gate if you're flying CX, do remember that the design of BKK airport still means you should allocate ample time to get there.
Concluding Thoughts
All in all, I am absolutely smitten by the CX lounge design. I think it fits its theme of understated luxury so well, and really exudes a sense of calm and sophistication. Overall, I enjoyed my experience in the lounge in SIN more, but probably because there were a lot less passengers and it was much newer. The cost-cutting measures evident here in BKK is not a good sign though – I'm pretty certain we will be seeing some of these surface in the CX lounge in Changi T4.
Have any of you visited these lounges recently? Is Moet still on offer for self-pour in Singapore? Let us know in the comment section below!