Regional Running: Trip Planning
Singapore Airlines SilverKris Lounge Terminal 3 MNL
Singapore Airlines B777-300 Regional Business Class MNL SIN
Cathay Pacific Business Class Lounge SIN Changi Terminal 4
Cathay Pacific A350-900 Business Class SIN BKK
Cathay Pacific Business Class Lounge BKK
Cathay Pacific B77W Business Class BKK SIN
---
Lounge access in Singapore is no longer a big thing for me simply because Changi Airport is so comfortable, has such comprehensive free-to-use facilities and vast array of shopping and dining options. Sometimes you do really need a quiet place (to take a quick nap or settle your kids for example), this  but other than that it just doesn't make sense to check into a lounge especially if you only have 1-2 hours to walk around before departure.
Originating travel from any other airport can be a very different story though, especially in the South East Asian region, where the crowds, queues, and lackluster facilities can make the sanctuary of a lounge especially inviting. I think it is safe to say that MNL falls squarely into that category.
I arrived at MNL Airport with plenty of time to spare, having given more than adequate allowance for traffic. The terminal was packed full of people and so I proceeded straight to check in. SIN MNL is one of the routes in that regularly flies a B773, which has an 8 seat First Class cabin. That is why you see a First Class check in counter on an otherwise short hop. The B773 (it is missing the -ER tag) flies the regional business class seat though, so don't be confused and assume all flights with F must have the international version. Detailed explanation can be found here.
Check in was fuss free, and I proceeded quickly through immigration. There were some shops to the left, but the lounges were clustered one floor up to the right after passing immigration. As luck would have it, the air conditioning in the terminal was temporarily down for repairs, and the entire waiting area was hot and humid. I couldn't be more relieved as I made my way up and entered the lounge.
The SilverKris Lounge in MNL is relatively new, just completed in July 2015. It is part of the 'Home away from Home' makeover planned for SilverKris lounges across the world, sporting interior design by ONG&ONG.  Sydney was the first lounge to receive the makeover in Dec 2013, followed by Hong Kong (Nov 2014), London (Apr 2015), Manila, Brisbane (May 2016) and Bangkok (May 2017). In Singapore Airlines' initial press release, the refurbishment was supposed to be 'progressively introduced to all of SIA's SilverKris Lounges in 15 cities over the next 5 years.' Well, they have one year left, and to say they are behind schedule is a little bit of an understatement.
Beautiful entrance screen
The lounge entrance features an absolutely beautiful full height Screen, which design was 'inspired by the iconic Singapore Airlines sarong kebaya'. I initially thought that each lounge would have a different screen design, but a quick search seems to suggest that there are only 2 designs to date; this yellow glass one, and the 'Floral' design seen in Bangkok and Brisbane.
After passing by the front desk, what catches your eye immediately is the long dining table and large feature artwork Flight by Impy Pilapil on the wall. The lounge is supposedly divided into a dining, lounging and work area, but in reality everything was really sort of contiguous. I found that the Cathay lounges have much more well delineated areas for work, dining and relaxation.
Just adjacent to that was a sit down dining area, also sporting a series of Ink on Paper pieces by Melissa La 'O. I wish I could tell you more about the work and inspiring life stories of Impy and Melissa to prove I'm as cultured (and confidently masculine) as Aaron is, but really, I have no idea who they are. This sit down dining area was always the most deserted; probably because it does not have a readily accessible power socket.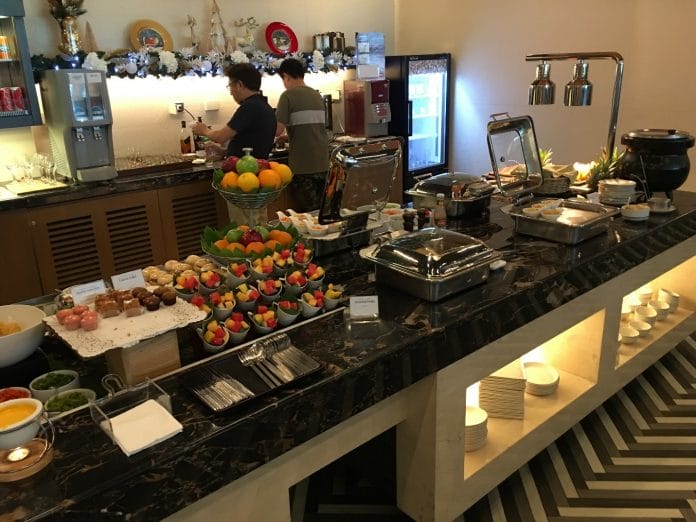 The hot food offerings were acceptable but not too comprehensive. I took a quick walk around and took the Cream of Mushroom soup (too salty), fried rice, and the Hawaiian Pork (too hard), together with a side of Nachos.
Now I don't know if the spicy fried rice was to be counted, but there certainly wasn't any 'Singapore dishes' to evoke a 'familiar taste of home' as promised in the press release! Anyhow, I guess I could have been stuck in the small MacDonald's downstairs together with a hundred other travelers, so I shan't complain too much.
The drinks selection was pretty standard, except for the conspicuous absence of any bubbles. I confirmed this with one of the wait staff. Given the choice, would you rather not have any sparkling, or make do with a cheap New World alternative (i.e. not Champagne or Prosecco)? If I see a New World sparkling (like the Chandon Sparkling Brut / Rose CX serves in its lounge in BKK), I would think 'ah, cutting costs'. But not having any bubbles at all just brings one word to mind; cheap.
The Christmas-y decoration on the top of the dessert fridge looked alot like the Haagen Dazs motif from afar, so I was quite disappointed to find that it was 1) Empty and 2) Probably not Haagen Dazs anyway. There were 2 labels inside saying Chocolate and Vanilla Ice Cream, and I guess I could have asked the staff where they were hiding the good stuff, but I took it as a sign that I probably should be watching the calories.
There were about 4 productivity pods on each far side of the lounge, and I settled into one to get some work done. These little enclaves were quite thoughtfully designed, and I got quite a bit done, juicing up my laptop and phone as well. As the lounge began to fill up I couldn't help but wonder whether it would have been possible to angle the opening away from the rest of the lounge. Because of the sofa arrangements, there was an elderly Caucasian couple sitting 3m away and directly facing me. They were just nursing a drink and weren't talking much to each other, so I found it a little awkward after awhile.
There was a long counter at the far end of the lounge, presumably also for dining, but the rest of the lounge was just standard seating.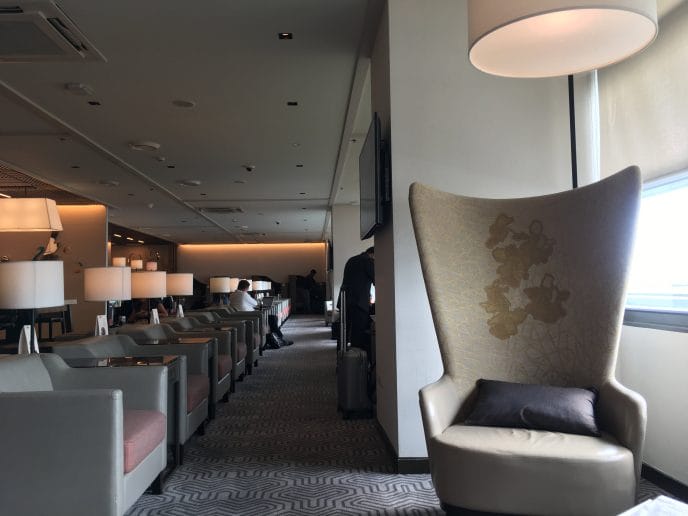 There were also a couple (literally, there were only 2) of high backed armchairs near the window in the corner, but they really seemed more for show than function. There were pretty good tarmac views from the window seats though!
The staff soon made the boarding call for my flight, and I made my way to the loo to finish up my business before heading to the gate. The toilet was small and functional. No amenities on offer.
Overall, at 450 square meters with seating for 117 pax, this lounge was comfortably sized and I did not find it to be over-crowded even at peak traffic. Food and drinks were average at best. If we were to compare this with the newly opened SilverKris lounge in BKK, MNL pales in comparison by far. The lounge in BKK is smaller, but they managed to squeeze in a large buffet table and a proper bar! With such a large area and regular flights with First Class flying out of MNL, I am also surprised that there isn't a dedicated First Class area.
Based on the reviews I've read of the rest of the lounge offerings in MNL airport, the SilverKris lounge probably still counts as one of the best there. In my opinion though, the key of a 'Home away from Home' concept is to have something familiar and consistent to expect when entering a SilverKris lounge. SQ does an excellent job with that consistency in the air, but if this is anything to go by, there's still a lot of room for improvement for their ground services. It is normal to have some disparity between the home lounges and out-station ones, but the difference between BKK and MNL really is quite vast. You may argue that the lounge in MNL is already more than 2 years old and BKK is brand new, but 2 years isn't that long in light of a lounge's life span. Heck, SQ is still a long way off completing the introduction of this new lounge concept to the rest of its SilverKris lounges! I really do hope the excellent experience Aaron had at SilverKris BKK will not gradually lessen with age.
Readers who frequent MNL and the rest of the SilverKris lounges, do let us know about your experiences in the comment section below! Do the new SilverKris lounges really evoke a 'Home away from Home' feel for you?
Well, home was only a short 3.5 hour ride on SQ's regional J away for me; review to come shortly!