To avoid sales clutter, we've decided to start a weekly series on airfare deals. Here's where we'll feature a summary of all but the most time-sensitive of deals (e.g flash sales). Purchases made through any of the links in this article supports The Milelion through an affiliate commission. 
---
Air France/KLM
Air France and KLM are back with their joint airfare sale which is ongoing until 28 June 2018. Tickets must be booked either on the Air France website or the KLM website. In this sale, both KLM and Air France are offering excellent fares to Europe and the travel period covers the December school holidays. Bali is also on sale with KLM and their World Business Class cabin is on sale from S$449 RT. This is significantly lower than their previous sales which saw prices starting from S$570 RT to Bali.
Here are the list of destinations on offer for KLM:
The full list of destinations on offer for Air France can be found via the website. Below are just some of the destinations available for Air France:
We're seeing good fares to the Scandinavian countries as well as Eastern Europe inthese sales. Stockholm and Oslo at around S$800 are excellent fares in my books. Business Class fares to Bali from S$449 is an excellent deal and is one of the cheaper Business Class routes out from Singapore.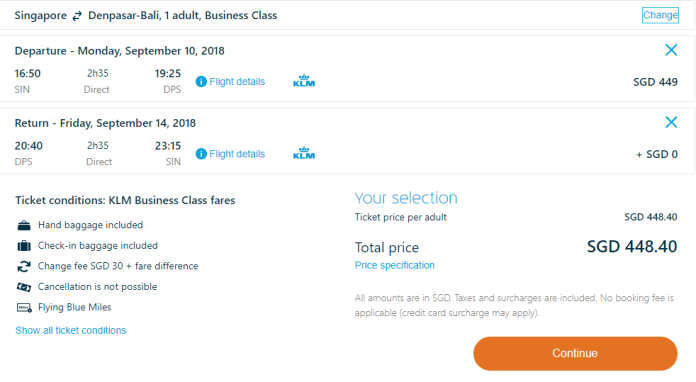 Just a reminder that fares can be booked on either Air France's website or KLM's website and the price will not differ.
Emirates
Emirates has actually extended their sale to 25 June 2018 where fares to the Northern Hemisphere can be had for as low as S$929. Australia, Colombo and Dubai are also on offer during this sale. Fares to Australia will be on sale until 4 July 2018. The travel validity for tickets bought during this sale varies based on the destination you're flying to so be sure to check if the dates are suitable for you. You can view the full lists of destinations on offer here.
If you've already decided on your travel plans with Emirates and have yet to book your tickets, you can book your tickets in the link below.
Etihad
Etihad is back with their Weekend Special sale where fares start from S$718 to Abu Dhabi and from S$1,025 to several European destinations in Economy Class. Business Class fares are also on sale during their Weekend Special sale. This Weekend Special sale ends on 17 June 2018 and fares are valid for travel until 31 January 2019. You can view the full list of destinations on offer here.
Malaysia Airlines
Malaysia Airlines Mid-Year Deals sale is still ongoing from now until 17 June 2018. In this sale, there are excellent Economy Class and Business Class fares that are on offer. London Heathrow from S$2,736 RT in Business Class is an excellent deal in my opinion. There's also the extremely affordable Economy Class fare to Bangkok at S$157 on Malaysia Airlines during this sale. Tickets booked during this sale are valid for travel from now until 31 May 2019. You can view the full list of destinations on offer here. I've covered more on this sale in last week's edition of the Weekly Airfare Deals roundup so you can read more about it here.
They have also launched a limited time promo which ends on 17 June 2018 as well in which they will upgrade one segment of your itinerary to Business Class. For this promotion, you will have to use the promotional code <GOLDENUPGRADES> and book an itinerary which involves a transit in Kuala Lumpur. These upgrades are subject to availability.
This promotion will only apply for bookings to the following destinations:
Sydney
Melbourne
Brisbane
Perth
Adelaide
Auckland
Seoul
Tokyo
Osaka
London
Flying out of Singapore, only the Singapore – Kuala Lumpur and Kuala Lumpur – Singapore legs of your journey will be upgraded to Business while your connecting flight will still be in Economy Class. You will however receive Golden Lounge access in KLIA even though your departing flight is in Economy Class as part of oneworld lounge access rules. "Z" class is the fare bucket for Business Class on Malaysia Airlines while V and L are Economy Class fare buckets.
The Economy Upgrade fares are actually a tad higher than their Economy Promo fares so you're still effectively paying a small fee for an upgrade to Business Class.
You can perform your booking on Malaysia Airlines via the link below.
Cathay Pacific
Cathay Pacific is currently holding its two-to-travel sale where flights start from S$228 to Bangkok and S$1,338 to San Francisco and Los Angeles. This sale is ongoing and will end on 18 June 2018 and tickets bought during this sale are valid for travel from now until 31 March 2019. You can view the full list of destinations on offer here.
Select destinations are being offered by Cathay Pacific in this sale and prices are rather competitive. However, there will be a high season fare which will apply if you're travelling within certain date ranges so be sure to check out the terms and conditions of this sale before booking.
Bear in mind that Cathay Pacific is transitioning from a 3-3-3 layout in Economy Class to a 3-4-3 layout progressively on their Boeing 777-300ERs and Boeing 777-300 aircraft. The former is primarily used on their long haul routes and the latter does operate between Singapore and Hong Kong as well as to regional destinations like Seoul and Taipei so do expect tighter seats if you're flying on their reconfigured aircraft.
---
Unsure of which credit card to use for your flight bookings? You can refer to the table below as a guide.
| | | |
| --- | --- | --- |
| Credit Card | Miles Per Dollar | Bonus Spend Cap |
| DBS Woman's World Card | 4 | Capped at S$2,000 per month |
| DBS Altitude | 3 | Capped at S$5,000 for online airfare and hotels per month |
| HSBC Revolution/Maybank Horizon Visa Signature | 2 | No cap for HSBC Revolution. Maybank requires you to spend min $300 a month to earn 2 mpd on air tickets. Bonus TREATS points are capped at 30,000 per month, or $7,500 of pure airline spending |