On 1 August 2018, Starwood Preferred Guest and Marriott Rewards will combine, and SPG points will be converted into points in the as-of-yet unnamed program in the ratio of 1:3.
It's no secret that SPG points are one of the most valuable points currencies out there, thanks to their flexibility and their ability to be converted into mileage currencies that are either impossible to earn in Singapore or very expensive to acquire.
Back in April, SPG points went on sale in what I assumed would be the last-ever sale before the merger (given the historical cadence at which such sales took place). That ended on 31 May, but to my surprise we're seeing another sale on Starpoints that's running from now till 21 July 2018 11.59am SGT.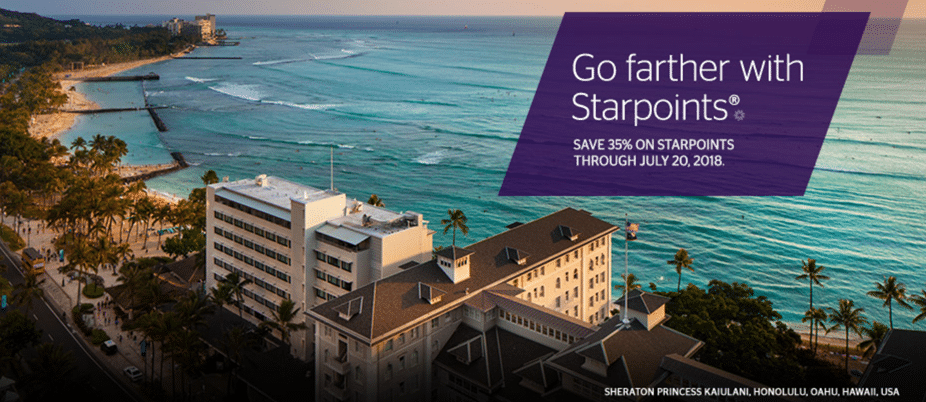 Now, unless SPG decides to hold another sale between 20 July and 1 August, it's safe to say that this will be your last chance to buy SPG points at 35% off.
Buy SPG Points at 35% off here
You max out this promotion by buying 30,000 SPG points at US$682.50, or an effective purchase price of 2.275 US cents each (vs 3.5 US cents each normally).  Remember that you can purchase a maximum of 30,000 SPG points in a calendar year, but there are some ways of getting around this restriction.
Purchases of SPG points are processed by Points.com, which means that you can earn 4 mpd by using the Citibank Rewards, the DBS Woman's World Mastercard (you may have to write in to get the bonus points manually credited as DBS does not automatically recognise this as online spend) or the UOB Visa Signature (which requires you spend a minimum of S$1,000 FCY in a statement period).
I value miles at about 2 cents each, so paying with one of these cards is to me the equivalent to getting a further 8% rebate, although obviously this depends on what your personal valuation is.
Apologies for the copy paste of use cases below, but not a lot has changed since the last sale and these points are still as valid as they were a few months ago. Slight edits have been made of course to reflect new information that's arisen since.
An opportunity to redeem SPG's top tier resorts for less?
In my analysis of the unified program, I wrote about a potentially exciting limited-time redemption opportunity that may become possible between 1 August and 31 December 2018 this year.
We know that the highest award category from 1 August to 31 December 2018 this year will be 60,000 points (or 20,000 SPG points), because the new peak pricing and Category 8 will only be introduced from 2019. Remember that you will continue to get the 5th night free on all award redemptions (i.e. redeem 5 nights for the cost of 4).
Now, it's been clarified that the above pricing chart does not reflect pricing at premium all-suite properties, which at Starwood have historically required double the points of their respective category (i.e. the W Retreat Koh Samui is a Category 7 property which costs 30,000 SPG points per night, but because it's an all-suite hotel that price gets doubled to 60,000 SPG points per night).
But even if we assume the historical 2X pricing comes into play, we're saying that the most expensive room in the combined SPG/Marriott program will cost 120,000 points (40,000 SPG points) if booked between 1 August and 31 December 2018. What's more, remember you can typically book your stays 50 weeks in advance, so you could make the booking in 2018 but stay in 2019.
If my hypothesis is correct, this could be an incredible opportunity to get these rooms at a rate we'll unlikely ever see again, because from 2019 the most expensive room in the combined program could cost up to 200,000 points a night (assuming the 2X multiplier holds), or 66,667 SPG points. I don't think that 40,000 SPG points a night is impossible for a limited period, given that we know Starwood was willing to discount their top tier resorts to 58,500 SPG points during their on again, off again Paradise is Closer redemption promotion.
The fly in the ointment is we don't know exactly which hotels go into what category. As per the Starwood Lurkers on FT:
We have plans to announce new hotel category placements for all of our 6,500 hotels in June 2018. We will share sample markets in late April. Stay tuned for more information!
These sample markets were indeed shared, but didn't include any all suite properties.  However, even if we assume that all of SPG's drool worthy properties end up in the highest category (a safe assumption), my analysis still holds provided the all-suite multiplier remains at 2X.
In my mind, I have a dream of redeeming 5 nights at the St Regis Vommuli at the equivalent of 4 x 40,000=160,000 SPG points (5th night free), so I'm going to be all over that if it happens.
Here are some other great uses for SPG points:
Use Starpoints for mileage transfers
Remember that Starpoints can be transferred to many different frequent flyer programs at a ratio of 1:1, with a 5,000 mile bonus whenever you transfer 20,000 Starpoints. Marriott has confirmed that points transfers will remain at the same ratio once the new program starts from 1 August (i.e. you can transfer 60,000 points (20,000 SPG points) in the new program to 20,000 miles with a 5,000 bonus for every block of 20,000)
| | |
| --- | --- |
| Frequent Flyer Program | Starpoints to Miles |
| Aegean Airlines | 1:1 |
| Aeromexico Club Premier | 1:1 |
| Aeroplan/Air Canada | 1:1 |
| Air Berlin | 1:1 |
| Air China Companion | 1:1 |
| Air New Zealand & Air Points | 65:1 |
| Alaska Airlines Mileage Plan | 1:1 |
| Alitalia MilleMiglia | 1:1 |
| All Nippon Mileage Club | 1:1 |
| American Airlines AAdvantage | 1:1 |
| Asia Miles | 1:1 |
| Asiana Airlines | 1:1 |
| British Airways Executive Club | 1:1 |
| China Eastern Airlines | 1:1 |
| China Southern SkyPearl Club | 1:1 |
| Delta Air Lines SkyMiles | 1:1 |
| Emirates Skywards | 1:1 |
| Etihad Airways | 1:1 |
| Flying Blue | 1:1 |
| Gol Smiles | 2:1 |
| Hainan Airlines | 1:1 |
| Hawaiian Airlines | 1:1 |
| Japan Airlines Mileage Bank | 1:1 |
| Jet Airways | 1:1 |
| Korean Air Skypass | 1:1 |
| LAN LANPASS | 1:1.5 |
| Miles and More | 1:1 |
| Qatar Airways | 1:1 |
| Saudi Alfursan | 1:1 |
| Singapore Airlines KrisFlyer | 1:1 |
| Thai Airways RoyalOrchidPlus | 1:1 |
| United Mileage Plus | 2:1 |
| Velocity Frequent Flyer | 1:1 |
| Virgin Atlantic Flying Club | 1:1 |
The one that's interesting for me is Alaska's Mileage Plan. I've written about it before on the site (including an interesting way to get cheaper JAL flights), and Mileage Plan's best public offer on miles sales is a 40% bonus. This works out to 2.11 US cents per mile.
Doesn't that mean Starpoints (2.275 US cents) cost more than buying Mileage Plan(2.11 US cents) miles outright? Yes- but you're forgetting about the bonus. Suppose I buy and transfer 20,000 Starpoints to Mileage Plan. I will get 25,000 Mileage Plan miles. In other words
20,000 Starpoints @ 2.275 US cents= 25,000 Mileage Plan miles
Effective cost of 1 Mileage Plan mile= 1.82 US cents
We need 25,000 Mileage Plan miles for our JAL trick, so that's merely US$455 for an (almost) round trip business class flight from Singapore to Tokyo (plus US$60 of taxes and fees).
Of course, there are other options too. You might consider transferring your points to American Airlines/ANA to redeem for Etihad First Class awards. Or maybe explore the sweet spots that exist in other awards programs like Flyingblue and Miles and More. Troy Liu from Mileslife spoke about these during the Miles Masterclass so hopefully you guys know now how to go about finding these awards.
Buy Starpoints for hotel price arbitrage
From now till 1 August 2018 when the new hotel point categories come into play, you should also be looking at whether buying Starpoints can make sense for your upcoming stays in a high cost city. Look at this example from New York City in June:
At a price of 2.275 US cents per point, you get
St Regis New York- US$796
Four Points by Sheraton Manhattan Midtown West- US$273
W New York- US$273
This is cheaper than the revenue rates on offer. Plus, remember that the revenue rates here are the lowest, non-refundable and non-changeable ones. Starpoints bookings are generally refundable up to 48 hours before check-in (individual properties may have more strict/less strict policies so it's always good to check) so that's another factor in your favor.
Conclusion
The last time the sale came around, I decided to top up my SPG account in anticipation of the new award prices come 1 August 2018. I'll freely admit that counts as buying points speculatively, which I normally don't encourage, but in my case it makes sense given my circumstances. In the meantime, some of you may be planning year end vacations and may need SPG points for hotel stays or airline currency transfers- if so you may also want to consider pulling the trigger.
Purchases of points through any of the links in this article support The Milelion through an affiliate commission.