[The random number generator has done its thing, and congratulations to Tan Kee Yao, who wins a US$200 Club 1 Hotels gift card! I'll be contacting you soon to get your details. For everyone else: you've still got your 1 year Club 1 Hotels membership- keep looking out for good deals on hotel stays!]
When it comes to booking hotels, there's no shortage of OTAs to choose from. However, OTAs are bound to agreements that require them to offer the same price as the hotel's official website. In practice, we know that sometimes doesn't hold true (hence the opportunity for BRG claims), but it does mean finding a great deal through an OTA is the exception rather than the rule.
Enter hotel membership sites, which give access to members-only rates after purchasing a membership. Because these sites don't display rates to the general public, they're not obliged to price at the same rate as the official hotel's site.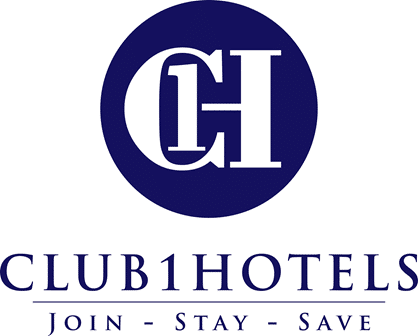 Club 1 Hotels is a hotel membership site which claims to offer 870,000 four and five-star hotels across 203 countries at up to 70% off.
Club 1 membership usually costs US$129 a year, but they're offering a complimentary 1 year membership to readers of The Milelion plus 5% off your first booking (just enter TM2018 at check out). It's a risk-free way of trying the program out because the membership does not auto-renew or auto-bill. In fact, you're never asked for your credit card details until you actually book a hotel.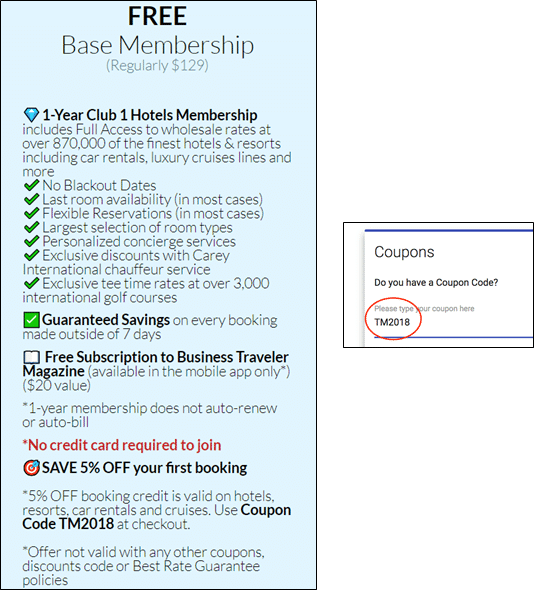 In addition to this, the Club 1 team has kindly agreed to offer one Milelion reader a US$200 gift card towards a future stay. To take part in the giveaway, simply register an account with Club 1 hotels through any of the links in this article before 30 September 2018 (Disclosure: The Milelion earns a referral for every new member registration).
Sign up for a Club 1 Hotels Membership here and win a US$200 gift card
Club 1 Hotels membership also offers access to car rental, cruise, golf and other lifestyle benefits, although the real draw is the hotel rates. Here's what I managed to uncover when searching through the website:
Conrad Koh Samui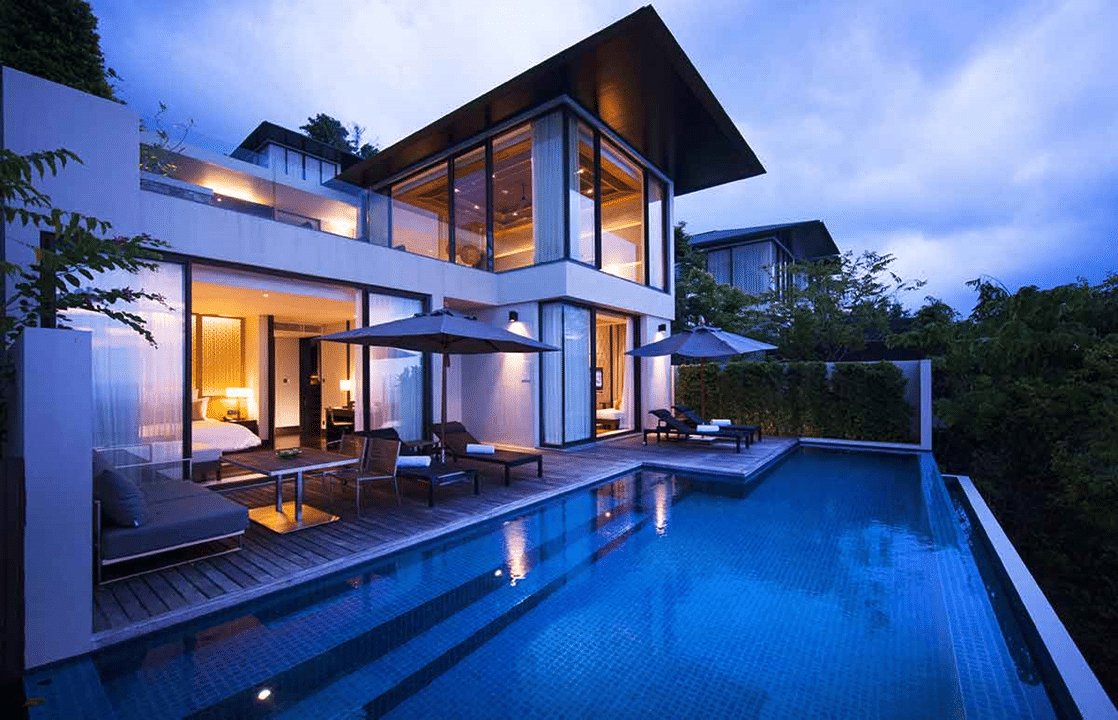 Stay
Total Rate
Terms
Official Website
20-25 March (5 nights)
US$3,779
Cancel 7 days before arrival
Club 1
US$3,138 (17% cheaper)
The breathtaking Conrad Koh Samui, which I had the privilege of visiting a couple years back, was going for 124,041.50 THB (US$3,779) for 5 nights on the official site for an Oceanview Pool Villa.
Club 1's price was 17% cheaper at US$3,138.91, with a similar cancellation policy.
Banyan Tree Bintan
Stay
Total Rate
Cancellation
Official Website
22-26 April (4 nights)
US$2,009
24 hours before arrival
Club 1
US$1,513 (23% cheaper)
8 days before arrival
A short hop away from Singapore is the Banyan Tree Bintan, which offers rainforest hikes, a private beach, a golf course and a luxury spa. This all-villa property costs US$2,009 for a refundable rate with breakfast.
Club 1 was offering a rate of US$1,513, including breakfast. The cancellation policy is stricter at 8 days before arrival, but note that the Banyan Tree's official non-refundable rate is US$1,607 all-in, still more expensive than Club 1's refundable rate.
Conrad Maldives Rangali Island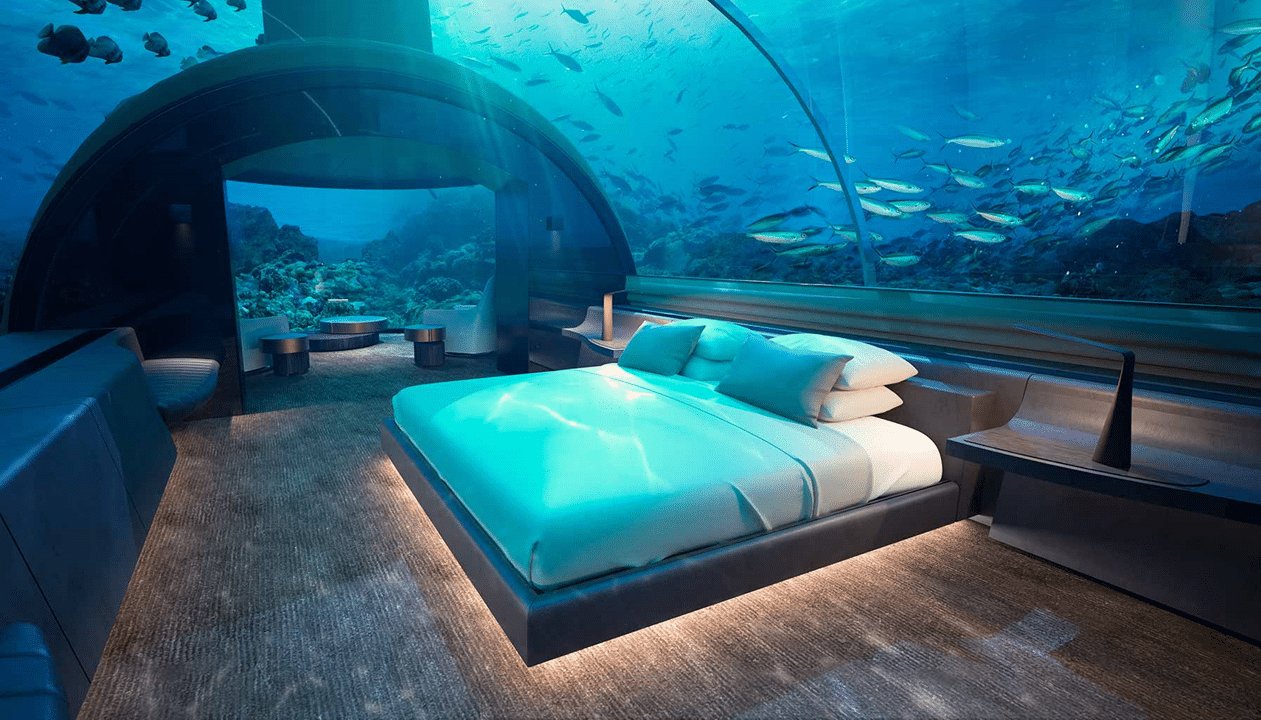 Stay
Total Rate
Terms
Official Website
20-25 March (5 nights)
US$5,574
Cancel 21 days before arrival
Club 1
US$5,017 (10% cheaper)
Cancel ~2 months before arrival
The Conrad Maldives is one of Hilton's flagship properties, and it's not hard to see why. Undersea dining, an overwater spa with glass-floored treatment rooms, the chance to swim with whale sharks and watch the sun disappear below the horizon every evening…
If you don't have 95,000 Hilton points per night handy, here's what how the official hotel website prices revenue stays:
The rate for a 21 day cancellation flexible booking with breakfast came to US$5,574 for a 5 night stay.
Here's how Club 1 prices:
The cost of a flexible booking was US$5,017.88 for the same 5 nights, also with breakfast. That's roughly 10% cheaper than the official site. Do note that the rate had a stricter cancellation policy requiring cancellations about 2 months in advance for a full refund.
Quay West Suites Sydney
Stay
Total Rate
Cancellation
Official Website
18-24 Nov (6 nights)
US$2,821
24 hours before arrival
Club 1
US$2,214 (22% cheaper)
48 hours before arrival
Club 1's selection isn't just limited to hotels- you can find serviced apartments listed on the portal too. The Quay West Suites Sydney is located at Circular Quay, the Harbour Bridge View Suites are 77 sqm in size with fully equipped kitchens, separate lounge and dining areas and luxury amenities.
The asking rate on the official site was US$2,821 for a booking cancellable up to 24 hours before arrival.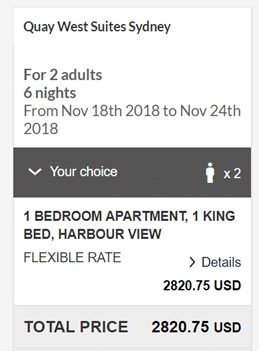 Club 1's rate was significantly lower at US$2,214, albeit with a 48 hour cancellation policy.
LaLit London
Stay
Total Rate
Cancellation
Official Website
18-24 Nov (6 nights)
US$2,324
24 hour before arrival
Club 1
US$1,933 (17% cheaper)
72 hours before arrival
The rate for a 6 night stay at this luxury hotel priced at US$2,324 on the official website, inclusive of breakfast and cancellable within 24 hours of arrival.
Club 1's price was much cheaper at US$1,933 for the same 6 nights, also with breakfast. The main difference was that Club 1's rate had to be cancelled within 72 hours of arrival, versus 24 for the official website. That said, the savings of US$390 (17%) would probably more than make up for the stricter cancellation policy.
The above are examples of some good deals I found through Club 1. However, it's only fair to point out that savings will vary significantly by property. I did find hotels where the savings were more marginal, such as the W Bali Seminyak where the official website quoted a 5 night stay at US$1,988 versus US$1,959 for Club 1, or the Westin Siray Bay in Phuket where a one night stay priced at US$232 on the official website vs US$222 on Club 1.
Club 1's Best Rate Guarantee
Does Club 1 always price cheaper? Not necessarily. I found several cases where the rates on the official site were lower. For example, a flexible rate at the Grand Hyatt Erawan Bangkok cost US$186 on the official site, versus US$198 on Club 1.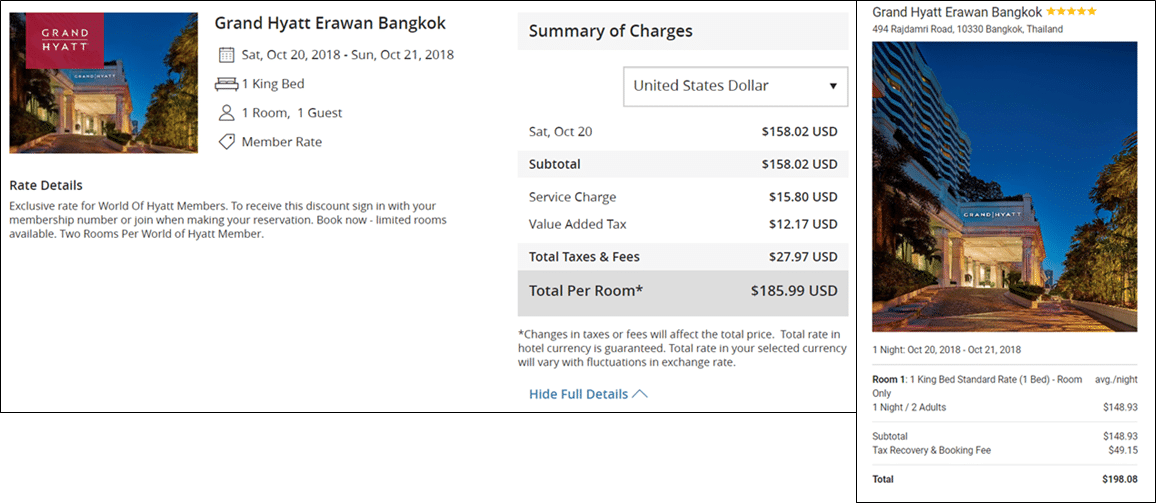 Similarly, a non-refundable rate at Intercontinental Singapore priced at US$205 on the official site, versus US$267 on Club 1.
Here's where Club 1's own best rate guarantee kicks in. If you're booking 7 or more days out (the policy doesn't apply for bookings made within 7 days), Club 1 promises to beat any competing rates you find by
$10 per night guaranteed savings at 3-star hotels up to $40
$20 per night guaranteed savings at 4-star hotels up to $50
$25 per night guaranteed savings at 5-star hotels up to $100
I dropped an email to [email protected] informing them I'd found a lower rate. What I like about Club 1's BRG  is that you don't need to have an existing Club 1 booking to file a claim- just show them the cheaper rate and they'll confirm the adjusted rate prior to you booking. So there's no risk to you trying to BRG a non-cancellable rate.
I emailed the team at 5pm SGT and got a response within 3.5 hours: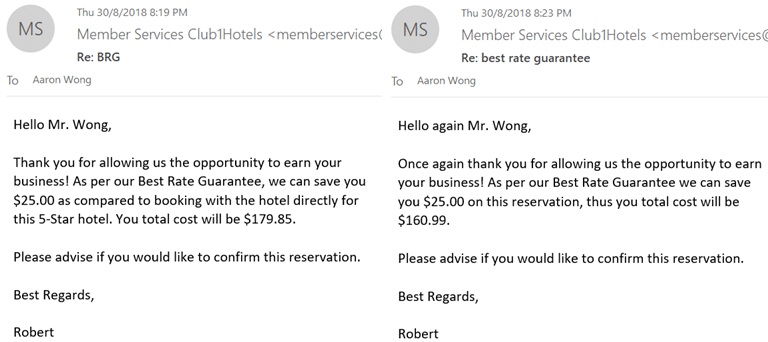 Both rates were matched and a further US$25 off per night offered. I was able to verify that they would match the rate offered before deciding whether to book.
FYI: you can't use Club 1's rates to file a BRG claim with any other hotel chain because Club 1 is considered a member's club. The rates aren't displayed to the public, so they're not considered eligible competitor rates.
Other things to note
~67% of the rates on Club 1's site are refundable, although you should obviously check the terms and conditions of each rate before you book. Remember also that Club 1 is considered a 3rd party booking site, so you won't earn any hotel points or elite status credit if you book through them.
To sum it up: with Club 1, you'll find some properties which are great deals, some which are ok deals, and others where Club 1 is more expensive (in which case you'd file a best rate guarantee). If snagging the lowest price is your biggest concern, then this is well worth adding to your hotel search process.
So sign up for your free membership, poke around and see what savings you can find (remember to use TM2018 to get an additional 5% off), and cross your fingers the random number generator picks you for the US$200 gift card.