UOB relaunched its Visa Infinite card as the somewhat unimaginatively-named UOB Visa Infinite Metal Card back in July last year. They also cut the income requirement from $350K to $150K per year.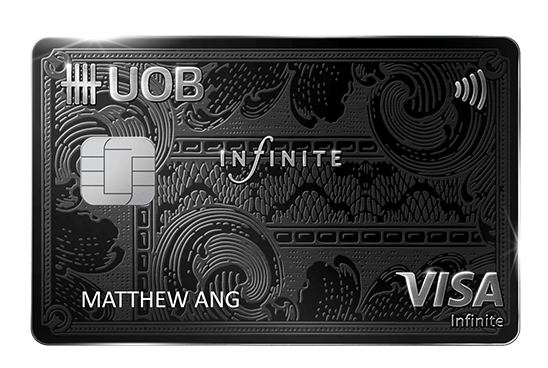 I wasn't overly impressed by the revised offering. It only had four free lounge visits, it didn't offer airport transfers, and the complimentary Gourmet Collection membership was a watered-down version with no dining vouchers included. Cardholders could get complimentary 1GB SingTel ReadyRoam plans, but this benefit was only useful for those on postpaid SingTel plans. You received 25K miles for paying the $642 annual fee, but that was inferior to what other cards in the same segment were offering.
Card

Annual Fee

Miles

Remarks

SCB Visa Infinite

$588.50

35,000

Subsequent year 20K renewal miles

HSBC Visa Infinite
$488 (HSBC Premier)
/$650 

35,000

First year only

Citi Prestige

$535

25,000

UOB Visa Infinite Metal Card

$642

25,000

OCBC VOYAGE

$488

15,000

VOYAGE Miles
All in all, the value proposition felt entirely underwhelming, like something that was all style, no substance.
So naturally I got an invite in the mail promoting a product that's all style, all substance.
UOB Visa Infinite Metal Card "targeted" sign up offer: 35,000 miles with $8K spend in first month
UOB has been sending out "targeted" mailers offering selected cardholders the opportunity to get 35,000 welcome miles instead of the usual 25,000.
If you were targeted, you need to apply for the card before 30 April 2019, pay the annual fee of $642 (for the 25,000 regular welcome miles) and spend $8,000 (for the 10,000 additional miles) within one month of card approval.
Oh, in typical UOB fashion you also need to be within the first 1,500 individuals to do so, or else you'll suffer the fate of poor Lord Barrington. To be frank, given the card's hefty annual fee and high income requirement, I think it's pretty unlikely that the 1,500 cap will be reached. That said, it's still annoying that customers have no way of ascertaining whether the cap has been hit until after the fact.
It's not really targeted
Now here's the funny part: although the offer purports to be targeted (and indeed, the T&Cs specifically state that you have to receive the mailer to be eligible), there's an identical offer on the UOB Visa Infinite Metal Card's landing page that is open to all
So much for feeling special. When you compare the T&C of the targeted and public offer side by side, literally the only difference is: to take advantage of the targeted offer, you must be targeted!
I believe there is a separate 1,500 cap for the targeted and non-targeted offers, but like I said I have my doubts the cap will be hit anyway.
If you're new-to-bank, there is a separate public offer available: spend $3K and get 10,000 bonus miles. New-to-bank is defined as those who have not held a UOB card within the last 6 months prior to 22 Feb 2019.
Is it worth it?
In a word, no. If you're willing to pay in the neighbourhood of $642 for a credit card, why not consider the HSBC Visa Infinite? For an annual fee of $650, you get 35,000 miles upfront, with no spending requirement. Heck, you could pay an annual fee of $588.50 and get 35,000 miles upfront with the SCB Visa Infinite with no spending requirement too.
Both those cards have better lounge access entitlements than the UOB Visa Infinite Metal card, and the HSBC Visa Infinite offers up to 24 complimentary airport transfers a year. True, neither card offers as many miles from the second year onwards (HSBC doesn't offer renewal miles, SCB offers only 20K), but I'd cross that bridge when I come to it.
UOB is basically offering a "spend $8K get 10K miles" sign up bonus, which isn't all that impressive, even if it's for existing customers. Why do I say that? Existing AMEX customers can spend $1,500 to get 13.3K miles on the AMEX Rewards card, and existing DBS customers could (until 28 Feb) spend $6,000 to get 17,200 miles on the DBS Altitude AMEX.
Check out the guide to all the ongoing credit card sign up bonuses
here
If you're new-to-bank, a "spend $3K get 10K miles" sign up bonus is significantly better, but it still doesn't overcome the fundamental weaknesses of the product as a whole.
Conclusion
When cards in the $120-150K income segment offer things like airport transfers and unlimited lounge access, not to mention fast-track immigration and fourth night free perks, the UOB Visa Infinite Metal Card doesn't have a whole lot going for it.
I'd pass on this "targeted" offer.