UOB's Visa Infinite card, with an income requirement of $350,000, was always in a bit of an odd position. It was placed in the gap between the $120-150K entry-level prestige credit cards (Citi Prestige, OCBC VOYAGE, SCB VI and HSBC VI) and the $500K behemoths (AMEX Centurion, UOB Reserve VI, DBS Insignia, Citi Ultima). The question, however, was whether there was a need for such a positioning.
Evidently, UOB's decided the answer was "no", because it's relaunched the card as the UOB Visa Infinite Metal Card (yes, "metal" is in the official product name), reducing the income requirement to $150,000 and switching up the features.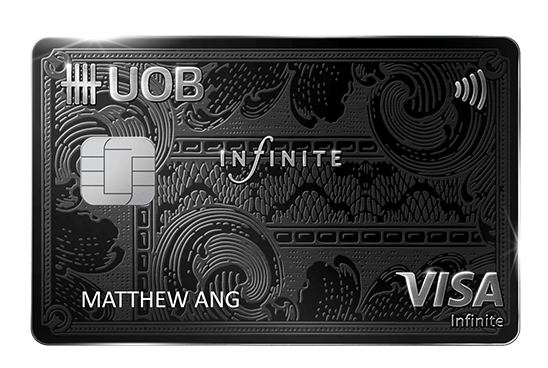 The new metal (UOB goes to great pains to emphasise this repeatedly) Visa Infinite card has an annual fee of $642 a year, well below the old fee of $1,926 but still on the upper end of the $120,000 segment. For comparison's sake:
Citi Prestige- $535/year
HSBC Visa Infinite- $488/$650/year for Premier/non-Premier customers
SCB Visa Infinite- $588.50/year
OCBC VOYAGE- $488/year
Of course, actual value depends on what the card's annual fee comes with, and you can read my comparison of the rest of the $120K cards here. In the meantime, let's break down the offering of the new and improved (?) UOB Visa Infinite Metal Card.
25,000 miles upon payment of the annual fee, TUMI gift for new sign ups
Paying the non-waivable annual fee gets you 12,500 UNI$, which can be transferred to 25,000 KrisFlyer or Asia Miles. A conservative valuation of 2 cents per mile puts the value of that at $500. As a reminder, here's what the rest of the entry-level prestige cards get:
Citi Prestige- 25,000 miles ($535)
HSBC Visa Infinite- 35,000 miles ($488/$650)
SCB Visa Infinite- 35,000 miles ($588.50)
OCBC VOYAGE- 15,000 VOYAGE miles ($488) (these are technically not the same thing as miles, although they can be converted to KrisFlyer at a 1:1 ratio)
Instead of the 25,000 miles, new UOB credit cardholders who sign up before 30 September 2018 (defined as those who have not held a UOB credit card within the past 6 months prior to 5 July 2018) will receive a TUMI Gift Set, limited to the first 1,000 customers. 
Existing UOB credit cardholders can also join this promotion, but the mechanic is a bit different. First up, you'll have to give up the 25,000 miles, and second, you need to charge a minimum of S$12,000 to your card within the first 2 months and be among the top 500 qualified cardmembers in terms of overall spending. I do wonder what happens if you give up the miles with the hope of taking part in this promotion and fail to hit the S$12,000 threshold or aren't within the top 500 spenders. Can you get the miles as a consolation prize?
1.4 mpd on local spending, 2.0 mpd on overseas spending
The old UOB Visa Infinite earned 1.2 mpd on local spending and 2.0 mpd on overseas spending. The new version has kept the latter, but tweaked the former up to 1.4 mpd. An earn rate of 1.4 mpd is marginally the highest among its competitor set, so no complaints here.
Citi Prestige- 1.3 local /2.0 os
HSBC Visa Infinite- 1.0 local/2.0 os initially, 1.25 local/2.25 os from second year if previous year spend >$50K
SCB Visa Infinite- 1.0 local/os if monthly spend <$2K, 1.4 local/3.0 os if monthly spend >$2K
OCBC VOYAGE- 1.2 local/2.3 os for regular version, 1.6 local/2.3 os for Premier and Private banking versions
Buy all the miles you want for 1.9 cents each
UOB has a PRVI Pay facility that lets you buy as many miles as you want (capped only by your credit limit) at 2 cents each. The UOB Visa Infinite has its own version of this which basically works the same, but reduces the price to 1.9 cents. That may sound like a small difference, but it can add up when you're buying miles in the hundreds of thousands.
Example: if you're able to find an instantly-confirmable business class saver award to San Francisco, buying miles at 1.9 cents each would price the ticket at $3,344 plus taxes (versus $3,520 if you bought miles via PRVI Pay). It's a significant discount from revenue rates, of course, if you can find the award space.
4 free lounge visits a year
The UOB Visa Infinite Metal Card offers 4 free lounge visits a year with Dragon Pass, which has partner lounges in more than 600 airports (and train stations) worldwide. These free visits can be shared with a guest, but subsequent visits are chargeable at US$25 each.
This, to me, is a major disappointment especially when you consider what the competition offers:
Citi Prestige- unlimited lounge visits for cardholder and a guest (Priority Pass)
HSBC Visa Infinite- unlimited lounge visits for cardholder and supp cardholder (Priority Pass)
SCB Visa Infinite- 6 lounge visits a year (Priority Pass)
OCBC VOYAGE- unlimited lounge visits for cardholder and a guest (Plaza Premium)
4 free visits, for a card with one of the highest annual fees in its segment, just comes off as stingy. That said, the VOYAGE card offered only 2 lounge passes a year when it first launched, before later improving its offering dramatically. Let's hope UOB does something similar with this, because 4 visits just doesn't cut it.
Complimentary SingTel ReadyRoam 1GB Plan
This is an interesting benefit which we haven't seen other cards offer before. If you hold a postpaid Singtel plan, you can get a complimentary Singtel ReadyRoam plan that provides you with 1GB of data in the following countries: Australia, Austria, Bangladesh, Belgium, Brunei, Cambodia, Canada, China, Croatia, Czech Republic, Denmark, Egypt, Fiji, Finland, France, Germany, Ghana, Greece, Hong Kong, Hungary, India, Indonesia, Ireland, Israel, Italy, Japan, Kenya, Laos, Macau, Malaysia, Mexico, Mongolia, Myanmar, Netherlands, New Zealand, Nigeria, Norway, Pakistan, Philippines, Poland, Portugal, Qatar, Russia, Saudi Arabia, South Korea, Spain, Sri Lanka, Sweden, Switzerland, Taiwan, Thailand, Turkey, UAE, UK, USA and Vietnam.
This plan would normally cost $12-35 for 1GB, depending on which country you visited. The T&Cs for this benefit are very unhelpfully worded- it says there is no cap on the number of rebates you can receive in a calendar year, then puts in brackets (i.e. 12 times a year). Huh?
My interpretation of this is as follows: you get a maximum of 12 free ReadyRoam rebates in a calendar year. Each package is good for 1GB. If you exceed 1GB, you're liable to pay the excess charge ($12-35 per GB). So if you go on an 8 day trip and use 12GB surfing…video intensive websites, you can't "bring forward" the rest of your 12 rebates. Is that slightly less confusing?
I quite like this benefit, I have to say. It makes sense for someone who travels a lot for work and leisure, although obviously it's useless to you unless you have a Singtel account. If you're looking for other ways of saving money when using data overseas, I've previously reviewed the different options you have for data roaming.
Private club access
Here's where I think UOB is really trying to differentiate its cards and the rest of the $120K segment. None of the other cards in that segment provide private club access- that's generally a benefit reserved for the $500K club.
The UOB Visa Infinite Metal Card comes with access to both the Tower Club and the China Club, the same as its $500,000 UOB Reserve Visa Infinite older brother. When you visit these clubs you enjoy:
• 50% off dim sum at Ba Xian on Saturdays
• Enjoy a complimentary bottle of premium wine/champagne on your birthday
• Complimentary evening valet parking
Private club access is nice to have for a card at this price point, though I'd much prefer unlimited airport lounge access.
Complimentary Gourmet Collection membership
The Gourmet Collection is a dining and lifestyle club of IHG that was launched back in October 2016. It covers the following properties in Singapore: InterContinental Singapore, Crowne Plaza Changi Airport, Hotel Indigo Singapore Katong, HI Singapore Atrium and Orchard City Centre, HIX Singapore Clarke Quay, Katong and Orchard. It also covers selected properties in Malaysia and Batam.
The UOB Visa Infinite Metal Card covers the $388 Tier 1 membership cost for the first year.
[Update: As per Jeff & Josh on the comments, the Gourmet Collection card provided with the UOB Visa Infinite Metal card does not include the vouchers below. Do call UOB to confirm this if you intend to apply]
Tier 1 membership (the website's version, not necessary the version UOB gives)
25% off the total gross bill (ex-service charge) at all participating bars and restaurants
15% off best flexible rate on all room types
2 hours of free parking when dining at any participating restaurant (ex-Crowne Plaza Changi and HI Singapore Atrium)
3 x $40nett Gourmet Collection Certificates for each one of the participating hotels excluding Holiday Inn Express® hotels.
2 x $40nett Gourmet Collection Certificates, valid across all participating IHG Singapore and Batam properties excluding Holiday Inn Express® hotels.
1 Group Dining Certificate per hotel, offering 50% off the total food bill, for up to ten persons. Not valid at Holiday Inn Express® hotels. Cannot be used with Gourmet Collection card discount.
1 Complimentary Cake per hotel, valid at any restaurant. Valid with a minimum of two diners ordering of two main courses or buffets where applicable. Advance order of 2 days is required. Not valid at Holiday Inn Express® hotels.
1 Complimentary Bottle of House Wine per hotel, for a minimum of two diners ordering of two main courses or buffets where applicable. Not valid at Holiday Inn Express®hotels.
1 "Stay One Night, Receive One Night" Room Certificate including breakfast for two guests, subject to availability. Black-out dates apply. Valid on Friday, Saturday or Sunday night only. Valid at any participating IHG® Singapore and Batam hotels.
If you spend at least S$1,000 at participating hotels, the subsequent year's membership fee will be waived. If you don't hit that threshold, you can pay a discounted rate of $68 to renew your membership.
This seems like a great benefit to have.
Grand Hyatt dining discounts
UOB's been running this for a while on their old Visa Infinite, and it's good to see this privilege carries over to the new version. You can get up to 50% off weekday lunch bills at Pete's Place, Oasis and StraitsKitchen.
Celebrity Chef restaurants and RWS dining discount
This is again a benefit you expect to see more on $500K credit cards, so it's nice to see this popping up on the new Visa Infinite too. Booking selected top-tier restaurants through the UOB Visa Infinite concierge gives you some additional benefits like a complimentary glass of wine. The real challenge, for me, is whether they can get you a booked out venue on short notice- but the T&C seem to suggest you need to give them at least 7 days notice.
The RWS dining discount requires a minimum spend of $200, but hey at least you get free valet parking. Both these benefits are also available to holders of the Reserve Visa Infinite.
1 for 1 lunches and set dinners with UOB Gourmet Stories
This reminds me of the 1-for-1 $100 gourmet promotion that Citi Prestige used to offer its members last year. UOB has its own version called Gourmet Stories, and I do fancy an atas 1 for 1 set lunch at $50++. Some examples of restaurants which have hosted UOB Gourmet Stories include:
Xi Yan Private Dining
Salted & Hung
Lewin Terrace
Fleur De Sel
Bam!
SEAR
Wooloomooloo Steakhouse
Horse's Mouth
Don & Tori
Sinfonia Ristorante
Burlamacco
Other benefits
The website lists a few other benefits like the Visa Luxury Hotel collection and Hertz/Avis discounts, but in reality these are benefits available to anyone who holds a Visa Signature card or higher. There are also some benefits provided by the UOB Medical Concierge and the UOB Visa Infinite Assistance Services, which you can read about here if you're interested.
What's missing?
The conditions needed to qualify for the UOB Visa Infinite Metal Card's airport transfer are extremely restrictive. You need to spend a minimum of S$5,000 on packages with the UOB Travel Concierge to get a one-way car transfer. In contrast, the Citi Prestige only requires S$1.5K in quarterly overseas spending to unlock four limo trips to or from the airport. Other $120K cards also allow any sort of spending to count towards limo qualification.
Conclusion
In my assessment, the UOB Visa Infinite has a solid gourmet offering (perhaps even stronger than its $3,852 annual fee Reserve Visa Infinite, thanks to the inclusion of the Gourmet Collection), but a disappointing travel proposition.
4 free lounge passes and a hyper restrictive airport limo transfer policy mean this isn't the right card for jetsetters. Yes, you can point to the complimentary ReadyRoam package as something that would make travelers happy, but that in my mind doesn't offset the weak lounge and airport transfer offerings (plus, you need to be a Singtel subscriber to benefit from that).
My $120K card slot is already occupied by the Citi Prestige, so I doubt I'll shell out for this one. However, if you like the gourmet privileges and private club access, this might be something worth considering.