An updated version of this post is now available. Read the 2020 version of the $120K credit card showdown here
The credit card landscape in Singapore can be roughly segmented into three tiers.
At the lower end you have the entry-level segment, where the required incomes range between $30-50K per annum. This is where you find your DBS Altitudes, your Citibank Premiermiles and assorted other rewards cards. These may have some basic privileges like a limited number of lounge visits, but otherwise the best frill you can hope for is a solid miles earning proposition.
In the middle, you have the cards for those earning between $120-150K, which usually combine favorable miles earning rates with enhanced benefits like unlimited lounge access and complimentary airport transfer, as well as concierge access. Think OCBC Voyage, Citibank Prestige and HSBC Visa Infinite.
Then, you have the elite segment where required incomes are $500K and up or by invitation only. This would include cards like the Citibank Ultima, the DBS Insignia and the UOB Privilege Reserve. These cards are for the creamy de lah creamy of society- think special invites to luxury car launches, watch shows, and black tie regattas where monocled men sip champagne and say things like "I have nothing against ethnic people, I just wouldn't want my daughter marrying one, is all".
(There are of course some cards that straddle these segments (the UOB PRVI would be a good example of this, at least until it cut its income requirement from $80K to $50K), but they're the exception rather than the rule)
The Entry Level Prestige Segment
Today I want to talk about the cards in the middle, which for want of a better term I'll call "entry level prestige". These cards require incomes of $120-150K., and I'd put the following six cards in this bracket
OCBC Voyage ($120k p.a)
HSBC Visa Infinite ($120K p.a)
Citibank Prestige ($120K p.a)
SCB Visa Infinite ($150K p.a)
AMEX Platinum Reserve ($150K p.a)
Maybank Visa Infinite ($150K p.a)
*Why have I left out the CIMB Visa Infinite? It has an income requirement of $120K but other than that I don't think it's meant to compete for the same audience as the cards above. It has no annual fee, but also limited benefits and it doesn't earn miles.
On the one hand,  these cards don't have the uberluxe features of the top end tier (don't expect fancy launch parties like this one). But on the other, they aren't for just anyone- if you as an individual earn $120K per annum you'd already be earning more than ~51% of all households in Singapore. If you're in this bracket you no doubt live pretty comfortably, and banks throw in some enhanced benefits because well, you're worth it.
That said, these cards also come with substantial annual fees which generally cannot be waived. These annual fees aren't in the crazy $3.2K neighbourhood of the DBS Insignia, but at $500-600 a year they're high enough that you shouldn't be rushing off to sign up for every single one.
Here's a summary of how the six cards stack up (you'll need to use the scroller to see all 6 because of page width)
[table id=11 /]
(1) $488 for HSBC Premier members
(2) Complimentary set lunch for 2 at Labyrinth upon approval till 9 Aug 2017 + 1 free night at choice of 5 Frasers Hospitality properties. Spend $5,000 within 6 months of approval to get 27.8K miles (50K MR points)
(3) 1 free night at choice of 5 Frasers Hospitality properties with renewal
(4) Additional relationship bonus of 5-30% applied to annual retail card purchases at end of membership year
(5) With min $50K spend in previous year, otherwise 1/2 mpd for local and overseas
(6) With minimum spend of $2,000 a month, otherwise 1 mpd for local and overseas
(7) Offers $100 of Uber credits + 25K miles with payment of annual fee, with 10% Uber rebate capped at $100 per quarter
That's a lot to take in at once, so let's go category by category
Miles Earning Rate
[table id=18 /]
Same caveats as above apply re: miles earning rates for HSBC VI and SCB VI
Who immediately loses out?
Despite what its publicity materials would have you believe, the AMEX Platinum Reserve (PR) is clearly inferior from a miles earning perspective. 0.7 mpd for local and overseas spend means that there's no way you could use this as a general spending card. There is the possibility of earning 3.47 mpd at selected Platinum EXTRA partners, but these are mainly high end fashion boutiques and a handful of restaurants. I understand that some people may keep this card on hand for the dining benefits (see last section) and that's fair enough, but I'd be very hard pressed to justify putting any other sort of general spending on it.
The OCBC Voyage is, for reasons I've covered extensively elsewhere, not strictly in the same category as the rest of these cards insofar as it's basically a cashback card with a call option for miles. The VMs it earns have a value that fluctuates between 1.5-3 cents depending on cabin and route (the value of a VM is calculated by some black box algorithm).
I'd say the HSBC VI loses out because earning the 1.25/2.25 mpd rates requires you to spend $50K in the preceding year. This means that if you're just starting out, you earn a pitiful 1 mpd on local spend which simply isn't good enough. Ditto the Maybank VI, which has a mpd profile similar to that of the DBS Altitude- good, but not something to pay a premium for.
It's a close fight between the Prestige and the SCB VI. The  Prestige has an interesting tiered bonus system that awards you bonus points at the end of your membership year. My understanding is that if you spend $100,000 in a year and have a 5% relationship bonus, you get 5,000 Citi Dollars ($100K spending * 5% bonus). That's only 2,000 miles, though.
Even if you totally maxed this out with the 30% bonus, you'd be looking at 12,000 bonus miles with $100K of annual spend (which, by the way, is a heck of a lot of money). The incremental mpd, at its highest, is 0.12. Therefore this relationship bonus isn't a big draw for me.
The SCB VI requires you to spend at least $2K a month before you get 1.4/3 mpd on local/overseas. Let's be honest, such sums are definitely achievable if you're earning $150K a year. What's more, 3 mpd is an excellent overseas spending rate. If you're the sort who can use your personal card for business expenses, you could really rake in the points when you travel overseas.
Winner: SCB VI. If you're making $150K a year, putting $2K a month on a single card shouldn't be too much of an ask
Welcome Gifts/Renewal Gifts
[table id=14 /]
(1) $488 for HSBC Premier members
(2) Reports say that cardholders are offered 20,00 miles for paying the renewal fee, however this is not an official benefit
As I mentioned, the majority of these cards do not offer waivers of their hefty annual fees. Therefore, they need to provide some sort of incentive for people to hop on.
This usually takes the form of welcome miles, which the Voyage, Prestige, HSBC VI and SCB VI all offer. In terms of cents per mile, here's how they order (cheapest to most expensive)
[table id=15 /]
Of course, it's not fair to look at it purely from a CPM view because of the additional benefits each card has. But it's a good place to start. All things equal, the Citibank Prestige needs to make up for its higher CPM through other benefits. And even if I believed the SCB VI had no real benefits, I could still justify paying the annual fee (at least for the first year) by viewing it as a pure miles purchasing exercise.
I don't really value the AMEX PR's welcome/renewal gift of a free night's stay at a Frasers property. There are only five participating properties worldwide, and none of them are in what I'd call particularly expensive hotel cities.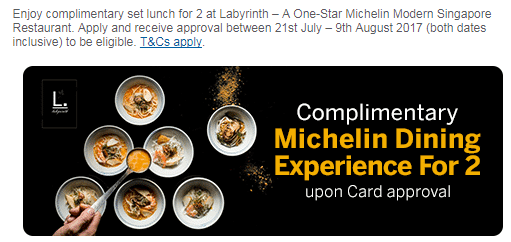 I know there's a limited time complimentary set lunch for 2 at Labyrinth for approved cardmembers, and perhaps some people like that, but it's not a convincing welcome gift for me either. I'm also vaguely aware that the AMEX PR gives you some discounted staycation vouchers upon approval, but again this isn't something I'd value enough for the annual fee. If there are other AMEX PR welcome/renewal gifts that aren't publicly listed, please let me know.
Despite its hefty annual fee, the Maybank VI does not have any welcome miles nor renewal gift. However, it is the only card in this set that waives the first year annual fee. I'm thinking of applying for it just before a trip and plonking down the minimum spend just so I can review the (by all accounts very underwhelming) Jetquay private terminal in Singapore, enjoy the unlimited Priority Pass and then cancel it for the next year. An unlimited Priority Pass would normally cost US$399, so that might actually be the best welcome gift…
In terms of renewal gifts, it was surprisingly slim pickings. The Prestige and Voyage have the same renewal offer as the joining one, but these still represent buying miles at a slight premium to what they're worth. The others do not have an (at least official) retention gift. This makes me wonder if acquisition is a more important metric than retention when product managers are evaluated.
Winner: SCB VI would win in the first year, but after that it could be difficult to justify renewing any of these 6 cards unless you really valued the benefits. Honorable mention to the Maybank VI for no first year fee.
Travel Perks
All the cards have travel insurance, although working out the difference in coverage limits is an exercise I'll leave for those of you with more time. They do differ on airport transfer, lounge access and other travel perks, as I'll elaborate below.
Airport transfer
If you're uber rich, you could get unlimited airport transfers with DBS Asia Treasures or Citigold Private Client (min AUM: $1.5M)

For the rest of us, there's this-
[table id=16 /]
The easiest limo service to qualify for is without a doubt the Prestige's. You get one entire quarter to spend $1.5K (vs having to spend $2-3K in a month with the rest) in foreign currency. Once that's been met, you can use the benefit up to four times in a quarter (i.e. no need to spend $3K to get 2, $4.5K to get 3 etc). Note that the spending need not be physically overseas- so long as it's foreign currency it's good.
I also value the ability to use the limo service for both drop offs and pickups. As I explained in my article on credit card limo service, pickups are more expensive for service providers because there is an unknown amount of waiting time.
Winner: Citibank Prestige. Lowest spend requirement, plus the ability to unlock up to 4 trips with just $1,500 of spend
Lounge Access
[table id=12 /]
Citibank is the clear king of this category, with unlimited visits for both yourself and a guest. HSBC doesn't give you a priority pass with unlimited guesting, but your supplementary cardholder can get an unlimited use Priority Pass of their own.
SCB's offering is a letdown, because six visits is just stingy compared to what the Prestige , HSBC VI and Maybank VI are offering (have I mentioned that the Maybank VI has the first year free?)
I am, however, unsure whether I'd rather have 6 visits to over 1,000 lounges or unlimited visits to 70 (OCBC Voyage). OCBC, you see, doesn't give a Priority Pass. Instead it has a tie up with Plaza Premium lounges. The Plaza Premium network is reasonably large, with many major cities covered (no US presence though), but it's definitely not in the same league as a Priority Pass.
I was very surprised at the paucity of the AMEX PR options, given the otherwise excellent lounge coverage that the AMEX Platinum Charge Card has. I know that AMEX Platinum cardholders can access the pretty swanky Centurion Lounges, but these are currently limited to selected locations in the USA only.
EDIT: It has since been clarified to me that complimentary access to Centurion Lounges is only for Platinum Cardholders, i.e the invite only tier in Singapore. If you hold an AMEX PR card you can access but must pay a US$50 fee
There's an upcoming Centurion Lounge in HKG, but even so the coverage isn't anywhere near that of Priority Pass (although the quality would be much better)
Winner: Citibank Prestige. All the lounge visits you could possibly want. Plus, you can do this.
Other Travel Perks
There are two other perks I want to touch on briefly. The first is JetQuay. Remember JetQuay? For a long while it seemed to be the must-have amenity on credit cards. I remember even the OCBC Titanium was offering it as a perk. And then the hype slowly died down, probably in no small part due to the fact that Changi Airport is so good and JetQuay so underwhelming (at least they have updated the F&B offerings, but once upon a time the only F&B they had was instant noodles. In a private terminal)
Both the Prestige and the Maybank VI provide JetQuay access. The Maybank VI requires a minimum spend of $3K. The Prestige has no minimum spend, but it's worth noting that this access is a benefit provided by Mastercard World and World Elite rather than Citibank itself.
The Citibank Prestige has another great benefit called fourth night free. Basically, if you book three nights through the Citibank concierge, you get your fourth night free via a refund. The concierge will be able to book for you any publicly available rate (so don't worry about getting ripped off), and your bookings will be eligible for elite credit and points. What's better is that this refund is credited on the back end. If, for example, you stay for 4 nights at $100 each, you're first billed $400 then get a $100 refund later on your statement. However, you earn hotel points and elite credit based on 5 nights and $500 of spend.
If you're travelling on business, it also means that you could pocket the difference based on what you're reimbursed versus what you're charged (is that theft? another discussion for another day…). This system is apparently going to change soon with online bookings being introduced, but you can still opt for the old method…for now.
Winner: Citibank Prestige
Club Access, Dining and Other Perks
This is where the AMEX PR really shines. It's got a solid suite of dining privileges with the FAR Card and its LoveDining privileges. This gives you anywhere between 15-50% off dining at hotels like the Fairmont, Swissotel and Conrad, as well as a wide selection of restaurants. If you dine out a lot at hotels, you could conceivably earn back your annual fee just on these discounts. Of course, if you're the sort who can afford to eat that much at hotels, you might not really care about the annual fee.
The AMEX PR is also the only card in this set that has private club access via its partnership with the Tower Club. However, the T&C states that this is limited to the first 5 AMEX PR members daily. Can't let just anyone in, y'know.
Although the club has fitness facilities, they're off limits to you as an AMEX PR cardholder. You'll have access to the F&B options, but do note that you'll be charged a surcharge of 10% on all F&B incurred at the Tower Club because you're one of the unwashed masses.
There's a whole Platinum Golf program if you're into that sort of thing, but the other feature I find more useful as a business traveler is the partnership with Boingo. This gets you
Access to 1 million hotspots worldwide

Unlimited Wi-Fi access at global hotspots

Access on up to four devices

No Wi-Fi roaming fees
A glance at the coverage map shows you that this benefit is more useful in some countries than others, but it's a nice perk to have nonetheless.
(EDIT: Thanks to Milefan on the comments I've learned that the Citibank Prestige has Boingo access too)
It was surprising that despite their premium positioning, none of the other cards had any other perks worth writing about. I'm sure there may be some unpublished ones, maybe the occasional invite to a snazzy society event or two, but otherwise there was nothing.
Winner: AMEX PR, hands down
Conclusion
When I think consider all the categories, it's a very close fight between the SCB VI and Citibank Prestige, but for me the Prestige wins.
It's true that the SCB has a better miles earning rate (assuming you hit the $2K minimum) and if you're able to put a lot of overseas spending on the card you can really rake in the miles. However, the Prestige has a more generous lounge access and limo policy, plus Jetquay access and the 4th night free benefit. The SCB VI has a superior first year gift but loses out on the lack of a compelling renewal gift. Citibank's renewal gift, while not the cheapest way of buying miles, is at least equal to what they give you in the first year.
It is a shame that the Prestige does not come with any club access or unique dining program ala what AMEX has, but there's no way I'd take a 0.7 mpd earning rate in exchange for that.
Hopefully this article has been useful for those of you blessed enough to be in such a conundrum. I'm personally do not own any of these cards (have been leaning towards getting a Prestige though) because I'm quite happy with my current card strategy. You definitely don't need any of these to "win" the miles game, but if it works for you, why not?