In the past couple of years, we've seen a lot of banks come up with payment facilities which allow customers to buy miles with their credit cards. For example, you can use the following facilities to pay your income taxes:
SCB Visa Infinite Tax Payment: 1.14/1.6 cents per mile (cpm)
HSBC Visa Infinite Tax Payment: 1.2 cpm
HSBC Premier Mastercard Tax Payment: 1.25 cpm
Citi PayAll Facility with Citi Prestige: 1.54 cpm
The above list is non-exhaustive, check out this post for all the ways of buying miles in Singapore
The catch is: most of the facilities on the market require you to submit documentary proof that you have a bona fide payment to make, such as an NOA. Also, they'll only allow you to buy as many miles as the amount due, so it's not a license to print miles.
There is a second category of payment facilities, however, which I call "no questions asked" facilities. These don't require any documents- just tell them how many miles you want, they'll charge it to your card and you'll each go on your merry way.
There are much fewer options here. As of today, only UOB and OCBC offer such a facility:
UOB Reserve: 1.9 cpm
OCBC VOYAGE Payment Facility: 1.95 cpm (10-150K), 1.9 cpm (>150K)
UOB Visa Infinite: 2 cpm
UOB PRVI Pay: 2.1 cpm
Given that there's no limit on the number of miles you can buy (apart from your credit limit, but there's nothing stopping you from "churning" these facilities by paying off your bill and applying again), these facilities price a higher than others with a cap.
UOB Reserve and Visa Infnite cutting cost of miles to 1.7 cents until 31 July 2019
If you hold a UOB Reserve card (and why wouldn't you!), you may have received the following in the mail: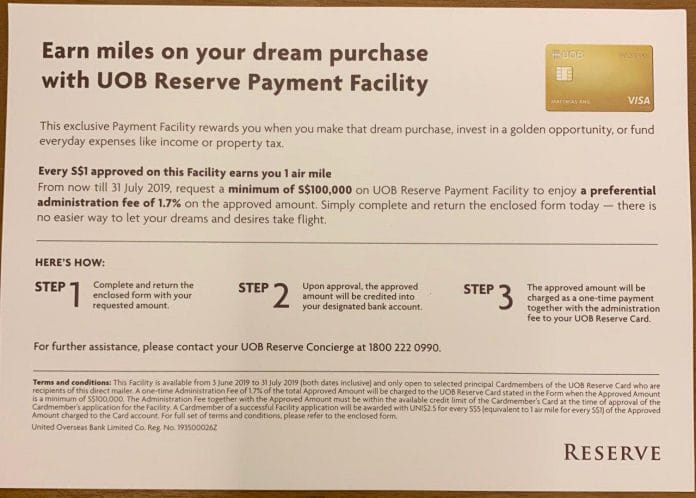 Update: Thanks to another Milelion reader, we now know that the 1.7% admin fee has been extended to the UOB Visa Infinite as well. 
From now till 31 July 2019, UOB is cutting the cost of its payment facility from 1.9% to 1.7%. This is subject to a minimum purchase of 100,000 miles, and only available to card members who received the mailer.
That said, if you're high profile enough to get a UOB Reserve card, I find it hard to believe that a quick phone call to your RM wouldn't get you access even if you weren't targeted. Furthermore, the T&C in the application form suggest that this is open to any holder of a UOB Reserve card.
Once UOB approves your application, your card will be charged the relevant amount plus the 1.7% admin fee, and cash deposited into a designated bank account of your choice. You'll need to pay off the amount (plus the admin fee) in your next statement cycle.
For example, if I charge $100,000 to the facility, $101,700 will be charged to my credit card and I'll get $100,000 cash deposited into my bank account. This way, I'll effectively have bought 100,000 miles for $1,700.
Your miles are awarded in the form of UNI$ at a rate of UNI$2.5 for every S$5 charged to the facility (i.e. 1 mile per dollar). These UNI$ can be transferred to either KrisFlyer or Asia Miles.
1.7 cpm for a "no questions asked" facility is pretty impressive in my opinion. It's not the cheapest of all the ways to buy miles, but the value lies in the ability to buy as many as you want. Assuming you could find Business Saver space, then a round-trip Business Class flight to the US would cost S$3.2K (190,000 miles) plus some taxes- not the deal of the century, but certainly cheaper than buying a revenue ticket.
If nothing else, it's a good way of topping off your account, and much cheaper than buying miles from Singapore Airlines directly (US$40 per 1,000 miles).
Conclusion
We're having something of a golden age in Singapore right now when it comes to buying miles. Five years ago, most of these options didn't exist, and you could only earn miles through paying annual fees or spending on your card. Now, there's a veritable laundry list of options, and the prices keep getting driven down (will it lead to more frequent devaluations? Time will tell).
I'm in the midst of updating my "what is the value of a mile" article and in light of all the developments over the past few years, I'm inclined to lower my valuation to perhaps 1.7-1.8 cents per mile. Valuation is of course highly subjective, and there will be people who come out higher and lower than me. If you're eligible for the UOB Reserve payment facility, you'll have to do the math yourself and figure out whether 1.7 cpm works for you. More on this later this week.