Even though physical frequent flyer cards may seem antiquated in this digital age, they're still a nice touch, and a tactile reminder of your relationship with an airline.
Singapore Airlines made the switch to digital membership cards back in 2017, but emphasized that elite members (Elite Silver and higher) would still receive physical cards upon requalification.
It's good to see Singapore Airlines keeping that promise, because they've just given the physical cards a very nice cosmetic makeover.
Here's the revised PPS Club card and welcome pack:
I have to say, I much prefer the new minimalist design over the existing cards, which in my opinion had way too much going on with the batik sidebar, the massive SQ logo and the two-tone background.

KrisFlyer Elite Gold and Silver members will also get facelifts of their own, as this post from SQTalk shows:
Again, the new design is much cleaner, almost reminding me of a high-end metal credit card (it's plastic still, sadly- I can't think of a single airline with a metal frequent flyer card).
Edit: Qatar Airways has one, of course.
I asked Singapore Airlines about the changes, and a spokesperson had the following to say:
"We have refreshed the KrisFlyer and PPS Club membership cards, as well as the luggage tags, across the various tiers to reflect a more modern look. In the case of the PPS Club membership kits, this refresh will convey the prestige and exclusivity of our loyalty programme. Members will receive their new membership kits progressively when they qualify or re-qualify for KrisFlyer Elite or PPS Club membership from October 2019."
Do note that if you're a PPS Club member, you may experience some delays in receiving your new PPS Club membership kit due to the logistics of the refreshed design.
Conclusion
I can't remember how long the existing KrisFlyer card faces have been in circulation, which probably means they were long due for an overhaul. The new changes may be merely cosmetic, but it's nice to know that Singapore Airlines is still investing in physical membership cards.
If you've received the refreshed KrisFlyer Elite Gold or Solitaire PPS/Lifetime Solitaire PPS Club cards, I'd love to showcase them here too. Reach out if you'd like to contribute!
Update: Received an image of a Solitaire PPS card, thanks to Holger: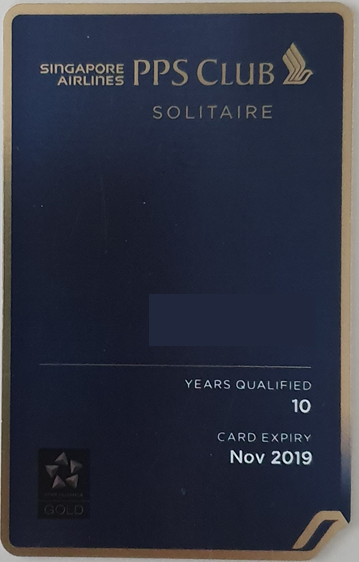 KrisFlyer Gold card, courtesy of Sean