Housed in a colonial building from 1904 and situated in a secluded pocket of what used to be a British artillery base, The Barracks Hotel is the final piece of Far East Organization's hotel trifecta on Sentosa, and the crown jewel of the collection.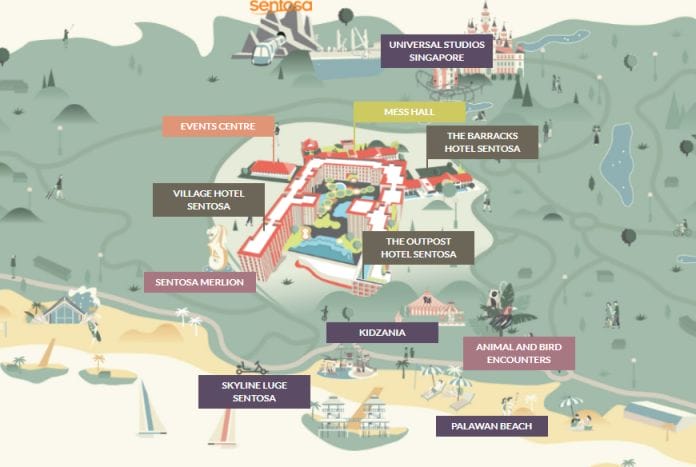 Opening almost eight months after its sister properties the Village and Outpost, the Barracks also serves a very different clientele. While the Village focuses on families and the Outpost on adults, the Barracks may best be described as offering "luxury heritage", for well-heeled travelers who enjoy a dose of history with their stay.
To that end, it's also a lot smaller. The Village and Outpost boast 606 and 193 rooms respectively, but the Barracks has a mere 40, providing a more intimate, personalized experience. Naturally, room rates are significantly more expensive, starting at S$434++ a night compared to the ~S$250++ of its siblings. 
I was invited for a media stay last weekend before the Barracks opened to the public on 1 December 2019. Here's my impressions, and what guests can expect in terms of hardware, F&B and service.
tl;dr
Most of the raw materials for a great hotel are present at the Barracks- an exclusive environment, premium-feeling rooms, and high quality F&B options. What would make it all click? A service approach that befits the positioning (and price tag). Sort out the teething issues, and the Barracks will make a compelling addition to Sentosa's hotel scene.
Getting to The Barracks Hotel
The Barracks Hotel is located at 2 Gunner Lane, within walking distance of major attractions like RWS, Universal Studios, and Madame Tussads. The closest Sentosa Express station is Imbiah, or you can take Bus A, B, or 123 and alight at Merlion Plaza.
We took a cab over, and despite the newness of the property, it wasn't hard to find thanks to updated signage.
There is a driveway leading up to the main lobby of the hotel, but cars are instead directed to the basement car park for drop-off.
I don't know if this is a temporary measure or the permanent SOP, but the surface approach would have been much nicer as it allows you to take in the preserved building in all its majesty.
Off to the right you can spy the Village and Outpost, part of the same complex.
And on both sides, you have the expansive Barracks lawn. It's the kind of place you could imagine yourself reclining on a beanbag and watching an outdoor movie screening.
The underground entrance is decidedly less scenic, depositing you into a car park (parking is complimentary for all guests). There are staff positioned downstairs to receive guests, however, so you'll still get a warm welcome.
Our bags were taken and we were ushered to the lift that took us one floor up to the main reception area.
Check-in
We stepped out of the lift into an open-air foyer, where we were invited to take part in a hand washing ritual. The staff explained that in colonial days, hygiene was very important and it started with washing hands. It was a nice gesture, but I didn't quite get it- I mean, it's not like we don't wash our hands today.
After that, we stepped into a small appendix of the building to settle the check-in formalities. There isn't space for more than two sets of guests to check-in at a time, but that's not really an issue given the hotel is only 40 rooms strong.
While the Outpost's reception featured plenty of natural light, high ceilings, and modern decor, the designers at the Barracks have gone with a retro and compact approach. Think an old world leather sofa, exposed brick walls, and shelves with steamer trunks, typewriters, rotary phones, spyglasses and other relics from another era of travel.
During check-in, we were served the Barracks Hotel's signature welcome drink, a Barracks Spritz.
This delicious drink is a tea-based mocktail with a mixture of nutmeg syrup and grapefruit juice. The tea is called "1904" (the year teabags were supposedly invented), and created by Pryce tea specially for The Barracks Hotel.
The cheerful front desk staff issued us with key cards and 3-day Sentosa entrance passes, after which we were taken to our room.
The Room
The 40 rooms at The Barracks Hotel are split into Premier Rooms and Suites.
34 Premier Rooms: 29 sqm, in both King and twin bed configurations with a patio (first floor) or balcony (second floor)
6 Suites: 59 sqm, all with patios (first floor)
We had been assigned 226, a Premier Room on the second floor. 
When Far East was granted development rights to this plot, one of the things they undertook was to conserve the site's architecture and landscape. That conservation ethos can be seen both inside and outside the rooms. On the outside, the columns and traditional timber louvered windows have been preserved. On the inside, newly-added features blend with the original structure, like timber beams on the ceiling, a timber feature wall at the bed head, and white painted louvered sliding doors dividing the bathroom and bedroom.
Rooms on the second floor may not have direct pool access, but they do enjoy lovely high ceilings. This made the room feel even more spacious.
The king-sized bed was extremely comfortable for sleeping, probably on par with some of the better chain beds (e.g Westin) I've experienced in the past.
On one bedside table was a Marshall speaker which supported Bluetooth input, allowing you to play your own music in the room.
On the other table was a phone, a small mirror, a writing pad, and a postcard showing the old parade square that is now the Barracks lawn.
The room had universal power outlets and USB charging ports, which all too many hotels overlook in this day and age.
Opposite the bed was the minibar, a 55-inch flat screen TV, and a writing desk.
The Barracks Hotel has ditched paper menus and hardcopy information booklets, so you'll find everything you need to know about facilities and in-room dining on the TV.
All beverages in the minibar are complimentary for guests (except alcohol). There's two bottles of water (still and sparkling), some soft drinks, Nespresso coffee, and Pryce tea.
Unlike the Outpost, there was no food in the mini-bar. Some golden cereal prawn cookies and a tea set were left in the room on the last night as part of turn-down service.
The Outpost rooms sacrificed a work desk due to space constraints, but fortunately for workaholics, the Barracks has a small writing desk in a corner of the room. It's not very comfortable for prolonged sitting, but this hotel isn't playing for business travelers anyway.
On that note, the Barrack's Wi-Fi is decently fast. It was able to play Netflix and YouTube without noticeable stuttering, but it's definitely not the fastest connection I've had in a hotel.
The entry-level rooms at the Barracks are 5 sqm larger than their counterparts at the Outpost, and it seems like most of that additional space has gone into the bathroom.
That's a welcome change, because it means having room for a stand-alone tub, a separate shower and an in-bathroom vanity area (the vanity area at the Outpost was in the entrance corridor).
Taps and toilet fittings are by AXOR, a brand of Hansgrohe. Those of you who know your fittings will know that Hansgrohe is pretty up there, and it added to the premium feel of the bathroom.
Bathroom amenities are provided by Appelles, a Sydney-based luxury brand that focuses on quality ingredients and environmentally-conscious packaging. Yes, the toiletries bottles are single-use, but they're made from 100% recyclable PET Plastic.
What's interesting is the dental kits featured hollowed out handles, to minimize the amount of plastic used in their manufacture.
Sadly, they've gone cheap on the toothpaste. The Milelioness (a dentist by training) did not approve of the brand, an obvious Colgate rip-off that didn't contain fluoride.
All rooms come equipped with a high-tech TOTO toilet, which opens automatically when you approach it, and does a pre-misting sequence to prevent er, stuff, from sticking to the sides. The discreet blue light around the rim allows you to navigate to the loo at night without turning on the lights and ruining your sleep. Glorious, and what an age to be alive.
Just like the Outpost, the toilet paper rack has a thoughtful shelf for your phone (we know you use it on the loo, don't try and pretend you don't).
One totally random thing I noticed was the  "do not disturb" button next to the toilet. I thought it was odd at first, but then realised how much sense it made. I mean, if you're rushing to answer nature's call, you probably won't think to flip on the "do not disturb" button before doing so. What happens if housekeeping comes knocking while you're on the throne? It's every traveler's worst nightmare, and this goes some way to addressing it.
The bathing area had both a rain shower and a hand shower.
These were controlled by a mixer with two tabs- push the left for the hand shower, the right for the rain shower. Both could be activated at the same time.
The bathtub was a handsome dark-colored number from Apaiser, sporting a hand shower attachment, and spacious enough for two people.
A pair of bathrobes were in the bathroom cupboard, but these surprisingly didn't have any Barracks branding on them.
In the other cupboard was a built-in digital safe.
Rounding out the room was an outdoor balcony with two chairs and a small table.
The balcony looked out to one of the two swimming pools. These are open 24 hours, so it is possible you may encounter some noise at night. That said, we had no such issues, and the door and wall facing the balcony look like a sufficiently thick noise barrier.
One other thing about the room: we were one of the first guests to stay inside (the staff did familiarization stays before us), and yet there were already a few minor cosmetic defects like scratches on the inside of cupboards…
…paint stains on the bidet buttons…
…and plastic frames which came out rather easily when unplugging devices or pressing on switches. It's easy enough to pop them back in, but it felt like something that should have been properly secured.
They're minor defects, to be sure, but surprising to see in a new hotel.
On the whole, we enjoyed the room. Although it's meant to evoke a sense of yesteryear splendor, there are many subtle nods to modernity like the bedside USB outlets, the high-end bluetooth speaker, and a very luxurious bathroom.
Dining
The Barracks shares dining facilities with the Village and Outpost, and diners can cross charge their meals to their rooms. Barracks guests get a 10% discount at Native Kitchen and Mess Hall, or they can opt for in-room dining and breakfast at the Barracks.
In-room dining
In-room dining is available 24 hours a day (with a reduced selection after 10 p.m). As was the case at the Outpost, prices are definitely on the high side. If you're willing to walk, you'll probably save money by heading over to the restaurants at RWS.
We got back late to the hotel on the first night, and ordered room service.
The ordering experience was a bit uneven. When we called up in-room dining, the very first question asked was "where are you calling from?" (versus the "Welcome Mr X, what can we get for you?" you might expect at upscale hotels). That seemed odd, given you'd think they could track this on their switchboard.
Despite calling at 10 p.m, we were quoted a wait time of one hour. I was hoping they were just under-promising and over-delivering, because that seemed an inordinate amount of time to wait during non-peak hours, but in the end the food took 45 minutes to arrive.
Our starter of spicy Italian tomato soup (S$14) was excellent, with plenty of heat and the robust taste of fresh tomatoes.
The chili crab pasta (S$36) was also very good, even if it looked a bit like kway teow on first glance. The sauce was the right mix of sweet and spicy, and I'm glad they didn't "dumb down" the spice the way some hotels do.
I opted for a lobster tail (S$40) from the grill, which came with seasonal vegetables and fries. It ended up being two smaller tails, and not worth the price tag. Flavour-wise, though, it was spot on. I also appreciated that the steak fries came crisp, and not the soggy abominations you get sometimes for room service.
When I saw the burnt banana crumble (S$20), I thought they must have left the plate in the freezer, and the bottom half of the plate was actually covered in frost.
As it turned out, however, the plate was just really faded on one side. I'm not sure if that was intentional, as a vintage kind of thing, but I'm pretty sure it shouldn't have been chipped.
Plate aside, the dessert was excellent, and something I'd readily recommend to anyone.
Breakfast
Breakfast is served in the Living Room from 7 a.m to 10.30 a.m every morning. The Living Room isn't large enough to seat all the guests at once, which is why a spillover area is set up just outside.
We arrived early and managed to get inside seating. The staff immediately greeted us by name and took drink orders.
The buffet normally costs S$35++ if not purchased as part of your room rate, and although it's far from the biggest spread you'll see in a hotel, the items on offer were good quality.
There's the usual assortment of pastries and breads…
…a salad bar with various toppings…
….cold cuts, a cheese plate and smoked salmon…
…fruit and that all-time millennial favorite, smashed avocado. So few restaurants serve avocado at breakfast that I have to give them props for this.
In terms of the hot items, there were vegetables, roast potatoes, sausages and baked beans. Hash browns and bacon were also offered.
The buffet selection remains the same every day, with the exception of the local breakfast item which rotates daily. On the first day, we had beehoon and otak. On the second, it was nasi lemak rice and chicken.
I was wondering why there were champagne glasses at breakfast when there wasn't anything available at the buffet, until a member of the waitstaff came along with a bottle of prosecco.
I love a bubbly breakfast, but the Barracks has a very strange policy that limits you to one glass per person (subsequent glasses are chargeable). It felt somewhat arbitrary to me, especially when they don't regulate the size of their pours very well. Here's how much I got at breakfast on the second day:
I'm no bartender, but I can tell you that isn't a standard pour. If you're going to ration things, you need to at least ensure a standardized measure. Moreover, I can imagine feeling a bit stiffed if I were paying S$500 a night for a room. How much does a bottle of prosecco cost, anyway?
If you prefer to dine from the ala carte menu, here's how much it'll cost you:
Happy Hour
All guests can enjoy cocktails and canapes in the Living Room during Happy Hour, which runs from 6-8 p.m daily.
As far as cocktail spreads go, this is a rather nice one. There were items like grilled asparagus with beef pastrami, greek salad with feta cheese, prawns with mango salsa (my favourite of the lot), some lightly marinated tuna and a cheeseboard.
Various cakes were served for dessert, along with fruit.
Alcohol may be rationed at breakfast, but it's free-flow during Happy Hour. Prosecco, wines and beer were available. A choice of two cocktails is also offered, with other options possible for a charge.
High tea experience
If you're feeling chi chi, you'll be pleased to know there's a high tea option at the Barracks too. This costs S$108++ per couple, and includes a free-flow of Laurent Perrier Brut champagne.
On offer is a 3-tier tea set with a selection of local nonya kueh, sweet and savoury items.
One of the unique aspects of this high tea is the ability to create your own blend, in conjunction with The Tea Tailor. This involves picking a tea base, and matching it with a floral/fruit pairing.
All day snacks and drinks
As you may have guessed by now, the Living Room serves as the hotel's club lounge, and offers a selection of complimentary tidbits and soft drinks throughout the day.
There's also a very competent barista who makes good coffee too.
Facilities
The Barracks has two pools in total, with one at each wing. These are mirror images of each other, 1.2m deep, and rectangular shaped for easy lap swimming.
The ground floor rooms have direct access to the pool from the patio, which is either a feature or a bug depending on how you feel about privacy. A few rooms also have semi-private jacuzzis, although technically anyone could just swim up and use them.
The towel situation at the pool was confusing. On the first day, no towels were laid out and no pool attendants present. You had to find the towel bin and help yourself. On the second day, towels were laid out…but only on one side.
Guests at the Barracks will also have access to pools at the Village and Outpost hotels (but not vice versa). This includes the soon-to-be-opened rooftop pool at the Outpost (which completion date has been pushed to Q1 2020), and the current infinity pool.
The Barracks Hotel has no gym of its own; instead, you'll need to walk over to the facility shared with the Village/Outpost hotel. It's a sheltered path, and I timed the walk to be just over 3 minutes.
Activities
One unique feature of the Barracks is the complimentary Heritage Tour, which runs twice daily at 10 a.m and 4 p.m. The 45-minute tour talks about the heritage of the land and buildings that The Barracks occupies.
What was extra nice about the tour we were on was that the hotel managed to bring down two gentlemen who had actually served in the barracks in its early days. They were based out of what is now the Capella, but the Barracks was where they'd meet and train with the British officers.
Service
Although the hardware at the Barracks is generally high quality (barring some minor cosmetic issues in the room), service still remains rough around the edges. I've mentioned a few examples above, but I wanted to highlight a few more that I encountered during my stay. 
Quite a few guests must have ordered room service on the first night, because we stepped out the next morning to a corridor scattered with trays. I would have thought the staff would be more on the ball with clearing these, given that the corridor is open air. The trays weren't cleared until mid-morning, by which time flies and other pests had started congregating around the food.
Some of the best properties I've been to have ninja housekeeping- they keep an eye on guests to see when they leave their rooms for breakfast, then dart in to clean it up. This ensures that room cleaning doesn't interfere with the guests' days.
I was hoping this would be the case here, especially since there are only 40 rooms. But despite a two hour breakfast (during which we were the only guests for the better part of an hour), the room was still uncleaned when we got back. In fact, it remained uncleaned at 2 p.m, making me wonder if housekeeping was understaffed.
The minibar wasn't replenished during the stay. The only thing we touched were the two bottles of water, but the empty still and half-full sparkling weren't replaced during the day's cleaning.
I had accidentally spilled some food on the bed the previous night, but despite the very visible stain, the bedsheets weren't changed. I know there's a card you're supposed to leave on your bed if you want them to change the sheets, but I was hoping they'd be more proactive given how obvious it was.
Although the property offers nightly turndown service where the room is refreshed and cookies delivered, this was missing on the first night (our do-not-disturb sign was off the whole day).
If these sound like nitpicky complaints, consider that rooms at the Barracks cost more than S$500 a night after tax. This means that some things which might slide at cheaper properties won't pass muster here, and I wouldn't consider the service experience to be anywhere near what I've had at other top class hotels.
Now it's perfectly normal for new hotels (even luxury ones) to have teething issues when they first open, but the mark of an excellent property is its ability to sort them out quickly. In that sense, the next couple of months will be absolutely crucial to the Barracks, as management works to smooth the inevitable kinks that arise.
Don't get me wrong, we certainly had some excellent service interactions, especially with the staff at breakfast. Staff addressed us by name, and seemed genuinely interested in attending to special requests. On the whole, however, this is definitely an area of improvement for the hotel.
Conclusion
All the raw materials for a great hotel are present at the Barracks- an exclusive environment, premium-feeling rooms and high quality F&B. What would make it all click is a cohesive service experience that befits the positioning (and price tag) of such a place. When guests are paying S$500+ a night, they're going to expect meticulous attention to detail, something the Barracks hasn't quite nailed yet.
Otherwise, the Barracks shows much promise for someone looking at a high-end, intimate retreat. True, Singapore has other colonial-style hotels in Goodwood Park, The Fullerton, Raffles Hotel, Capella and Hotel Fort Canning, but these are all much larger operations, and won't have the same boutique feel.
I'd recommend visiting in a few months, after the hotel has had some time to find its feet.