While other high-end cards provide private club access through third-party partnerships (e.g with Tower Club), American Express went one better by building a special lounge called Platinum Vibes for AMEX Platinum Charge and Centurion cardholders.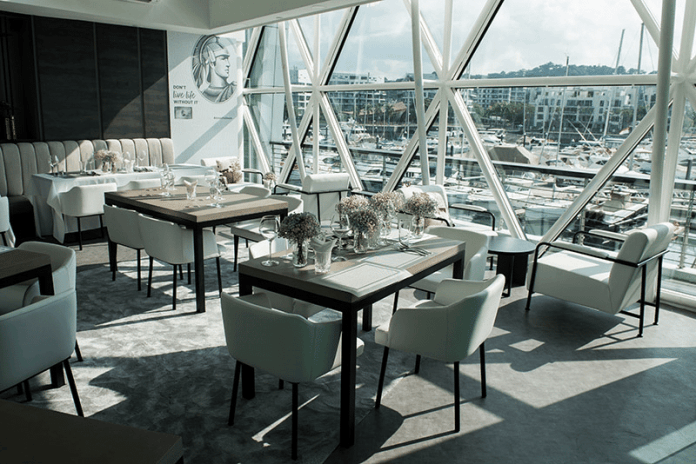 The lease on Platinum Vibes expired earlier this year, and since then cardholders have been wondering if/when they might see the return of such a facility.
It appears that American Express has found a new venue. Last week, an eDM went out announcing the upcoming launch of NOOK by Platinum on 7 December 2019.
NOOK by Platinum resides within 15 Stamford by Alvin Leung at The Capitol Kempinski Hotel Singapore. Location-wise, it's much more accessible than the erstwhile Platinum Vibes, which involved a trek to Keppel Bay Island. The Capitol can be easily accessed from City Hall MRT via an underground passageway.
American Express is remaining tight-lipped on the details of NOOK, but here's what they shared in the eDM:
In partnership with 15 Stamford by Alvin Leung, Platinum Members can now enjoy your private sanctuary within The Capitol Kempinski Hotel Singapore. Enjoy the privacy of your own space where you can mingle with fellow Platinum Members, and access an exclusive food menu designed by three Michelin-starred Chef Alvin Leung, along with a new curated list of Robert Parker rated wines at Platinum prices by Park 90. You can also enjoy the full 15 Stamford by Alvin Leung restaurant menu within the privacy of NOOK by Platinum should you prefer.
Designed to provide a brief respite away from the bustling city vibes of the area, Platinum Members are welcome to pop by the space in the day to people-watch and read a book or catch up with the news, or in the evenings for quiet time with friends or family over a glass of wine.
Featuring modern Asian dishes, the menu includes dishes like the Chicken Breast Green Curry Capellini and the Pulled Beef and Foie Gras Burger.
The eDM refers to "Platinum prices" for wines, which the uninitiated may take as a bad sign. However, what I remember most about Vibes was how reasonable the alcohol was. A bottle of Bollinger Special Cuvee cost S$90, about the same price it was selling for on RedMart. It looks like they'll continue that here, which is great.
Platinum Charge cardholders (whether principal or supplementary) will receive a welcome drink when they visit NOOK, as well as complimentary parking with at least S$50 spent.
To mark the launch of NOOK, American Express is holding a "5 Michelin Stars" dinner- the term coming from the fact the menu is curated by Alvin Leung (3 stars) and Hendrick Otto (2 stars). Tickets are available at a subsidized rate of S$120 nett per person, but they're long gone by now.
I'll be attending the launch, but my curiosity got the better of me and I decided to head down to 15 Stamford today and try my luck getting a peek. The lady at reception graciously agreed to show me the space, warning me that they hadn't actually set up anything just yet.
NOOK is at the back of the restaurant, behind a set of wooden sliding doors with opaque glass shutters.
I stepped inside, and saw only this:
That was…surprising. It looks like NOOK will be many times smaller than Vibes, and I'm wondering how it's supposed to accommodate the increased footfall it'll no doubt see on account of its more central location. I'll reserve judgement until we see the final product, but it looks like there's a lot more work to be done before this Saturday's launch.
When Vibes was open, the opportunity cost involved in traveling to Keppel Bay Island acted as a counterbalance against overcrowding, and those tempted to show up just for the free drink. With NOOK's much more accessible location, I wonder how many might turn it into their nightly after work haunt. Cardholders should of course make full use of all their card benefits, but we might have a tragedy of the commons situation on our hands if crowds aren't managed properly.
Conclusion
Platinum Vibes was a nice little perk of the AMEX Platinum Charge card, so it's good to see that American Express has found a replacement spot.
I'll do another post next week after the launch with more details on the decor, menu and wine list. Here's hoping AMEX knocks this one out of the park too.