If you want to fly non-stop to San Francisco from Singapore, you currently have two options.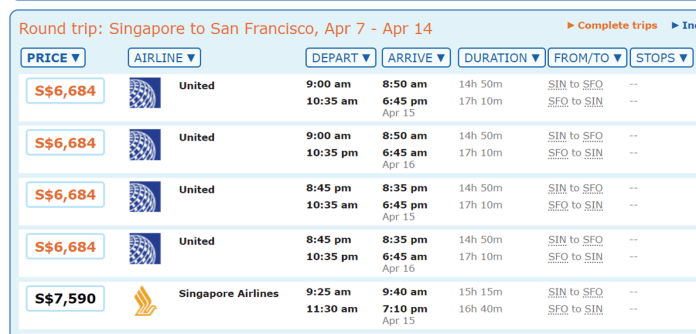 Option 1 is Singapore Airlines on either SQ 32/31 or 34/33. Regardless of which flight you pick, you'll get an A350-900 with Singapore Airlines' 2013 full flat Business Class seat.
The seat is incredibly spacious and private (even when you stand up, it's hard to see anyone except your closest neighbours), in a 1-2-1 configuration with all aisle access.
Option 2 is United Airlines on UA 1/2. You'll fly on a B787-9, which despite being a fairly new aircraft, comes configured with United's old Business Class seat.
This off-the-rack B/E Aerospace Diamond seat doesn't offer much in the way of storage space or privacy (stand up and you can see all your cabin mates), and is 2-2-2 configured. This means the window passenger will need to awkwardly straddle the person in the aisle seat en route to the loo, something bound to happen several times on a 16 hour flight.
SFO return trip
Singapore Airlines
United Airlines

Cash Price

~S$7,600

~S$6,700

KrisFlyer Miles 

Saver: 190,000 miles + S$139
Advantage: 250,000 miles + S$139

Partner Award: 211,000 miles + S$724
In my mind, there's very little contest between the hard products (let's not even talk about service). If you or your company is willing to pay the Singapore Airlines premium, there's only one choice. And if you're redeeming KrisFlyer miles, you'd have to be insane to pick United- even if Saver space isn't available on SQ, the hefty fuel surcharges on the United redemption make Advantage prices worth looking at.
UA 1/2 will get the new Polaris seats from 2020
Well, there's some news on this front. As per TPG, United plans to upgrade the SIN-SFO route to a B787-9 with the Polaris Business Class product sometime in 2020.
I reviewed Polaris back in 2018, and the highest praise I can give it is that I couldn't believe I was on United Airlines.
Polaris somehow achieved the best of both worlds- a high-density Business Class product offering great privacy and all aisle access. Yes, the service still wasn't anywhere as polished as Singapore Airlines, but United has some advantages soft product wise- Polaris passengers get amenities kits, pajamas, and Saks Fifth Avenue bedding, and United's Polaris lounges are arguably better than their SilverKris equivalents, with bar service and a sit down restaurant.
Even with the new Polaris seat, I still think I couldn't bring myself to redeem United over SQ given the high fuel surcharges. However, this will at least be good news to business travelers whose company policy compels them to choose the cheapest Business Class option.
The Polaris upgrade is the product of United's fleet-wide Dreamliner refit, which aims to update all 37 B787-8 and -9s with the new Polaris seats by 2021. You can view the Polaris tracker here, which shows how many aircraft and lounges have received their Polaris makeover.
Conclusion
This isn't likely to benefit miles chasers, but it's a definite boon for business travelers. The Polaris seat is head and shoulders above United's current offering on the SIN-SFO route, and let's hope the swap happens sooner rather than later.