The Longest Flight in the World: Introduction
SQ22 Inaugural Gate Party
Singapore Airlines A350-900 ULR Business Class SIN-EWR
AMEX Centurion Lounge IAH
United Polaris Lounge IAH
ANA B77W Business Class IAH-NRT
ANA B787-9 Business Class NRT-SIN
---
Prelude
After the festivities at the gate conclude, boarding is called. Passengers make a beeline for the jetbridge, where gate staff have goody bags at the ready.
I'm too excited to even glance at the bag's contents as I charge towards the plane, pausing briefly to snap a photo of the fuselage. 9V-SGB is a sexy lady from any angle, and I'm ready to board her.
That didn't come out right .
I enter via the second door to the rear Business Class cabin, where 44 of the 67 Business Class seats are located.
The cabin interior should surprise no one, as SQ is using the exact same 2013 J seat as the rest of its long-haul configured A350-900s (regional configured A350-900s will soon join the fleet, with SQ's regional business class product).
The high ceilings in the Business Class cabin provide a sense of spaciousness, and are achieved by removing the centre row of overhead bins (the lack of overhead bins is a feature in both the -900 and-900 ULR).
Although the cabin is spacious in the vertical sense, it's a tighter fit horizontally.
That's because the cabin of the A350-900/900ULR measures 5.61 m wide, versus 5.96 m for the B77W. SQ has gone with the same seat in a four-across configuration for both, and although a difference of 35cm may not sound like much, you'll realise it when the standard-sized carry on you're wheeling keeps bumping the sides of the seats.
The main difference between the forward (23 seats) and rear (47 seats) Business Class cabins is that the forward section has no bassinet seats. You'd think an inaugural flight would be all media and avgeeks, but there are more than a few "genuine" passengers on this flight as well, including one couple with a baby. A baby on an ultra long haul flight sounds like a recipe for disaster, but kudos to the parents, she slept the whole way.
I head all the way to the end of the aircraft first to pay a quick visit to the Premium Economy section, where SQ has gone with 94 seats across 13 rows.
The best seats in the house are the C and H seats in rows 40-42. That's because the cabin narrows towards the rear, meaning you get a solo seat.
This solo seat comes complete with your own side storage compartment.
I return to 22A, which I've chosen as my seat for this epic voyage. Single travelers will presumably prefer one of the A or K seats…
…while those with a companion can go for the D or F seats.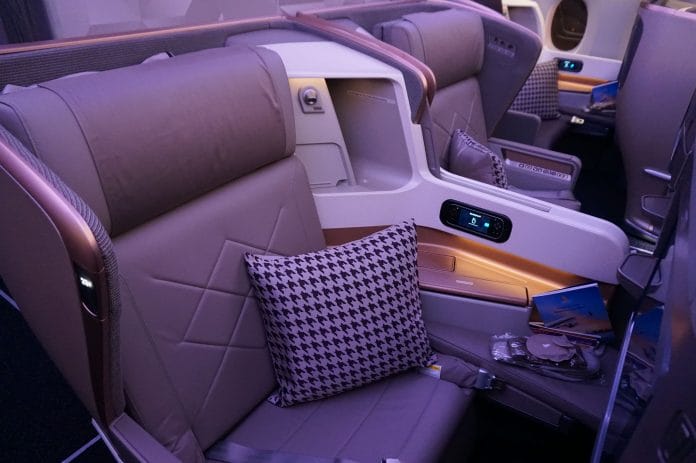 I love the 2013 Business Class seat. Although it's a modest evolution of SQ's then-groundbreaking 2006 Business Class seat, it's still head and shoulders above what any other airline has to offer. The seat is gorgeous to look at, with a soothing color tone and a huge amount of personal space.
The best feature for me is the high degree of privacy provided by the seats, with high walls and "ears" that wrap around your head.
Speaking of privacy, if you're don't manage to snag a A or K seat at the side, you still have the option of a privacy divider that slides out between the D and F seats.
If you're traveling with a companion, you can always slide it back.
The design of SQ's 2013 Business Class seat (and 2006, and 2017) requires you to sleep diagonally, with your feet nestled into a small cubby. I'm completely fine with it, but this annoys some people to no end.
If you're not a fan of diagonal sleeping, you're going to want one of the bulkhead seats (10A, 11D, 11F, 11K, 19A, 19D, 19F, 19K). These seats are designed slightly differently- since there's no one in front of you, you can sleep parallel to the aisle.
Back at my seat I break out the loot. There are two goody bags- one given at the boarding gate, the second waiting at the seat. The first has a "inaugural flight certificate", a pen, notepad and a mug…
…while the second has a special edition A350 ULR bear, an eye mask and a Canyon Ranch resistance band.
All around me, my fellow cabin mates are making themselves at home. I see Karamjit Kaur, the Straits Times' aviation correspondent. I see Sarah Wells from Bloomberg. And I hear Richard Quest, who is narrating his surroundings out loud. I think will be a recurring trend throughout this flight.
I explore the seat in more detail. Down by my right is a line of buttons to control the seat, turn on and off the ambient lighting, summon the crew, turn off the monitor and ask not to be disturbed.
Down to my left is a console with a storage compartment and the IFE controller.
One of my early complaints about SQ's new touchscreen IFE controller was its tendency to lag and hang. The airline must have done a firmware upgrade since then, because this version purred right along.
The pilot comes on the PA, announcing a surprisingly short flight time of 17 hours 25 minutes. There are in fact four pilots on this flight (two Captains and two First Officers). None have flown in the past 48 hours, as is the requirement for this particular flight. They will each get eight hours of rest on board, compared to the normal five and a half hours on other routes. Ultra long haul flights have their own rules.
The chief stewardess also comes by to introduce herself:
"It's a pleasure having you onboard today, my name is Winnie, on behalf of myself and all my crew, welcome onboard. Our flight time today is 17 hours 25 minutes. Do let me know if we can make your flight more comfortable"
Pre-departure drinks are then served- a choice of water, juice, or Charles Heidsieck brut.
We push back, and there's a very, very long taxi as we head to our runway. The aircraft pauses, then roars to life as the lights outside become a blur.
Over the din of the engines, I hear Richard Quest's robust narration. "The twin Rolls Royce engines spool up to full power as we hurtle down the runway…"
The man is a walking nature documentary.
00:04
A smattering of applause as we take to the air. The aircraft banks to turn Northeast, and our voyage begins.
00:06
The seatbelt sign goes off and the cabin crew spring into action.
Someone on the PA informs the cabin that we all have 30 MB of complimentary Wi-Fi. I suspect many journalists will burn through that in no time flat.
00:15
The crew go around to take supper orders. On this ultra long haul route, meals in Business Class are technically dine on demand, but there's some nuance to that freedom. Your first meal is served any time between hour 1-3, and the second meal can be taken any time between hour 8-16.
In reality, though, the crew did nudge most people to take their meals at the same time. Passengers who requested for different mealtimes were accommodated, but I wasn't actually told outright that it was an option.
Here's what's on the menu for supper:
00:16
Time to get online. I connect to the KrisWorld Wi-Fi network, which for some reason says we still have 18 hours 12 minutes to fly.
Unfortunately, Singapore Airlines no longer offers all-you-can-eat data plans anymore, even on Panasonic-equipped aircraft. Instead, you choose among 3 volume-based plans: 20MB for US$6, 80MB for US$16 or 200MB for US$28.
Suites, First, Business, PPS Club and Solitaire PPS Club members get a complimentary Wi-Fi allowance of either 30 or 100MB.
All you need to claim your fee allowance is enter your last name and seat number. I briefly consider stealing Richard Quest's Wi-Fi allowance, but think better of it. I might need CNN one day.
Besides, I have free access courtesy of my Citi Prestige card. This gives me an unlimited data Boingo pass.
For whatever reason, Speedtest.net refuses to work on this flight.
So I resort to another speed test site. The speeds aren't fantastic, which may be a byproduct of all the journalists on the flight chewing up the bandwidth.
A few minutes later, a member of the cabin crew passes out extra 30MB allowance vouchers to everyone.
0:33
I am stunned. Absolutely stunned. A stewardess is pushing a small trolley down the aisle, offering passengers the chance to assemble their own amenities kit.
Yes, Singapore Airlines did trial a Business Class amenities kit for their 70th anniversary, but it has yet to become a permanent feature of the cabin. Besides, this is an airline historically resistant to amenities kits in Busines Class.
Which is why I'm so surprised to see this on offer. Just point at what you want- hand cream, lip balm, Fabric Wash & Stain Bars or Fabric Crease Release by the Laundress, toothbrushes, earplugs…
…and the stewardess assembles the bag for you. Cynics may say these are just leftovers from the 70th Anniversary amenities kits (and to be fair a lot of the raw ingredients are the same) but leftovers or not, this is still a welcome addition to the overall experience.
The stewardess says the kits are part of a three month trial- all passengers on SQ's ULR flights to LAX, SFO and EWR will receive one. She's tight lipped about whether this will become a regular feature, only saying that "it depends on feedback".
I order the works, as does everyone else.
00:52
Pre-dinner drinks are served. With too much champagne in me already, I've decided to go for a Canyon Ranch offering: Agave Lemonade. Here's how the menu describes it:
Enjoy this wellness recipe by Canyon Ranch that not only boasts Vitamin C, antioxidants and anti-inflammatory benefits, but also aids digestion and boosts energy levels

A hydrating mocktail of fresh lemons, ginger and agave
I love the lemonade. It's refreshing, light, and has a cooling aftertaste. This is going to be my go-to drink for the rest of the flight.
As for the nuts- unfortunately the bowl is warm, but the nuts are cold, which makes me think only the bowls were heated separately. I contemplate summoning my inner Heather Cho, but decide it's too early in the flight for that.
1:27
My table is dressed and supper is served. I've gone for the Pan Seared Lion Head Snapper Fillet with Red Wine Vinaigrette, which comes with grilled mushrooms, carrots, bacon and garlic-chive mashed potato.
The dish is incredible. I'll even go as far as to say this could be one of the best things I've eaten on an airplane. Bacon helps, as it always does, but it's not just the bacon. It's the slightly crispy skin on the fish, the firmness of the carrots, the addictive mashed potatoes and the umami from the mushrooms. I know this isn't a Canyon Ranch dish, but it's still a highlight of the flight.
The whole meal is served on one tray, together with fruits. Some people dislike this approach in Business Class, but I think it makes sense for a supper service. It means you can finish your main and not have to wait for the crew to make a second pass with fruits- eat, then hit the hay.
2:15
Supper is concluded and my tray is cleared. I'm going to wash up before calling it a night.
The toilets on the A350-900 ULRs are almost identical to their cousins on the A350-900s. However, these do not have automatic bins, which is a shame.
Singapore Airlines recently started offering Penhalagon's toiletries in their loo, which are a welcome change from the Miller Harris. I give myself a liberal application of facial mist, while reassuring myself I am still all man.
2:30
The lighting in the cabin has noticeably darkened- on the A350s, LED mood lighting is used to encourage sleep and fight jetlag.
My champagne-hazed mind reaches the stunning conclusion that the current color scheme is supposed to simulate sunset.
3:00
Unlike the 2017 Business Class seats on the new A380s, the 2013 Business Class seat needs to be flipped over into bed mode. The handle to flip the seat appears to be jammed, and it takes two flight stewardesses pulling with all their might to release it. This is probably a teething issue with a factory-fresh seat.
Whether or not you like the bed depends on how you feel about sleeping diagonally. It doesn't bother me at all, but if you dislike it then you're going to be plum out of luck on Singapore Airlines, given that their 2006, 2013 and 2017 Business Class seats are all made the same way.
Other complaints about the A350 Business Class seat is the small cubby for your feet. Frankly, I don't find this an issue at all, and I have yuge feet. The pillows are soft and the bed is comfortable. I could be imagining things, but I think the blanket has been upgraded too.
Lights out. Sleeping time.
4:00-7:40
Zzzzzzzzz
7:40
I wake up over the Pacific Ocean and instinctively check the flight map. It then dawns on me just how long this flight is- we've flown 7,396 km but aren't even halfway there yet.
Time to explore the IFE. Singapore Airlines has loaded 1,200 hours of IFE onto this aircraft, 20% more than the usual 1,000. Or to put it another way, you'd need to fly from Singapore to Newark and back more than 33 times to exhaust the entire library.
Movies that have been on my to-watch list like Incredibles 2, Solo, and Jurassic Park Fallen Kingdom are all here. I settle for Jurassic Park: Fallen Kingdom. I like movies where I don't need to work out who the bad guy is.
I mean, come on. The bad guy practically has "bad guy" written on his face from the first time you see him. They might as well given him a mustache to twirl and flash lighting across the screen each time he appears.
8:40
The thinly-scripted characters and lean dialogue have made me hungry, so I venture to the galley to check out the snack bar.
The snack bar is loaded with all the junk food you could dream of:
Honey mustard flavoured popcorn
Trail mix (DIY- you take the packaged dry mango and organic cashew with caco nib cluster and mix it together)
Walkers cookies
BBQ flavored cassava chips, cheese flavor potato chips and pretzels
Assorted nuts
Ben and Jerry's Cone Sweet Cone ice cream cups (vanilla ice cream with chocolatey covered waffle cone pieces and a caramel swirl)
The snack table also has a female A350-900ULR bear, which mysteriously falls into my bag when no one is looking.
There is also a selection of hot snacks:
Unfortunately the lobster dumplings are all gone, so I have to settle for a focaccia BBQ pork sandwich with roasted vegetables and tomato soup. This is paired with yet another lemonade.
The sandwich tastes better than it looks- warm, buttered bread with passable char siew. The tomato soup is very astringent and rather thick, but you get used to it after a while.
I finish the snack off with ice cream.
9:00
I abandon the IFE and try to get to work. The Wi-Fi has slowed to a crawl, probably because of overutilization. But no matter, Powerpoint slides need no interweb.
I finish a few more slides for the 19 October workshop on Alternative Frequent Flyer programs. Never let it be said that I miss an opportunity to plug our events.
10:00
The crew start taking orders for the second meal. I've decided to be kiasu this time and pre-book the Canyon Ranch offering after what happened with the lobster dumplings.
We are now 6,650 km from Newark airport with just over 7 hours to go
11:00
The second meal begins with SQ's always-popular satay offering.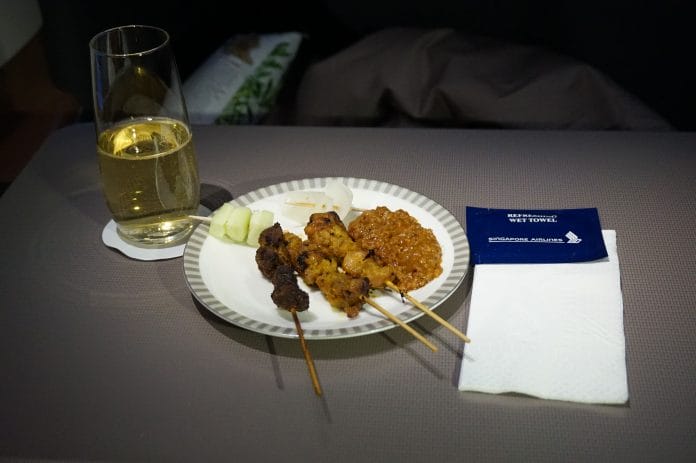 Then the starter of prawn ceviche and lavosh, served with orange, cucumber, grapefruit, cilantro, scallions and bell peppers. It seems a bit strange to call this ceviche, given the prawns are anything but raw.
The main is braised pork with citrus, white bean cassoulet, spinach, and parsley Marcona gremolata.
Compared to the outstanding first meal, this is a sort of anti-climax. The pork is bland, without an ounce of seasoning. The dish does benefit from a liberal application of salt, but I'm starting to regret not springing for the chicken rice.
A cart rolls across the aisle with dessert and cheese options.
The Canyon Ranch endorsed dessert option is a French Apple Frangipane Tart with whipped ricotta cheese. The tart doesn't hold up well, and I pick at it a little bit before giving up. I'm not a fan of the Canyon Ranch menu.
12:30
Meal service concludes and lights are dimmed again. we are now 4.5 hours from New York.
Time for another nap.
16:00
I wake with about 90 minutes to go to landing. It's at this point I realise I've completely neglected to watch the Canyon Ranch wellness videos. It's a miracle I've survived this long.
Not that there's a lot of them to watch- despite the PR blitz, the sum total of the Canyon Ranch multimedia experience is two videos:
The first one comprises of Healthy Travel Tips.
The video imparts gems of wisdom such as "engage your imagination for relaxation by imagining a place of beauty that is quiet and serene"
And also offers protips like "for a soothing eye massage gently run your hands over your face and down the back of your head several times". Lady, I know where my hands have been. I'm certainly not going to touch my face with them.
The second video is a series of stretching exercises.
I try to mirror some of the stretches on screen, but it seems hard so I give up.
16:40
The crew start making the final preparations for landing. There are only four bathrooms for 67 Business Class passengers, so you're going to want to change early to avoid the pre-landing rush.
Before we land, I ask the crew if they could help me sign a menu as a keepsake from the flight and they oblige.
Despite the long flight, they've been absolutely fantastic.
17:25
SQ22 touches down in EWR at 0524 and a piece of aviation history is made, 36 minutes ahead of schedule.
We fill the aisle to disembark. Richard Quest is still narrating things.
The captain rather unwisely opens the cockpit door to say farewell, and is promptly flooded with photo requests:
Postlude

It's only at baggage claim that the momentousness of the occasion finally sinks into me- I was just on the longest flight in the world. It certainly didn't feel that way, and I think that's high praise for Singapore Airlines. The flight felt like any other long haul flight, with excellent service, a comfortable seat and plenty of distractions. Although I wouldn't consider doing a flight this long in anything other than Business Class, I hear from others back in Premium Economy that the whole experience was rather tolerable.
This flight cost me 135,000 miles to redeem, but was worth every single one. To be part of an inaugural flight is a really special experience, and its events like this that miles chasers live for.
It's a great convenience to shave five hours off the Singapore New York route with a non-stop flight. Let's hope this remains economically viable for years to come. I'm going to post up some additional thoughts and reflections on the flight once I've had time to sort my head out (despite the LED lighting, jetlag can still be a factor).
---
Found this post useful? Subscribe to our Telegram Channel to get these posts pushed directly to your phone, or our newsletter (on the right of your screen) for the latest deals and hacks delivered to your inbox.