The Milelion's RTW Trip 2018: Trip Planning
Singapore Airlines SilverKris Lounge T3 SIN
SWISS Intl Airlines B77W Business Class SIN-ZRH
Cosmo Hotel Berlin
Westin Grand Berlin
The Intra-Europe Business Class Experience, 2018 Edition
Turkish Airlines A330 Business Class IST-AMM
Sheraton Amman Al Nabil
Royal Jordanian Crown Lounge AMM
Egypt Air B737 Business Class AMM-CAI-NBO
Tribe Hotel Nairobi
Sheraton Kampala
Ethiopian Airlines B737 Business Class NBO-ADD
Ethiopian Airlines B787 Business Class ADD-GRU
Marriott Sao Paulo Airport
Avianca Brasil A330 Business Class GRU-SCL
San Cristobal Tower Santiago
Air Canada B77W Business Class SCL-YYZ
Air Canada Express E175 Business Class YYZ-BOS
W Boston
United Airlines B757 First Class BOS-SFO
W San Francisco
United Airlines B77W Polaris Business Class SFO-NRT
ANA B787 Business Class NRT-SIN
If you asked me to sum up the United Polaris experience in one phrase, it'd probably be "marketing meets reality". 
For the longest time, United had one of the worst business class products in the game. People flew United business not because they enjoyed the experience, but because it had the best timings, or the fastest connectivity, or their corporate contracts obliged them to. The abject mediocrity of the United business class experience was summed up no better than on their 777-200s. I mean, just look at this:
Do not adjust your screens, because that's what United business class looks like. We joke about how bad Emirates' current (and future, sadly) business class is on their 777s with 3 seats across the center, but the only thing worse than 3 across is 4 across. And that's what United's legacy aircraft were offering in a 2-4-2 dorm room configuration. Those seats aren't much wider than economy, and if you thought one middle seat was bad, try wrapping your mind around two. But United wanted high density business class, because more seats crammed into the same space meant more profitable flights, and even though everyone else had long gone 1-2-1, all aisle access in business class remained a pipe dream for many United loyalists.
Which is why when Oscar Munoz took to the stage at Gotham Hall in New York back in June 2016 to announce Polaris, it seemed like United had finally achieved the best of both worlds. The CEO unveiled a vision of a stunning product that would be right at home on any world-class Asian airline, with a jazzed up soft product featuring luxurious bedding, wine flights, celebrity chef designed menus, redesigned amenities kits and gorgeous new lounges. The best part (for shareholders)? United still kept a high density 2-4-2 configuration, but thanks to clever engineering still managed to ensure each passenger got aisle access, plus a whole lot more privacy.
The interweb was impressed, and even laymen non-frequent travelers were talking about this new airline product. Polaris marketing hype reached critical levels when some brain trust at Forbes penned an article waxing lyrical about how amazing the new Polaris seat was and how "the absolute best part of that 16-hour non-stop flight to Hong Kong was the brand-new, high-tech seat. I was able to sleep so well for several reasons, but the most obvious one is the seat. United's new high-tech lie-flat seat was supremely comfortable." The only problem? He was flying the Polaris soft product, on one of United's old business class seats. Just goes to show you what a good marketing campaign can do.
United's rollout of the Polaris hard product has been slow. Here we are almost 20 months after the launch event, and there is only one Polaris lounge open, anywhere in the world. None of United's 55 777-200ERs have been refitted. 30% of the 767-300ER fleet have the new seats. And although 80% of the 777-300ER aircraft now have Polaris, that makes a grand total of only 18 aircraft throughout United's long haul fleet with the new seats.
And cutbacks have already begun. What my Polaris experience showed me was a product whose designers dreamt big, planned big and launched big, only to be brought down to earth by economic and operational considerations. Offering wine to everyone meant the wine budget exploded. Mattress pads and pillows started becoming more scarce. United flight attendants, not exactly known to be paragons of industry, complained the new service routines took up too much time and demanded they be simplified.
Little by little, United's core dysfunctions chipped away at what should should have been a game-changing product for the airline. Polaris isn't bad, by any means. It's just that it's a far cry from the lofty vision that Mr Munoz unveiled that fateful evening in Manhattan.
And so I embarked on my virgin Polaris experience.
My United Polaris Experience
At check-in, my bags were tagged through to my connecting flight on ANA to Singapore, and a little pardon-our-dust card was issued regarding the current lounge situation for United at SFO:
As promising as the inflight experience was, the ground experience for Polaris leaves a lot to be desired. I mentioned in my trip planning post that the Polaris lounges are way, way overdue. As of today, only the Polaris lounge in Chicago ORD is open, with San Francisco, Newark and London supposed to be in the second wave but pretty much delayed indefinitely.
This is all the more embarrassing for United given that SFO is supposed to be its flagship home base, but all it has to offer in terms of a lounge is the old Global First facility near Gate 99, hastily pressed into service as the longhaul premium cabin lounge for all Star Alliance carriers. That's right- a facility that was originally built just for First Class passengers is now expected to deal with the high volume of Business Class passengers passing through SFO every day. It's no wonder that every 10 minutes, the lounge agent came on the PA reminding passengers not to put bags on chairs and to keep as many seats as possible open.
The overcrowding situation means the Global First lounge is no haven of tranquility. Just getting a seat is a herculean task and I finally settled for a seat next to a woman who everyone seemed to be avoiding because she was coughing incessantly.
The lounge offerings are a strange confluence of cheap and expensive, almost as if there were two conflicting forces at play when selecting the F&B.
On the one hand, you have the standard fixtures of a United Club, which means all the wonders and delights of a continental breakfast.
On the other, you have a full alcohol selection, including champagne- definitely something you wouldn't expect to find in a United Club. This is probably the "Global First" legacy aspect of the lounge, and it's interesting that United chose (or was compelled by its Star Alliance partners) to maintain that.
The lounge doesn't have much else in terms of facilities. This sign pretty much sums it up:
Fortunately I didn't have long to spend in the lounge, and before long was on my way to the boarding gate, where I jostled with the Group 1 scrum to be first on board to snap photos.
The cabin is, well it's blue. The cabin was bathed in a calm, soothing blue tone despite it being late morning. That's because the cabin windows are drawn by default, and surprisingly, unlike airlines elsewhere in the world, window shades do not need to be open for TTOL (or the crew simply didn't care).
Although some airlines are doing away with the overhead bins over the central seats in their business class cabins to improve the feeling of spaciousness, United hasn't done so. It should be pretty obvious why- this is one of the highest density business class cabins in the game, and it's doubtful if there'd be enough overhead storage space if only side bins were available.
As mentioned, you've got a modified 2-4-2 configuration that plays like a 1-2-1 because of the way the seats are angled. The seats at the side come in two flavours- closer to the aisle, and away from the aisle. Visually it look something like this:
You can see that if you're going for a single seat at the side, the prime ones are those in the odd numbered rows. If all the side seats are gone, you should try for a center seat in the even rows, because those at least face away from your seatmate. Odd numbered rows in the center are front facing, and more suited for couples.
Here's what the odd numbered side seats look like:
And the even numbered side seats.
The even numbered center seats:
And the odd numbered center seats. Which is probably the best photo of all, given it's from the official website. Maybe I should have led with this one.
I was really gunning for an odd number side seat for maximum privacy, but those were all snapped up. I ended up with 12L. Despite my fears, the seat still had very decent privacy thanks to the wrap around wings.
Here's what you see if you turn your head and look to the aisle (the difference in lighting is because this was taken after takeoff).
It should be mentioned that I found the overall experience very private. Although there are a lot of people in one cabin, the high walls of the seat mean you don't really see anyone else. Staring down the aisle, all you really see is the privacy wings and not anyone else- a big plus in my book.
The seat had a very large footwell, so those of you with big feet need not worry. A pair of white slippers was waiting inside the footwell- at first I thought this was just because the flight was to Japan, and the Japanese are finicky about such things, but it turns out slippers are a standard feature across Polaris now so kudos for that.
At each seat there was a day blanket, along with a pillow and heavier sleeping blanket. I'll get to the sleeping amenities later in this report, but just for the record everything is Saks Fifth Avenue branded.
The seat controls were pretty interesting. You had the usual buttons for the nightlight, table lamp and manual adjustments for lumbar and footrest etc, but there was also a thumbwheel that you could use to put the seat into full flat or full upright positions.
The crew came around with menus, a box of chocolates and a choice of pre-departure beverages including sparkling wine. What I can't get is- you spend hundreds of millions giving your entire hard and soft product a makeover, and then you use plastic cups during boarding.
Interestingly enough, United has chosen to install old style IFE controllers with Polaris and not the newfangled touch screen doodads that everyone else is going for. It doesn't really bother me though, because I find the touch screen units prone to hanging.
Given how important storage space is to passengers these days, it's surprising that the Polaris seat doesn't actually have a whole lot of it. There's a small table top next to you that can fit maybe a tablet and some reading materials.
And there's a small, shallow storage cabinet can be found in the space behind your right shoulder. That's it.  Here's where I found the headphones and amenities kit.
Where headphones are concerned, this is an area where United has dropped the ball somewhat. The headphones are pretty basic, not noise cancelling, and certainly not anywhere close to the Bose headphones that AA offers in business class.
United has very interesting amenities kits- they're in a hard metal case, with 747 branding on them. United completed its final 747 flight in November of last year, and I'm guessing this series of amenities kits was specially commissioned to mark that event.
It's a pretty substantial amenities kit- earplugs, toothbrush kit, pen, socks, eye mask, lip balm, wet towels and facial tissue.
The seat has a single Empower outlet and a USB port.
Each seat has a a focused reading light on one side, and a more general use lamp.
The tray table slides out from under the IFE screen, and has a stand for a tablet. It's good and sturdy, and when you slide it forward and lower your armrest, you can access the aisle without having to fold your tray table. That's useful during mealtime.
We got underway with the pilot welcoming us to the new Polaris cabin. The flight crew were a mix of Asian and Western, although because this was a flight to Japan there looked like there were a few Japanese crew too. I always wondered how the Japanese culture of service would fare when you crossed it with the union-mandated grumpiness of United…
United has a rather cute preflight video featuring the Olympic heroes of the USA and the, er, unionized heroes of United.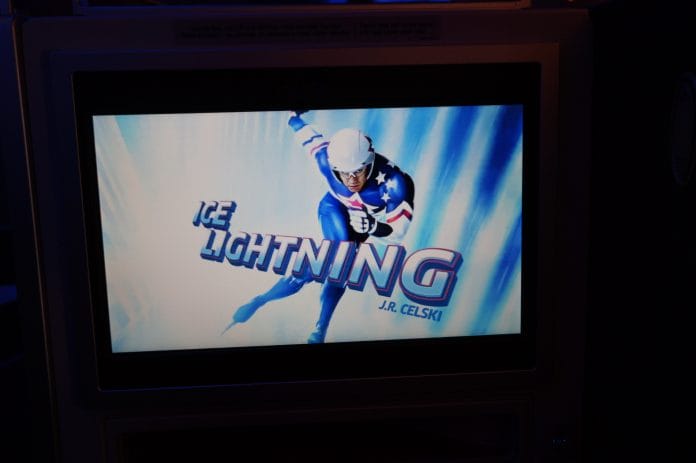 Once airborne, the crew drew the curtains between sections. Here's one thing I don't get: transparent curtains. If curtains are transparent, they're more of a psychological separation tool than a real privacy tool, to tell people not to cross over into other cabins. Maybe it's to allow the cabin crew to see up and down the aisles all at once, but other airlines don't have that feature and seem to get along just fine. Perhaps there's something more than meets the eye here, but I wasn't a fan.
While the crew prepared for post-takeoff drinks, I browsed the IFE system. I am positively intrigued by the addition of these cameras to IFE screens. I first noticed this on Avianca, but it seems like United's screens have them too. I read on RGN about "seat-back immigration", and wonder if this could be the prelude to something grand…
United has a great selection of movies and other diversions.
We had quite a distance to go to Tokyo…
Here's a selection of what was playing: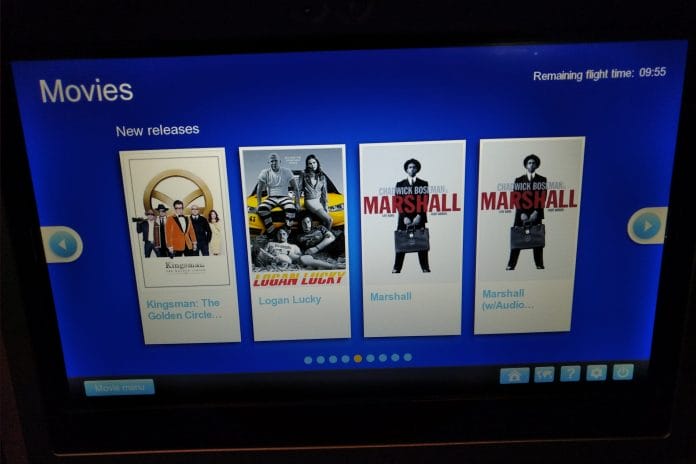 I started watching Three Billboards Outside Ebbing Missouri, but stopped after a while because there was so much obvious censoring and cutting that it disrupted my viewing experience. I mean, I dislike potty talk as much as the next man, but I worried that I was missing important plot points.
The coolest feature of the IFE by far was the flight deck channel that lets you listen in on communications between the pilots and ATC. The problem was- I could never actually hear anything. Maybe it was just my bad luck and I tuned in when no one was talking.
One of the much vaunted features of the new Polaris service was the wine tastings, with marketing materials boasting how passengers would enjoy wine flights with three different white or red wines.
Of course, that was before they realised passengers were chugging down so much grape juice that the company was going 300% over its budgeted wine allowances.  It's therefore no surprise that United is making cutbacks to its drinks service, most noticeably by doing away with wine carts effective May 1. Passengers can still request for wine, of course, just that it won't be proactively offered in the hope that this will reduce consumption.
May 1 is still some time away, but the impending cutback is already clear to see. Here's what my white wine tasting looked like:
In case you can't see clearly exactly how much wine was poured, here's a close up sans the glass tray.
Yup. The de facto standard is now pouring literally one sip, one sip of each wine, and depending on whether the flight attendant remembers, coming back later and asking which of the three you'd like a (quarter) glass of.
So that right there is an example of a great Polaris marketing featuring meeting economic reality.
It probably won't surprise you to know that the Japanese people are incredibly particular about what they eat, so flights catered to Japan destinations tend to have better food. I had great expectations for the catering out of SFO.
The zensai starter had squid stuffed with wasabi, mashed potatoes, a duck skewer, minced baked egg, black soy bean jelly and salmon roe on tomato with ground radish. There was nimono, a simmered dish with shrimp, eggplant and taro, and kobachi, a seafood dish with scallop, yu choy, apple, plum and goma sauce. I didn't particular enjoy anything on offer here, but that might be more personal preference rather than food quality. Note that despite all the flashy marketing, United still serves the entire course on a tray.
The main was beef yamatoni, with shimeji and eryngii mushrooms, onion and mixed peppers. This one was disappointing because the beef had a decidedly leathery quality to it, without much flavour. The rice was also pretty mushy, suggesting someone at SFO catering had been a bit too heavy handed with the water. United insiders hold that the airline has been cutting back on food quality, and it wouldn't surprise me based on this meal.
I finished the main quickly, but faced a long wait until my tray was removed and the cheese cart rolled around.
The sundae cart came around again, and say what you will about fancy desserts and creme brulee and baked alaska and whatnot, it's hard to beat ice cream in the air.
United Polaris Sundae course
A food coma was setting in, and I decided to test the seat's sleeping credentials. Once upon a time, United positively inundated Polaris passengers with bedding. You'd have access to no fewer than six different pieces, and people were having trouble storing all that given that the Polaris seat isn't exactly generous with storage space. After a while, the bedding got cut back, with one pillow disappearing and fewer mattress pads provisioned on each flight ("based on customer feedback", because of course).
The best sleeping amenities on Polaris are upon request only, and in limited quantities, so you need to request them as early as possible. I was mindful to request the mattress pad, PJs and gel pillow as soon as the doors closed, carefully seeking out the least threatening looking flight crew member to ask. In retrospect, it probably wasn't necessary to be a kancheong spider because no one else in the cabin seemed to be aware that you could request these things.
As it turned out, this flight clocked in at 9h 15 mins, which was well short of the 12 hour threshold needed for PJs to be stocked. Here's what they would have looked like, courtesy of TPG.
Fortunately the gel pillow and mattress pad were available, and that allowed me to convert my seat into a very comfortable bed. United keeps on harping that the Polaris seat was "designed around the theme of sleep", so I was interested to see how all that R&D paid off.
As it turns out, that money appears to have been well-spent. With the mattress pad in place, the bed was extremely comfortable. Even though my seat was closer to the aisle, the wings of the seat meant that movement in the aisle didn't bother me too much. And I've mentioned this before in my BOS-SFO review, it's worth mentioning again that the Saks Fifth Avenue blanket is silky smooth and luxurious feeling. I easily slept 3-4 hours without any disturbance.
In the galley of the aircraft the crew set up the snacks station. You'll find still and sparkling water, a plate of chocolates and tarts, and a snack basket with Ghirardelli chocolates, gummy bears, fruits and chips. Airlines always seem to go for safe flavours when they offer chips, sadly. I've never seen anything beyond sea salt, and sea salt with vinegar.
There was no hot snack menu, or at least I didn't see it. When Polaris launched, the PR proudly mentioned snacks like "lobster mac and cheese" to be served on flights above 8 hours. No sign of that here, and I can only surmise this to be another cutback. Maybe I was supposed to ask, but the crew weren't exactly the most proactive with requests.
For all the investment that's gone into the cabin, it's a bit surprising that the bathrooms are petty standard fare. Apart from the Cowshed branded amenities, there really isn't too much here to write home about. It was surprising that there was no additional amenities basket (eg with wet towels, combs, spare toothbrush kits) available in the loo, as is the case with what you'll find on a lot of Asian airlines on long haul flights.
The bathrooms didn't get a lot of love from the crew through the flight either.
I managed to get some work done using the airplane's Wi-Fi. It cost US$29.99 for the entire flight, which is pretty much par the course. The connectivity got really bad in some places, degrading to borderline unusable for large parts of the route.
Breakfast was served before landing in Narita (despite the fact we'd arrive at about 3pm local time).I went for the Japanese curry and rice, which was much better than the first meal.
We got into Narita more or less on schedule, and just like that, I could now join the ranks of those who had tried Polaris. Like, the real Polaris. Maybe Forbes will ask me to write something now.
Conclusion
If you squint hard enough, you can sort of see what United wanted to do with Polaris. Lurking beneath the surface of the cutbacks and cost savings masquerading as "customer feedback", you can make out a really impressive soft product rounding out what is a huge step up for United in terms of hard product. It's a shame that United's given up on some promising features so early in the game.
Again, I think the overall experience with Polaris was largely positive. The seat was very comfortable and private, the amenities kit was impressive and once the lounge situation gets sorted they'll have a very competitive business class.
Should you fly Polaris? You should definitely check it out at least once, and award space seems to be available on certain routes. Should it be the gold standard for other airlines to follow? Perhaps as it was originally envisioned. This being United, you have to wonder how much they're committed to staying the course of their big makeover.
And it's a shame, too, because I think they were on to something.