Wow.
During Spontaneous Escapes, we usually see selected routes available at 30% off. This has been the practice for a very long time now, so imagine my surprise when I got a message from a reader this morning that many routes for February were pricing at 51% off. 
I checked the website and indeed found it to be so- Frankfurt, Milan, Rome, Brisbane, Adelaide, Seoul, Tokyo…all available for February travel at 51% off the usual redemption costs.
I had no idea whether this was an error or intentional, but what I do know is that in these situations you book first and ask questions later. I went ahead and booked a SIN-FRA Business Class redemption for just 45,080 miles (phenomenal value) and S$49.80 in taxes, which ticketed without any issues. I'm going to use this as the foundation for an EVA Air 787-10 Business Class review (more on that in another post).
As to whether this is a glitch or intentional, someone on the Telegram Group pointed out that under Restrictions, "51 PERCENT PROMOTION" is stated. This leads me to believe that it's intentional- perhaps a way to celebrate some sort of landmark.
Update: And indeed, it is official. KrisFlyer is celebrating its 21st birthday this Feb, hence 30% (usual) + 21% (bonus). See full analysis below
The concern now is booking your flights before everyone else (like those in Europe/USA) snaps them up.
As a reminder, you need to click on the flight before the discount appears. Initially you'll see regular pricing.
If you've clicked on a flight and don't see a discount reflecting, it's possible that particular date is a blackout or that particular flight number isn't on offer. Keep trying. Please remember that Spontaneous Escapes cannot be changed or cancelled, so make sure your plans are confirmed before you pull the trigger.
Now that the deals are officially up, here's the full analysis:
---
All Spontaneous Escape awards must be booked and ticketed by 31 January 2020 and are for travel between 1-29 February 2020 (both dates inclusive, blackout dates apply).
Ground Rules of Spontaneous Escapes
Tickets cannot be changed or cancelled. Be sure about your travel plans or buy a travel insurance policy that covers miles bookings

Tickets must be booked online; no phone bookings are permitted

Cannot be used in conjunction with the $100 stopover trick 

Discounts may apply in one direction only e.g. SIN-BKK may be on discount but BKK-SIN may not. Be sure to read the offers carefully 

You must ticket your award during the promotion period. If your waitlist clears after the promotion period ends, you'll pay the regular price

Blackout dates apply. If you're not seeing discounts, this may be why

Your travel must be completed within the Spontaneous Escapes promotion period to qualify. For example, if you fly on the last day of the month but land on the first day of the following month, no discount applies
Remember that the discount will only appear once you've clicked on the selected award
Here's a summary of what's available for Singapore Airlines and SilkAir in February 2020.
What's good this month?
With 51% off, everything is good. This is basically a 2-for-1 deal on many destinations- time to take that special someone on a trip of a lifetime.
I'd definitely focus on snapping up long-haul Business Class redemptions because I don't think you'll ever see them this low again for a long time. Please don't waste this opportunity on Economy or Premium Economy Class redemptions- this is the month for Business.
Here's my thoughts on this month's destinations.
North America and Europe
With 51% off, rates to North America and Europe are an absolute steal. It gets even better when you take into account the fact that Singapore Airlines has no fuel surcharges on awards.
San Francisco, Dusseldorf, Paris, Milan, Barcelona and Rome are all excellent deals at 45-46K miles for one-way Business Class, assuming you're able to take last minute leave for a long-ish trip (there's no point going for less than a week, in my opinion).
These routes will be served by either A350-900s or B77Ws, both of which will have the 2013 Business Class product.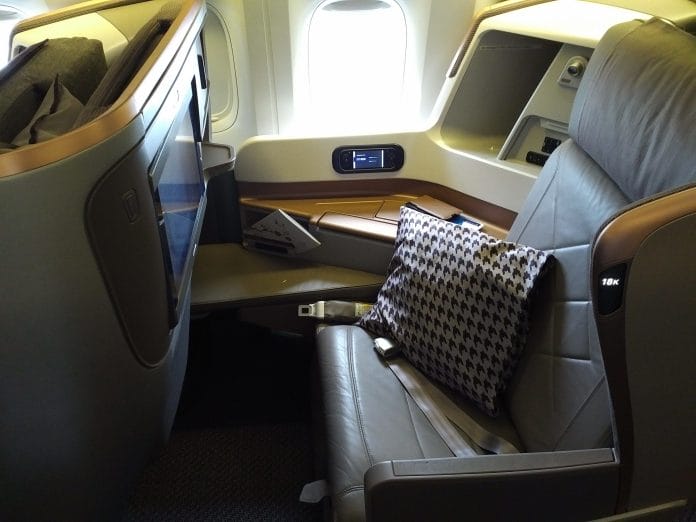 Japan and South Korea
The other region you'll want to look at is Japan and South Korea, which will cost only 23K miles for one-way Business Class. Tokyo, Nagoya, Osaka, Fukuoka, Busan and Seoul are all available, and it may be freezing in February but that's just an excuse to go clothes shopping.
Even better, all these destinations are available both inbound and outbound from Singapore.
You'll find a mix of products on these routes, including the 2018 Regional Business Class seat.
Conclusion
February 2020's Spontaneous Escapes are a deal you simply can't miss. Remember to ticket your awards before 31 January!
Here's the full list of destinations available (best viewed on desktop):
Singapore Airlines
South East Asia
| FROM | MILES REQUIRED FOR ECONOMY CLASS | FLIGHT NO. | BLACKOUT PERIOD | MILES REQUIRED FOR BUSINESS CLASS | FLIGHT NO. | BLACKOUT PERIOD |
| --- | --- | --- | --- | --- | --- | --- |
| Singapore to Kuala Lumpur | 3,675 | SQ112, SQ116 | – | 9,310 | SQ112, SQ116, SQ118 | – |
| Kuala Lumpur to Singapore | 3,675 | SQ107 | – | 9,310 | SQ107 | – |
| Singapore to Jakarta | 3,675 | SQ950, SQ962, SQ964 | – | – | – | – |
| Jakarta to Singapore | 3,675 | SQ951, SQ967 | – | – | – | – |
| Singapore to Surabaya | 3,675 | SQ930, SQ932 | – | 9,310 | SQ930, SQ932 | – |
| Surabaya to Singapore | 3,675 | SQ931, SQ933 | – | 9,310 | SQ931, SQ933 | – |
| Singapore to Bali | 3,675 | SQ946, SQ948 | 12 – 15 February, 21 – 22 February 2020 | 9,310 | SQ938, SQ942, SQ946, SQ948 | – |
| Bali to Singapore | 3,675 | SQ939, SQ943, SQ949 | – | 9,310 | SQ939, SQ943, SQ947, SQ949 | – |
| Singapore to Hanoi | 6,125 | SQ176, SQ188 | 1 – 3 February 2020 | – | – | – |
| Hanoi to Singapore | 6,125 | SQ175, SQ187 | 1 – 3 February 2020 | – | – | – |
| Singapore to Ho Chi Minh City | 6,125 | SQ178, SQ184, SQ186 | 1 – 3 February 2020 | – | – | – |
| Ho Chi Minh City to Singapore | 6,125 | SQ177, SQ183, SQ185 | 1 – 3 February 2020 | – | – | – |
| Singapore to Bangkok | 6,125 | SQ982, SQ976 | – | 10,535 | SQ982, SQ978 | – |
| Bangkok to Singapore | 6,125 | SQ973, SQ981 | – | 10,535 | SQ973, SQ981 | – |
| Singapore to Manila | 6,125 | SQ912, SQ916, SQ918 | – | 10,535 | SQ912, SQ916, SQ918 | – |
| Manila to Singapore | 6,125 | SQ915, SQ919, SQ921 | – | 10,535 | SQ915, SQ919, SQ921 | – |
| Phuket to Singapore | 6,125 | SQ993 | – | 10,535 | SQ993 | – |
North Asia
| FROM | MILES REQUIRED FOR ECONOMY CLASS | FLIGHT NO. | BLACKOUT PERIOD | MILES REQUIRED FOR BUSINESS CLASS | FLIGHT NO. | BLACKOUT PERIOD |
| --- | --- | --- | --- | --- | --- | --- |
| Singapore to Taipei | 7,350 | SQ878 | 1 – 3 February, 8 – 10 February 2020 | – | – | – |
| Taipei to Singapore | 7,350 | SQ877, SQ879 | 1 – 3 February 2020 | – | – | – |
| Singapore to Guangzhou | 7,350 | SQ850 | 1 – 13 February 2020 | – | – | – |
| Guangzhou to Singapore | 7,350 | SQ851 | 1 – 9 February 2020 | – | – | – |
| Singapore to Hong Kong | 7,350 | SQ890, SQ860, SQ856, SQ866, SQ872, SQ868 | 1 – 3 February 2020 | 14,945 | SQ890, SQ860, SQ856, SQ866, SQ872, SQ868 | – |
| Hong Kong to Singapore | 7,350 | SQ857, SQ891, SQ863, SQ861, SQ865, SQ871, SQ1 | – | 14,945 | SQ857, SQ891, SQ863, SQ861, SQ865, SQ871, SQ1 | – |
| Hong Kong to San Francisco | 16,170 | SQ2 | – | 43,610 | SQ2 | – |
| San Francisco to Hong Kong | 16,170 | SQ1 | – | 43,610 | SQ1 | – |
| Singapore to Beijing | 9,800 | SQ800, SQ802, SQ806 | 1 – 16 February 2020 | 19,110 | SQ800, SQ802, SQ806 | 1 – 17 February 2020 |
| Beijing to Singapore | 9,800 | SQ805, SQ807 | 1 – 10 February 2020 | 19,110 | SQ805, SQ807 | 1 – 9 February 2020 |
| Singapore to Shanghai | 9,800 | SQ826, SQ828, SQ830 | 1 – 14 February 2020 | 19,110 | SQ826, SQ828, SQ830 | 1 – 13 February 2020 |
| Shanghai to Singapore | 9,800 | SQ825, SQ827, SQ831, SQ833 | 1 – 6 February 2020 | 19,110 | SQ825, SQ827, SQ831, SQ833 | 1 – 6 February 2020 |
| Singapore to Busan | – | – | – | 23,030 | SQ616 | – |
| Busan to Singapore | 12,250 | SQ615 | – | 23,030 | SQ615 | – |
| Singapore to Seoul | 12,250 | SQ600, SQ602, SQ612 | – | 23,030 | SQ602, SQ608, SQ612 | – |
| Seoul to Singapore | 12,250 | SQ609, SQ603, SQ611 | – | 23,030 | SQ603, SQ607, SQ611 | – |
| Singapore to Fukuoka | 12,250 | SQ656 | 6 – 11 February, 20 – 29 February 2020 | 23,030 | SQ656 | – |
| Fukuoka to Singapore | – | – | – | 23,030 | SQ655 | – |
| Singapore to Tokyo | – | – | – | 23,030 | SQ630, SQ634, SQ638 | – |
| Tokyo to Singapore | – | – | – | 23,030 | SQ639, SQ637, SQ11 | 1 – 6 Feb 2020 |
| Singapore to Nagoya | 12,250 | SQ672 | 7 – 11 February, 21- 29 February 2020 | 23,030 | SQ672 | – |
| Nagoya to Singapore | 12,250 | SQ671 | 2 – 9 February, 13- 24 February 2020 | 23,030 | SQ671 | – |
| Singapore to Osaka | 12,250 | SQ618, SQ620, SQ622 | 21 – 25 February 2020 | 23,030 | SQ620, SQ622 | – |
| Osaka to Singapore | 12,250 | SQ621 | 1 – 2 February, 21 – 22 February 2020 | 23,030 | SQ619, SQ621, SQ623 | 1 – 2 February 2020 |
South Asia
| FROM | MILES REQUIRED FOR ECONOMY CLASS | FLIGHT NO. | BLACKOUT PERIOD | MILES REQUIRED FOR BUSINESS CLASS | FLIGHT NO. | BLACKOUT PERIOD |
| --- | --- | --- | --- | --- | --- | --- |
| Singapore to Ahmedabad | 9,065 | SQ530 | 1 – 7 February 2020 | 19,110 | SQ530 | – |
| Singapore to Kolkata | 9,065 | SQ516 | – | 19,110 | SQ516 | – |
| Singapore to Bangalore | 9,065 | SQ502, SQ504 | – | – | – | – |
| Singapore to Dhaka | – | – | – | 19,110 | SQ446, SQ448 | – |
| Dhaka to Singapore | – | – | – | 19,110 | SQ447, SQ449 | – |
| Singapore to Malé | 9,065 | SQ452 | – | 19,110 | SQ452 | 1 – 8 February 2020 |
| Malé to Singapore | 9,065 | SQ451 | – | – | – | – |
Australia
| FROM | MILES REQUIRED FOR ECONOMY CLASS | FLIGHT NO. | BLACKOUT PERIOD | MILES REQUIRED FOR BUSINESS CLASS | FLIGHT NO. | BLACKOUT PERIOD |
| --- | --- | --- | --- | --- | --- | --- |
| Singapore to Adelaide | – | – | – | 30,380 | SQ279 | – |
| Adelaide to Singapore | 13,720 | SQ278 | – | 30,380 | SQ278 | – |
| Singapore to Brisbane | 13,720 | SQ255 | 1 – 16 February 2020 | 30,380 | SQ245, SQ255, SQ265 | – |
| Brisbane to Singapore | 13,720 | SQ236, SQ246, SQ266 | – | 30,380 | SQ236, SQ256, SQ266 | – |
Middle East/Africa
| FROM | MILES REQUIRED FOR ECONOMY CLASS | FLIGHT NO. | BLACKOUT PERIOD | MILES REQUIRED FOR BUSINESS CLASS | FLIGHT NO. | BLACKOUT PERIOD |
| --- | --- | --- | --- | --- | --- | --- |
| Singapore to Dubai | 12,250 | SQ494 | – | 24,010 | SQ494 | – |
| Dubai to Singapore | 12,250 | SQ495 | – | 24,010 | SQ495 | – |
| Singapore to Johannesburg | 12,250 | SQ482 | – | 24,010 | SQ482 | – |
| Johannesburg to Singapore | 12,250 | SQ481 | – | 24,010 | SQ481 | – |
Europe
| FROM | MILES REQUIRED FOR ECONOMY CLASS | FLIGHT NO. | BLACKOUT PERIOD | MILES REQUIRED FOR BUSINESS CLASS | FLIGHT NO. | BLACKOUT PERIOD |
| --- | --- | --- | --- | --- | --- | --- |
| Singapore to Amsterdam | 18,620 | SQ324 | 21 – 29 February 2020 | – | – | – |
| Singapore to Barcelona | 18,620 | SQ388 | 21 – 29 February 2020 | 45,080 | SQ338 | – |
| Barcelona to Singapore | 18,620 | SQ377 | 1 – 9 February 2020 | 45,080 | SQ377 | – |
| Singapore to Düsseldorf | – | – | – | 45,080 | SQ338 | – |
| Düsseldorf to Singapore | – | – | – | 45,080 | SQ337 | – |
| Singapore to London | 18,620 | SQ308, SQ318 | – | – | – | – |
| London to Singapore | 18,620 | SQ317 | – | – | – | – |
| Singapore to Milan | 18,620 | SQ356 | 1 – 8 February 2020 | 45,080 | SQ356 | – |
| Milan to Singapore | 18,620 | SQ377 | 1 – 9 February 2020 | – | – | – |
| Singapore to Rome | 18,620 | SQ366 | 26, 29 February 2020 | 45,080 | SQ366 | – |
| Rome to Singapore | – | – | – | 45,080 | SQ365 | – |
| Singapore to Paris | 18,620 | SQ334 | 1 – 3 February, 18 – 29 February 2020 | 45,080 | SQ334 | 1, 8, 15, 22, 29 February 2020 |
| Singapore to Frankfurt | 18,620 | SQ326 | – | 45,080 | SQ326 | – |
| Frankfurt to New York | 11,025 | SQ26 | – | – | – | – |
| New York to Frankfurt | 11,025 | SQ25 | – | – | – | – |
| Manchester to Houston | 11,025 | SQ52 | – | – | – | – |
| Houston to Manchester | 11,025 | SQ51 | – | – | – | – |
USA
| FROM | MILES REQUIRED FOR ECONOMY CLASS | FLIGHT NO. | BLACKOUT PERIOD | MILES REQUIRED FOR BUSINESS CLASS | FLIGHT NO. | BLACKOUT PERIOD |
| --- | --- | --- | --- | --- | --- | --- |
| Singapore to San Francisco | 18,620 | SQ2 | – | 46,550 | SQ2 | – |
| San Francisco to Singapore | 18,620 | SQ1 | – | 46,550 | SQ1 | – |
SilkAir
South East Asia
| FROM | MILES REQUIRED FOR ECONOMY CLASS | FLIGHT NO. | BLACKOUT PERIOD | MILES REQUIRED FOR BUSINESS CLASS | FLIGHT NO. | BLACKOUT PERIOD |
| --- | --- | --- | --- | --- | --- | --- |
| Singapore to Kuala Lumpur | 3,675 | MI320, MI326, MI328, MI330, MI340, MI342 | – | 9,310 | MI320, MI326, MI328, MI330, MI340, MI342 | – |
| Kuala Lumpur to Singapore | 3,675 | MI319, MI321, MI323, MI325, MI341 | – | 9,310 | MI319, MI321, MI323, MI325, MI341 | – |
| Singapore to Penang | 3,675 | MI346, MI348, MI350, MI352, MI354, MI356 | 1 February 2020 | 9,310 | MI346, MI348, MI350, MI352, MI354, MI356 | – |
| Penang to Singapore | 3,675 | MI345, MI347, MI349, MI351, MI353, MI355 | 1 – 3 February 2020 | 9,310 | MI345, MI347, MI349, MI351, MI353, MI355 | – |
| Singapore to Bandung | 3,675 | MI192, MI194, MI196 | – | – | – | – |
| Bandung to Singapore | 3,675 | MI191, MI193, MI195 | – | – | – | – |
| Singapore to Bali | – | – | – | 9,310 | MI176 | – |
| Bali to Singapore | – | – | – | 9,310 | MI175 | – |
| Singapore to Surabaya | 3,675 | MI224, MI226 | – | – | – | – |
| Surabaya to Singapore | 3,675 | MI223, MI225 | – | – | – | – |
| Singapore to Lombok | 3,675 | MI124, MI128 | – | 9,310 | MI124, MI128 | – |
| Lombok to Singapore | 3,675 | MI123, MI127 | – | 9,310 | MI123, MI127 | – |
| Medan to Singapore | 3,675 | MI237 | – | – | – | – |
| Singapore to Davao City | – | – | – | 9,310 (this is an error, the price should be 10,535) | MI562 | – |
| Davao City to Singapore | – | – | – | 9,310 (this is an error, the price should be 10,535) | MI562 | – |
| Cebu to Singapore | 6,125 | MI559 | – | – | – | – |
| Singapore to Phuket | 6,125 | MI756 | – | 10,535 | MI754, MI756 | – |
| Phuket to Singapore | 6,125 | MI749 | – | 10,535 | MI749, MI753 | – |
| Singapore to Hanoi | 6,125 | MI654 | 1 – 3 February 2020 | – | – | – |
| Hanoi to Singapore | 6,125 | MI653 | 1 – 3 February 2020 | – | – | – |
| Singapore to Phnom Penh | 6,125 | MI602, MI606, MI608 | – | 10,535 | MI602, MI606, MI608 | – |
| Phnom Penh to Singapore | 6,125 | MI601, MI605, MI607 | – | 10,535 | MI601, MI605, MI607 | – |
North Asia
| FROM | MILES REQUIRED FOR ECONOMY CLASS | FLIGHT NO. | BLACKOUT PERIOD | MILES REQUIRED FOR BUSINESS CLASS | FLIGHT NO. | BLACKOUT PERIOD |
| --- | --- | --- | --- | --- | --- | --- |
| Singapore to Chengdu | 7,350 | MI938 | 1 – 15 February 2020 | – | – | – |
| Chengdu to Singapore | 7,350 | MI935, MI937 | 1 – 5 February 2020 | – | – | – |
| Singapore to Chongqing | 7,350 | MI972, MI976, MI980 | 1 – 9 February 2020 | – | – | – |
| Chongqing to Singapore | 7,350 | MI971, MI975, MI979 | 1 – 5 February 2020 | – | – | – |
| Singapore to Shenzhen | 7,350 | MI962, MI966, MI968 | 1 – 7 February 2020 | – | – | – |
| Shenzhen to Singapore | 7,350 | MI961, MI965, MI980 | 1 – 5 February 2020 | – | – | – |
| Singapore to Xiamen | 7,350 | MI922 | 1 – 9 February 2020 | – | – | – |
| Xiamen to Singapore | 7,350 | MI921 | 1 – 5 February 2020 | – | – | – |
| Singapore to Hiroshima | 12,250 | MI868 | – | 23,030 | MI868 | – |
| Hiroshima to Singapore | 12,250 | MI867 | – | 23,030 | MI867 | – |
South Asia
| FROM | MILES REQUIRED FOR ECONOMY CLASS | FLIGHT NO. | BLACKOUT PERIOD | MILES REQUIRED FOR BUSINESS CLASS | FLIGHT NO. | BLACKOUT PERIOD |
| --- | --- | --- | --- | --- | --- | --- |
| Singapore to Chennai | – | – | – | 19,110 | MI436 | – |
| Singapore to Kochi | 9,065 | MI462, MI468 | – | 19,110 | MI462, MI468 | – |
| Kochi to Singapore | – | – | – | 19,110 | MI461, MI467 | – |
| Singapore to Kathmandu | – | – | – | 19,110 | MI416 | – |
| Kathmandu to Singapore | – | – | – | 19,110 | MI415 | – |
| Singapore to Malé | 9,065 | MI480 | – | – | – | – |
| Malé to Singapore | 9,065 | MI479 | – | – | – | – |
Australia
| FROM | MILES REQUIRED FOR ECONOMY CLASS | FLIGHT NO. | BLACKOUT PERIOD | MILES REQUIRED FOR BUSINESS CLASS | FLIGHT NO. | BLACKOUT PERIOD |
| --- | --- | --- | --- | --- | --- | --- |
| Singapore to Darwin | 9,800 | MI801, MI803 | – | 17,885 | MI801, MI803 | – |
| Darwin to Singapore | 9,800 | MI802, MI804 | – | 17,885 | MI802, MI804 | – |
| Singapore to Carins | 13,720 | MI811, MI813 | 1 – 12 February 2020 | 30,380 | MI811, MI813 | – |
| Carins to Singapore | 13,720 | MI812, MI814 | – | 30,380 | MI812, MI814 | – |
Singapore Airlines Premium Economy awards
North Asia
| FROM | MILES REQUIRED FOR PREMIUM ECONOMY CLASS | FLIGHT NO. | BLACKOUT PERIOD |
| --- | --- | --- | --- |
| Singapore to Beijing | 15,680 | SQ802, SQ806 | 1 – 15 February 2020 |
| Beijing to Singapore | 15,680 | SQ801, SQ807 | 1 – 3 February 2020 |
| Singapore to Shanghai | 15,680 | SQ828, SQ830, SQ836 | 1 – 9 February 2020 |
| Shanghai to Singapore | 15,680 | SQ825, SQ831, SQ833 | 1 – 2 February 2020 |
| Singapore to Tokyo | 16,905 | SQ12, SQ632, SQ634, SQ636, SQ638 | – |
| Singapore to Hong Kong | 12,005 | SQ860, SQ856, SQ866, SQ2 | 1 – 3 February 2020 |
| Hong Kong to Singapore | 12,005 | SQ863, SQ861, SQ865, SQ1 | – |
South Asia
| FROM | MILES REQUIRED FOR PREMIUM ECONOMY CLASS | FLIGHT NO. | BLACKOUT PERIOD |
| --- | --- | --- | --- |
| Singapore to Delhi | 15,680 | SQ406 | – |
| Singapore to Mumbai | 15,680 | SQ422, SQ424 | – |
Australia
| FROM | MILES REQUIRED FOR PREMIUM ECONOMY CLASS | FLIGHT NO. | BLACKOUT PERIOD |
| --- | --- | --- | --- |
| Brisbane to Singapore | 23,030 | SQ246 | – |
| Singapore to Melbourne | 23,030 | SQ227, SQ237 | – |
| Melbourne to Singapore | 23,030 | SQ208, SQ218, SQ228, SQ238 | – |
| Singapore to Sydney | 23,030 | SQ231 | 1 – 4 February 2020 |
| Sydney to Singapore | 23,030 | SQ212, SQ222, SQ232, SQ288 | – |
Middle East/Africa
| FROM | MILES REQUIRED FOR PREMIUM ECONOMY CLASS | FLIGHT NO. | BLACKOUT PERIOD |
| --- | --- | --- | --- |
| Singapore to Dubai | 18,130 | SQ494 | – |
| Dubai to Singapore | 18,130 | SQ495 | – |
| Singapore to Istanbul | 18,130 | SQ392 | – |
| Istanbul to Singapore | 18,130 | SQ391 | – |
| Singapore to Johannesburg | 18,130 | SQ482 | – |
| Johannesburg to Singapore | 18,130 | SQ481 | – |
Europe
| FROM | MILES REQUIRED FOR PREMIUM ECONOMY CLASS | FLIGHT NO. | BLACKOUT PERIOD |
| --- | --- | --- | --- |
| Singapore to Barcelona | 31,605 | SQ388 | – |
| Barcelona to Singapore | 31,605 | SQ387 | – |
| Singapore to Rome | 31,605 | SQ366 | – |
| Rome to Singapore | 31,605 | SQ365 | – |
| Singapore to Paris | 31,605 | SQ334, SQ336 | – |
| Paris to Singapore | 31,605 | SQ333, SQ335 | – |
| Singapore to Frankfurt | 31,605 | SQ326 | – |
| Manchester to Houston | 23,030 | SQ52 | – |
| Houston to Manchester | 23,030 | SQ51 | – |
USA
| FROM | MILES REQUIRED FOR PREMIUM ECONOMY CLASS | FLIGHT NO. | BLACKOUT PERIOD |
| --- | --- | --- | --- |
| Frankfurt to New York | 33,320 | SQ36, SQ38 | – |
| New York to Frankfurt | 33,320 | SQ35, SQ37 | – |
| Singapore to Houston | 35,770 | SQ22 | – |
| Houston to Singapore | 35,770 | SQ21 | – |