Stopovers are one of KrisFlyer's best kept secrets. Used properly, they can help save a ton of miles, which means more flights for you and your loved ones. But the SQ website gives precious little information on stopovers and what you can do with them. So where do you get started?
In this guide, you'll learn everything you need to know about stopovers on KrisFlyer awards: how they work, how they save miles and how to book one. We'll also address numerous FAQs at the end.
What is a stopover?
Let's first distinguish between two terms which are often used interchangeably:
A layover is a break in the journey of less than 24 hours
A stopover is a break in the journey of more than 24 hours
For example, SQ 2 from Singapore to San Francisco has a 1h 15min layover in Hong Kong where the plane is refueled and passengers embark/disembark. After this, SQ 2 continues its journey to San Francisco.
However, a passenger on SQ 2 could choose to fly from Singapore to Hong Kong, leave the airport for a stopover in Hong Kong to do some sightseeing, then continue his/her journey to San Francisco on another day.
Stopovers can be added to an award online by scrolling to the bottom of the screen and clicking the "proceed" button.
This brings up a dialogue box where you specify where you'd like to stop and when you'd like to continue your onward journey.
How many stopovers can I have?
Award tickets grant a certain number of free stopovers on a given itinerary. The number varies depending on:
One-way vs round-trip
Saver vs Advantage award
Here's the breakdown.
| | | |
| --- | --- | --- |
| Award Type | Free Stopovers | Additional Stopover (Max 3) |
| One-way Saver | 0 | US$100 |
| One-way Advantage | 1 | US$100 |
| Round-trip Saver | 1 | US$100 |
| Round-trip Advantage | 2 | US$100 |
The third column talks about "additional stopovers". These can be added to awards for US$100 each, subject to a cap of three stopovers on any award ticket.
All award tickets are eligible for stopovers. The SIA website is unhelpful in this regard, because if you try to add a stopover to a one-way Saver award, you'll be greeted with the error message "no stopover is available for a one-way Saver award flight."
This is misleading. Rather, it's more accurate to say "no free stopover is available on a one-way Saver award flight". You can add a stopover for US$100 (and I'll show you why you'd want to later on) by calling up KrisFlyer membership services; it's just that the website lacks the ability to process this.
How long can a stopover be?
A stopover can be a maximum of 1 year.
Here's where the SIA website is again unhelpful. If you attempt to add a stopover that's longer than 30 days, you'll get the error message "your stopover duration must be between 1 day and 30 days"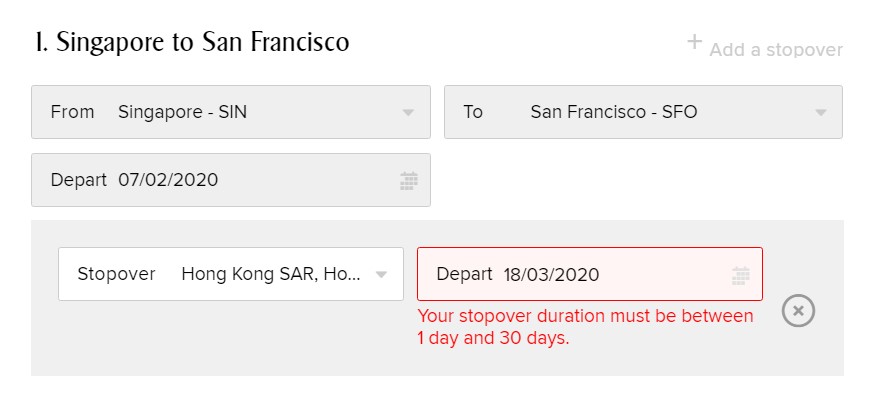 This is likewise misleading. It's more accurate to say that stopovers booked online must be between 1 and 30 days. If you book through the call centre, your stopover can be a maximum of one year.
What can you use a stopover for?
Why on earth would you want a one year stopover? Who has that much vacation time?
2 cities on 1 vacation
Most people traditionally think of a stopover as a way of visiting 2 cities on 1 vacation. For example, if my ultimate destination is San Francisco, I can spend a few days in Hong Kong on the way there/back and enjoy 2 cities on my trip.
In fact, given the number of cities that SQ uses as intermediate points, there are numerous stopover options possible.
To summarize the possibilities (stopover city in red):
SIN-

MEL

-WLG

SIN-

HKG

-SFO
SIN-NRT-LAX

SIN-DME-ARN
SIN-

FRA

-JFK
SIN-

MAN

-IAH
*Even though SQ478 flies from Singapore to Cape Town via Johannesburg, you can't do a stopover in Johannesburg because SIA does not have fifth freedom rights to carry passengers between CPT and JNB only. Ditto SQ378, which flies from Singapore to Barcelona via Milan. 
If you think about a stopover this way, one year is probably excessive. Unless you've got unlimited leave, you're never going to need a stopover that long.
But while visiting 2 cities in 1 vacation is a perfectly valid way of thinking of stopovers, it's not the best use of them. 
2 cities on 2 vacations
Suppose I've got two vacations planned this year. In June, I'll travel to Tokyo, and in December, I'll travel to Sydney. Most people would book these trips as two separate awards.
But consider this option: when I'm flying back from Tokyo to Singapore, instead of booking HND-SIN, why not book HND-SIN-SYD and pay US$100 for a stopover in Singapore? I'll return to Singapore, spend the rest of June to November going about my regular business, and in December I'll jet off to Sydney to "continue my journey".
Confused? Look at the chart below.
Note the red box where Zone 9 (Sydney) intersects with Zone 7 (Tokyo): a HND-SIN-SYD award costs 91K miles
Compare that to the sum of the green boxes: a HND-SIN award (47K) and a SIN-SYD award (62K) collectively cost 109K miles.
By paying US$100, I save 18K miles, a pretty good tradeoff in my opinion. The savings can be bigger depending on the route and cabin class. For example, had I opted to fly HND-SIN-SYD in First Class, that US$100 would have saved me 40K miles, an even better deal.
Some other examples of stopover savings include
SYD-SIN-LHR (38K miles saved in Business/47K miles saved in First Class)
DXB-

SIN

-HND (18K/35K)
PVG-

SIN

-FRA-JFK (17K/25K)
BOM-

SIN

-HKG-SFO (25K/30K)
To generalize the approach: we are leveraging the fact that A–>B–>C costs less than A–>B + B–>C.
In case you were wondering, it doesn't matter if you haven't confirmed the dates of your second vacation just yet. So long as you know where you want to go, when doesn't really matter. All you need to do is pick an estimated date in December with open award space, and if you subsequently need to change it, you pay a US$25 change fee.
Not all destination combinations are possible- you can't fly any route that involves backtracking. For example, CDG-SIN-LHR is not a valid stopover option, because you're "bouncing off" Singapore. On the other hand, JNB-SIN-NRT is a valid stopover option, because you're "swinging through" Singapore.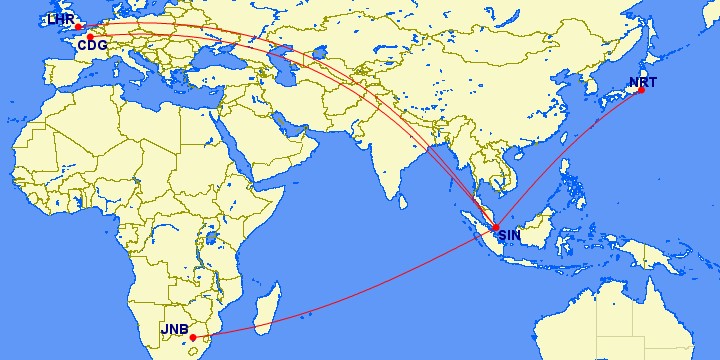 "Bouncing off" vs "swinging through" is a helpful way of visualizing what is and isn't possible, but you can also refer to the KrisFlyer award chart.
If you see a numeric figure published between two zones, it means that particular combination is most likely possible. Be sure to refer to the footnotes too, however, because not all city combinations within those zones may be possible.
The best way of checking is still to do a dummy award booking online and see if the system allows that particular routing to be booked.
Now, let's look at some FAQ about stopovers.
Frequently Asked Questions (FAQ)
How far can my second leg be from the first?
Singapore Airlines award space can be booked 355 days in advance. Therefore, the second leg can be a maximum of 355 days from the date you book the award. 
For example, if on 4 June 2019 I book a HND-SIN-SYD stopover award, the latest date I can put SIN-SYD is on 24 May 2020 (355 days from now).
However, once I've completed my first leg, the second leg can be moved up to 355 days from the first leg.
For example, if I originally schedule my travel like this:
HND-SIN: 20 December 2019
SIN-SYD: 24 May 2020
Once I fly HND-SIN, I will be able to move SIN-SYD up to 9 December 2020 (355 days from 20 December 2019)
Must award space on both legs be available when I book the stopover?
Yes. It is not possible to have one confirmed and one waitlisted leg on a stopover itinerary. My advice is to pick an estimated date for your second leg based on whichever dates have immediately confirmable award space. You can move it later for US$25.
Presumably, a lot of the value of the stopover trick is lost if you keep moving your second leg date (this was much better in the days when it was free to change Saver awards), so don't move it too often!
Can I change my mind about where I visit on my second leg?
If you haven't flown the first leg, you can change your routing as you please, subject to the usual change fees.
However, if you've already flown the first leg back to Singapore, you cannot change the destination of second leg. You can change the date of your flight, but the destination is fixed.
That's the so-called catch of this trick- you're committing to travel to a specific destination. That said, if you're the sort who plans your vacations in advance, I don't see why this would be an issue.
Can I cancel and refund my ticket after I've flown the first leg?
No. This counts as a partially-used ticket and cannot be refunded.
Can I travel out of Singapore when I'm on my "stopover"?
Er yes, of course you can. There's nothing stopping you from redeeming another flight on Singapore Airlines even during your Singapore "stopover". It's not as if SQ is monitoring the movements of all its members, waiting to say "Aha! Not a real stopover!"
Can I use a Spontaneous Escapes award in conjunction with the stopover trick?
No. Spontaneous Escapes rates are only valid for bookings made on singaporeair.com. Since you can't book the stopover trick online, Spontaneous Escapes rates do not apply.
Does this trick work on Star Alliance/partner awards?
Yes and no.
Stopovers on Star Alliance/partner awards can only be booked on round-trip itineraries. It's therefore possible to do the 2 cities on 1 vacation approach, e.g. flying SIN-DXB-FRA and doing a stopover in Dubai before going on to Frankfurt. Stopovers are not allowed
On domestic tickets (e.g. SFO-IAH-EWR)
On intra-Europe itineraries (e.g. LHR-FRA-VIE)
Within the country of departure (e.g HKT-BKK-PVG)
Since stopovers cannot be added to one-way Star Alliance/partner awards, the 2 cities on 2 vacations approach will not work. Remember: as long as your itinerary features at least one non-SQ/MI flight, the entire itinerary is considered a Star Alliance/partner award.
What do I say when I call up KrisFlyer?
The most important thing to make sure is that the KrisFlyer agent does not charge you for two separate one-way awards. This is rare, but has been known to happen.
Before you call, check the award chart so you know how much the award should cost. Also, check and see that award space is available on both legs, because you cannot have one confirmed and one waitlisted leg.
A sample script follows:
"Hi, I'd like to book X-SIN-Y with a stopover in Singapore. I want to fly X-SIN on (DATE) and SIN-Y on (DATE). I'm aware I'll need to pay a US$100 stopover fee. Can you please check the award space for me?"
The agent will be deduct the miles and charge you the taxes plus a US$100 fee over the phone.
What about mixed cabin awards?
Suppose you want to use the stopover trick to fly SYD-SIN-BCN in First Class. The problem is that although SYD-SIN has First Class, SIN-BCN (operated by an A350) does not. You'd still pay the First Class rate for the entire SYD-SIN-BCN journey, notwithstanding the fact that SIN-BCN will be in Business Class.
This is obviously a bad deal, and if your goal is to fly First Class, make sure it's available on both the legs you want to fly.
Can I combine the 2 cities on 2 vacations and 2 cities on 1 vacation trick?
Why not? There's nothing stopping you from getting creative with this. Consider the routing below, where I fly SYD-SIN-DME-ARN. I can do Stopover 1 in Singapore, and Stopover 2 in Moscow. In that sense, my first vacation has 1 city (Sydney), and my second vacation has 2 cities (Moscow and Stockholm).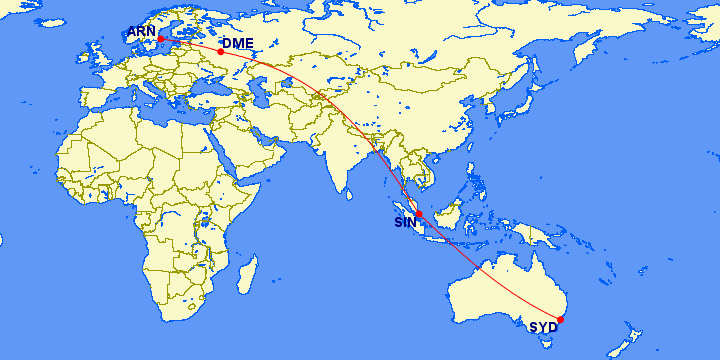 3 cities on 2 vacations. Your head hurt yet?
Conclusion
What I love about the stopover trick is that it's kind of a game-leveler for us in Singapore. We may not earn miles as easily as residents of other countries, but the stopover trick only really works if you're based in Singapore.
If you're not currently on a stopover in Singapore, you're not making full use of your miles. Try a little advance planning, and stretch your miles even further!