Due to the coronavirus situation, Qantas has announced its plans to make some significant cuts to its capacity, reducing it by almost a quarter for the next six months. Some of these changes will affect services to Singapore, as well as the operation of the recently-opened First Class lounge in Changi.
What's changing?
Qantas and its subsidiary Jetstar will be reducing capacity by a total of 23%, with the cuts currently scheduled to last till mid-September 2020. In terms of geographical distribution:
Asia will see a 31% capacity cut
USA will see a 19% capacity cut
UK will see a 17% capacity cut
Trans-Tasman will see a 10% capacity cut
Instead of exiting routes, Qantas will be downgauging aircraft and reducing flight frequency. In particular, all but two of its A380-800s will be grounded or sent for maintenance and upgrades.
Here's a summary of the routes which are affected by these changes:
 
 
Route
Change
Effective dates (until mid-Sept 2020)
Asia

Sydney-Tokyo (Haneda)

B747 replaced by smaller A330

30 March

Melbourne-Singapore

 

– 7 return flights per week cancelled (QF 37/38)

– B787 replaced by larger A330 on 7 return flights per week (QF 35/36)

– 20 April

– 4 May

North America 

Brisbane-Chicago

Route launch postponed

Was to start 15 April

Brisbane-San Francisco

Route suspended (3 return flights per week)

18 April

Sydney-San Francisco

B787 replaced by larger B747

18 April

Melbourne-San Francisco

Route suspended (4 return flights per week)

18 April

Sydney-Dallas/Fort Worth

A380 replaced by smaller B787

20 April

Melbourne-Los Angeles

A380 replaced by smaller B787

1 June

Sydney-Vancouver

Seasonal service suspended (3 return flights per week)

June and July only

United Kingdom

Sydney-London (Heathrow)

– Flights to operate via Perth (instead of Singapore)

then non-stop to London.

– Perth-London to become double daily as a result.

– A380 replaced by smaller B787

20 April

South America

Sydney-Santiago

Delaying planned B787 introduction and continuing with B747

1 August
 
Routes
Change
Effective date (until end June but may be extended)
Asia

Melbourne-Bangkok

Route suspended

1 May

Sydney/Melbourne-Ho Chi Minh

Flights reduced by over 50 per cent

1 May

Japan routes

Flights reduced by almost 40 per cent

20 May

Brisbane-Bali

Minor flight reductions

1 May
What about us in Singapore?
Melbourne gets switched to an A330
QF 37/38 between Singapore and Melbourne (which operates 7 times a week) will be cancelled from 20 April to mid-September 2020, while QF 35/36 will be upgauged from a B787 to an A330 from 4 May to mid-September 2020.
Neither the B787 nor A330 have a First Class cabin, but the good news is they both have the same Business Class seat.
That wasn't always the case- it was only in late 2019 that Qantas finished upgrading their final A330, removing the tired first-generation SkyBed seats and replacing them with the much more pleasant Business Suite.
Suspension of Sydney-Singapore-London route
QF 1/2 between Sydney, Singapore and London will also temporarily be cut from 20 April, as Qantas shifts the Sydney-Singapore-London routing to a Sydney-Perth-London one. This flight will also be downgauged from an A380 to a B787, for a loss of 250 seats.
Interestingly enough, this is arguably an upgrade for Business Class passengers, as the A380 has the rather underwhelming SkyBed. Qantas is in the process of upgrading its A380s to the Business Suite, but from what I understand the upgraded A380s aren't deployed on a dedicated route so you're basically playing roulette here.
Qantas First Class lounge at Changi to close
The rerouting of QF 1/2 means that Qantas will no longer operate any First Class routes out of Singapore, and as such, it'll be closing the First Lounge until at least mid-September. That's a shame, because it's easily the best lounge in all of Changi.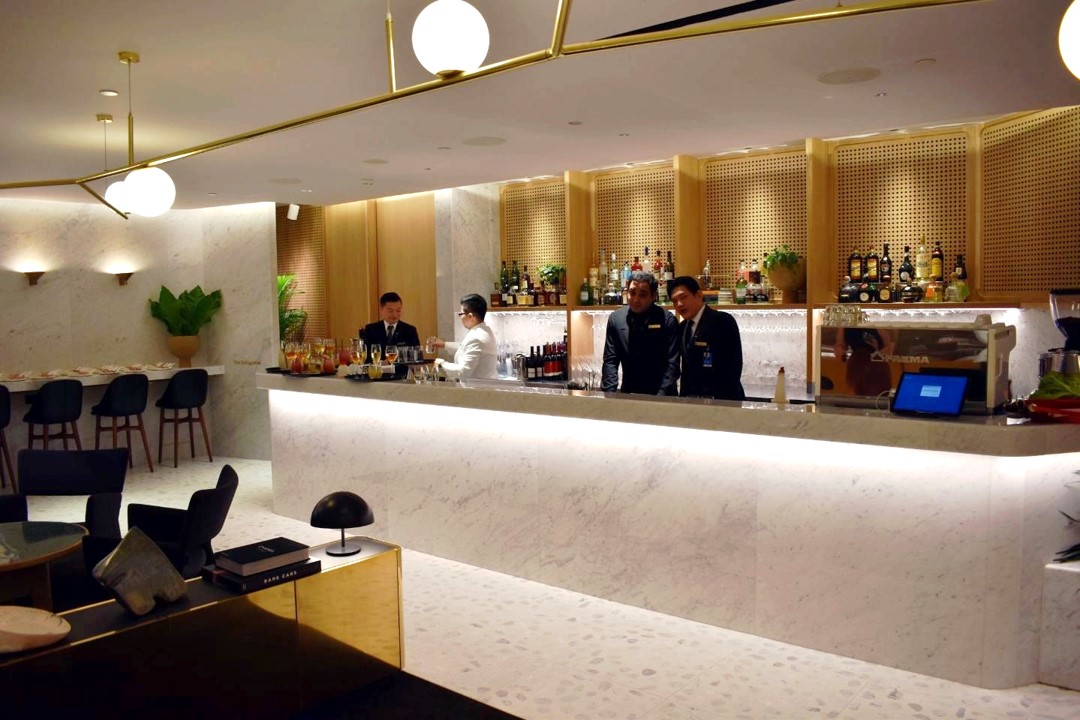 Customers who are entitled to First Class lounge access (e.g Emirates First Class customers and oneworld Emeralds) will be invited instead to use the adjacent Qantas Business lounge. It's still a decent facility, but obviously nowhere near the First Class standard.
Jetstar cutting routes to Taipei and Osaka
JetStar Asia is cutting capacity by almost 40%, and suspending the Singapore to Taipei/Osaka routes. I can't imagine they're seeing too much leisure travel at the moment, so it's really not that surprising.
Conclusion
Qantas joins many other carriers in cutting back on capacity on account of the Covid-19 travel downturn. It's interesting that they've scheduled these cuts all the way till mid-September, while other airlines have mostly made cuts till May/June. That said, given the outbreaks we're seeing in Europe and the USA now, the situation is likely to get worse before it gets better.
A shame about the loss of the Qantas First lounge in Changi too, but there are more important issues to be concerned with in the grand scheme of things.