The Tokyo Ramen Run: Trip Planning
British Airways Galleries Lounge, Singapore
Qantas Lounge, Singapore
Japan Airlines B772 Business Class SIN-HND
My Tokyo Food Pilgrimage
Courtyard by Marriott Tokyo Station
The Great Tokyo Ramen Hunt
The Great Tokyo Ramen Lug
ANA Suite Lounge Narita
Singapore Airlines B77W First Class NRT-SIN
---
The British Airways lounge wasn't bad by any means, but my thoughts couldn't help but wander to the Qantas lounge throughout my stay, kind of like an unfaithful spouse. For you see, I had tasted the wonders of the Qantas lounge a few months ago, and that experience had spoiled me so much so that I couldn't imagine spending the rest of the time leading up to my flight anywhere else.
The Qantas lounge is just next door to the British Airways one, and is open to Qantas Frequent Flyers, oneworld top tier members and oneworld First and Business class passengers.
The lounge itself isn't what you'd call brand new, having opened back in April 2013. Yet it's been maintained so well that if you were a regular Star Alliance flyer and see this lounge for the first time, you might think it opened yesterday.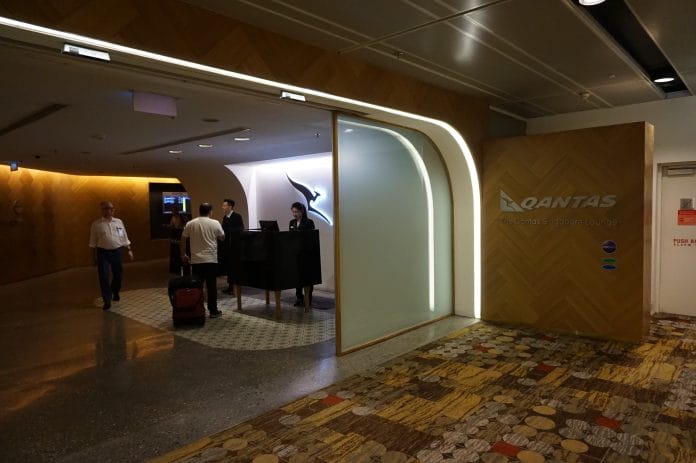 There are two reception counters at the entrance that were processing arriving guests very efficiently. My boarding pass was scanned and stamped with the WiFi code.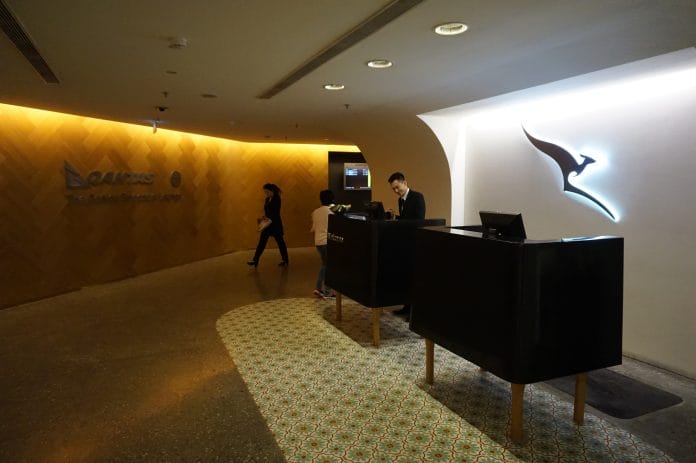 There's also a separate service desk to assist with flight related enquiries.
I really love the design of the entranceway- the wooden paneled walls form a great backdrop for the Qantas and oneworld logos.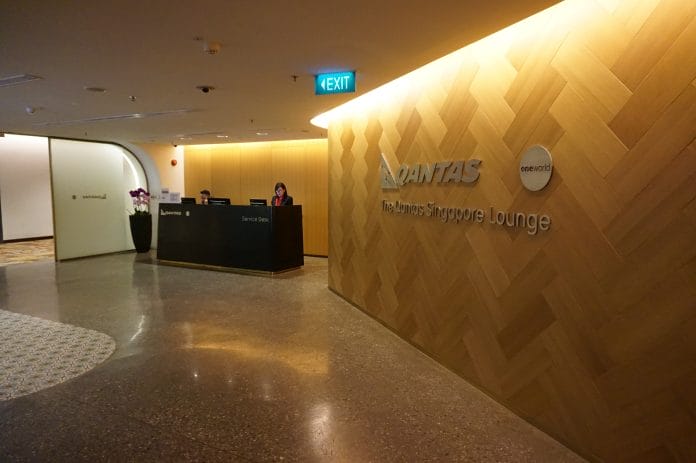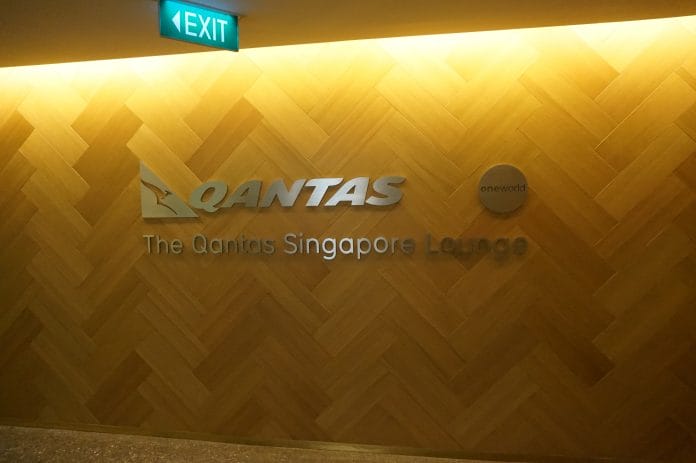 The first thing to know about the Qantas lounge is that during peak hours (evenings), it's crowded. And rowdy. In a way, the BA and Qantas lounges in Singapore are like microcosms of the two countries culture- if the Brits are stodgy and stiff upper lip, the Aussies are all throw another shrimp on the barbie mate.
I had the good fortune to visit the lounge just as it was approaching peak capacity, and it felt like a party. People were eating, drinking, laughing loudly and although that's normally the sort of behaviour you find unpleasant in a lounge, that's more if it's only one group doing it. If everyone is eating drinking and making merry, well, it feels like Cheers.
Of course, big crowds don't make for easy photo taking opportunities, so I waited till the lounge emptied out (about 830pm  onwards) before snapping the photos below.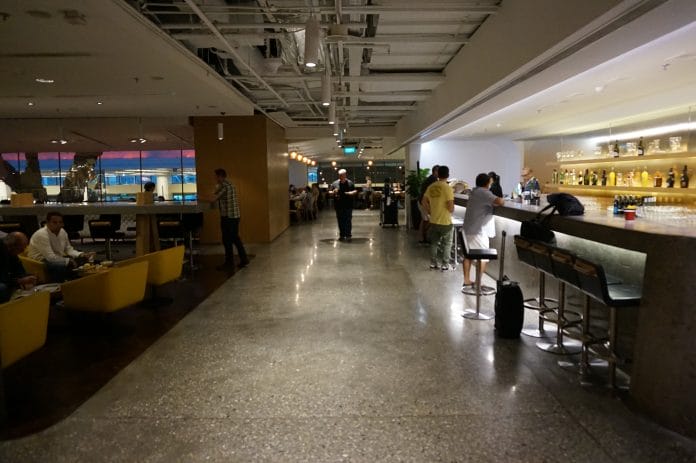 The first thing you see when entering the lounge is a long, fully stocked bar complete with fancy coffee machine. The bar staff are extremely pleasant and were more than eager to make drink suggestions or to create something special for you (I felt bad that my every request was along the lines of "more sparkling wine please").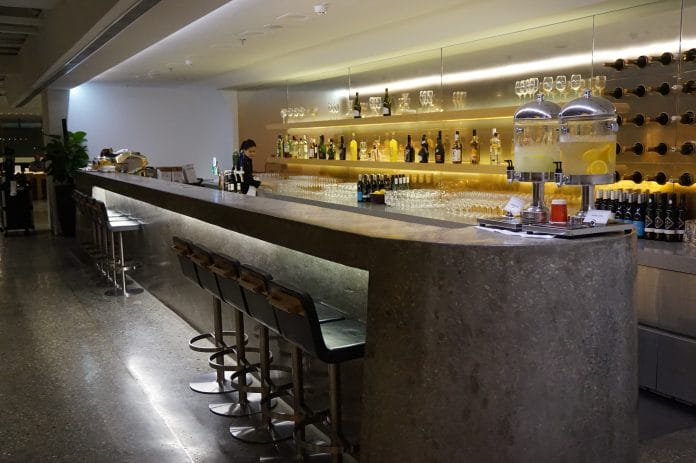 If you get lucky, you might get the bar manager (the follicly challenged gentleman in the photo below behind the bar) on duty when you're there- he's a very cheerful chap who loves chatting with passengers.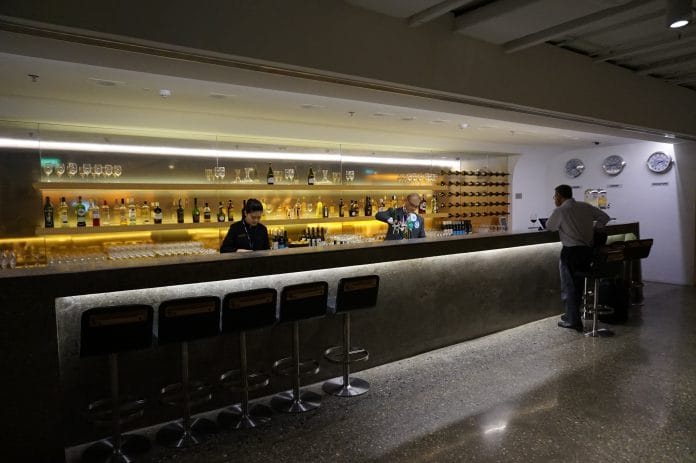 Past the bar and hanging right, the lounge opens up to the food area (to the left is the seating and working areas, which we'll get to in a bit). There are several long communal tables here plus some individual tables and chairs.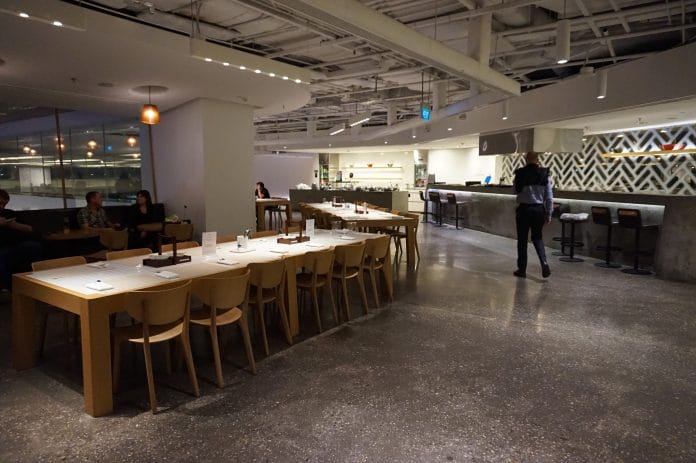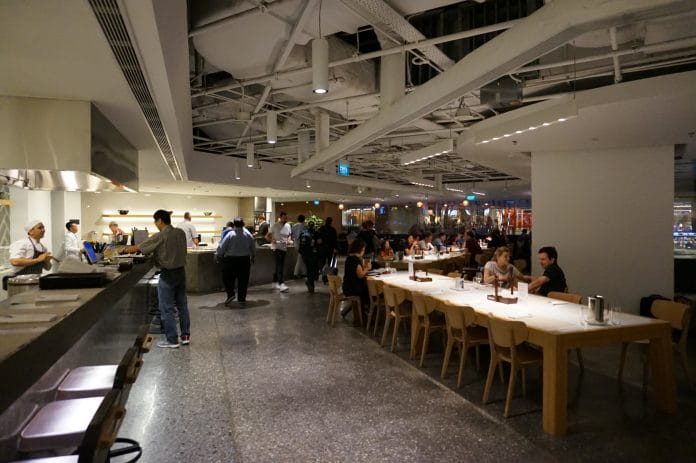 You can also cozy up to the bar counter if you want to see the chefs preparing food infront of you. Didn't see a lot of people taking these seats though, because one down side is the lounge staff will intrude into your space quite often when picking up orders to bring to tables. That's right, this lounge has table service. It is amazing how they're able to offer something like that for a lounge so big- in Singapore SQ only offers table service in The Private Room, which maybe has 20-30 passengers at its most crowded. Here, Qantas is doing the same thing with a dining area that can easily take four, five times that many people.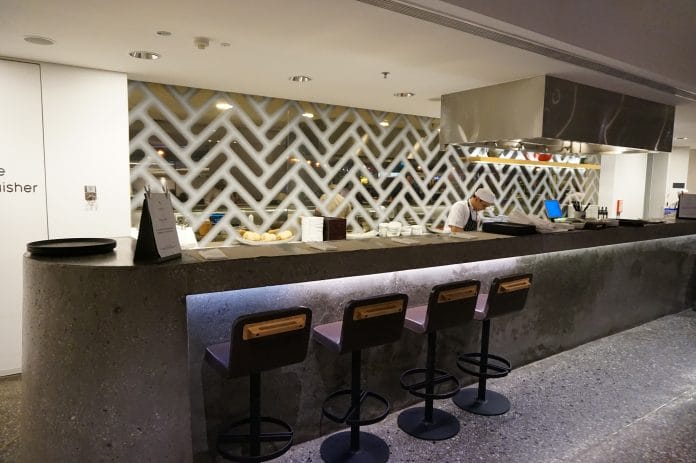 All you need to do is plop yourself down in a spot and a wait staff will come around to take your food and drink order.
There were two made-to-order items available that day- chicken laksa and pork bao. I realise that a lot of the food is made beforehand and it's probably more like "plated to order" (versus The Private Room where the food is cooked to order), but it's still a nice touch to offer a sit down menu in addition to the regular buffet items
That's the bao and laksa in the photo above. The baos were pretty tasty and had a nice mix of greens and meat inside. The laksa is of course nothing like what you'll find in Katong, but it's a passable airline lounge version. The heat is watered down for Western palates. but each table has a communal plate of sambal and fried shallots you can use to tweak the taste to your liking.
Food arrives pretty quickly, but if you'd prefer something even faster, there's always the buffet. You start off with the regular salad bar…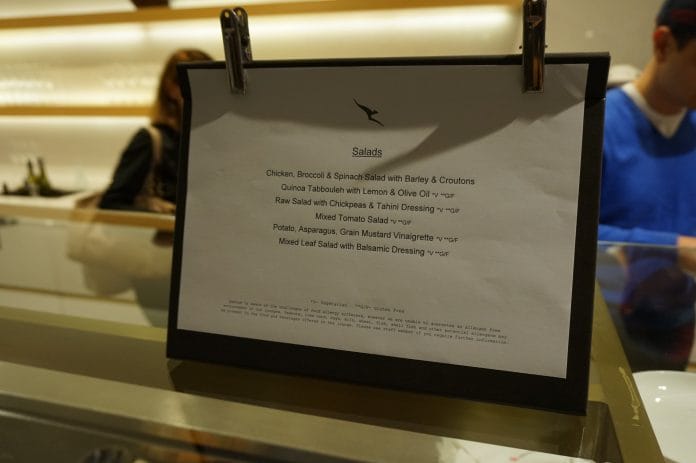 And move on to more substantial offerings at the main buffet which had
Potato and leek soup
Masaman beef curry
Steamed rice
Spiced cauliflower
Pasta with Zucchini, Peas and Ricotta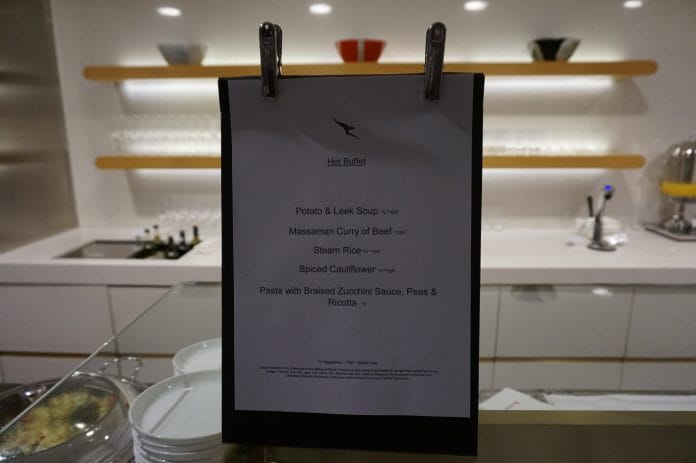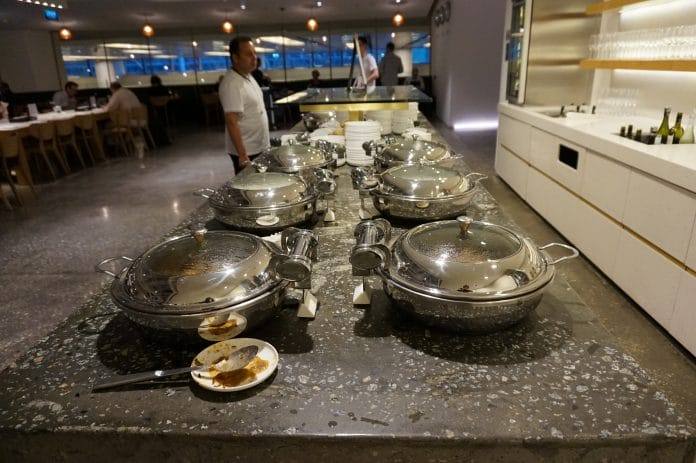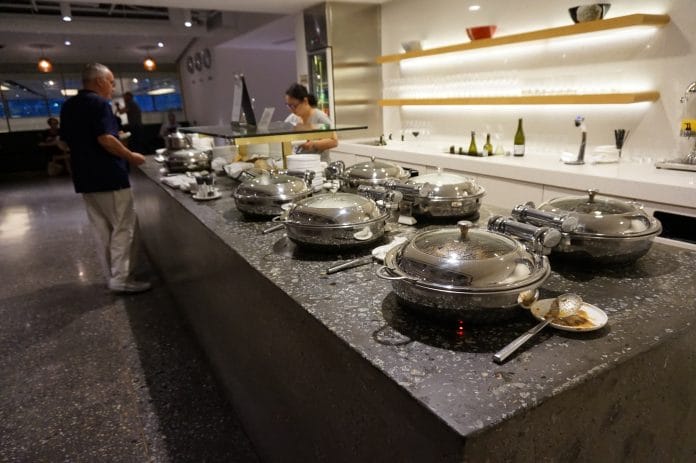 The dishes were just ok- the star for me is still the made to order items.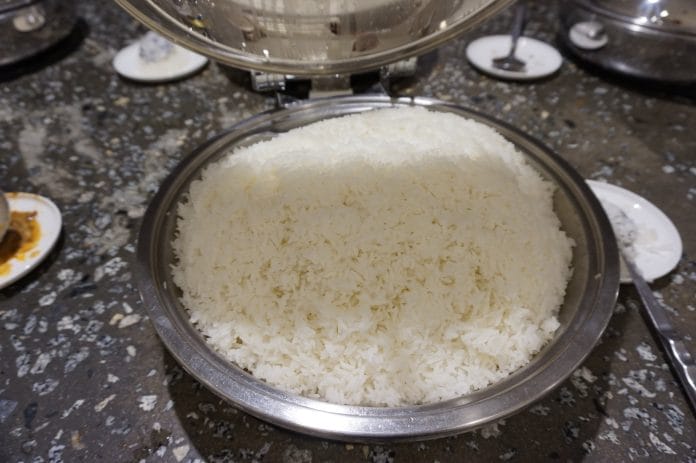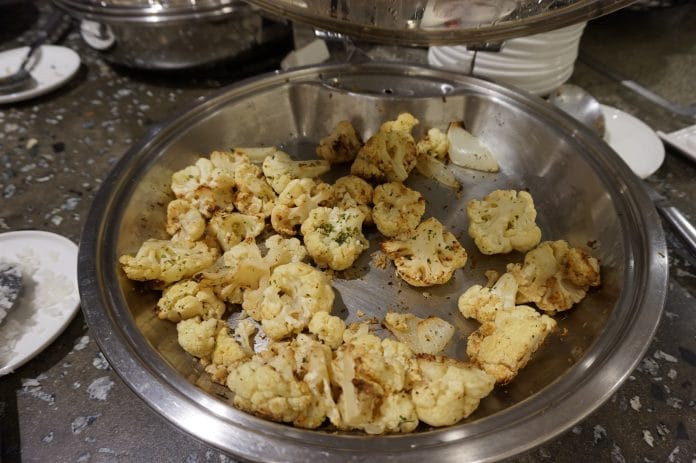 There were five items on offer for dessert
White chocolate cheesecake with Raspberry
Kaya lamington
Black sticky rice with mango
Creme caramel
Seasonal tropical fruits
None of these particularly appealed to me, but I'm not the best judge of desserts (unless it's vanilla ice cream, in which case I am the boss)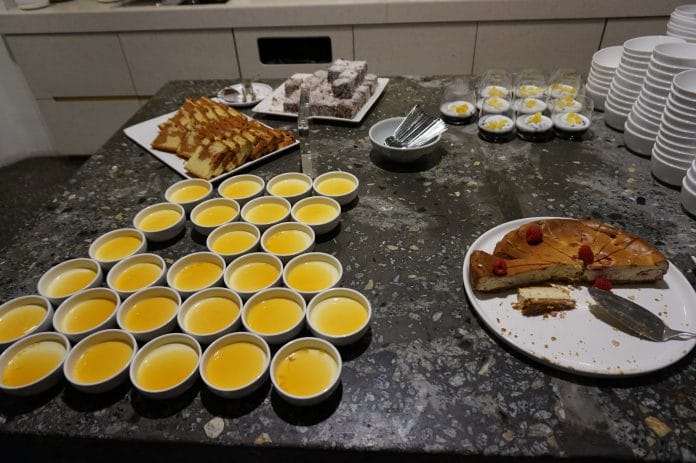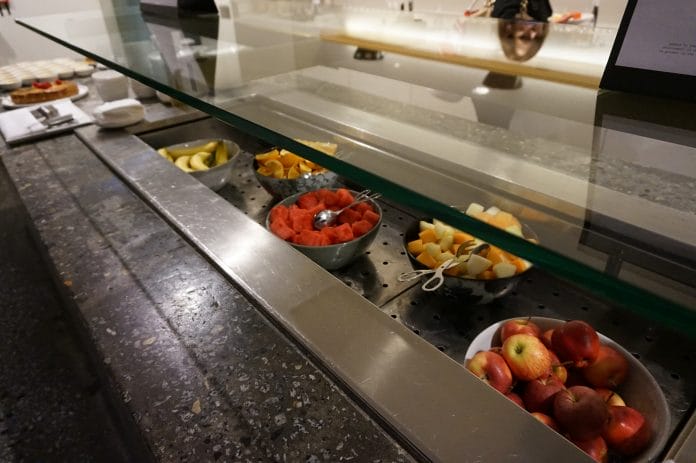 Where drinks are concerned, there are many help yourself watering stations throughout the lounge, plus the main bar.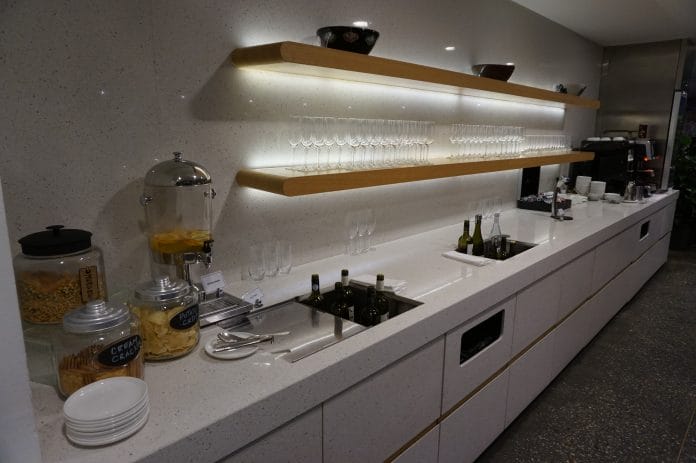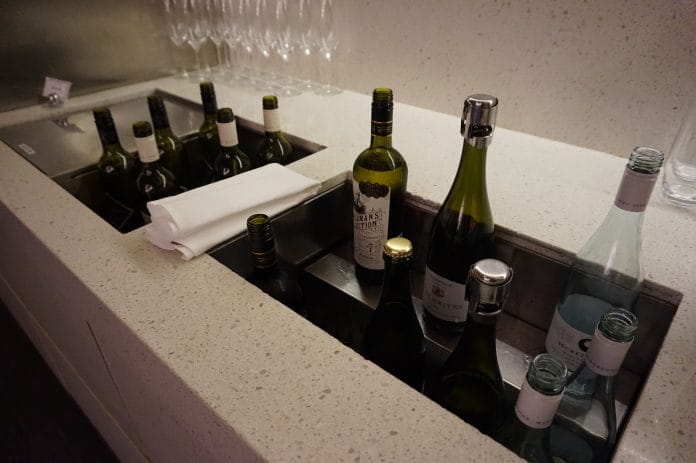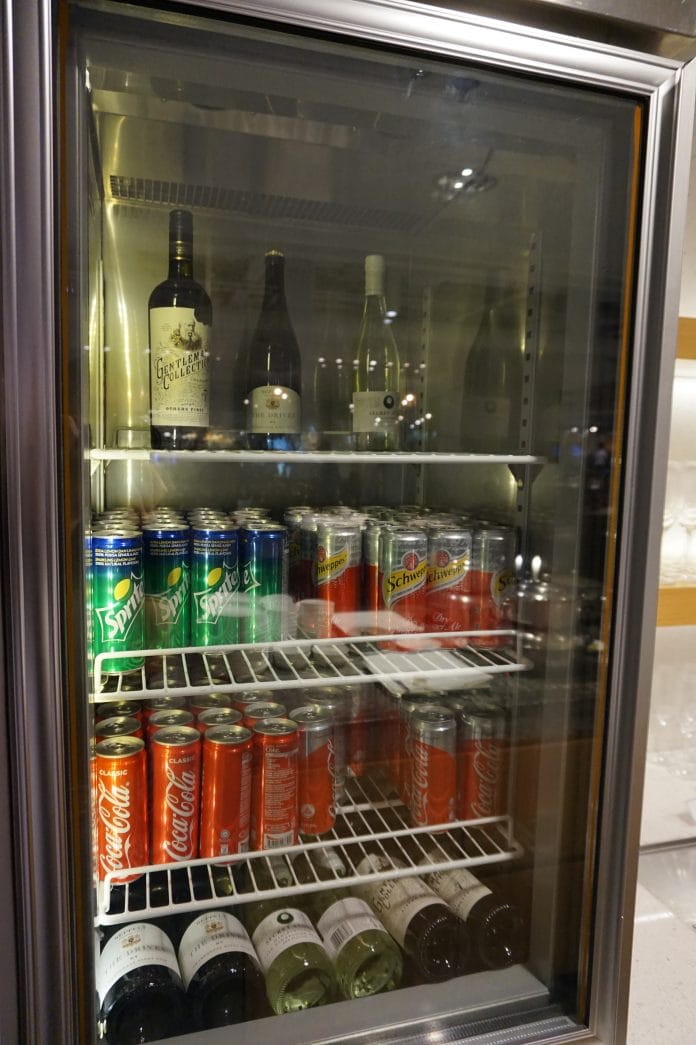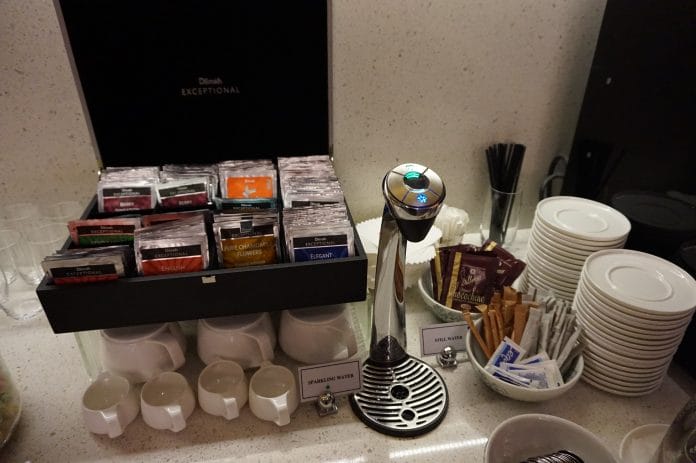 One thing I noticed that was different from the last time I visited- they previously had roving bartenders with carts and mixes going table to table making drinks. I thought this was a lovely touch, but they weren't around today. I managed to get hold of the F&B manager (who interestingly, was wearing a Sofitel name tag- I think the F&B is outsourced to them) to ask him about this ,and he said it's still a feature but they just didn't have it today. Also, my understanding is from time to time the kitchen comes up with special items (ala Kuishin Bo- you know that Japanese restaurant in Singapore where from time to time the dong dong dong Kuishin Bo chime goes off and the kitchen releases a limited number of special items?) like truffle fries but that wasn't around today either. Maybe it's a weekend thing?
Now, if you made a left when you entered the lounge you'd be in the sitting and working  (i.e boring) areas.
Here's a fun picture taken in the same spot later on showing you how much the lounge emptied out an hour after I arrived.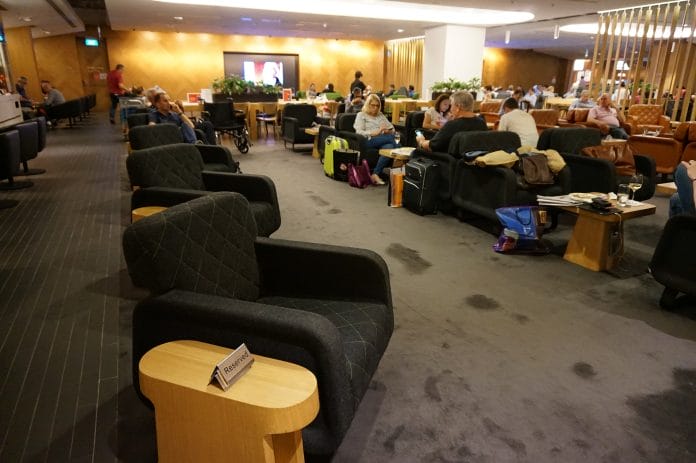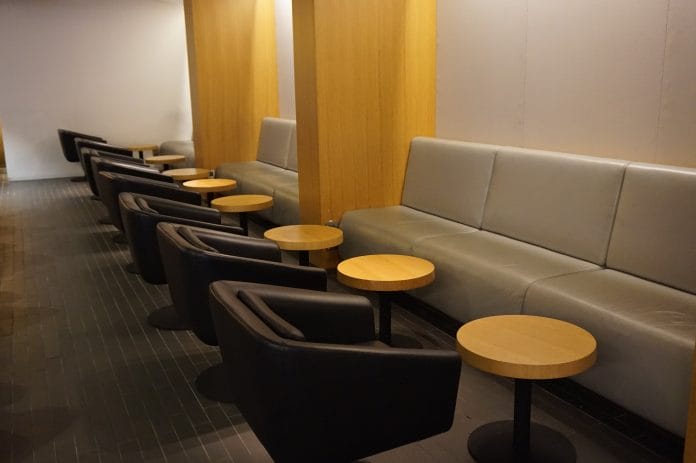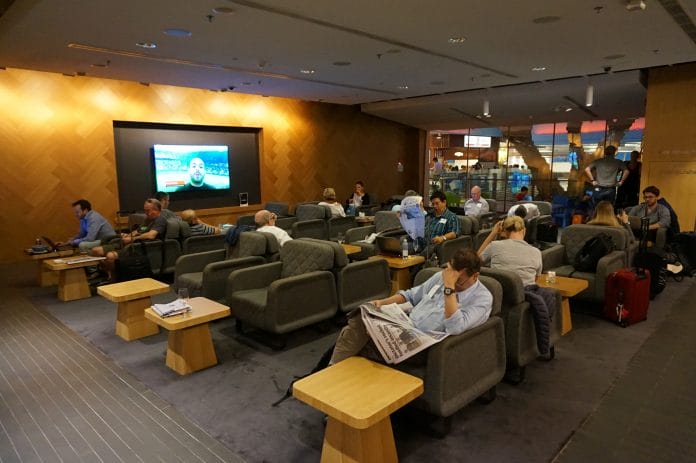 There's a selection of local and international magazines and periodicals.
And more communal tables, these ones with power and USB charging to get work done.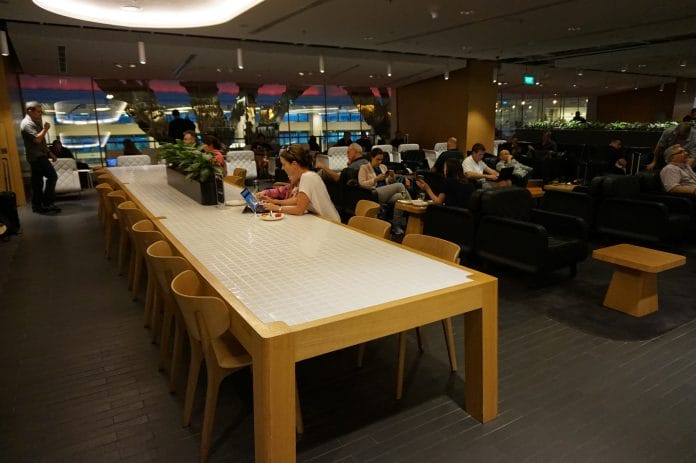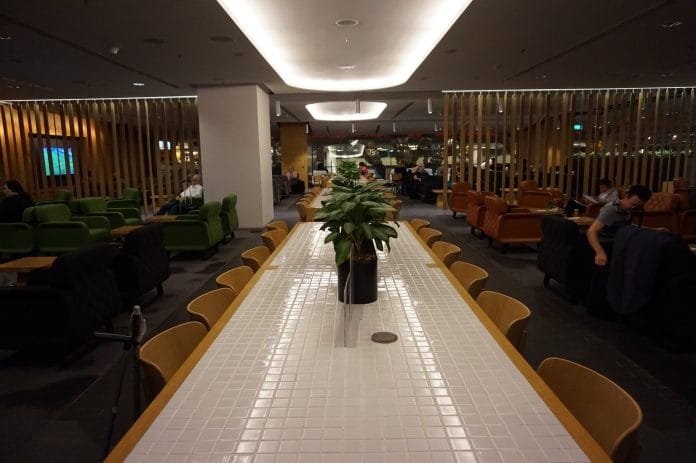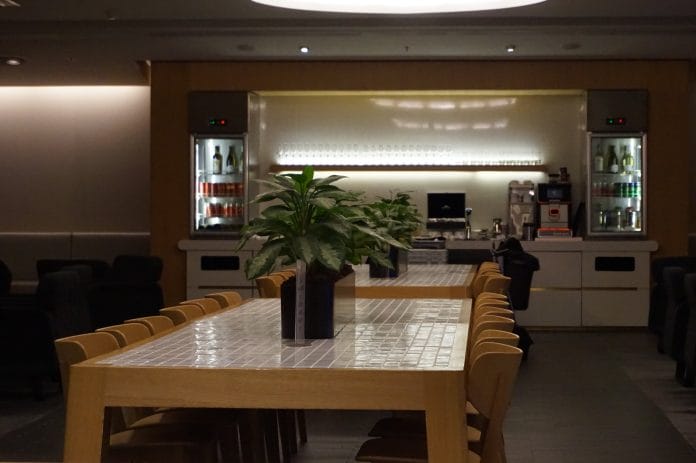 Now these areas aren't really set up for F&B, but there are a couple of drinks stations here too and there's nothing stopping you from bringing food over from the dining area.
In fact, you can find one or two special items here that you can't get in the dining area, like these…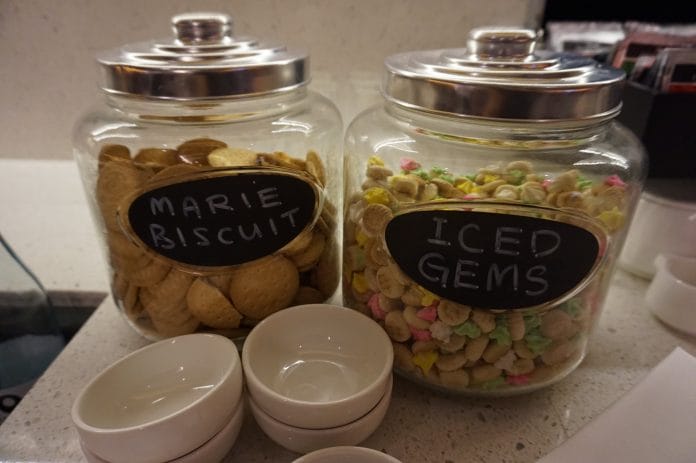 There lounge has 20 shower rooms, none of which were in use when I visited.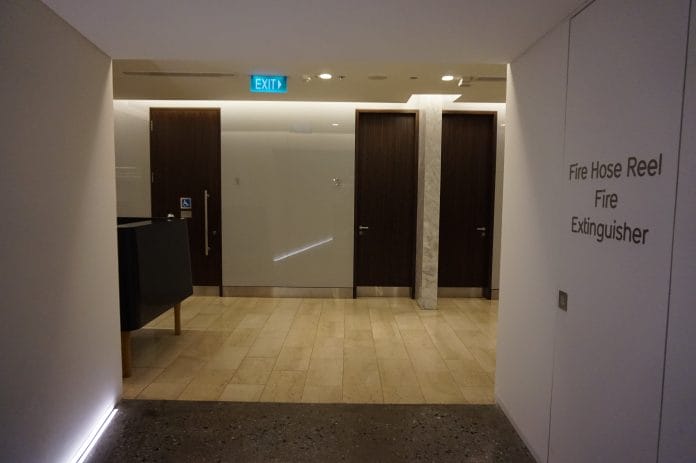 Shower rooms are much bigger than those in the BA lounge.  The room I was assigned didn't have a working hairdryer though.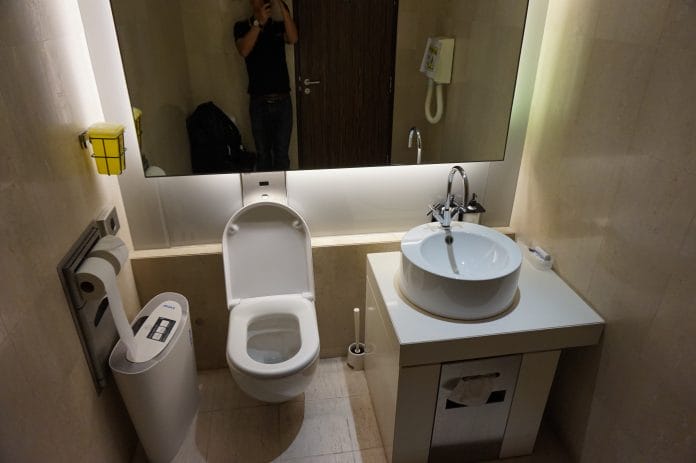 Amenities provided were basic- toothbrush, shower cap and shaving kit.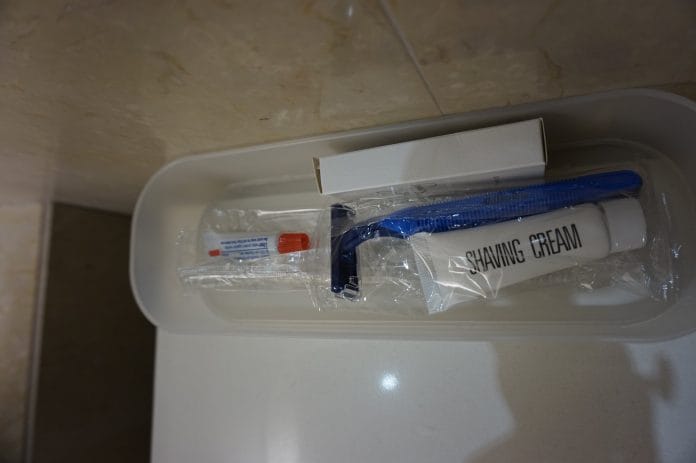 The personal care products were from Aspar.
The sight of a bright yellow Sharps box didn't do much for the aesthetics. Given how much thought was put into designing the lounge, I thought they'd have been a bit more subtle with this and recessed the box into the countertop with a small slot or something. There was also an automated sanitary pad disposal machine, which I briefly contemplated playing with but thought better of.
The shower space was a lot more spacious than the BA lounge too, although no rain shower was available.
So to summarise, the Qantas lounge is without a doubt the best option available to you if you're flying oneworld premium cabins ex-SIN. Great service, a wide variety of F&B and plenty of spaces to relax and work make this a great example of an airline investing heavily in lounges outside its home base.
It was now time to head over to Tokyo and start the ramen run…