The first batch of staycation hotels has now been approved, an interestingly enough, almost all of them on that mystical island of Sentosa.
Although the Shangri-La Rasa Sentosa isn't on the list (it's a designated SHN hotel after all), that hasn't stopped them from coming up with a plan to monetize their unused facilities. 
Shangri-La's Daycation Pass
It's quite common for resorts elsewhere in the world to sell day passes to outside guests, which allow them to enjoy the hotel facilities without needing to book a night. I took advantage of this in Jordan a couple of years ago, visiting the Dead Sea Marriott Resort for a day and then returning to Amman to spend the night. 
Shangri-La is now trying to roll out the idea here with its "Daycation Pass", which grants the holder access to the hotel's pool and beach. 
How does the Daycation Pass work?
The Daycation Pass grants you access to the Shangri-La's beach and pool from 10 a.m till 8 p.m. You'll need to select a specific day to visit, and won't be able to change the date or refund the pass after purchase. 
The cost of a Daycation pass depends on your age: 
S$75++ for adults (18 years and above), with a S$50 F&B credit
S$50++ for teens (13-17 years), with a S$30 F&B credit
S$25++ for children (7-12 years), with a S$15 F&B credit
S$10++ for preschoolers (4-6 years)
Free for toddlers (3 years and below), with paying adult
The F&B credit can be redeemed at the Siloso Beach Bar. To give you an idea of how far your F&B credit will go, here's a copy of the menu.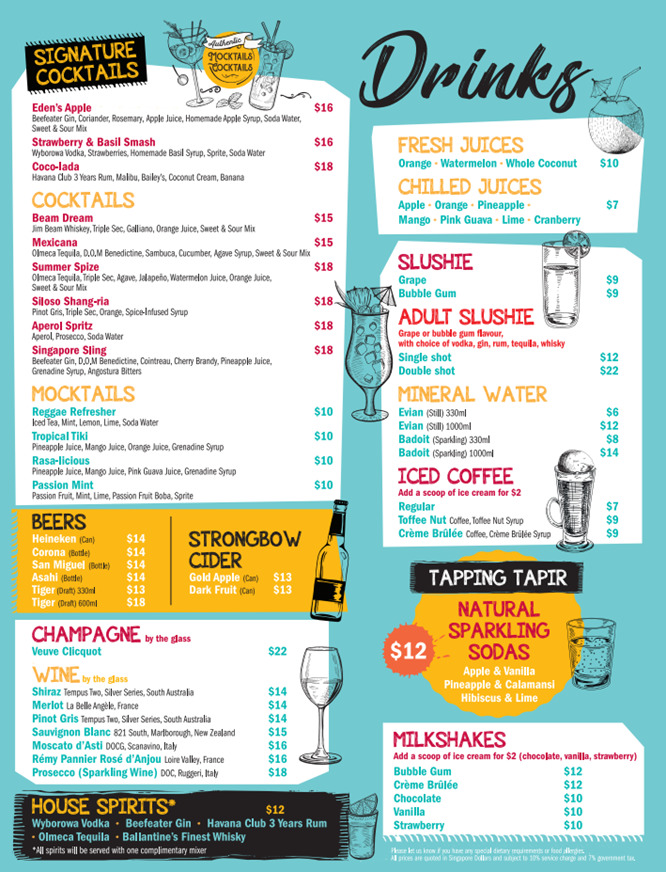 These are hotel dining prices, as you might expect, but a S$50 credit should be enough for one decent meal. 
Complimentary sea sports activities (Single Kayak, Double Kayak, Triple Kayak, Stand Up Paddle Board, Pedal boat) are available, depending on the weather. Free Wi-Fi and parking will also be offered. 
When purchasing the pass, the website will offer two upsells, neither of which is great value once the 7% GST and 10% service charge is factored in. In fact, how is it worth paying S$80++ (S$94) for S$100 of spa credit? 

Unless I'm missing something, it seems like someone didn't really think this through. 
What about in-house guests?
The concern with selling day passes is that outside guests will compete with the in-house guests for the use of facilities. This has the potential to be an even bigger problem right now, given how Phase 2 restrictions limit the capacity of swimming pools and other hotel facilities.
But that won't be an issue here, so long as the Shangri-La Sentosa is a designated SHN hotel. SHN guests don't have access to any of the hotel's facilities.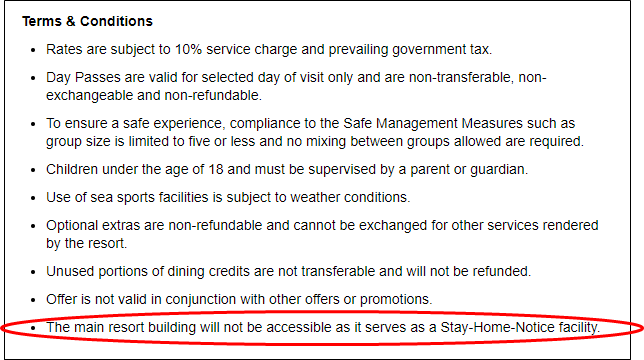 So I kind of get what Shangri-La is trying to do here: the pool and beach still need to be maintained, so why not bring in some outside guests to cover the fixed costs?
I think the question is whether people will be comfortable visiting a known SHN facility. I personally have no issue with it, since the residents are anyways hermetically sealed from non-residents, but it'll be interesting to see what the public's response will be. 
Stack with Shangri-La's You Deserve promotion
If you're heading down anyway, remember that you can register for Shangri-La's "You Deserve" promotion and earn double Golden Circle points before 31 August 2020. 
You won't earn points on the pass purchase itself, but any F&B spending (in excess of the F&B credit, presumably) will qualify for double points. 
Conclusion
For those who were intending to head to Sentosa for the day and want a more private setting, this may be an option for them. The pricing is on the steep side, however- you're committing to spend about S$88 per adult, all-in (although S$50 is offset by the dining credit). 
The utility of this pass is also highly dependent on the weather, so it's a bit disappointing to read that no refunds or date changes will be offered. 
Daycation, anyone?