From 23 July- 6 August 2020, new-to-bank customers who sign up for DBS credit cards will receive S$200 cashback when they make at least one qualifying transaction within 30 days from approval.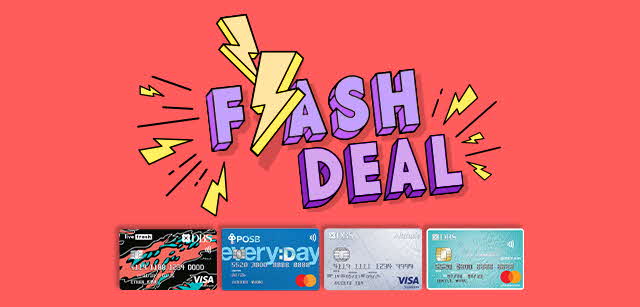 ⚠️ DBS defines "new-to-bank" as customers who do not currently hold a principal DBS or POSB credit card, and have not done so in the past 12 months
Which DBS cards are eligible?
The following credit cards are eligible for this promotion.
Do note that links above will send you directly to the DBS website; there's no need to fill a separate SingSaver rewards form.
You will need to enter the code DBSFLASH in the promo code box when applying. This is extremely important so don't overlook this step- no code, no money.
Applications must be received by end of day on 6 August 2020, and approval given by 13 August 2020. Successful applicants will need to charge at least 1 qualifying transaction to the approved card within 30 days from approval.
Qualifying spend does not include the following:
a. posted 0% Interest Instalment Payment Plan monthly transactions;
b. posted My Preferred Payment Plan monthly transactions;
c. interest, finance charges, cash withdrawal, balance transfer, smart cash, AXS payments, SAM
online bill payments, bill payments via internet banking and all fees charged by DBS;
d. payments to educational institutions;
e. payments to financial institutions (including banks, online trading platforms and brokerages);
f. payments to government institutions and services (court cases, fines, bail and bonds, tax
payment, postal services, parking lots and garages, intra-government purchases and any other
government services not classified here);
g. payments to hospitals;
h. payments to insurance companies (sales, underwriting and premiums);
i. payments to non-profit organisations;
j. payments to utility bill companies;
k. payments to professional service providers (including but not limited to accounting, auditing,
bookkeeping services, advertising services, funeral service and legal services and attorneys);
l. any top-ups or payment of funds to payment service providers, prepaid accounts and any prepaid accounts (e.g. EZ-Link, NETS FlashPay, Singtel Dash);
m. any betting transactions (including levy payments to local casinos, lottery tickets, casino gaming
chips, off-track betting and wagers);
n.
any transactions related to crypto currencies; and
o. any other transactions determined by DBS from time to time
Cashback is fulfilled by DBS, and will take up to 120 days from the date of card approval. The full T&C of this promotion can be found here.
Conclusion
I can't think of too many people who don't have a DBS or POSB credit card by now, but if you're one of them, here's a chance to pick up some extra cash while applying.
If you're new to DBS cards, definitely consider applying for the DBS Woman's World Card (men can apply too) and using it for the first S$2,000 of online spending every month. Alternatively, the DBS Altitude Visa/AMEX can serve as a good all-rounded general spending card.