Etihad Guest has launched a sale where members can redeem award tickets on Etihad Airways for 30% off. The sale runs from now till 27 August 2020, for travel up to 31 May 2021.
Etihad Guest 30% off Awards Sale
Technically, the sale also covers redemptions for car rentals, hotels, merchandise, and shopping, but the value you get from these is so poor it's not even worth looking at.
Etihad Guest's 30% off awards sale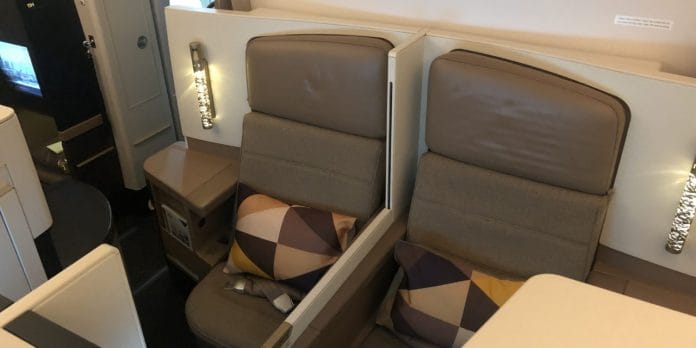 Here's the key points to note about Etihad Guest's awards sale:
All tickets must be booked by 2359 on 27 August 2020 (Gulf Standard Time- equivalent to 0400 on 28 August 2020 in Singapore)
Travel must be completed by 31 May 2021
Travel can be booked in Economy, Business or First Class
Flights must be operated by Etihad Airways
Both one-way and round trip awards are eligible
Only GuestSeats (Etihad's equivalent of saver awards) can be booked; OpenSeats cannot
Note that flights must be operated by Etihad Airways, which means this discount does not apply to awards on any of Etihad Guest's many partner airlines. That's a shame, since 30% off the already low 7,500/10,000 miles for a one-way Economy/Business Class ticket to Koh Samui would be pretty sweet.
What Etihad Airways awards can you redeem?
Etihad Guest doesn't have a traditional award chart for redemptions on Etihad Airways. Instead, you'll need to use this mileage calculator to calculate the cost.
Do note that the prices shown by the calculator may sometimes be slightly different from the prices shown by the booking engine. For the most accurate quote, always refer to the latter.
From Singapore to…


Business

First

Abu Dhabi

145,000
101,500 + S$748
197,500
138,250 + S$748

Athens

250,001
175,001 + S$839
340,000
238,000 + S$839

Paris

270,001


189,001 + S$968

367,502
257,251 + S$968

Rome

270,000
189,000 + S$853
367,502
257,251 + S$853


London

270,002
189,001 + S$1,175
372,999
261,099 + S$1,175

Casablanca

277,501
194,251 + S$827
390,501
273,351 + S$827

New York City

344,770
241,339 +S$946
469,680
328,776 +S$946

Washington DC

385,000


269,500 + S$946

470,001


329,001 + S$946

*All prices shown are round-trip. One way requires 50% of the miles
Unlike Emirates, Etihad continues to impose substantial fuel surcharges on its tickets, and for most long haul destinations you can expect to pay between S$800-1,000 on a round-trip premium cabin award.
Unfortunately, this means that the use cases for this sale are limited. A round-trip Singapore to Europe award would cost 184,000/250,000 miles in Business/First Class on Singapore Airlines, with no fuel surcharges. Even with Etihad Guest's 30% discount, you're still paying slightly more miles, not to mention hundreds more in fuel surcharges.
That's not even taking into account the KrisFlyer Spontaneous Escapes discounts, which granted, aren't available right now, but I'm sure we'll see return once the situation eases.
If you'd like to try your luck searching, the discount should be automatically reflected through the online booking engine. Do note that that refunds of GuestSeats attract a 10% mileage penalty (i.e 90% of the miles will be refunded to you).
Which credit cards offer transfers to Etihad Guest?
Only Citibank and Standard Chartered offer points transfers to Etihad Guest.
Of the two, Citibank is the more realistic candidate. Your Citi ThankYou and Citi Miles can be transferred to Etihad Guest at a rate of 5:2 and 1:1 respectively- the same as any other Citi frequent flyer partner.
In contrast, Standard Chartered rewards points transfer to Etihad Guest at a 3:1 ratio- 20% worse than the 2.5:1 you'd get for Singapore Airlines. Unless there's some sort of transfer bonus, it's not worth the haircut.
Conclusion
Although a 30% discount on awards sounds generous, Etihad Guest was never the best program to redeem Etihad Airways flights in the first place, and this doesn't really change the picture.
Sadly, the "better" ways of redeeming Etihad Airways flights aren't accessible to us in Singapore. Both Air Canada Aeroplan and American AAdvantage would offer better value, but unless you're willing to buy miles out of pocket, neither is an option.