The Mandarin Orchard may not be the swankiest hotel in Singapore, but it's certainly one of the largest. With 1,077 rooms in the heart of Orchard Road, the 173-meter building (formerly known as the Mandarin Singapore and Meritus Mandarin Singapore) was briefly the tallest in Singapore when it opened back in 1971.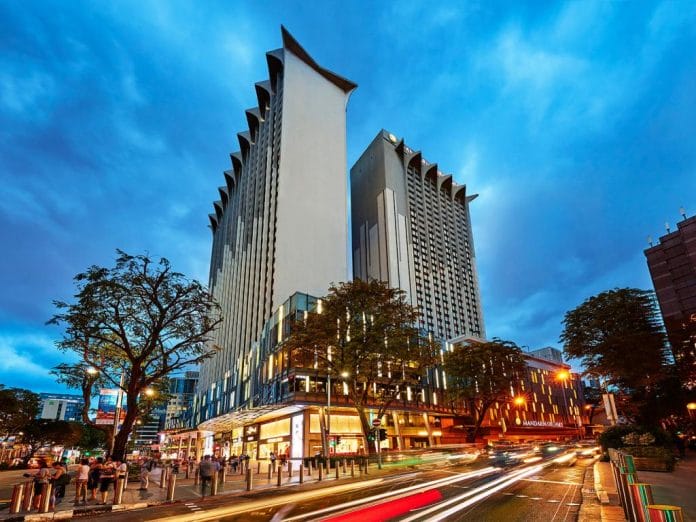 I decided to do my next staycation review at the Mandarin Orchard because: 
it's a solid mid-tier option, good for those who want traditional hotel facilities without splurging 
it has a club lounge (situated in a former revolving restaurant, no less!), which would be a chance to see how service routines and happy hour spreads have changed during COVID-19
it's set to undergo a S$90M renovation before relaunching as the largest Hilton in Asia Pacific in 2022, so why not do a before and after comparison?
Booking a Mandarin Orchard Staycation
Since receiving approval to take staycation guests on July 15, the Mandarin Orchard has been offering a "Club Indulgence" staycation package for S$208++ (S$245 nett) per night. 
🏨 Club Indulgence


1 night in Deluxe Room

Complimentary upgrade upon availability

Access to Meritus Club Lounge

Daily breakfast

Book By

30 Nov 2020

Stay By

30 Nov 2020

Note: When this package initially launched, it included early check-in & late check-out (upon availability) and a 50% discount on food at Triple Three. These have since been removed. As at the time of writing, the only dates available for this package are in October and November 2020. 
This represents a decent rate for a room with club lounge access, and my intention was to pay for it using statement credit redeemed with AMEX Membership Rewards (MR) points.
A S$245 charge would be ~25,521 MR points, equivalent to 25,521 Marriott Bonvoy points. Given that Marriott properties in Singapore would cost at least 30,000-40,000 points per night (without breakfast or lounge access), I was perfectly happy with that. 
Before arrival, you may receive an upsell email from the Mandarin Orchard, offering a fixed-price upgrade. I didn't bother, because (1) my rate already included a space-available upgrade and (2) I already had club lounge access. 
It's interesting to see the prices, however. Paying S$208++ for a base room and then S$180++/S$360++ more for an Executive/Regency Suite isn't worth it, in my opinion, given that non-refundable rates are S$374++/S$524++ respectively. 
Mandarin Orchard: Arrival and Check-in
In line with the STB's restrictions on maximum density during Phase 2, the Mandarin Orchard is practicing staggered check-in. Upon confirming your room, the reservations team will request you to select a check-in slot (a maximum of 30 guests can be accommodated per slot):
2:00 – 2:30 p.m
2:30 – 3:00 p.m
3:00 – 3:30 p.m
3:30 – 4:00 p.m
4:00 – 4:30 p.m
4:30 – 5:00 p.m
5:00 – 5:30 p.m
5:30 – 6:00 p.m
Now, the hotel's official check-in time is 2 p.m, so none of these timings represent early check-in. Since the Club Indulgence package I booked offered this, I emailed the hotel to ask what time I could come down. 
The response I got was confusing, to say the least:
Please be informed that early check in can only be known upon arrival at the check in counter. Should there are rooms available upon your arrival, we will certainly provide the room for you.
But if all guests show up at whatever time they wish hoping to score a room early, doesn't that kind of defeat the purpose in pre-assigning check-in slots? Moreover, on the odd chance that everyone shows up at the same time, doesn't that create the very sort of overcrowding problem you were trying to avoid?
So I totally don't understand the system, but still headed down at 11 a.m anyway to try my luck.
Orchard Road devotees will find it almost impossible to miss the Mandarin Orchard. It's right smack in the center of the action, sandwiched between Ngee Ann City and Cineleisure. 
Although actual check-in is on level 5, all visitors will undergo the usual SafeEntry registration and temperature check ritual on the ground floor. 
The ground floor was…depressing. It looked like a hollowed-out shell, with some areas closed, others cordoned off with makeshift barriers, and a pervading sense of darkness (the sunken driveway of the hotel doesn't help). It definitely didn't give the best of first impressions, and I couldn't tell if this was because of COVID-19, or in preparation for the hotel's upcoming renovations. 
Fortunately, the level 5 reception area was much nicer, and featured high ceilings with full length glass panels to let in natural light. It was also completely empty when I arrived. 
Despite all my years as a Marriott elite, I don't think I ever once checked-in at the club lounge. In fact, I was always confused about how that worked. Lounges usually require a key card controlled elevator to access, and how would you even get there in the first place, short of waltzing up to the counter and asking? And if you did that, couldn't you just as well check-in at the counter? 
But I wanted the novelty, and asked the front desk associate whether I could check in at the lounge. She looked up my reservation…and promptly started checking me in at the lobby anyway ¯\_(ツ)_/¯.
To my surprise, a room was available immediately, and I even got an upgrade to an Executive Suite. The Club Indulgence package does include a space-available upgrade, but I was expecting more of a "high floor" pseudo upgrade.
There was one catch though- they wanted the room back at 11 a.m the next day. Now, I realise the 6 p.m late check-out is "subject to availability", but it's kind of a buzzkill to put the idea in the guest's head and then ask them to leave before lunch. With some negotiation I got them to offer 12 p.m, but that's as good as it got. 
A credit card deposit was taken (tourists beware, the Mandarin Orchard participates in DCC!), and I was off to my room. 
A little lay of the land first: There are two wings in the hotel, connected via the main lobby on Level 5.
If your room number (last one digit for floors 8 and 9, last two digits otherwise) runs from 1-29, you'll be in the Orchard Wing. 
The Orchard Wing also houses:
Imperial Ballroom (Level 35)
Shisen Hanten (Level 35)
Meritus Club Lounge  (Level 38 & 39)
If your room number runs from 30-45, you'll be in the Main Tower. 
The Main Tower also houses:
Grange Ballroom (Level 5)
Grand Mandarin Ballroom (Level 6)
Tennis Courts (Level 8)
Mandarin Meeting Suites (Level 8)
Gym (Level 37)
FYI, the Main Tower is currently being used to accommodate guests serving SHNs. All other guests will stay in the Orchard Wing.
Executive Suite
There are nine different room types at the Mandarin Orchard.
 
Maximum 
Occupancy

Size

Deluxe Room

3

28 sqm

Superior Deluxe Room

3

28 sqm

Premier Room

3

33 sqm

Family Room

4

70 sqm

Meritus Club Room

3

28 sqm

Meritus Club Premier Room

3

49 sqm

Executive Suite

3

52 sqm

Regency Suite

3

70 sqm

Presidential Suite

3

154 sqm
The Club Indulgence package books you into a Deluxe Room, but as mentioned, I'd received an upgrade to an Executive Suite. 
My room was 3217, on the 32nd floor of the Orchard Wing (I almost said Orchard Tower, which is strange because I have absolutely no idea what that place is whatsoever).
My first impression of the suite? Time to party like it's 1999. While I appreciated the extra space, the decor is undeniably dated. The room looks like it would have been swish around the turn of the century, but gold picture frames, beige drapes, glass-top tables and recliner armchairs just feel tired right now. 
The Executive Suite is basically two standard rooms joined together, which creates enough space for a large living room with couch and recliner. It's a pity that the TV is on the small side though, because at 40 inches, the viewing distance is far from optimal. 
The living room and bedroom can be physically separated by closing a sliding door. They also have their own thermostats, so each room can have its own microclimate. 
The glass-top work desk had a very comfortable chair, a universal power socket, and an Ethernet cable. 
I set up my laptop to test the Wi-Fi speed, and was completely blown away. This was the first hotel where I achieved triple digit download and upload speeds, and the connection was even quicker than the one I had at home. 
So let it be known: the Mandarin Orchard's rooms may be dated, but its internet speeds are decidedly cutting-edge. 
 
🔽

Download

🔼

Upload

Mandarin Orchard

273 Mbps

294 Mbps

YOTELAir Changi

29 Mbps

49 Mbps

W Sentosa Cove

34 Mbps

34 Mbps

The Barracks Hotel

7.3 Mbps

7.7 Mbps

Hotel 81 Tristar

7.0 Mbps

6.8 Mbps

Raffles Hotel

6.9

Mbps

6.8

Mbps

Hotel Soloha

4.7 Mbps

5.

1 Mbps
At the entrance foyer there's also a small guest bathroom.
The bedroom had a king-sized bed with another recliner in the corner. Behind the headboard was a large mirror broken up into six panels, presumably to make the room feel larger than it already was. 
Unfortunately, neither bedside table had charging outlets nor USB ports, a glaring omission in this day and age. To charge your devices overnight, you'll need to leave them on the work desk in the living room. 
Beneath the television you'll find a mini-bar, or at least, what's left of it. I'm still unclear as to what the rules regarding the mini-bar are; in some hotels (Hotel Soloha) I've found it completely emptied out, while in others (W Sentosa) they're fully stocked like nothing changed. If you want bottled water, you'll find four bottles beneath the TV in the living room. 
The cupboard had a striking red interior, perhaps to match the red uniforms worn by the female hotel associates. Inside were two bathrobes, an ironing board, slippers, an umbrella, and a safe. 
The bathroom was large, with a separate shower and tub area. With all the space, it's a shame they didn't go for his-and-hers sinks, but that meant more counter top storage. 
Although the shower looked promising, what with all its fancy nozzles, water pressure was extremely weak. At first I thought it was because I had both the hand shower and shower panel running at the same time, but even with just one on, the water flow was indolent at best. 
Bathroom amenities were by ETRO, an upmarket brand that can be also found on Crystal Cruises and Japan Airlines. 
As per my understanding, these are a step up from the regular rooms where Meritus uses its own house brand toiletries. 
Also provided are two toothbrush kits (with Colgate, instead of that AME knock-off some hotels use), a shower cap, sanitary bag, sewing kit, emery board, shaving kit and comb. 
To sum up the room: while it's clean, comfortable and spacious, there's the unshakable feeling that it's caught in a time capsule of sorts. I understand these are due for a makeover when the hotel converts into a Hilton, and that can't happen soon enough. 
Mandarin Orchard: Meritus Club Lounge
As the name suggests, the Club Indulgence package grants you Meritus Club Lounge privileges. The lounge is open from 6.30 a.m – 11 p.m on weekdays (7 a.m -11 p.m) on weekends, and serves: 
Daily breakfast
Daily afternoon tea
Daily evening cocktails and hors d'oeuvres
The hotel is capping the maximum capacity of the lounge to 40 people at a time, which means it's crucial to make reservations. Do note that the lounge is only open to guests above 18 years of age. I didn't see any children the whole time I was there, so I guess they enforce this pretty strictly. 
The Meritus Club Lounge at Top of the M (what a mouthful) is located at the top floor of the hotel, spread across levels 38 and 39. As far as I know, this makes it the only two storey club lounge in Singapore, perhaps even in Asia. 
The reason for this unique layout is that this space used to host the revolving Top of the M restaurant. After the restaurant closed down, it hosted Chatterbox for a period, before being redeveloped into a club lounge in 2014. 
The elevator brings you to the reception area on level 38. Although there's some tables and chairs scattered across this floor, you'll almost certainly never be seated here unless the overflow on level 39 reaches critical levels. 
Level 38 is where the lounge's business centre and meeting room are located, as well as the toilets. 
Climb the staircase to level 39, and you'll be in the lounge proper. 
It struck me as a little strange that there was no host at the top of the staircase on waiting to welcome and seat guests. Once you climb the stairs, you're pretty much left to your own devices- pick a seat and wait for someone to serve you. Most people caught on pretty quickly, but there were a handful who waited at the top of the stairs, expecting a staff member to usher them to a table. 
Even though the revolving mechanism was removed a long time ago, you can see relics of how it used to work. The outer circle rotated, while the inner circle featured static seating for those prone to motion sickness. 
The height of the lounge (you're approximately 170 metres off the ground) means it has commanding views of the surrounding area, and you can see all the way to MBS. 
There's a different kind of beauty on rainy days too, where you can sometimes feel you're standing among the clouds. 
Afternoon Tea
Afternoon tea is served from 3 to 5 p.m daily. Don't expect a Raffles Hotel style three-tiered tea stand, with trimmings and bubbly. This is decidedly a more prosaic affair, although on the plus side, it's absolutely free. 
Two plates are brought to your table (I assume you can ask for seconds, but didn't try), together with a choice of hot or cold beverage. The first plate has two kinds of scones (plain and raisin, with jam and clotted cream) and two kinds of sliders (black bread with cheese, mini smoked salmon burger). 
The postlude consists of three desserts- a chocolate bun, strawberry swiss roll, and tiramisu. 
Again, it's hard to criticise when it's basically free, but you shouldn't feel too bad if you give this one a miss. 
Evening Cocktails
Evening cocktails and canapes are served from 6 to 8 p.m daily. 
Despite the name, there aren't actually any cocktails available. Guests will instead choose from a small list of wines (red, white, and happily enough, sparkling), beer and soft drinks. 
Although the drinks list says the sparkling wine is an Australian Brut, it's actually an Extra Dry Italian Prosecco. Extra Dry (2.8g sugar) is one rung sweeter than Brut (2g sugar), so if you're watching your calories that's something to note. 
Traditional club lounge cocktail hours would see guests helping themselves to a self-serve buffet, but since that's currently not permitted, canapes are plated and brought directly to your table from the central kitchen. You're of course allowed to request for seconds or thirds, if you so wish. 
A total of four plates make up one canapes set. This includes cheese, crackers and fruits…
…a selection of smoked fish and cold cuts…
…and my favourite of all, the hot plate. This featured a baked salmon cube, vegetarian fried dumpling, penne pasta with ratatouille topping, and a hash brown that had this intriguing sweet glaze on it. It sounds disgusting when I say it aloud, but it tasted really good. 
They served the same dessert tray as during tea time…
…but redeemed themselves by bringing out a new one shortly after. Perhaps they were just trying to finish off the leftovers from tea first. 
As an added bonus, the club lounge gets some exquisite sunset views in the evening. Sit near the window where you can see the "Mandarin Orchard" sign for the best spot.
Mandarin Orchard Singapore: Facilities
Pool

Gym

Spa

Yes: 6 a.m to 7 p.m

Yes: 24 hours

No

Kids' Club

Business Centre

Others

No

Yes

Tennis courts
(currently closed)
Due to the current COVID-19 pandemic, both the swimming pool and gym require advance reservations. These slots can only be booked after you've checked in, which is another reason to arrive early. 
Swimming pool
For a property with 1,077 rooms, the swimming pool at the Mandarin Orchard is tiny. I eyeballed it as 15 meters long by 6 meters in width, and with current social distancing measures, a maximum of just five people can be in the swimming pool area at any one time (that's the area, mind, not just the pool). 
Pool slots are allocated by the hour, and with just 13 hours of pool time available each day, a maximum of 65 guests can enjoy the pool daily. Assuming two guests per room, that's barely 3% of the hotel's capacity, and woefully inadequate. 
Should you be one of the lucky few, you might think you've won the jackpot by having a semi-private pool. Not really. The pool is located just next to the level 5 lobby, and although they've attempted to put up some privacy screens, it's not that difficult for someone on the lobby side to spot you in all your bathing suited glory, whether in the pool or on the sunbeds. It's also much easier to see out to the pool than see in to the lobby (due to the lighting differential), so if you don't like the feeling that someone's watching you, this might not be your cup of tea. 
For that reason, I simply can't recommend the Mandarin Orchard for those whose idea of a staycation involves extended periods of frolicking at the pool. 
Gym
The Mandarin Orchard's gym is located on level 37 of the Main Tower and open 24 hours a day. You'll first need to visit the concierge on level 5 to do a temperature check and get a special key. I don't understand why they couldn't just let you use your room key for the gym and do the temperature check over there, but perhaps it's because the gym isn't manned 24 hours a day. 
Once you've got the key, there's still some hunting to do. The Main Tower elevator will only take you as far as level 36. After that, you'll need to look for the fitness centre signs…
…enter the stairwell behind a door which looks like one you shouldn't be opening…
…and climb one floor to level 37. The gym is then up a further half flight of stairs. 
The gym itself seems pretty well equipped, with the usual assortment of cardio and strength-training equipment. 
It's most crowded in the early morning and early evening; when I came by at 2 p.m it was deserted. 
As expected, not all machines are in use due to social distancing measures. 
I was delighted to know the Mandarin Orchard has tennis courts, but was told they were currently closed "because COVID". That's odd, given how tennis ranks as one of the safest activities one can do during this time. 
Mandarin Orchard Singapore: Breakfast
Served at

Cost

Style

Meritus Club or
Chatterbox
S$28++ (Adult)
S$18++ (Child)


A la carte buffet

Hours

Sparkling Wine?

Discounts?

6.30 a.m (7.00 a.m on Weekdays & PH) to 10.00 a.m 


No

None
All guests who book the Club Indulgence package will be able to have breakfast at the Meritus Club. 
Breakfast is served a la carte buffet style, with guests able to choose from four different sets. You can of course order multiple sets to try different things; there's no limit. 
The American Breakfast Set includes eggs done to your liking, the usual breakfast meats, roasted tomato, mushrooms and potatoes. The menu mentioned baked beans, but they were MIA and I didn't realise it until afterwards. 
The Congee Set consisted of chicken congee, dim sum and a soft-boiled egg. The congee tasted great (it had a certain thickness to it), but the egg was unfortunately overdone with the yolk completely set. 
I ordered the Noodle Set too, which was fairly unimpressive. The menu description says it comes with a soft-boiled egg too, but I assume that's a typo (it'd be a rather non-traditional fish ball noodles in that case!). 
To accompany the sets, we ordered some pancakes and waffles. The pancakes were actually pretty good. They tasted like McDonald's hotcakes, and while that may not be the pinnacle of pancake perfection, it's certainly a lot better than what I've had at other hotels. 
The same could not be said about the waffles, sadly. Limp, cold and soggy, they were nibbled at, pushed around disinterestedly and quickly removed. 
Service at breakfast was prompt, with waiting times for food of no longer than 7-8 minutes. Although we missed our reservation slot (booked at 8 a.m and showed up at 9 a.m), there was no problem getting a seat. I think that's a function of the day we were there, however, and I wouldn't chance it on a weekend. 
Other Dining Options
| | |
| --- | --- |
| Restaurant | Status as of 14 August 2020 |
| Bar on 5 | Closed |
| Chatterbox | Open |
| Coffee & Crust | Open |
| Shisen Hanten | Open |
| Triple Three | Open |
Triple Three
Our room rate came with 50% off at Triple Three, the hotel's buffet restaurant. Due to the current COVID-19 situation, they've switched from a traditional buffet to an a la carte style buffet. 
Unfortunately, the restaurant is only open for dinner on weekdays, and was fully booked on the day we were there (Thursday). Had we been able to get a table, we'd have paid S$108++ per adult (S$48++ per child) for the following: 
Each night has certain special items, such as:
Mon & Tue: Foie Gras
Wed & Thu: Wagyu Beef
Fri & Sat & Sun lunch: Lobster Mentaiyaki
Sun: Free flow of Carlsberg Beer
With the 50% discount for in-house guests, I suppose the price becomes much more palatable. 
Chatterbox
Since Triple Three was full, we were directed to Chatterbox instead, where in-house guests also enjoy 50% off. 
You can't come to Chatterbox and not have the Hainanese Chicken Rice (S$27++). They do some unconventional things with it (such as cooling the chicken under running water instead of plunging it into ice water), and I don't think their chilli is anywhere as good as Boon Tong Kee's, but it's good for hotel chicken rice. 
Fun fact: the hotel has a policy of serving its chicken boneless, so you won't get wings on your plate unless explicitly requested. All the wings get turned into salted egg chicken wings (S$20++), which we didn't order this time round. 
The other well-known dish here is the Chatterbox Lobster Laksa (S$38++). While the lobster is definitely on the small side with a paltry yield of meat, the broth is spot on. Whatever they do to create the seafood base for the laksa just works, and I may or may not have gulped down more than my fair share. 
I realise there are those who will balk at paying these prices for "hawker food", but I'm perfectly happy to pay a bit more for premium ingredients. Besides, with 50% off, the overall damage was still tolerable. 
Mandarin Orchard Singapore Service
On the whole, I'd say service was good. With 1,000+ rooms, you're hardly going to get individualized attention, but the few requests I had (mostly concerning bookings) were handled competently enough.
The servers in the lounge were very friendly, in particular the more senior staff. I do think it'd make a lot more sense to put a host on level 39 to greet and seat guests, however. 
Phase 2 Reflections
The biggest problem with doing a Phase 2 staycation at the Mandarin Orchard is that the density restrictions reduce the capacity of its already small facilities. Imagine a pool that can take just five people at a time, in a hotel with more than a thousand rooms. The math isn't in your favor, even if you're willing to go in the heat of the day or at the crack of dawn. 
I was fortunate enough to stay on a weekday, but I do think the club lounge would be straining at the hilt during weekends. With a maximum capacity of just 40 guests, you'll want to make your bookings for breakfast, tea and cocktails as soon as possible (I emailed the concierge two weeks before arrival). 
My understanding from other friends who have stayed is that it's also very tricky to get a same day table at Triple Three. If you want to fully utilize your 50% off on dining, be sure to book this well in advance. 
tl;dr: with the limited capacity at most of its facilities and venues, making early reservations could well make or break your staycation. 
Conclusion
Is the Mandarin Orchard a good staycation choice? If you want to be in the middle of Orchard Road and have a drink-yourself-silly happy hour accompanied by majestic views, sure. If you'd like modern rooms and great facilities, probably not. 
I'd be very interested to see what Hilton does with this property, and look forward to visiting again after its renovation. 
🏨 In Summary
The Mandarin Orchard is decidedly business-focused, and won't be ideal for everyone. That said, the views from the club lounge are hard to beat, and at S$245 nett, is one of the better staycation deals for a club room. 
Do say: I stayed at Orchard Wing
Don't say: I stayed at Orchard Tower