While you probably shouldn't be using KrisPay for payments, there's nothing wrong with using it to earn some additional miles.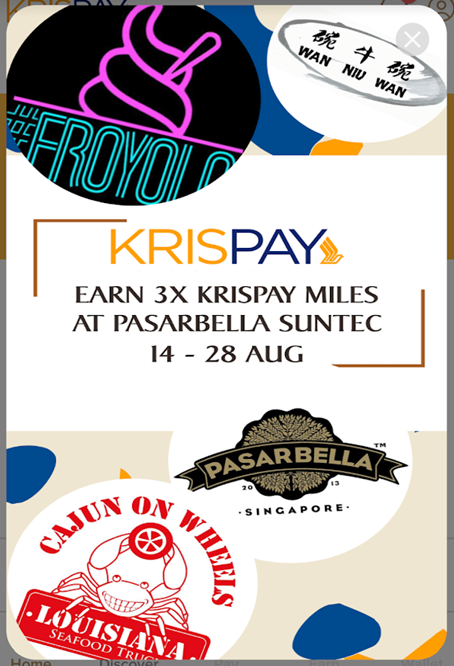 From 14-28 August 2020, KrisPay is offering 3X the usual miles at selected outlets within PasarBella Suntec, with no cap on the maximum miles that can be earned. When stacked with the right credit card (see below), this offer an opportunity to earn up to 13 mpd on dining– a pretty tidy sum. 
Which PasarBella outlets are participating?
The following food and beverage outlets within PasarBella Suntec will qualify for bonus miles with KrisPay:
| | |
| --- | --- |
| Outlet | Earn Rate |
| Cajun on Wheels | 3 mpd 9 mpd |
| FROYOLO | 2 mpd 6 mpd |
| Pasarbella DRINKS! | 2 mpd 6 mpd |
| Wan Niu Wan | 2 mpd 6 mpd |
You will be able to transfer the KrisPay miles earned through this promotion into your KrisFlyer account, and in fact, you should. You have seven days from the day of transaction to do so, after which they become stuck in KrisPay. Don't dally- once you see those miles in your KrisPay wallet, transfer them immediately. 
What card should I use for dining?
Remember: there's no such thing as "the right card to use with KrisPay", because you don't pay with KrisPay. 
To earn miles with KrisPay, you make payment as per normal (via cash or credit/debit card), and then present your QR code for the cashier to scan. This means you should use whatever card you'd normally use for dining. 
Card
Miles per S$1 (Dining)
Remarks
UOB Lady's Card
4 mpd
(4.8 mpd if registered for this promotion)

Must choose dining as 10X category, capped at S$1K per month

UOB Lady's Solitaire
4 mpd
(4.8 mpd if registered for this promotion)

Must choose dining as 10X category, capped at S$3K per month

HSBC Revolution

4 mpd

Must tap card or use mobile payments

UOB Pref. Plat. Visa

4 mpd

Must use mobile payments 

Maybank Horizon Visa

3.2 mpd

Min S$300 spend per month
Conclusion
If  PasarBella happens to feature in your upcoming dining plans, remember to claim your KrisFlyer miles at check out. It's by no means an automatic process, although it's pretty fast (pull up app, enter total spending, present QR code for scanning). 
On another note, KrisPay is offering its largest-ever milesback promotion (40%) for two days more. That still doesn't make it worth using, in my opinion, but if you'd like to learn more about that, check out this post.