The Fullerton Bay Hotel is the more upscale cousin of The Fullerton Hotel (which isn't too bad itself), with prices to match. While it's possible to book the latter for just over S$300, the former will easily cost upwards of S$550 (even more if you stay on the weekend). 
That's why this Fullerton Bay Hotel flash sale could be a great deal at S$492 nett- provided you stay on a weekend. 
Fullerton Bay Hotel Flash Sale
From 9 am to 9 pm today, The Fullerton Bay Hotel is offering a Deluxe Room for S$418++ (S$492 nett) under the Midweek Mobile Flash Deal rate. As the name suggests, this rate will only appear if you're browsing on a mobile phone.
This non-refundable package is valid for stays up till 30 November 2020, and includes:
S$50 F&B credit
Guaranteed 2 p.m check-out
You'll notice that breakfast is not included; I suppose you're meant to use the S$50 F&B credit to offset the cost. Fullerton Bay charges S$45++ (S$53 nett) per head for breakfast, so your out-of-pocket cost for two guests is S$56. 
This gives you a total cost of S$548 nett, which means this isn't a must-grab deal if you're intending to stay on a weekday. Why? The Fullerton Bay Hotel offers a refundable Weekday Siesta package for S$466++ (S$548 nett) that comes with breakfast and a guaranteed 2 p.m check-out. 
Your total cost after taking breakfast into account is therefore the same under the Mobile Flash Deal or Weekday Siesta Package, and you're better off booking the latter as it has free cancellation.
However, if you're looking to stay on a weekend, the deal gets better. As the rate calendar below shows, this Mobile Flash Deal prices the same regardless of weekday/weekend. 
On the weekends, the cheapest competing staycation package is Loving Local, which costs S$585++ (S$689 nett) with breakfast and S$80 in F&B credit. After adjusting for the credit, your total cost is S$609 nett, ~10% more expensive than what you'd pay with the Mobile Flash Sale (albeit with free cancellation). 
What's the staycation experience at The Fullerton Bay Hotel like?
The Fullerton Bay Hotel has just 100 rooms, providing a quieter and more intimate environment than the 400 room Fullerton Hotel. The style is certainly eye-catching, the work of Hong Kong designer Andre Fu (you may remember him from my Andaz Singapore review), and all rooms come with bathtubs and BALMAIN amenities as standard, with Harmon Kardon speakers and other fancy trappings. 
However, breakfast was a notable weak point of my stay at the Fullerton Hotel, and on first glance the Fullerton Bay Hotel's menu doesn't impress me that much either. If you've actually tried it, do let us know how the food quality was.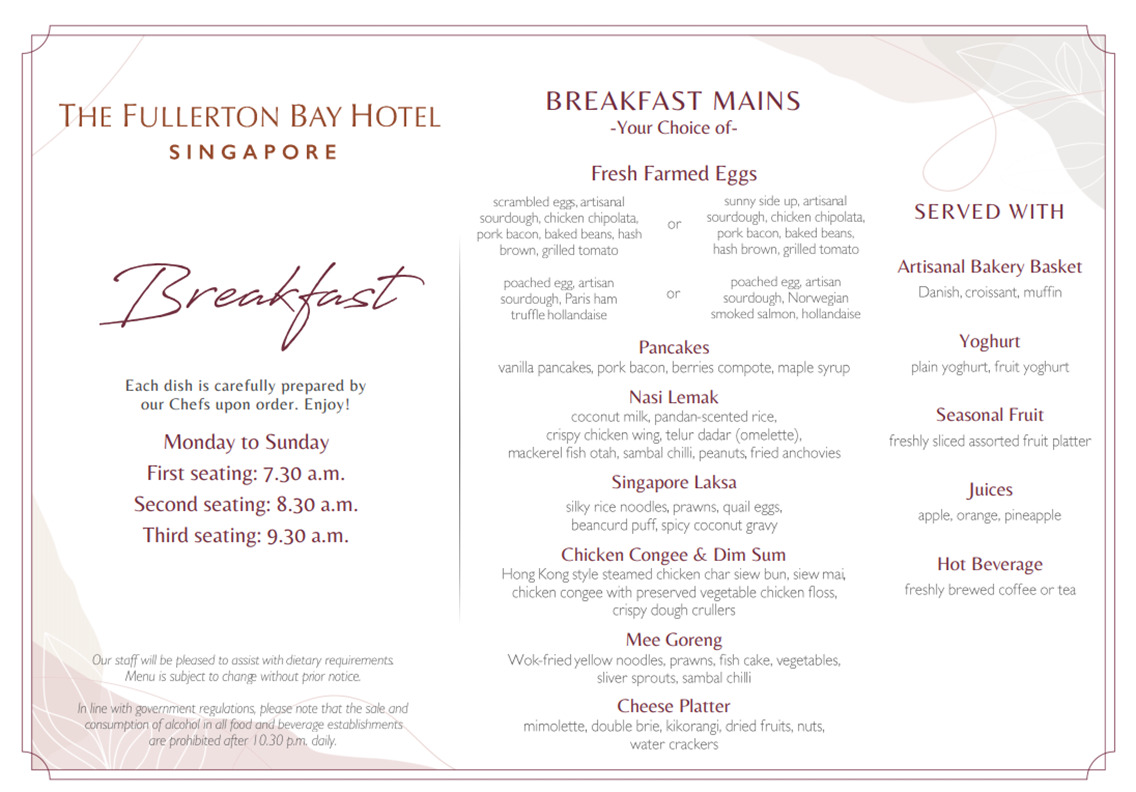 Assuming it's nothing great, then you might as well take the savings and eat breakfast elsewhere- the area isn't short of good brunch options, and I'm quite certain you'll spend less than S$45++ per head. 
Phase 2 staycation reviews for The Fullerton Bay Hotel are in short supply, but here's what I managed to find:
Conclusion
I recently ran a poll of the Milelion's Telegram Channel, and it seems there's a fair bit of interest in a Fullerton Bay Hotel review. I'll do my best to oblige, although reviewing the Shangri-La Valley Wing is higher on my priority list at the moment. 
If you're looking for a weekend stay at The Fullerton Bay Hotel, I'd say the Mobile Flash Sale rate is worth considering- even more so if you don't mind settling breakfast elsewhere.