The Fullerton Hotel will be a familiar sight to those of you who work in the CBD. Situated on the banks of the Singapore River and overlooking the Civic District, it's one of only three hotels designated as National Monuments (the other two being Raffles and Goodwood Park). 
I decided to do my next staycation at the Fullerton because: 
It's a chance to review the #1 hotel in Singapore, as ranked by reviewers on Tripadvisor
HSBC was offering a flash sale on Fullerton staycation packages, which cost just S$299 nett with S$80 of F&B credits
After staying at the Raffles, I wanted to compare the overall experience with other colonial-style hotels
Booking a Fullerton Hotel Staycation
HSBC customers can currently book the following staycation package at The Fullerton Hotel for S$271++, valid for both weekday and weekend stays: 
🏨 HSBC Staycation Treats (S$271++)

1 night in Premier Courtyard Room

Daily breakfast

S$80 F&B credits

Book By

31 Aug 2020

Stay By

30 Sep 2020

Link
From 14-16 August, HSBC ran a 3-day flash sale, which reduced the price further to S$254++ (S$299 nett). I managed to snag this deal, which I charged to my HSBC Revolution card to earn 4 mpd. 
Other Fullerton Hotel staycation deals include:
🏨 Luxury of Time (S$380++)

🏨 Pure Relaxation (S$320 nett)

1 night in Heritage Room

Daily breakfast

11 a.m check-in

6 p.m check-out

S$150 F&B credits

1 night in Premier Courtyard Room

Daily breakfast

S$80 F&B credits

Purchase By

31 Aug 2020

Book By

31 Aug 2020

Stay By

1 year from date of purchase

Stay By

31 Aug 2020

Link

Email Fullerton Reservations and request 
Fullerton Hotel Singapore: Pre-arrival
A week before my staycation, I received a pre-arrival email from the Fullerton Hotel reservations team, asking me to specify my intended arrival and departure time. 
The form also had options to reserve time slots for breakfast, the gym and swimming pool (the full list of time slots can be found in their respective sections in this review). 
This isn't mentioned in the pre-arrival form, but should you be staying on a weekend, you'll definitely want to book one of Fullerton's complimentary heritage tours. These operate at 3.45 p.m and 5 p.m on Saturdays and Sundays, and are limited to four people per time slot. Book early to avoid disappointment. 
Fullerton Hotel Singapore: Arrival and Check-in
Even though the package we booked didn't come with early check-in, we decided to try our luck and arrived around 11 a.m on a Friday morning. 
The Fullerton Hotel is just off Battery Road, and a brief walk from Raffles Place MRT. Thanks to the current work-from-home mandate, there's hardly any traffic in the area, even during weekdays.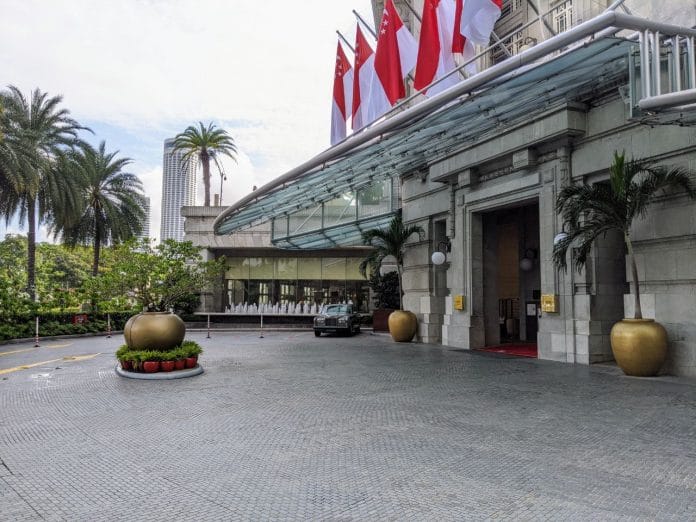 There's no two ways about it- The Fullerton Hotel cuts an impressive figure. And why shouldn't it? After all, this used to be one of the most important buildings in the whole Civic District, and since its opening in 1928 has housed the General Post Office, Ministry of Finance, Chamber of Commerce, and the Singapore Club. 
The grey Aberdeen granite facade and 37 metre high fluted Doric columns have borne silent witness to the fledgling careers of many of Singapore's pioneer leaders. 
Onlookers used to scale the roof and parapets of the Fullerton Building to catch one of Lee Kuan Yew's fiery lunchtime rallies. Goh Chok Tong recounts how he literally worked his way up the building, starting on the second floor and progressing to the fifth and sixth floors as he rotated through the civil service. Goh Keng Swee was rumored to have a secret entrance to his office, built to let him slip in and out while avoiding people he'd rather not meet (I empathize). 
In fact, the building's stint as a hotel is relatively nascent. The Fullerton Hotel only opened its doors in December 2000, after a $400 million refurbishment that began in 1997. The building was gazetted as Singapore's 71st National Monument in 2015, and all in all, it's come a long way since the foundations were laid in 1924.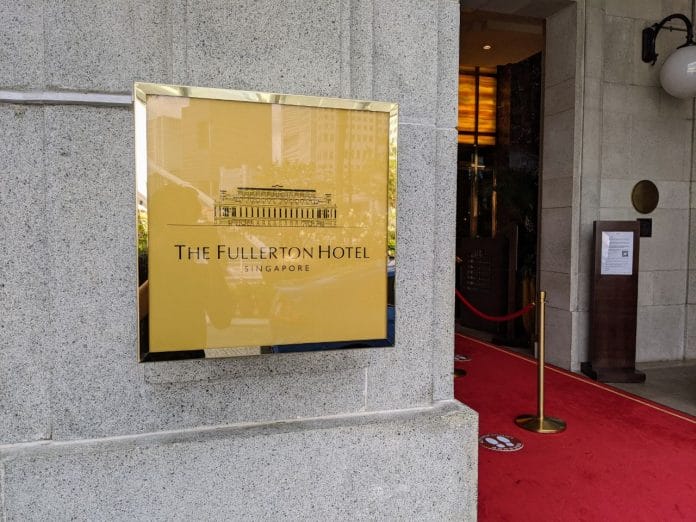 Staff came to assist us with our bags as we alighted from our Grab, and we did a temperature screening and SafeEntry declaration before entering the building proper. 
If you thought the building was grandiose from the outside, it's equally impressive within. Think grand staircase, an expansive courtyard bathed in natural light, and tall marble pillars stretching skywards. 
We were ushered to a small holding area in the courtyard and seated at a numbered table to complete the obligatory health declaration. It's an elegantly simple idea, insofar as it prevents overcrowding at the check-in counters, and ensures fairness in processing arrivals- your table number corresponds to the order in which you arrive, so there's no wandering off to fill out forms and losing your place in line. 
After that, we were escorted to the counter for check-in proper. Fullerton has installed plexiglass dividers at all its check-in counters, a feature I think we'll see more frequently as businesses re-open (apparently demand for plexiglass is up 4X from the previous year).  
Although my staycation package booked into a Premier Courtyard Room, I received an upgrade to a Quay Room. These are actually smaller in size, but the views more than make up for it (see section on room below). 
A small postcard (this used to be a post office, after all) was issued with reminders of my bookings for breakfast, as well as gym and pool access. 
Fullerton Hotel Singapore: Quay Room
The Fullerton Hotel has numerous room types, and the architectural constraints presented by the building mean that rooms within the same category can vary significantly in size (most notably the Heritage Rooms). 
| | |
| --- | --- |
|   | Size |
| Premier Courtyard Room | 42 sqm |
| Heritage Room | 34-58 sqm |
| Quay Room | 36-39 sqm |
| Marina Bay View Room | 36-39 sqm |
| Esplanade Room | 53 sqm |
| Straits Club Courtyard Room | 42 sqm |
| Straits Club Heritage Room | 37-71 sqm |
| Straits Club Quay Room | 36-39 sqm |
| Straits Club Marina Bay View Room | 36-39 sqm |
| Premier Collyer Suite | 65 sqm |
| Palladian Suite | 93 sqm |
| Loft Suite | 109 sqm |
| Fullerton Suite | 90 sqm |
| Governor Suite | 77 sqm |
| Presidential Suite | 201 sqm |
As mentioned, we were upgraded from a Premier Courtyard room to a Quay Room, on the 6th floor of the building. 
First impressions were great. Although the room was objectively narrow, the natural light streaming in from the full length windows provided a sense of space. The facelifted interiors maintained a sense of old-world charm, while looking fresh enough to avoid an old and worn vibe. 
The Quay Rooms were recently renovated, and trust me, the updated decor looks much better than before. You can find some older reviews of non-renovated rooms, and they look…bad. There's something about yellow walls and bed runners that screams early 2000s. I understand that 70% of the rooms in the hotel have been renovated already, so it doesn't hurt to request one at check-in. 
Although the room eschews the traditional rectangular work desk, it does have a smaller circular table which can pull double duty for in-room dining. 
On the table were three envelopes for you to store your masks in. These were a constant presence throughout the hotel, whether at the restaurants or in the executive lounge.
Underneath a panel on the side desk were four universal power sockets, a HDMI connection port for the TV, and two USB ports.  
The chair was comfortable enough for prolonged periods of work, and the internet speeds were none too shabby. 
Wi-Fi clocked in at a zippy 23 Mbps up and 24 Mbps down, which puts the Fullerton Hotel in the upper half of hotels I've reviewed so far. 
 
🔽

Download

🔼

Upload

Mandarin Orchard

273 Mbps

294 Mbps

YOTELAir Changi

29 Mbps

49 Mbps

W Sentosa Cove

34 Mbps

34 Mbps

The Fullerton Hotel

23 Mbps

24 Mbps

The Barracks Hotel

7.3 Mbps

7.7 Mbps

Hotel 81 Tristar

7.0 Mbps

6.8 Mbps

Raffles Hotel

6.9

Mbps

6.8

Mbps

Hotel Soloha

4.7 Mbps

5.

1 Mbps

Internet speeds based on Speedtest.net scores as recorded during my own visits 
In the wardrobe you'll find an iron and ironing board, together with shoe horn and emergency light. 
And also storage space for clothes, and a safe. An extension cord is available too, if you have multiple devices to charge. 
The room had a King-sized bed, which was pleasantly firm and great for sleeping. 400 thread count-calibre sheets are standard at The Fullerton, and in terms of comfort, I'd say it's second only to the bed we had at the Raffles Hotel (those who have stayed at the Raffles will know that's high praise indeed). 
Both bedsides had a universal charging outlet and a USB port, as well as a master power switch. On the right side (facing the bed), you had additional controls for the electric curtains. 
The mini-bar came fully stocked, and this continues to be an interesting inconsistency among hotels during Phase 2. Some hotels have said that STB requires mini-bars to be emptied entirely, others continue to stock them like nothing happened. 
Although items in the mini-bar weren't free, the Nespresso coffee and TWG teabags were. 
Shortly after we got to the room, a small welcome gift of a fruit platter and bottle of wine arrived. The wine wasn't anything fancy- a 2018 Pierre Jean Merlot that retails for about S$24, and so sweet it was practically undrinkable. Still, the handwritten card from the GM was a nice touch. 
The room came with a Samsung tablet that lets you access basic hotel information and the in-room dining menu. It's not quite as advanced as the tablet at the Raffles Hotel (which allows you to control every device conceivable, from the lights to the curtains to the television), but you can still submit service requests for housekeeping, laundry, and luggage collection. 
The spacious bathroom has a separate bathtub and shower, although there's only room for one sink. The choice of beige marble over more modern grey tones isn't to my liking, but I don't think the bathrooms got a lot of attention during the renovations anyway.  
The designers didn't have the foresight to build a seat into the shower cubicle (it's useful for washing your feet, you know), but there's a small stool that serves the same end. Unfortunately, the shower head has very small coverage, yet the water pressure isn't fantastic (normally, the more you decrease coverage, the stronger the pressure becomes). 
Shower amenities are from the Amber Empire collection by Atkinsons, an Italian-based perfume brand. The soap was easily one of the nicest I've ever had in a hotel, with a lingering lavender fragrance. 
These products are for sale in the gift shop as well, but at a hefty S$8 for a 40ml bottle.
Other accessories include two toothbrush kits (with proper Colgate toothpaste), a comb, shower cap, sanitary bag, vanity kit and shaving kit. 
The highlight of the bathroom? That would have to be the TOTO washlet, complete with heated seat and wall-mounted control panel. Even the mighty Raffles Hotel didn't have this in their rooms, and trust me, once you've used one of these babies you'll think toilet paper is for Neanderthals.  
The toilet cover automatically opens when it detects your presence, and emits a soothing blue light that ensures you don't need to blind yourself by switching the lights on in the middle of the night. 
Quay Rooms have private balconies, thoughtfully separated from the room by a double layer of soundproof doors. 
The views from the balcony are undoubtedly the highlight of Quay Rooms. They're great during the day…
…but simply phenomenal at night. 
I normally get bummed out when I'm "upgraded" to a smaller room (as was the case at the Raffles), but the views here were really something. Sitting on your private balcony at night with a glass of wine and watching the river nightscape is a very special experience, and a world apart from starring at the inner atrium from a Courtyard Room. 
Fullerton Hotel Singapore: Straits Club Lounge
Our room did not originally come with Straits Club access, but a rep from the hotel invited us to have a look. 
The hotel's website says that the Straits Club is temporarily closed, which is incorrect. In fact, the Straits Club is very much operational, and serves afternoon tea plus evening cocktails daily. Breakfast is only served here on Sundays; for all other days, it'll be at the Courtyard area in the main lobby (see breakfast section)
The Straits Club is located on the fourth floor of the hotel, with its own dedicated check-in area as well as a meeting room. There's supposed to be a small library as well as vintage Peranakan/Straits Chinese artifacts, but I didn't see either- they may have been removed to facilitate cleaning during this time. 
Afternoon Tea
Afternoon tea is served at The Straits Club from 3 to 5 p.m daily. In terms of offerings, it's exactly the same as the afternoon tea set available at The Courtyard for S$50-55++ per head (remember, SCB Visa Infinite and SCB X Card members get 50% off)
You're allowed to have as many servings as you wish, with your choice of TWG teas or Fullerton coffees. 
The bottom layer had savory options, such as ricotta chives and mashed egg mayonnaise sliders, dill and crabmeat mayo with mustard cress in a mini tartlet, and five-spiced smoked chicken with guacamole. 
The middle layer had seared beef pastrami sandwiches, rainbow bread tuna chunk sandwiches, and sous vide tiger prawn cocktails with cucumber. 
The top layer had the sweets- chocolate moelleux, battenberg cake, maple pecan orange tart, graham cracker key lime tart, Fullerton fruit cake and ondeh ondeh macarons. 
This was served with scones and clotted cream.
While it was an enjoyable experience, I'm not sure I'd be willing to pay S$50-55++ per person, unless I had the Standard Chartered discount handy. Do note that if you take afternoon tea in the Courtyard, you'll have unlimited servings of savory items and scones, but interestingly enough, only a single serving of the sweets. 
Evening cocktails
Evening cocktails are served from 6 to 8 p.m daily. Like the tea set, it's presented in a three-tiered stand, with as many helpings as you like. 
Unlike some other happy hour lounge spreads, this was carbo light. You could finish one set, and still have room for dinner (whether that's a bug or a feature depends on you, but there's nothing stopping you from ordering multiple sets if you're hungry). 
The bottom tier came with fried spring rolls, chicken wings and crab cakes. 
The middle tier had prawn cocktails, chicken cubes, crab meat and some delightful onion jam on top of yellow squash. 
And the top was a layer of cakes, although different from the tea selection. 
Guests can choose from a selection of house red, white and sparkling wine (Chandon Brut from Australia). It's my understanding that Veuve Clicquot champagne used to be served during happy hour, so that's sadly a downgrade from before. 
Thankfully, this "cocktail hour" isn't a misnomer. Guests can actually order from a small selection of cocktails, including Cosmpolitans, Singapore Slings and Kamikazes. 
Fullerton Hotel Singapore: Facilities
| | | |
| --- | --- | --- |
| Pool | Gym | Spa |
| Yes: 7 a.m to 10 p.m | Yes: 7 a.m to 10 p.m | Yes: 12 p.m to 8 p.m (Fri-Sun only) |
| Kids' Club | Business Centre | Others |
| No | Yes | N/A |
As you'd expect from a luxury hotel, The Fullerton has both a swimming pool and gym. These need to be booked in advance, so be sure to fill out that pre-arrival form. 
Swimming Pool
The Fullerton Hotel boasts a 25-metre outdoor infinity pool, which overlooks the Singapore river. 
Pool timings are divided into 90 minute slots, and you can select a maximum of one slot per day (i.e two on a 2D1N stay):
🏊‍♂️ Fullerton Hotel Pool Timings

0700-0830 hours

1430-1600 hours

0830-1000 hours

1600-1730 hours

1000-1130 hours

1730-1900 hours

1130-1300 hours

1900-2030 hours

1300-1430 hours

2030-2200 hours
The swimming pool is on Level 2, but is currently accessed by going to the 1M floor, registering with SafeEntry, then climbing half staircase to the poolside level.
A maximum of 24 guests are allowed in the pool area at any one time, and with 10 slots of 90 minutes per day, there's just about enough capacity for the 400-room Fullerton Hotel (much better than the 1,107-room Mandarin Orchard at least, which pool can take just five guests). 
Even though it's not particularly high off the ground, the swimming pool still has expansive views of the surrounding CBD, as well as the nearby Cavenagh and Anderson Bridges. The view's even better at night when the sun goes down, so don't rule out those after-dark time slots either.  
Nice though the views were, I thought the service routines had much room for improvement. 
Staff are virtually absent at the pool, so you could never be sure if a crumpled towel on a chair meant the occupant was taking a dip, or had already left. Short of shouting "anyone taken this chair?" across the pool, there was no way of knowing. 
Here's where hotels like the Fullerton could really take a leaf from the Raffles playbook. At the Raffles, guests were ushered to specific pool chairs, with staff keeping track of which seats were already occupied, and which had been vacated. This removed any potential ambiguity or awkwardness of "stealing" someone's seat unintentionally. Assigned seating also allowed the staff to facilitate the relocation of odd-sized groups, so couples could be seated together. 
It was also strange that there was no sanitization of pool chairs or tables in between guests. At the Raffles, each pool chair had a towel draped over it, which was swapped out between guests. Staff also wiped the tables and reset the furniture if necessary.
The general absence of staff at the pool area also meant there was no one to take food or drinks orders- a shame, because the hotel could easily have generated some ancillary revenue from selling poolside F&B. 
Gym
Gym timings are divided into 2 hour slots (3 hours for the first slot of the day), and you can select a maximum of one slot per day (i.e two on a 2D1N stay):
🏋️ Fullerton Hotel Gym Timings

0700-1000 hours

1600-1800 hours

1000-1200 hours

1800-2000 hours

1200-1400 hours

2000-2200 hours

1400-1600 hours

 
The gym can take a maximum of 10 guests at any one time, but I wouldn't sweat it (pun). I never saw more than a couple of people inside, and I guess working out isn't the highlight of a staycation for most. 
Exercise machines are separated by full height dividers, but even with these in place, alternate machines are still blocked off. 
Fullerton Hotel Singapore: Breakfast
Served at

Cost

Style

Courtyard

S$45++ (Adult)


Set Menu

Hours

Sparkling Wine?

Discounts?

Seating 1: 0730 to 0830
Seating 2: 0830 to 0930
Seating 3: 0930 to 1030

No

None
🍳 Update: Fullerton Hotel has informed me from 1 September, breakfast will be changed to unlimited servings. 
Breakfast is served at The Courtyard/Town Restaurant for all guests, including those with Straits Club access. Breakfast is only served in the Straits Club on Sundays, presumably because of the need to manage crowds. 
This arrangement strikes me as odd, because one of the reasons guests pay extra for lounge access is for the additional privacy. Moreover, Straits Club guests are entitled to a daily Chandon breakfast (it used to be champagne); I don't see how that gets delivered when Straits Club and non-Straits Club guests are mixed together. 
While other aspects of The Fullerton Hotel may be excellent, the breakfast situation is simply dire.
It's not the service or the seating- the hotel handles both of those admirably. Staff are out in full force every morning to usher arriving guests to seats, and with both the Town Restaurant and Courtyard area commandeered for breakfast, there's hardly any wait. 
But once you're seated, you're presented with a menu and told to pick one item. Yup, just one. There's no "please sir, I want some more" here. You'll get just one portion, and dammit, you'll like it.
Granted, the portions are sizeable, and with all the bread, yoghurt and fruit you want, you won't go away hungry. But that's the thing- shouldn't the ambitions be a bit higher than merely "not going away hungry"? At a cheaper hotel, sure, you carbo-load the guests because food is fuel. At a place like The Fullerton though, you'd expect a greater emphasis on quality and variety. 
Moreover, it's not like any of these items are particularly expensive. I'd be more sympathetic if they were offering lobster omelettes or steak and eggs and limited you to just one. Let's be honest: chicken congee, laksa with frozen prawns, pancakes, eggs with processed meat- none of these are what you'd call opulent. 
So why wouldn't you let guests pick more than one item? If the concern is wastage, then scale down the portions. You've already made the laksa gravy, the pancake mix, the pot of congee. How much more can it really cost to dole out an additional portion? The whole exercise just comes off as penny wise, pound foolish, and for whatever small savings you derive from ingredients and manpower, you lose much more in guest goodwill. 
Anyway, I opted for the nasi lemak, while the Milelioness had pancakes. After orders were taken, a small bread basket and two tubs of yoghurt were served (the fruit never came). 
The nasi lemak was sad. While there was a huge dollop of rice (it looks like easily 1.5 times a regular sized portion), there were only three small pieces of chicken. Fried fish, which should accompany any self-respecting nasi lemak, was missing, and the eggs were rubbery. 
The Milelioness' pancakes weren't much better. A single, single fried egg ("we must make this last, my dear" said I as we split the meager portion) topped off three average pancakes, with three sausages and two strips of bacon as accompaniments (you could feel the chef counting out each piece). 
I triple checked with our server that seconds weren't offered, and each time received an apologetic "no". To top it off, the coffee was bad, and the latte was abject (The Milelioness said that it tasted like something you'd get from an instant coffee machine). 
After all the great experiences we had elsewhere at The Fullerton, I just couldn't wrap my mind around the stinginess demonstrated at breakfast- it was as if we were in a different hotel altogether. 
Have I mentioned the price? S$45++ per person, or S$53 nett. Paying that much for a single serving of Nasi Lemak or Laksa is criminal (especially when the food isn't anything to shout about), and when eggs cost maybe 20 cents each, I can't believe they don't even let you order that as an additional side. 
I pawed through some past reviews, and saw that as recently as September 2018, the hotel served Russian vodka scrambled eggs with caviar in the lounge. How on earth did we go from that to this? 
So sort it out, whoever's in charge of F&B. I can understand a lesser hotel offering a bento breakfast, but this simply isn't the standard The Fullerton should be aspiring to. 
Other Dining Options
| | |
| --- | --- |
| Restaurant | Status as of 23 August 2020 |
| Jade (Fullerton) | Open |
| The Courtyard (Fullerton) | Open |
| Town Restaurant (Fullerton) | Open |
| La Brasserie (Fullerton Bay) | Open |
| The Landing Point (Fullerton Bay) | Open |
| Lantern (Fullerton Bay) | Closed |
Guests at The Fullerton Hotel have access to three different restaurants, plus three more from The Fullerton Bay Hotel (F&B expenses can be crossed charged between hotels)
Do remember that if you're a Standard Chartered Visa Infinite or Standard Chartered X Card holder, you can enjoy up to 50% off the bill, whether you're staying in-house or just visiting. 
La Brasserie
La Brasserie is the only restaurant we had time to try during our stay. It's located in The Fullerton Bay Hotel, accessible through an underpass that links the two properties. 
Although we only made a reservation 30 minutes in advance on a Friday night, they were able to accommodate us. 
As the name suggests, La Brasserie specialises in French cuisine, although they curiously have some Asian items on the menu like Hainanese Chicken Rice (the Milelioness forbade I try this), and bak kut teh. 
We ordered one dozen Escargots for a starter (S$36++), which came with garlic bread and garlic butter. These were excellent. 
For the main course, I had the steak frites (S$68++), requested medium rare. The cook was spot on, but the flavor wasn't great. It's strange, because the entrecote cut is supposed to be similar to a ribeye, but I didn't taste any of the familiar marbled fat. 
The Milelioness had the filet de loup en papillote (S$50++), which was a baked temasek sea bass with vegetables. Although the vegetables were delicious, the fish was overcooked. 
On the whole, I wasn't blown away by dinner. The ambiance makes it a nice place to burn your dining credit (or utilize your SCB discount), but had I paid full price, I'd certainly have been disappointed. 
Fullerton Hotel Singapore Service
Apart from the experience at the swimming pool, service throughout the hotel was excellent. I'll even go so far as to say it could give the Raffles Hotel a run for the money.
Hotel staff were polite to a fault, and ever ready to assist guests. The Straits Club staff in particular were fantastic, always happy to strike up conversations with guests or give the more introverted ones their space, clearing tables quickly and making suggestions for food or drinks. 
I was really looking forward to the Heritage Tour, but since Saturday was my check-out day and I couldn't get late check-out, I didn't see the point in hanging around till 3.45 p.m. If your stay happens to fall on a Saturday/Sunday, do sound out on how the tour was. 
Phase 2 Reflections
Phase 2 regulations require hotels to place safe distancing markers and reminders throughout the property. While far too many resort to ugly masking tape and hazard tape strewn across lobbies and elevators, I was pleased to see The Fullerton Hotel took special care to preserve the overall aesthetic of the building. 
Safe Distance floor markers in the lobby and elevators are customized stickers…
…while in toilets, sinks had translucent covers with social distancing stickers affixed, instead of the haphazard criss-crossed masking tape you'll see elsewhere. 
The hotel has set up hand sanitizing stations throughout the building, but instead of the sterile hospital white pump bottles you often see elsewhere, they bothered to invest in a nicer brand (Appelles). 
Strangely, the hotel didn't seem to enforce temperature screenings at night. When we returned from a walkabout, we noticed the temperature scanner was off, and no one was manning the entrance. 
Our room passed the black light test, although there were some odd markings on the outer side of the bathtub. These turned out to be paint stains, perhaps leftover from the renovation. 
Conclusion
Architecture buffs and those who want a nice backdrop for photos will fancy a staycation at The Fullerton Hotel. The whole building is perfectly picturesque, especially at night, when the exterior lighting makes for some surreal photo opportunities (the surrounding Civic District is a must for a post dinner ramble). 
Protip: cross the road for some even more spectacular views. 
The rooms (at least the renovated ones) are sufficiently up-to-date, with refreshed interiors and modern conveniences. Service interactions and routines (swimming pool aside) were spot on, as you'd expect at any luxury hotel. 
However, that breakfast experience is in urgent need of rectification. It's astounding to me that you'd invest so much in the overall guest experience, only to stumble on something as fundamental as breakfast. It's likely to be one of the last impressions that people have of the hotel, and in its current form, leaves a bad taste in the mouth (literally and metaphorically). If your room rate does not include breakfast, save the S$45++ and go eat elsewhere- you'll thank me later. 
👍 As noted above, the Fullerton will be changing its breakfast policy from 1 September to an a la carte buffet format
Have you been to the Fullerton Hotel for a staycation recently? What was your stay like?
🏨 In Summary
Beautiful architecture, modern rooms and excellent service make The Fullerton Hotel a solid choice for a staycation. Fix the breakfast situation, and this would be a no-brainer recommendation.
Do say: Breakfast is the most important meal of the day
Don't say: Please sir I want some more