It's safe to say that Hyatt desperately needed a second property in Singapore. 
While there's nothing wrong with the Grand Hyatt per se, it gives off an exceedingly corporate vibe, and sits in the already oversaturated Orchard catchment where 5-Star hotels are a dime a dozen. That's why there was so much excitement when Hyatt announced its plans to open an Andaz hotel in the Bugis district, the first Andaz in South East Asia, and 17th worldwide. 
The Andaz Singapore opened in November 2017, occupying the 25th to 39th floor of DUO Tower. For those of you unfamiliar with the Andaz brand, think of it as Hyatt's answer to W Hotels, but with more restrained design, and less quirkiness for the sake of quirkiness. It's best described as falling into the "lifestyle" category, that nebulous catch-all that marketers use when imagination fails them. 
This was one of my most anticipated staycations, and on the whole, didn't disappoint. 
Booking a Andaz Singapore Staycation
I think I scored a pretty amazing deal on the Andaz Singapore, if you don't mind me saying so. When the Andaz first reopened for staycation guests, the following rates were on offer:
🏨 Andaz Singapore Reopening Deals
(no longer available)
 
Weekday
(Sun-Thurs)
Weekend
(Fri-Sat, PH and eve of PH)

Standard Room

S$180 nett

S$220 nett

Deluxe City View

S$200 nett

S$240 nett

Deluxe Bay View

S$220 nett

S$260 nett

Andaz Studio

Suite

S$320 nett

S$360 n

ett

Andaz Residence Suite

S$360 nett

S$400 nett

Andaz Large Suite

S$560 nett

S$600 nett

Presidential Suite

S$760 nett

S$800 nett

Inclusions

Breakfast for two adults (children aged 6 and under eat for free, 7-12 pay S$17.50++ each)

25% off dinner at Alley on 25

Early check-in/late check-out (subject to availability)
Those who managed to snag these rates could further sweeten the deal by stacking it with the ongoing American Express statement credit offer for staycations. Registered cardholders who spend at least S$300 at the Grand Hyatt or Andaz Singapore by 8 November 2020 will receive a S$75 rebate. This effectively brings down the cost of an Andaz Studio Suite to S$245 nett on weekdays- absolutely phenomenal value. 
If you missed that deal, it's possible to book a weekday stay in an Andaz Standard Room for S$300 nett through Klook (with a further S$30 off for DBS Woman's Card members). This comes with S$100 in F&B credits, and while you can't stack this with the American Express statement credit offer, it's the best publicly-available deal right now. 
🏨 Klook Andaz Singapore Staycation Package

1 night accommodation

Breakfast

25% off dinner at Alley on 25

S$100 F&B credits

Price
Weekday Standard: S$300 nett
Weekend Standard: S$340 nett
Weekday Deluxe Bay View: S$350 nett
Weekend Deluxe Bay View: S$380 nett
Book By

While stocks last

Stay By

22 Dec 2020

Cancellation Policy

Free cancellation with 24 hours notice

Read More
Andaz Singapore: Arrival and Check-in
The Andaz is located in DUO Tower, an integrated mixed-use development in Bugis. The building is instantly recognizable, thanks to its unique honeycomb pattern created by Büro Ole Scheeren (who also did the CCTV headquarters in Beijing). 
If you're driving your own car, note that Andaz Singapore does not offer complimentary parking to guests. Parking at DUO Tower costs just S$3.75 per entry if you stay on the weekends, but on the weekdays it's significantly more expensive. 
If you're coming by MRT, the closest station to DUO Tower is Bugis. There's a direct underground connection, although with all the COVID-19 access control measures, I'm not sure whether it's currently open. 
There wasn't anyone standing outside the hotel to assist arriving guests with bags, but service was never really a strong point of this staycation anyway. Instead, you'll unload your own luggage, scan the SafeEntry QR code and do your temperature check just inside the lobby. 
The lobby sets the tone for the rest of the Andaz Singapore- modern design, contemporary furniture, and lots of natural light. Designer Andre Fu (the mind behind The Upper House in Hong Kong), took inspiration from the shophouse alleys he saw in Kampong Glam and Bras Basah, and the hotel's color palette dabbles with bold colors like terra cotta, aubergine, olive greens and cumin yellow. The ceilings are eight meters high, and walls are "articulated with an abstract interpretation of the shophouse facade". 
Based on past reviews, check-in used to be done on the 25th floor. Andaz has since relocated it to the ground floor instead, probably because of Phase 2 restrictions on lobby occupancy (the ground floor has more usable space).
Even so, you still get bottlenecks during peak periods, since there's only two counters plus some supplementary support at the round table. 
Interestingly enough, what's now the check-in area used to host a cafe. How things have changed…
I arrived around noon on a Thursday, and waited ten minutes to be served. Check-in was relatively straightforward, although they initially handed me a form for a completely different guest (first name also Aaron). Fake Aaron (there can only be one) had a different email address, but otherwise the details were uncannily similar right down to the last four digits of the card  on file. People are always asking me if I know Tyler Durden. 
To get to your room, you'll need to change lifts at level 25, the hotel's de facto hub. This houses seven of the hotel's F&B concepts, as well as the pool and sunroom. Now that check-in has been relocated to the ground floor, the counters here sit mostly empty. Only one space is used by the hostess for Alley on 25.
Andaz Singapore: Studio Suite
The Andaz Singapore has a total of 342 rooms spread over floors 27 to 37. Room types are split into the following categories: 
| | |
| --- | --- |
| Room Type | Size |
| Standard | 38 sqm |
| Standard City View | 38 sqm |
| Deluxe City View | 42 sqm |
| Deluxe Bay View | 42 sqm |
| Studio Suite | 76 sqm |
| Residence Suite | 76 sqm |
| Large suite | 114 sqm |
| Presidential Suite | 188 sqm |
There's a total of 22 Studio and Residence Suites in the property (they're basically the same, just with a mirrored layout), plus 3 Large Suites and 1 Presidential Suite. With only 25 suites realistically available for upgrades, scoring a suite upgrade as a Hyatt Globalist may be tricky, and it'd be a good idea to use a guaranteed suite upgrade award here. 
All rooms share a common internal corridor that looks out to a 26-metre feature wall by Brazilian artist Andre Mendes. Titled "The World Traveler", it showcases things a visitor to Singapore would remember, like the Merlion and Gardens by the Bay. 
Things got off to a bit of a false start, as the first Studio Suite we were assigned hadn't been properly cleaned. I found a big clump of hair trapped on one of the low hanging lights…
…and someone's business card on the floor behind the couch, which (together with the dust bunnies) suggested the entire area hadn't been cleaned properly. 
I reported the matter to the front desk, and was assigned a new suite after lunch- 3321. To add to the shophouse charm, door numbers at the Andaz Singapore are marked on old-style letterboxes, with the keycard reader concealed inside. 
Immediately past the door is the entrance foyer, with a small guest bathroom. 
Then it's through a slender set of mango yellow swing doors into the room proper.
The hotels I've reviewed so far have had design styles ranging from colonial (Raffles, Capitol Kempinski, Fullerton) to eclectic (Hotel Soloha, W Sentosa Cove) to shoebox (YOTELAIR Changi) to Precambrian (Hilton, Mandarin Orchard). Andaz was the first hotel with a modern luxury style, and quite frankly, it's my favourite one of them all. 
I loved everything about the room- the floor to ceiling windows through which sunlight poured in, the panoramic views, the streetlamp-inspired lighting. 
Noise insulation from outside the windows and from other rooms was fantastic, and the blackout blinds made it easy to catch an afternoon nap (or sleep in). The bed was comfortable, and it didn't play favorites with the USB and power points. Both sides had a single (non-universal) outlet, and 2 USB ports. Some Studio Suites have a Bose Soundlink Mini on the bedside, others don't. 
Both televisions in the room can pivot up to 90 degrees, and support streaming of content from a mobile device.
The room had a work desk next to the TV, although the mid-day glare may force you to lower the blinds. The chair, while stylish, lacked lumbar support and wasn't designed for prolonged periods of working (unless maybe you grab a pillow from the living room). 
The desk had two power outlets (again, not universal), an Ethernet port and two USB charging ports. As the photo shows, there was some cosmetic wear on the faceplates already. 
Wi-Fi speeds clocked in at 7.95 Mbps down/ 9.52 Mbps up, in the bottom half of all hotels I've reviewed so far. This is still fast enough to stream HD Netflix, but you'll need at least 25 Mbps if you want Ultra HD or 4K. 
 
🔽

Download

🔼

Upload

Mandarin Orchard

273 Mbps

294 Mbps

YOTELAir Changi

29 Mbps

49 Mbps

W Sentosa Cove

34 Mbps

34 Mbps

The Fullerton Hotel

23 Mbps

24 Mbps

The Capitol Kempinski Hotel

16 Mbps

13 Mbps

Hilton Singapore

13 Mbps

14 Mbps

Marina Bay Sands

11 Mbps

11 Mbps

Andaz Singapore

8.0 Mbps

9.5 Mbps

The Barracks Hotel

7.3 Mbps

7.7 Mbps

Hotel 81 Tristar

7.0 Mbps

6.8 Mbps

Raffles Hotel

6.9

Mbps

6.8

Mbps

Hotel Soloha

4.7 Mbps

5.

1 Mbps

Internet speeds based on Speedtest.net scores as recorded during my own visits 
As an apology for the dirty room received earlier, the hotel sent up two splits of champagne plus a cake. It was a nice gesture, although I understand this is the standard welcome amenity given to guests in the Residence and Large Suites anyway. 
A colossal walk-in wardrobe provided space for more clothes than you could possibly bring on a staycation, and the light streaming in from the window made you look good in the full length mirror. 
An ironing board can be an eyesore in an open concept wardrobe, so they very cleverly hid it in this slender cabinet, to the right of the safe. 
The Andaz has also given their own twist on the hotel bedroom slippers, issuing uncle-style versions with "stolen from the Andaz" embossed on them. I can't decide whether this was meant to be deliberately ironic, or some extreme passive aggressivity. I left them behind. 
The layout of the Studio Suite is slightly unconventional, in the sense that you enter directly into the bedroom, and walk through it to reach the living room (if you book a Residence Suite, the layout is reversed). 
The living room has an L-shaped couch with wraparound windows. It's a lovely place to sit in the evenings and watch day turn to night, with the surrounding buildings lighting up like a Christmas tree. 
While the living room is ostensibly for lounging, you could even get work done here, courtesy of the power outlets and USB ports they've built into the wall near the couch, and the inclusion of not one but two coffee tables. 
All snacks and drinks in the mini-bar are complimentary. There's also a Nespresso machine with four capsules, and TWG tea bags. Bottled water is abundant in the room, but bonus points for having one free Acqua Panna in the fridge too. 
The mini-bar does have some free booze in the form of a bottle of Tiger Beer, and a bottle of Andaz Pale Ale, brewed and bottled specially for the hotel by RedDot Brewhouse. 
There's also some harder stuff which is non-complimentary. The gin, vodka, scotch and cognac cost S$45 nett for 200ml sized bottles. 
I've saved the best for last: the bathroom of the Studio Suite is a thing of beauty. I'm not kidding when I say I could spend hours here. It's absolutely massive, for one thing. The length of the bathroom allows for two sinks and two dressing areas, and the twin backlit mirrors make it feel like the kind of bathroom you'd find in a spa. 
The toilet doesn't have a bidet seat, but it at least has a spray. The flush mechanism is also rather unusual for a concealed cistern- instead of being wall-mounted, it's a button on the rear of the toilet seat. You'll have to close the toilet seat for easier access, but you probably should be closing the toilet seat before you flush anyway (think aerosol generating procedures).
The shower and bathtub area are one, outfitted with hansgrohe Axor mixers. There's a choice of an overhead rainshower or handheld shower (although you can't use both at the same time), and while it's a shame that the bathtub's "bezel" is so big, you can just about squeeze two people inside. The bathtub has partial views of the Singapore Flyer, and the one-way glass provides maximum privacy. 
Bathroom toiletries are provided by Christophe Laudamiel, a French perfumer. A special scent called Singapore Fusion #19 was commissioned just for this property, and Laudamiel explored Arab Street, Little India and Botanic Gardens to come up with the fragrance. 
Andaz must know how popular its toiletries are, because in the evening, housekeeping left a take-home set as a turn down gift, inclusive of lip balm and hand cream. 
A full suite of other amenities was also provided, carefully arranged to form an elaborate paper craft pattern. There were two toothbrush kits, a hairbrush, shower cap, cotton pads, cotton buds and a razor. 
Unlike some other hotels, the Andaz hasn't skimped on its toothbrush kits. No Colgate-imitation A.ME toothpaste here (1-9 cents each); this place provides the real deal. 
Verdict on the room? I absolutely loved it. In terms of aesthetics, I'd say this was the best room among all the staycations I've done so far. I'll readily acknowledge that some of that comes down to a personal preference for modern luxury, but the gorgeous (and huge) bathroom, acres of closet space and high quality fittings and furnishings won the day for me. 
Andaz Singapore Sunroom
Andaz hotels do not have a traditional club lounge. Instead, all guests get access to the Sunroom, which is open from 7.30 a.m to 10.30 p.m daily. Prior reservations are not required- just come as you are. 
The Sunroom certainly lives up to its name, blessed with an abundant amount of natural light during the day. I'm told the design philosophy was to provide a modernist expression of the Pernakan house, with timber and lush hanging ferns. It makes for an excellent place to read, work, or relax with a complimentary drink. 
Before COVID-19, the sunroom offered an evening happy hour from 5 p.m to 7 p.m daily, with wine, beer, and light snacks. Sadly, that's no longer on offer, and the only refreshments available are coffee, tea, water and lemonade. 
That said, there's a very affordable happy hour available at Bar Square next door, which I'll cover in the dining section. 
Andaz Singapore: Facilities
| | | |
| --- | --- | --- |
| Pool | Gym | Spa |
| Yes: 8 a.m to 9 p.m | Yes: 8 a.m to 9 p.m | None |
| Kids' Club | Business Centre | Others |
| No | No | N/A |
The Andaz Singapore has both a swimming pool and gym, but somewhat surprisingly, no spa. 
Swimming Pool
The Andaz Singapore swimming pool is open from 8 a.m to 9 p.m daily. A maximum of 15 guests are permitted at any one time, and pre-booking a slot is required. Each guest is entitled to a maximum of one 1.5 hour slot per day, bookable up to 72 hours before arrival (email the hotel to reserve your slot). 
🏊‍♂️ Andaz Singapore Pool Timings

0800-0930

1400-1530

0930-1100

1530-1700

1100-1230

1700-1830

1230-1400

1830-2100
Sharp-eyed readers will note that the last slot is actually 2.5 hours long, and they're right. This is arguably the best one of them all, since it lets you catch the sunset as well. 
The swimming pool is located on the 25th floor, in an outdoor area that has excellent views of the surrounding buildings. Andaz calls this an infinity pool, but I'd take issues with that classification, given the odd glass partitions they've put around the edges rather ruin the effect.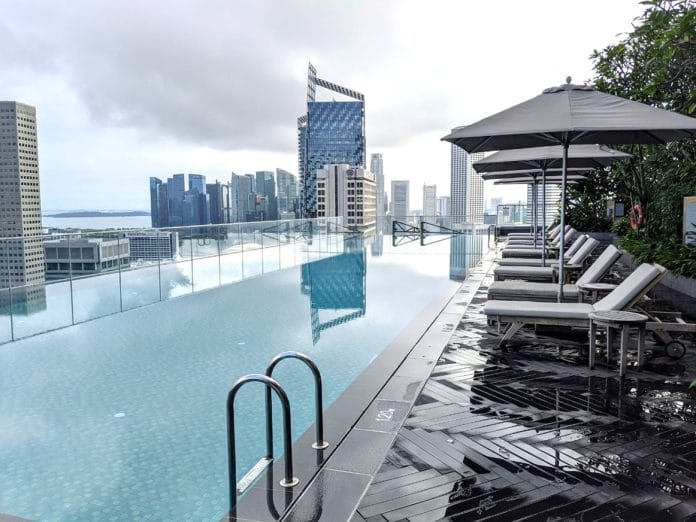 That's not to say you can't get some great Insta-worthy photos, you just need to try real hard to balance, like this couple below. 
The swimming pool is only 1.2 metres deep, but at least the regular shape makes it easy to swim laps. A total of 12 lounge chairs are available, so barring a freak occurrence where all 15 guests show up at the same time, you should be able to get one. 
Food and drinks can be delivered to the poolside (ordered from a QR code menu on each table). 
Gym
🏋️ Andaz Singapore  Gym Timings

0800-0930

1400-1530

0930-1100

1530-1700

1100-1230

1700-1830

1230-1400

1830-2100
The Andaz has a decent-sized gym on the 38th floor. Unlike the pool, gym slots cannot be booked before arrival, and access is assigned on a first-come-first-served basis with a maximum of five guests at any time. To use the gym, you'll need to head down to the ground floor, do a temperature check, and get the access card before heading back to the 38th floor again. 
The gym has the usual mix of aerobic and strength training equipment. There isn't enough space to plonk down an exercise mat, but if mat work were your goal, you could just as well have stayed in your room.
Interestingly enough for the COVID-19 period, guests were able to take a pair of headphones from a communal tray in the gym, presumably to plug in to the gym equipment's entertainment system. I'm not sure if these were meant to be single-use only, but I think most people would rather use their own earbuds anyway. 
Andaz Singapore: Breakfast
Served at

Cost

Style

Alley on 25

S$35++ (Adult)
S$17.50++ (Child aged 7-12)

A la carte buffet

Hours

Sparkling Wine?

Discounts?

0730- 1100

No

None
Guests staying in suites can opt to have complimentary in-room breakfast from the menu below. The catch? It's one serving only, with no refills. 
If you want the no holds barred version, you'll need to head to Alley on 25. Since the full seating capacity of all five dining concepts is brought to bear during breakfast, there's no need to make prior reservations. Regardless of where you're seated, you'll have access to the same a la carte buffet menu, which costs S$35++ per adult if not included with your room rate. 
While some hotels have used COVID-19 as an excuse to cut back on the quality and variety of breakfast offerings (looking at you, MBS), Andaz has maintained an excellent breakfast spread. I'm even going to say that this ranks just after the Capitol Kempinski and Raffles Hotel in terms of my favorite hotel breakfasts so far during Phase 2. 
Before the circuit breaker, guests used to choose from either Icehaus (for Western options), or Auntie's Wok and Steam (for Asian options). Now, all options are brought under one menu, allowing guests to try both. 
The western options are certainly very good, my personal favourite being the guacamole toast served with scrambled eggs and grated parmesan. But equally good were the eggs benedict (very runny, with hollandaise sauce that wasn't too cloy on the palette) and waffles (crispy, with real maple syrup). 
Also great were the kaya toast with soft boiled eggs, fried white and brown rice, and Aunties Laksa (although the latter two could have done with more generous ingredients beyond the carbs). 
If I had to pinpoint some weaker items, I'd say the dim sum, chicken noodle soup and fish congee were nothing to rave about. Avoid these and save your stomach for more of that guacamole toast. 
I also rather fancied the daily detox juice, which consisted of freshly squeezed watermelon, mint and ginger (at least that's what they told me; maybe they put something else inside to make it green). The staff were clearly very busy, and service wasn't what I'd call personable, but they were at least efficient and orders came quickly. 
Other Dining Options
| | |
| --- | --- |
| Restaurant | Status as of 23 August 2020 |
| 665°F | Open |
| Alley on 25 | Open |
| Bar Square | Open |
| Mr. Stork | Open |
| Auntie's Wok and Steam | Closed |
| Teppan Chef's Table | Closed |
665°F
665°F is Andaz's signature steakhouse, helmed by Chef Josephine Loke whose CV includes Odette and the Tippling Club. Steaks are cooked in a charcoal-fired Pira oven, the temperature of which gives rise to the name of the restaurant. 
The restaurant has both halal and non-halal meat on the menu, which makes it a more accessible option if you're planning a business lunch. 
665°F is a rather small venue with perhaps 20-30 seats available, so I'd definitely recommend making a booking. 
The set lunch offers two courses for S$38+, and three courses for S$48++. It's more expensive than your average downtown set lunch, but given the quality of the food, I think you'll find it good value nonetheless.
Before the food came, two hot mini baguettes were brought to the table. I hate it when restaurants don't warm up their bread (it's one of the simplest things to do, and makes it so much better), so things were off to a good start already. 
For the starter, we had the jumbo lump crab cake and the charred bone marrow. The crab cake was satisfying, with a generous meat to breadcrumb ratio. The outside was crispy, while the crab inside was moist. 
The bone marrow also tasted fantastic, but the portion was tiny. It may have been my bad luck to get a piece that was more bone than marrow, and I was finished in barely two bites. 
The Milelioness had the barramundi, which came with a coating of brown butter. It was a sizeable portion, and the accompanying mushrooms and truffle french fries (each main comes with a side dish) were both excellent. 
I had the wagyu flank steak, done medium rare. The first time the steak came, it was too red in the middle. I hesitantly sent it back, worried that the next time I'd see it it'd be charcoal. Fortunately, they exercised great restraint, and a minute later it reappeared, cooked to perfection. The meat was perfectly seasoned, and while flank steak is one of the more lean cuts (and hence cheaper), it's great credit to the chef that he managed to keep it tender.
So I quite enjoyed 665°F, and think it's well worth a try. I particularly appreciate how they've spurned the traditional heavy and creamed steakhouse appetizers in favor of lighter flavors; you could have a power lunch here and still be productive afterwards. 
Alley on 25
Alley on 25 is the Andaz Singapore's all day dining option, and while at some hotels that's code for "mediocre food", over here they take it seriously. 
This place is actually five different restaurants- Icehaus, Green Oven, Smoke & Pepper, Auntie's Work and Steam, and Teppan Chef's Table (formerly known as Plancha'Lah). What's interesting is that the restaurants aren't primarily driven by cuisine, but by method of cooking instead. Icehaus serves cold cuts and fresh produce, everything that Green Oven puts out comes from the…green oven, Smoke & Pepper has a rustic theatrical setting with a granite grill island and bronze frames. 
Some of these concepts are currently closed, and in the meantime a unified Alley on 25 menu is offered. Here's a peek at the set lunch menu, which offers two courses for S$32++, and three for S$36++. You can even get a glass of prosecco for S$8 nett, fantastic value for a hotel. 
Come during dinner and the menu changes slightly. Do remember that most staycation packages at the Andaz Singapore offer 25% off dinner at Alley on 25, so be sure to check that your discount is reflected on the bill. 
We weren't that hungry and just ordered one main each. The Linguine Gambertti unfortunately was served with frozen prawns (for S$25++ you'd hope they'd use fresh ones), but the flavor was spot on and the linguine was a perfect al dente. 
The BBQ Pork Spare Ribs (S$25++) were served with a kicap manis sambal glaze. The meat fell off the bone easily, and the whole thing was a delicious, sticky mess. 
Bar Square
There's no more happy hour at the Sunroom, but Bar Square offers a decent consolation prize. From 5 to 8 p.m on Monday to Friday, and 3 to 8 p.m on Saturdays and Sundays, you can get happy hour pricing on a wide range of cocktails and wines, including champagne. S$12++ for a glass of champagne in a hotel is exceptionally cheap, as are S$14++ cocktails. 
And they're not just boring cocktails either. Bar Square has a very creative list of tipples, and you owe it to yourself to try as many as you can. 
We had the Marzipisco, Irish Kopi C, and Gong Xi. All of them were great, and if you love the taste of coffee, the Irish Kopi C is a must-try. 
Bar Square is also on the small side, so I'd recommend making reservations before your stay. 
Mr Stork
Want a table at Mr Stork? So does everyone else. Reservations are mandatory at this outdoor rooftop bar on the 39th floor of the Andaz.
Access is via the ground floor lobby. Your temperature will be checked and your name verified against a guest list, then it's a straight lift to the top.
As you can imagine, the clientele of Mr Stork skews heavily young, and while there's no pulsating music (I believe it's not allowed under current Phase 2 regulations anyway), you may still have to raise your voice to be heard. 
A minimum spend of S$10 on food is required per reservation. If you're willing to commit to a minimum total spend of S$150 (S$200 on Friday/Saturday/public holidays), you can book a Teepee Hut, which can take perhaps four people comfortably. 
Mr Stork focuses on finger food, and if you want something more substantial, you'll need to head back to level 25. 
We ordered the reopening special which cost S$45++ for two drinks and an lamb kofta. If bought individually, it'd have cost S$83++, so I figured we got a decent deal. For the drinks, I had a Watermelon Cocktail (watermelon juice, lime juice, strawberry liqueur, salt, mint, gin), and The Milelioness had The Sling (pineapple juice, lime juice, cherry brine, cherry liqueur, Dom Benedictine, pineapple foam, gin). Both were lovely. 
With the place as busy as it is, service won't be the highlight of Mr Stork. It was slow, flustered, and sometimes brusque. I suppose it's the price you pay for these stunning views.
Andaz Service
As you may have gathered from the sections above, service at Andaz was indifferent. With the exception of 665°F, waitstaff at the restaurants seemed overwhelmed most of the time (and keep in mind, we were staying on a Thursday). It was difficult to get their attention during breakfast, and there seems to be an unclear hierarchy between the staff who can take orders and the ones who just serve food (kind of like what you find in a Chinese restaurant). 
I mentioned earlier that we had requested a change of rooms because the first one was dirty. After lunch, we went down to the front desk where the keys were supposed to be waiting; instead we encountered a front desk associate who said she'd check, then promptly forgot all about us. I had a conference call coming up, and told another associate that I'd use my existing room if the new one wasn't ready yet. Again, she said it'd be ready very soon…and we waited another 10 minutes without an update. 
Calls to guest services often went unanswered, and on the whole, I just didn't get a sense of warmth from most of the service interactions. 
Conclusion
Visually speaking, the Andaz Singapore is the most stunning hotel I've reviewed so far. The Studio Suite made my jaw drop, and I'm already thinking of stealing design ideas for my next bathroom. The quality of the food was good, happy hour prices are a steal for a 5-Star hotel, and for the room rate I paid, there's very little to dislike. 
Don't come here expecting warm hospitality or service excellence, but if you're a design hound and love a young and hip vibe (without W Hotel levels of gaudiness), this is a place I'd heartily recommend. 
Overall ranking of Phase 2 staycations
Andaz Singapore
🏨 In Summary
The Andaz Singapore is visually stunning, with good food and reasonably priced drinks during happy hour. You're unlikely to get the same awesome deal that I had, but if you're willing to splurge on a suite, you'll find it an excellent experience.
Do say: Andaz means "personal style" in Hindi
Don't say: Namaste means "I attended one yoga session and now I'm a guru" in Hindi