Well, it couldn't last forever.
From 29 January 2021, Singlife will be lowering the interest rate on the first S$10,000 in the Singlife Account from 2.0% to 1.5% p.a. It will, however, be extending the Save Spend Earn campaign until 30 June 2021, so customers can continue to earn a bonus 0.5% p.a on the first S$10,000 should they meet the spending requirement (see below). 
This marks the second cut in less than three months- back on 1 November 2020, Singlife reduced the interest rate on the first S$10,000 from 2.5% to 2.0% p.a (the Save Spend Earn campaign was intended to cushion the impact of the change).
⚠️ New sign ups for the Singlife Account have been on hold since 15 December 2020. Singlife says that applications will reopen sometime in 2021, but have not specified exactly when. 
Singlife Account changes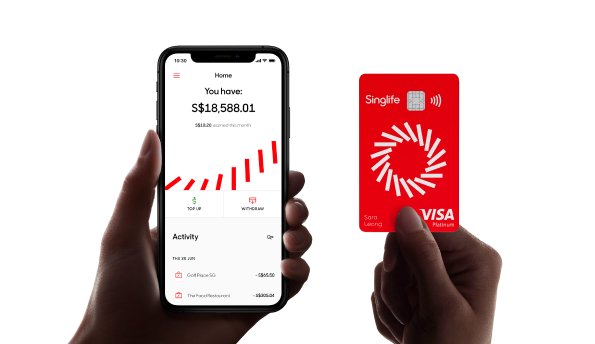 Here's what the Singlife Account crediting rates will look like from 29 January 2021:
| | | |
| --- | --- | --- |
| Account Value | Until 28 Jan 2021 | From 29 Jan 2021 |
| First S$10,000 | 2.0% p.a | 1.5% p.a |
| Next S$90,000 | 1.0% p.a | 1.0% p.a |
| Amounts >S$100,000 | 0% p.a | 0% p.a |
As a reminder, returns are calculated daily, and credited to your Singlife Account on the first day of the following policy month.
Singlife customers are still able to earn an additional 0.5% p.a through the Save Spend Earn campaign. This requires spending at least S$500 per month on their Singlife Visa Debit Card.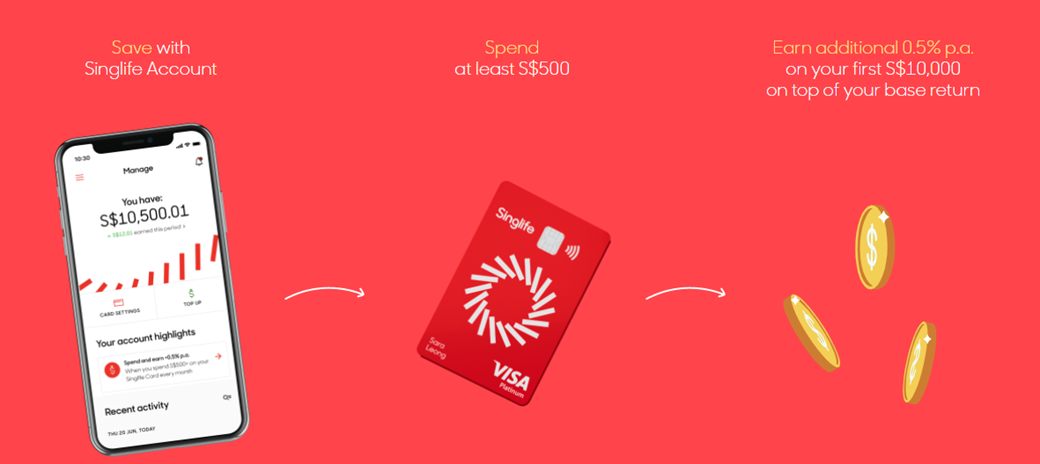 Why would you choose to put spending on a debit card instead of a credit card? Well, there are no exclusions categories for spending. This means you could use the Singlife Visa Debit Card to clock transactions that normally do not earn rewards on credit cards, such as: 
Charitable donations
Education bills
Insurance premiums
Government payments
GrabPay wallet top-ups
Utilities bills
An incremental 0.5% p.a. on an account value of S$10,000 means an additional ~S$4 per month, which represents an effective rebate of 0.8% on S$500 of spending. It's not life-changing, but it's still better than the zero you'd have received otherwise. 
The Save Spend Earn campaign was originally due to lapse on 28 February 2021, but has been extended till 30 June 2021. You can find the full T&C here. 
How does this compare to other insurance savings plans?
With the impending cut, how will Singlife compare to other alternatives on the market? The main ones I can think of are GIGANTIQ and Dash EasyEarn:
 
GIGANTIQ
Dash EasyEarn
Singlife

Returns

1.8% p.a

1.8% p.a

1.5% p.a*
(+0.5% for Save Spend Earn)

Breakdown

First S$10K: 1.8%
Above: 1%
First S$20K: 1.8%
First S$10K: 1.5%
Next S$90K: 1%

Initial Deposit

S$50

S$2K –

S$20K

S$500

Min Balance

S$50

S$2,000

S$100

Max bala

nce

S$200K

S$20K

None 

Lock-in

None

None

None

Withdrawal penalties

None

None

None

Withdrawal blocks

None

S$100

None

Withdrawal fees

70 cents/ 50 cents
(for DBS/POSB)
70 cents
(free to Dash Wallet)

None

Life insurance coverage (% of account value)

105%

105%

105% + terminal illness

Capital Guarantee

Yes

Yes

Yes

*Effective 29 January 2021

On the whole I'd say it's still competitive enough, provided you can unlock the bonus 0.5% p.a interest via Save Spend Earn. It's certainly better than parking your money in a bank account anyway, given all the interest rate nerfs we've seen recently. 
For short term liquidity needs, there are other cash management solutions worth exploring, such as Stashaway Simple (projected return: 1.4% p.a) and Endowus Cash Smart (projected return: 1.6% p.a). I might touch on some of these in a future post.
Conclusion
Singlife Account customers will earn less interest from 29 January 2021, although they will be able to offset some of the impact with Save Spend Earn.
In absolute terms, you're not losing much – for someone with a S$10,000 account balance, this means S$50 less interest per year. But it is a reminder of the current macroenvironment conditions we find ourselves in, and few would see interest rates rising this year.