Singapore Airlines has unveiled its new regional Business Class and Economy Class seats, which will debut on its Boeing 737-8 aircraft (formerly known as the 737 Max 8). 
There's no confirmation about the launch date yet, or which route will be the first to get the plane (though Cambodia, Indonesia, Maldives, and Thailand have been floated as possible destinations). However, all six existing B737-8s have the new seats installed already, and the 31 remaining B737-8s will get them before entering service.
✈️

Singapore Airlines B737-8
 
Business Class
Economy Class
Seats

10

144

Layout

2-2, 1-1, 2-2

3-3

Seat Pitch

44″

30″

Seat Width

Up to 22″

18″

Seat Recline

Reclines to full flat bed

5″

Bed Length

76″

N/A

IFE Screen Size

16″

10″

In-Seat Power

AC charging

N/A

USB Charging Ports

2x USB ports

1x USB port
I had the opportunity to view and experience the seats firsthand at an SIA media event. I've already covered what you can expect in the Business Class cabin, so in this post, I'll tackle the Economy Class experience. 
B737-8 Economy Class
The 144 Economy Class seats on Singapore Airlines' B737-8 are configured in a 3-3 layout. Although the seat looks very similar to the ones used on the B787-10 and A380-800, they're actually new designs from Collins Aerospace. 
Economy Class runs from Row 41 to Row 64. Rows 41-45 have been designated as Forward Zone seats, since their proximity to the front allows passengers to disembark fist. PPS Club and KrisFlyer Elite Gold members can select these for free; all other passengers pay a fee that starts from US$15, depending on route. 
Row 49 comprises Extra Legroom seats, free for PPS Club members only; all other passengers pay a fee that starts from US$25, depending on route. 
Economy Class seats have four-way adjustable headrests, a contoured backrest and a slimline design. They measure 18 inches wide with 30 inches of seat pitch (Row 48 and 49 receive more, see below), making them more cozy than the Economy Class seats on SIA's widebodies (32 inches of seat pitch).
For perspective, here's how I (1.8m) found the legroom. 
All seats are more or less the same, but you'll want to pay attention to three rows in particular: 47, 48 and 49.
Row 47 should be avoided, because the seats here have their recline function disabled due to the emergency exit row directly behind. 
Row 48 gets extra legroom from the exit row in front of it, but can't recline either because of another exit row directly behind.
Row 49 gets the best of everything. There's extra legroom in front, and seats recline as per normal. It's no wonder Singapore Airlines plans to charge extra for these seats, with prices ranging from US$25 to US$80 depending on destination. 
Seats recline up to 5 inches, and just like most Economy seats, it becomes near impossible to use your laptop when the person in front decides to recline all the way. 
Here's what it looks like for my 14 inch laptop when the seat in front is all the way up…
…and all the way reclined. Notice how I can't even open the laptop lid fully without it toppling onto my lap. 
Since your laptop screen will tuck beneath the plastic shell around the IFE screen, be very careful when using your computer onboard. One sudden move from the guy in front, and that's it (again, this isn't a problem that's unique to SIA's B737-8).
It also doesn't help that the tray table is very narrow, perhaps 60% the size of what you'd find on a widebody. Real estate is definitely at a premium, and you'll be using that seatback pocket for a lot of your storage needs. 
Do also note that a cupholder is missing, unlike what you'd find on one of SIA's widebody aircraft. 
These issues aside, the new Economy Class seats are a quantum leap forward from SilkAir days. 
Every passenger now has their own personal 10-inch high definition IFE screen. It's touch-sensitive, and contains the same KrisWorld content you'd find on any other SIA aircraft.
One new feature mentioned during the event was Arc, an enhanced in-flight map that's meant to offer personalised recommendations for destination services, geo-triggered information and new monetisation opportunities. OK, I can see why the airlines are excited…
The headphone jack accepts the passenger's own headphones, and each seat has its own USB port. Unfortunately, there is no in-seat power for Economy Class. I was very surprised to hear this, given how essential it is in this day and age. I mean, at least go with a 3 seats: 2 plugs ratio?
I asked about the lack of in-seat power, and was told that according to SIA's research, it wasn't highly utilised on the short-haul routes the B737-8 is meant to serve. Well OK, I suppose they have access to data I don't, but I still think it's a missed opportunity.
Assuming your laptop doesn't run out of power, you'll be able to tap into inflight Wi-Fi across all B737-8s. Business Class passengers and PPS members in Economy receive a complimentary allowance of 100MB, while regular KrisFlyer members receive a 2-hour chat session package that's suitable for text-only messaging apps. 
Passenger

Allowance

Business Class/PPS members & supp. cardholders

100MB

KrisFlyer members

2-hour chat session*

*Optimised for text-only messaging on chat apps e.g. WhatsApp, WeChat, Line, Viber, Facebook Messenger, iMessage and InstaChat
Meal
While one group toured the Business Class cabin, the other groups had a meal in the Economy Class section. 
This was served in Singapore Airlines' new Economy Class meal concept, which replaces plastic casseroles, plastic cups and plastic-wrapped metal cutlery with a twin set of paper boxes and a cutlery pack made from bamboo. The idea, of course, is to reduce the amount of plastic waste and overall weight of the meal. 
Economy Class passengers can expect to receive meals in this format on all flights under 3.5 hours.
Although the box looks smaller than the traditional casserole, Singapore Airlines says it still holds the same amount of food as before, just stacked deeper. A deeper design minimises spillage and seepage, allowing for the serving of gravy or soup-heavy dishes- in my case, laksa. 
As mentioned, bamboo cutlery has replaced metal ones, and I'm glad to see they've finally introduced a knife (the earlier versions of this pack, amazingly, did not have one). 
What they haven't fixed yet is the spoon. Even though the redesigned meal box is supposed to facilitate the serving of gravy-rich dishes, the shallow spoon is the wrong tool for the job. This is crying out for a Chinese-style soup spoon.
As for the food itself, I thoroughly enjoyed the laksa. It arrived piping hot (the boxes do a really good job of retaining heat), yet the noodles weren't as soggy as you might think. I could see this being a winner in a dry airplane cabin, where everyone's sinuses are clogged (the science of airline food is often unromantic).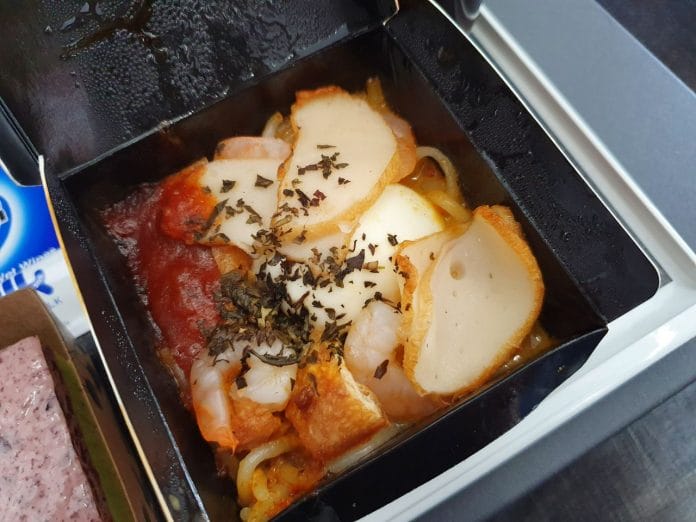 Lavatories
There are a total of two lavatories to serve 144 Economy Class passengers, located at the rear of the aircraft. It's expectedly a tight squeeze, and for what it's worth, not much better in Business Class.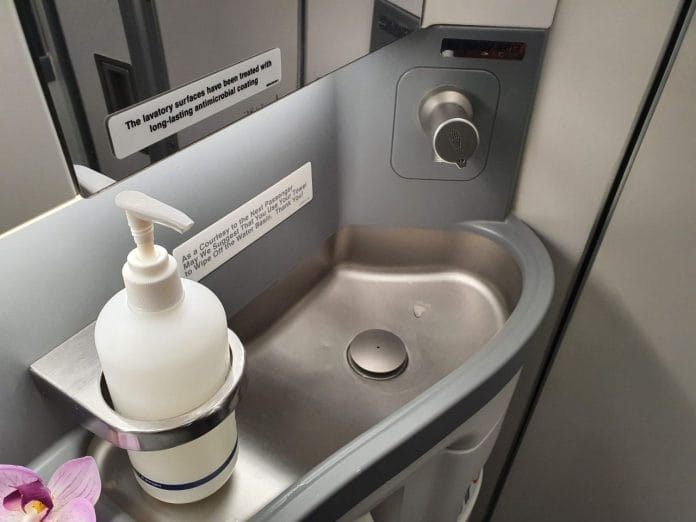 You might be well-advised to do your business before boarding.
Conclusion
With the new B737-8 Economy Class, Singapore Airlines has addressed two major missing elements from the SilkAir days: personal IFE and Wi-Fi. This will provide greater consistency for passengers, who know they can at least count on those being available whenever they fly Singapore Airlines, regardless of aircraft. 
I hesitate as I type that last sentence though, because Singapore Airlines is still operating nine B737-800s with SilkAir's old no-frills Economy Class seats. This will be the aircraft everyone hopes to avoid, and can't be retired fast enough. 
While Economy Class is never going to be comfortable, the additional distractions on the B737-8 will make the experience that much more bearable, and hopefully banish some bad memories from the SilkAir days. 
What do you make of the new Economy Class seat?