Back in July 2019, Singapore Airline announced a S$50 million overhaul of its SilverKris and KrisFlyer Gold Lounges at Changi Terminal 3.
This project would see a 30% increase in customer capacity, as well as new facilities, more open spaces, and a wider selection of F&B options. It's a much-needed upgrade for an airline that's unbeatable in the air, yet lags behind in terms of ground experience. 
Although COVID-19 has delayed renovations beyond their mid-2021 target, Singapore Airlines has announced that it will open the first phase of its new-and-improved SilverKris Lounge from 23 November 2021.
New SilverKris Lounge to open 23 November
According to an update posted on the Singapore Airlines website, the SilverKris Lounge will be relocated from 23 November 2021, at 0500 hours. 
As part of the next stage of the ongoing upgrading of the SilverKris and KrisFlyer lounges at Changi Airport Terminal 3, the existing Singapore Airlines' SilverKris Lounge will be relocated with effect from Tuesday, 23 November 2021 at 0500hrs (GMT+8). 
The provided map shows the location of the new lounge, which is just down the hall from the existing temporary facility. 
When I visited the airport in September, this whole area was boarded up, with no hints of what lay in store.
What we do know, from an earlier press release, is that the lounge will be split into different zones to match different passenger needs: 
a relaxed cafe setting for customers with a short transit
a dining hall featuring live stations with signature local delights
a full service bar that doubles up as a self-service breakfast station in the mornings
productivity pods for customers to catch up on work
a rest area with chaise lounges for customers to nap
Singapore Airlines has further confirmed that the new SilverKris Lounge is returning to 24-hour operation. This will be welcome news for transit passengers on overnight connections, because the temporary SilverKris Lounge closes between 0230 and 0500 hours each morning. 
Who gets access?
Singapore Airlines notes there are "no changes to the access policy". This mean the SilverKris Lounge will be available to any passenger flying on a Singapore Airlines or Star Alliance-operated flight in:
First/Suites Class
Business Class
Premium Economy or Economy Class, with Solitaire PPS Club, PPS Club, KrisFlyer Elite Gold or Star Alliance Gold status
Solitaire PPS Club, PPS Club, KrisFlyer Elite Gold members may bring one guest into the lounge, provided he/she is departing on a same-day Singapore Airlines flight.
Star Gold members may also bring one guest, but he/she must be travelling on the same flight as the member. This is in line with Star Alliance's tightened lounge access rules that took effect from May 2021.
Do note that SilverKris lounge access for KrisFlyer Elite Golds and Star Alliance Golds in Economy Class is only temporary. Singapore Airlines will use this time to put finishing touches on its new KrisFlyer Gold Lounge (which, confusingly, is the current temporary SilverKris Lounge), and upon completion, these passengers will be redirected here.
First Class section is still pending
While the Business Class section of the SilverKris Lounge is more or less finished, the First Class section will only open in Q1 2022. 
Redevelopment of the SilverKris and KrisFlyer Gold Lounges commenced in August 2019 and is expected to be completed in the first quarter of 2022. We look forward to welcoming our customers to our brand new lounges in 2022.
In the meantime, Suites and First Class customers, as well as Solitaire PPS Club members departing on Singapore Airlines will be invited to a First Class section within the Business Class lounge. 
Based on what we've seen at the temporarily SilverKris Lounge, this is likely to be a roped off area with table service and better quality F&B (including a very nice vintage champagne). 
Hopes are high that the renovated First Class lounge & Private Room will set a new standard for luxury, and the renders we've seen so far look very promising indeed.
Watch this space.
Goodbye temporary SilverKris Lounge
The latest developments mean we'll be bidding farewell to the temporary SilverKris Lounge, which saw Singapore Airlines through the worst of the pandemic. 
I visited this facility twice, and found it to be pleasant enough (at least before 9 p.m when the crowds really started coming), although let's not kid ourselves- this was never meant to be anything more than an odd little footnote in SIA's history.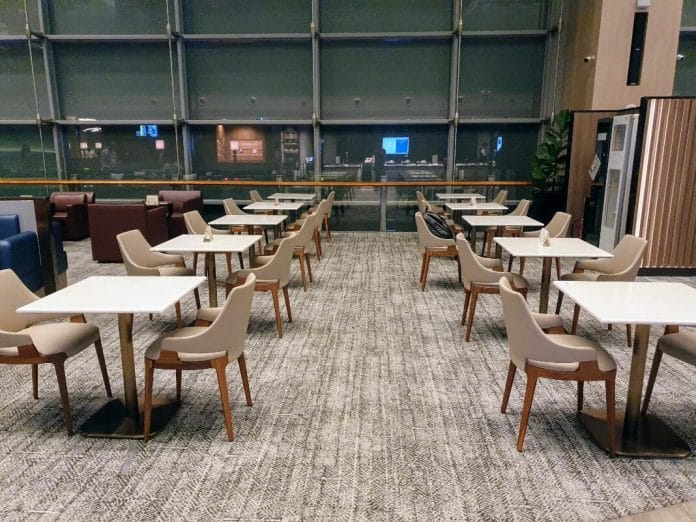 Hopefully the new SilverKris Lounge will have sufficient capacity to absorb the evening rush, which will only get worse as the holidays come round and more VTL arrangements open up. As it is, passengers are already being redirected to the (nice but still inferior) SATS Premier Lounge next door during peak periods.
The temporary SilverKris Lounge will undergo some additional refurbishment before reopening in Q1 2022 as the KrisFlyer Gold Lounge. 
Conclusion
Eligible passengers flying out of Changi from 23 November onwards will be in for a very pleasant surprise, although it's just a soft opening at this point and we'll need to wait till Q1 2022 for the full experience.
While it's unlikely we'll see spa treatments, golf simulators, beauty salons or any of the other frills offered by other airlines, I'm still optimistic the new SilverKris Lounge will deliver something truly worthy of flagship status. 
If you're passing through Changi and visiting the new lounge, please send some photos and reports!