Singapore Airlines has unveiled its new regional Business Class and Economy Class seats, which will debut on its Boeing 737-8 aircraft (formerly known as the 737 Max 8). 
The launch date and routes have yet to be confirmed, with SIA floating Cambodia, Indonesia, Maldives and Thailand as possible destinations. However, the new seats have already been installed on all six existing B737-8s, and will be installed/retrofitted on the 31 remaining B737-8s before they enter into service. 
✈️

Singapore Airlines B737-8
 
Business Class
Economy Class
Seats

10

144

Layout

2-2, 1-1, 2-2

3-3

Seat Pitch

44″

30″

Seat Width

Up to 22″

18″

Seat Recline

Reclines to full flat bed

5″

Bed Length

76″

N/A

IFE Screen Size

16″

10″

In-Seat Power

AC charging

N/A

USB Charging Ports

2x USB ports

1x USB port
I had the opportunity to view and experience the seats firsthand at a media event today. In this post I'll look at what Business Class customers can expect, and tackle the Economy Class experience in a separate article. 
B737-8 Business Class
The 10 Business Class seats on Singapore Airlines' B737-8 are configured in a 2-2, 1-1, 2-2 layout. This means that 60% of passengers have direct aisle access, and two lucky ones (in 12B/12J) get "throne seats" with extra privacy and storage space. 
If the seat gives you a sense of deja vu, that's because it's based on the Thompson Aero Vantage, also in use on Aer Lingus, flydubai and JetBlue. Singapore Airlines has engaged London-based Factorydesign to provide further customisations, and the resulting seat bears similar styling to the existing regional Business Class seat found on the B787-10 and selected A350-900s.
Let's talk size: Business Class seats are "up to" 21-inches wide, depending on your row. 
Row 11 seats are the narrowest at 19 inches, because the footwell from Row 12 extends into the space between the seats.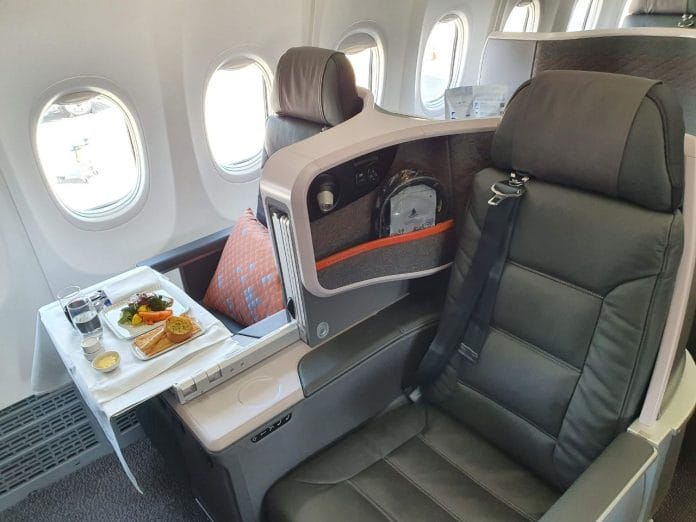 Row 12 seats are the widest at 21 inches, and these "throne seats" are undoubtedly the pick of the bunch.
Row 14 seats (remember, Singapore Airlines skips the unlucky row 13) measure in at 20 inches wide. 
Solo travellers will obviously want to pick 12B/J, while couples with infants will need to pick 11 A/C or 11 H/K, as these come with a bassinet area. 
Row 14 is the most proximate to the Economy Class cabin, but really, it's not going to make that much of a difference on a narrowbody jet where only three rows separate the front and back of Business Class. 
In my opinion, the seats in Row 12 are so different from those in Rows 11/14, it's almost like a separate product altogether. I'll cover the differences in a bit, but first, let's look at the common features.
As you're strapping yourself in for takeoff, you'll notice the use of a three-point seatbelt. Singapore Airlines first adopted this with its 2018 Regional Business Class product, and it's similar to what you'd find in a car. This is bound to divide opinion- some say it's less comfortable than the traditional "across the lap" belt, others barely notice it. 
All seats have a 16-inch high definition IFE screen, which is also touch-sensitive. While it struggles a bit in direct sunlight (as the photo below shows), it looks a lot better once the window shades are drawn. 
IFE can be controlled through a gamepad with its own touch-sensitive screen. This is basically the same controller you'll find on other Singapore Airlines planes. 
Seats are controlled from a touch-sensitive panel, with presets for full flat and full upright, as well as the option to individually control the footrest. 
It seems that Singapore Airlines has all but killed off the "convertible bed" concept (which requires passengers to stand up to flip it into bed mode), last seen on the 2013 Business Class seat. Both the 2017 Business Class and 2018 Regional Business Class seats allow passengers to recline to a full-flat position, and the B737-8 Business Class seat does likewise. The people have spoken!
I'm no fan of convertible beds, as full recliners offer a much wider range of positions whether you're working, lounging, or sleeping.
I noticed the seat made a very audible noise when going into full flat mode, due to the leather scrunching up around harder parts of the seat shell. This should go away in time as the leather softens (and will be drowned out somewhat by the white noise of the engines), but it's still something to take note of. 
When fully reclined, there is a notable gap where the backrest joins the seat cushion. However, I wasn't able to feel it when lying full-flat, and I doubt you will either. 
Singapore Airlines does not provide a separate mattress pad for this 76-inch bed, but a blanket and pillow will be available to all customers regardless of route length. Champagne and Insta-worthy shots come separate. 
The tray table felt reasonably sturdy, and folds out from the centre console (for throne seats, it's the console closer to the aisle). If you're seated in the aisle seat, you can lower the armrest and just about squeeze out during meal service, in case nature calls at an unfortunate time. Throne seat passengers have the luxury of placing their entire tray on the armrest, closing the tray table, then egressing. 
Stowage space can be found beneath the IFE monitor, as well as in the side panel next to the reading light and headphone outlet (I really dig that orange stitching).
All passengers have two USB outlets for charging. The first outlet is seen above, in the side panel. The second is found next to the EmPower outlet (which Economy Class passengers do not have).
Now let's address some of the differences between the Row 12 throne seats and the Row 11/14 couple seats. 
Couple Seats
8 of the 10 Business Class seats are in the "couple" configuration, making them ideally-suited for those travelling together.
That said, the privacy ears of the seat restrict most of your peripheral vision, making it difficult to see your partner. I suppose it's good news for solo travellers, given how difficult it'll be to snag the throne seats. 
Because seats 11A/K and 14A/K do not have direct aisle access, passengers will have to "cowboy step" over their seatmate to visit the toilet. It's not ideal, but ultimately unavoidable short of adopting an all-aisle access product like the Vantage Solo. 
Passengers in the couple seats can store their shoes in a cubby hole between the seat in front of them. 
While the eight couple seats are largely similar, there's one potentially important difference: the footwell. Row 11 passengers get the better deal, with a relatively spacious place to put their feet when fully reclined.
It's a tighter squeeze in Row 14, because your feet are basically slotting beneath one of Row 12's throne arms. 
Throne Seats
2 of the 10 Business Class seats are in the "throne" configuration, making them the best choice for solo travellers:
While other airlines (e.g. SWISS) charge for such seats, Singapore Airlines does not have any plans to charge or block these off, at least for now. They will be available on a first-come-first-serve basis, unlike the coveted Row 11 seats on the A350-900 and B777-300ER which are blocked for PPS/Solitaire PPS Club members.
The main difference between the throne seats and the couple seats is the additional storage space. You can already see it in the photo above, where the passenger can store items on either console. 
But it gets even better. Throne seat passengers have a cabinet for storing large items like a laptop or even a small-sized backpack. A mirror is tucked away on the inside of the door, allowing for last-minute touch ups. 
As if that wasn't enough, there's a larger cubby for shoes compared to the couple seats. 
So are the throne seats unequivocally better? Not quite. While you get the best privacy and storage space on the plane, some people may dislike the "coffin" feel when fully reclined. It may also be an issue for, shall we say, passengers of size. 
Even though the seat is wider, the footwell is still a tight squeeze- here's a picture of me (shoe size US 10.5). It's a snug fit for anyone who sleeps on their back.
While I didn't have a measuring tape, I'd be surprised if it wasn't about the same width as the footwells in Business Class on the A350-900.
Lavatories
I didn't know whether to put this in the Business or Economy Class article, so I'll just stick it in both. 
All 10 Business Class passengers share a single lavatory located at the front of the plane. Don't expect any frills. Space is already at a premium on the B737-8, and regardless of whether you're in Business or Economy, the toilet will be basic, and a tight squeeze.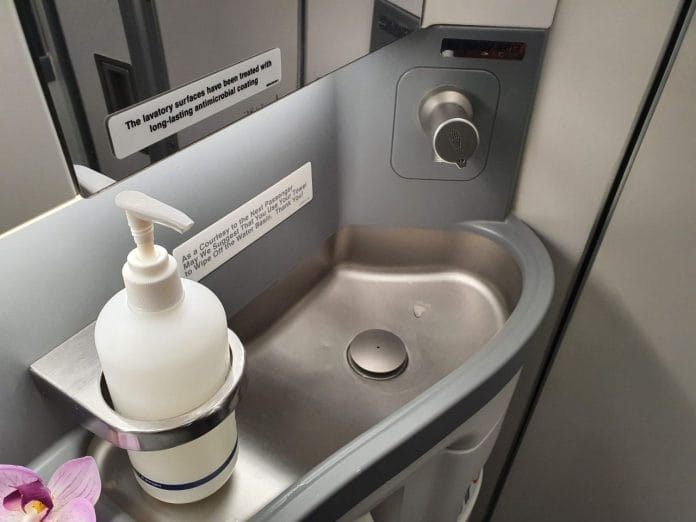 On actual flights, you can expect the lavatory to be furnished with amenities like facial mist, eau de toilette and hand lotion from Penhaligon's Quercus line, but that's about it. There isn't even an amenities drawer, presumably because these flights are too short to require a toothbrush. 
Conclusion
While I'll reserve further comment until I can field test the product on an actual flight, I will say that I'm impressed by what I've seen so far. The new Business Class seats have a premium look and feel, and a full-flat bed is a godsend on a redeye flight, however short. 
Remember, even if the flight is just a couple of hours, jetlagged connecting passengers stepping off long haul flights will greatly appreciate the chance to catch a quick nap en route to their final destination. 
More importantly, these new seats give Singapore Airlines more consistency across its fleet. I can imagine there was nothing more jarring than connecting from a Singapore Airlines A380 Suites cabin onto a SilkAir B737 with tired old recliners. True consistency won't be achieved until Singapore Airlines retires all the nine B737-800s it inherited from SilkAir (which received nothing more than some new upholstery), but today's unveiling is a step in the right direction. 
Seat design is all about tradeoffs, and nowhere is that more apparent than on a narrowbody aircraft. Would I like all-aisle access and doors? Of course, but I'd rather have lower Business Class fares and more available award space. 
What I'm also keen to see is how Singapore Airlines adapts its soft product for narrowbody flights. Can we expect course-by-course dining? Will the galley still be able to whip up a fancy coffee? Will SIA's full range of wine and spirits be offered, or just a subset? 
Update: Found some answers in on of the backgrounders given out at the event. 
A level of service in keeping with First Class is offered to Singapore Airlines' Business Class customers, with meals served on specially designed service ware.
A fine selection of brewed coffee comprising illy caffe's single-origin products: Mono Arabica Ethiopia, Mono Arabica Brazil, Mono Arabica Guatemala, Espresso Caffe, and Espresso Caffe illy decaffeinato, as well as an extensive range of International, Asian, and Chinese tea blends, is available for all Business Class customers.
All this will become clearer once the B737-8 takes back to the air, and I can't wait to try it.