Singapore Airlines launched its mySQupgrade programme back in July 2016, which allowed customers to make cash bids for upgrades from Economy to Premium Economy.
This was eventually expanded to cover upgrades to Business Class, and allow KrisFlyer members to bid with miles (albeit at a miserable valuation; paying for an upgrade with miles is not the same as upgrading with miles).
Singapore Airlines has now made some significant changes to mySQupgrade, replacing bidding with fixed cost upgrades for a limited time. What's more, even the hallowed First/Suites cabin is now fair game!
New Singapore Airlines upgrade system
mySQupgrade
Check Eligibility

Previous
Current
Model

Bid for upgrades

Fixed price upgrades

Award Bookings

Ineligible

Eligible

Payment

Cash or miles

Cash only

Bid/Purchase

≥50 hours before departure

≤72 hours of departure

Results

≥36 hours before departure

Instant

Upgrade to

Premium Economy or Business

Premium Economy, Business or First/Suites
Under the old system, Singapore Airlines passengers were able to submit upgrade bids up to 50 hours before departure. A minimum bid applied, and either cash or KrisFlyer miles (but not a mixture of both) could be used for bidding.
A five-colour meter would let you know the "strength" of your bid, though it was important to take this with a liberal pinch of salt, as the system was obviously designed to nudge you towards higher bids.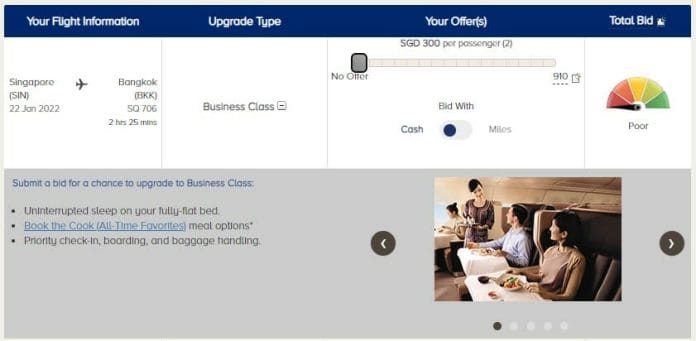 Successful bids would be confirmed at least 36 hours before departure.
With the new system, there's no more bidding. Within 72 hours of departure, passengers will be offered a take-it-or-leave-it price, and all upgrades are confirmed immediately upon payment.
All upgrade can only be paid for with cash; paying with KrisFlyer miles is no longer available (not that you should in the first place!). Moreover, redemption bookings are now eligible for upgrades too, and upgrades to Suites/First Class are also possible.
I received an invitation to upgrade my upcoming Business Class award flight to Los Angeles, though I'd be hard pressed to pay the S$4,560 asking price…
Do note that upgrades will not be available in the following scenarios:
Flights are not ticketed by Singapore Airlines
Flights are not operated by Singapore Airlines
More than 9 passengers booking
Infant(s) in booking
Pay with miles bookings
Flight Pass bookings
No further upgrades can be applied to a segment that has already been upgraded via mySQupgrade, so you can't pay for a Premium Economy Class upgrade, then subsequently upgrade to Business Class (however, as the above screenshot shows, it may be possible for an Economy Class passenger to buy a direct upgrade to Business Class).
Upgraded bookings enjoy all the entitlements of the higher cabin, including lounge access (where applicable), extra baggage, priority check-in and priority boarding. However, you will earn miles and status credits as per your original booking.
If you previously made payment for advanced seat selection or additional baggage, you will need to contact Singapore Airlines for a refund upon successfully upgrading.
Upgrades are strictly non-refundable, although your ticket will retain its original conditions (and Singapore Airlines is waiving all change fees till at least 31 March 2022). In other words, should you later choose not to fly, you'll forfeit the upgrade fee, but may be eligible for a refund of the underlying ticket depending on the fare conditions.
Do also keep in mind there is no guarantee you'll be seated together with your travelling companion. Once upgraded, you'll need to select seats in the new cabin from the Manage My Booking function.
What are the implications?
The key question I have (and I can't answer without more data points) is how much upgrades will cost under the fixed-price system.
While there have previously been reports of successful upgrades made at minimum bid, you can bet that the fixed price offered will be higher than what previous minimum bids were- but just how much is anyone's guess.
I really can't tell you whether it's "worth it" to upgrade, because that boils down to an individual's means and preferences. For me personally, I'd be more inclined to upgrade if it were a red-eye flight, an ultra long haul flight, or a special occasion.
The second thing to note is that the new system makes upgrades time-sensitive affairs. While the previous system only assessed bids within 50 hours before departure, the new system is first-come-first-serve. If you see the upgrade email late, it's entirely possible all seats will be gone by the time you try to buy one.
I do also wonder whether this will have any discernible impact on the number of seats made available for awards. For my SIN-LAX flight, even though one First Class seat was available for purchase/upgrade, I wasn't able to book that seat with miles. We'll have to see, although it's also a function of how many people are willing to pay the asking price.
Conclusion
Singapore Airlines has replaced its bid-to-upgrade system with a fixed-price model, in what it describes as a "limited time only" arrangement. I assume they're running a trial and want to see whether this model proves to be a better revenue generator than the previous one.
Long-time SIA veterans will know how zealously the airline guards its premium cabins, so it may come as something of a shock to know that First Class/Suites upgrades are now on the table- although still steep, if my one data point is anything to go by.
I've reached out to Singapore Airlines for further comment on this, and will update the article if/when I get a response.
Update: A Singapore Airlines spokesperson provided the following response:
SIA has changed its mySQupgrade system from bidding model to fixed fee instant purchase on 15th February 2022. It is a permanent switch.
Have you received any upgrade invitations? Do share your data points (route, original cabin, date, upgrade amount)!