It's been roughly three months since the soft opening of the brand new Singapore Airlines SilverKris Lounge at Changi Airport Terminal 3.
This marks the first phase of a $50 million renovation that began just before COVID. A new First Class lounge and Private Room will open by the end of Q1 2022 (in the meantime, a temporary area has been cordoned off for eligible passengers), while the KrisFlyer Gold Lounge (which temporarily stood in for the SilverKris Lounge) will undergo further refinements before reopening around the same time.
I visited the new SilverKris Lounge on opening day, and although the F&B experience was messy, the rest of the facility looked very promising indeed. You can read a detailed report below.
Review: Singapore Airlines' new SilverKris Lounge at Changi Airport Terminal 3
No, there's no golf simulator, video game room, beauty salon, spa, or some of the other frills you might have seen in other flagship lounges. But you should know by now that Singapore Airlines doesn't really go in for that sort of thing. Complaining about it would be like getting mad at a cow for mooing.
Instead, the focus is quiet, dignified elegance. While I'm sure there'll be dissenting opinions, I personally think the designers have done a great job.
The new space is blessed with much more natural light, and separate areas have been created for working, eating and relaxing. There's productivity pods, a dining hall, a full-service bar, a (yet-to-be-opened) nap area, and individual shower suites. 
I've since revisited the lounge a couple more times, and here's my impressions of how things have changed, three months into operations. 
A more orderly dining system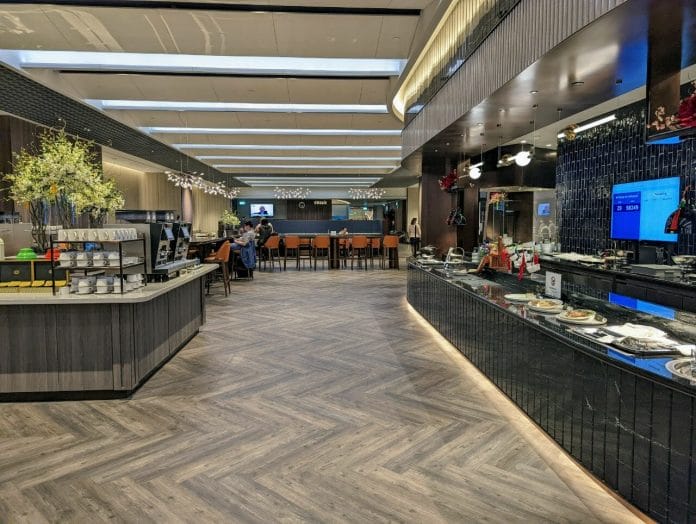 The new SilverKris Lounge has a dedicated dining hall, with live cooking stations and self-serve drinks. It's not clear if self-serve buffets will return once the authorities allow it (I suspect they will), but in the meantime, all food is assembled to order by the lounge staff.
When I visited the SilverKris Lounge on opening day, the food ordering system was a chaotic mess.
Guests were instructed to scan a QR code on the table and place their orders through an e-menu. In theory, they'd monitor the confirmation page and head to the counter once their order was ready. 
In practice, no one's going to keep staring at that page, not when there's Tinder to swipe and cat videos to watch. 
This meant that completed food orders would clog up the window, and lounge staff would have to run to tables to tell guests their order was ready for collection (I suppose they could have saved a journey by bringing the food over to the table, though they probably didn't want to set a precedent where everyone expected table service was the norm).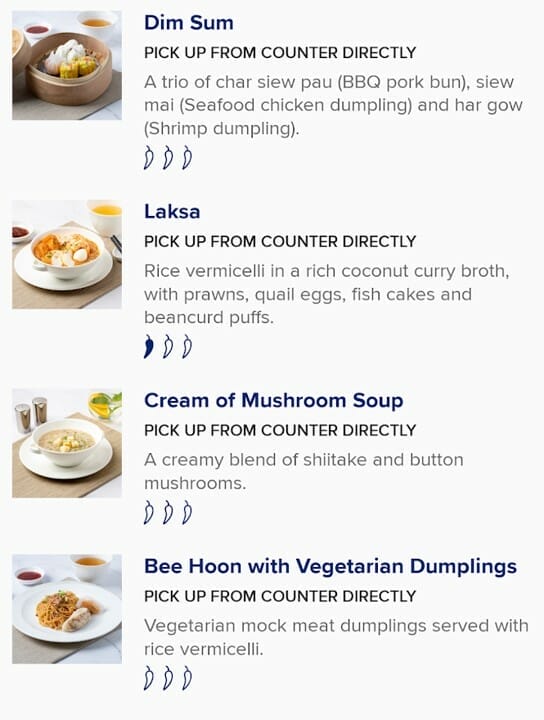 With the revised system, all but two food items (hot sandwich, and chicken nuggets with French fries) are labelled "pick up from counter directly". This means exactly what it says: guests go to the counter, place their orders and pick up the item straight away. 
I don't mind, really. Most items are assembled in a minute or less, and it means shorter waiting times for food, plus less congestion around the collection window. 
On my subsequent visits to the lounge, the collection area has been refreshingly clutter free, and the order collection screen doesn't look like bingo night at the old folk's home.
Festive items are back
If you were worried that the food menu at the SilverKris Lounge would fast become a case of been there ate that, the good news is that they're serving up festive items once again. 
To mark the Chinese New Year period, the following items are available:
Yu Sheng

A colourful shredded vegetable salad, served with smoked salmon

Cereal Prawns

Crunchy prawns coated with crispy cereal bits

Fried Fish and Tofu in Sweet Chili Sauce

Fried fish slices and egg beancurd in savoury and sweet chilli sauce

Glutinous Rice and Sausage in Lotus Leaf

Fragrant glutinous rice and pork sausage steamed in lotus leaf

Longan and Red Dates Dessert Soup

A warm dessert soup with longan and red dates
I tried the yu sheng and cereal prawns. Neither will win any culinary awards, but they were fun additions. I saw a few couples tossing the yu sheng together, a sweet little gesture to mark the occasion. 
Overcrowding for now (but it'll get better)
Despite its expanded footprint, the SilverKris Lounge can get very crowded during the early morning and evening peak hours.
I wouldn't say it's standing room only, but it definitely detracts from the otherwise pleasant ambiance (especially when a group of fine gentlemen decide the lounge is the best place to hold a beer party just before boarding)
However, we need to keep in mind that the current facility is playing host to everyone- First and Business Class passengers, PPS Club members, KrisFlyer Elite Golds, Star Golds, whether on Singapore Airlines or its Star Alliance partners. Even with the COVID-decimated schedules, that'd be a taxing load on any lounge. 
But eventually this will ease as the new First Class and KrisFlyer Gold lounge open by the end of Q1 2022. At that point:
First Class passengers and Solitaire PPS Club members will be redirected to the First Class lounge
KrisFlyer Elite Gold and Star Gold members travelling in Premium Economy or Economy Class will be directed to the KrisFlyer Gold lounge
For what it's worth, I've noticed that the SilverKris Lounge has eased its social distancing measures, which has helped somewhat with the capacity crunch. When I first visited, many seats had blue social distancing ribbons draped across them.  
These were absent on my most recent visit.
Slumberette area yet to open
The new SilverKris Lounge has a slumberette area at the rear with 14 Rolf Benz sleeping pods, each with their own power outlets and USB charging ports. However, this facility has remained sealed off ever since the lounge opened. 
In the absence of a proper rest area, it's not uncommon to see some guests sprawling themselves out on any flat surface they can find.
I do hope the slumberettes come online soon, though the lounge staff told me there wasn't a confirmed date yet and that there was "further work to be done" in that area.
I wonder what more they could be thinking of adding though?
All hail the new shower suites
Compared to old SilverKris Lounge's communal bathing facilities (well not exactly, but they were all located within the common toilet), the new lounge's 15 private shower suites are a dream come true. 
Clad in handsome dark marble with oversized rain showers and TOTO bidet seats, they'd hold their own against most competitors' (Qatar's shower rooms in Doha are more generously sized, although to be fair they have a massive area to work with).
The water pressure is rather good too, providing a reassuring deluge of hot water that's bound to energise any jetlagged traveller.
If I had to gripe, I will say I wish they'd sprung for concealed floor traps over the trypophobia-inducing exposed ones. 
And at the risk of sounding like a broken record, Singapore Airlines really needs to invest in better shower amenities. I'm not asking for Aesop or anything, but a nicer-looking bottle wouldn't go amiss…
As a side note, I was field testing the TOTO toilet, and upon completion of said task, pressed the bidet button expecting relief. But nothing happened. No matter which button I pressed, the water flow just wouldn't activate, leading me to wonder if I should perhaps ask the nice auntie outside for assistance. 
Fortunately it didn't come to that, as I realised these toilets had both a manual and electric bidet. Some Philistine had, inexplicably, chosen the manual over the electric, so it was a simple matter of turning on the right valve. Hopefully that helps some of you.
I'm hoping the new First Class lounge will one up these- although I suspect we won't see soaking tubs…
Conclusion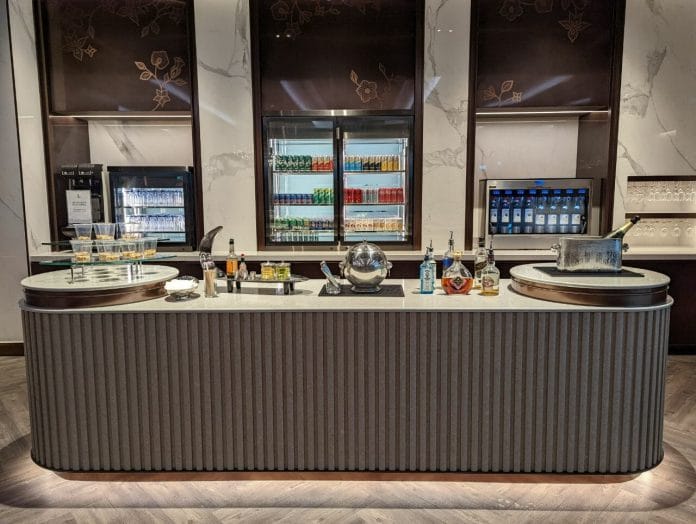 While it doesn't radically redefine the boundaries of what an airline lounge can be, the new SilverKris Lounge is every bit an improvement over its previous iteration.
Some of the teething issues with F&B have been sorted out (at least from what I've seen during my follow up visits, let me know if you've witnessed otherwise), and I'm hoping they won't dally too long with the slumberette area because having guests sprawled out all over the lounge makes it feel more like a United Club.
We should be hearing news about the new First Class lounge and Private Room very soon- stay tuned. 
Have you visited the new SilverKris Lounge yet? What do you make of it?