For the past six months, KrisFlyer Elite Gold and Star Gold members flying out of Changi Airport have been living a rather charmed existence.
Prior to COVID, these passengers would be rejected at the pearly gates of the SilverKris Lounge, and funnelled to the KrisFlyer Gold Lounge in T2 or T3 instead. Believe me when I say this was a depressing place- dark, chronically overcrowded, with a middling selection of F&B and no showers or toilets. 
But due to Singapore Airlines' T3 lounge overhaul, all eligible passengers have been enjoying the spanking new SilverKris Business Class Lounge ever since it opened its doors in November 2021. If you know the old KrisFlyer Gold Lounge like I do, that's as close to heaven as it gets: champagne, live cooking stations, a tended bar, barista service, and private shower suites. 
Unfortunately, all good things must come to an end. The KrisFlyer Gold Lounge reopened on 20 May 2022, ending SilverKris Lounge access for KrisFlyer Elite Gold and Star Gold members  out of Singapore (they can still access overseas SilverKris Lounges, however).
If it's any silver lining, this isn't the KrisFlyer Gold Lounge you knew from before. Singapore Airlines has remade it into a bigger and brighter space, with its own bathrooms and showers. There's separate areas for working, dining and lounging, and abundant power outlets for charging devices.
And while it'll always be playing second fiddle to the SilverKris Lounge, my take is that the KrisFlyer Gold Lounge is finally, as Gus Fring would put it: acceptable. 
🍸 tl;dr: KrisFlyer Gold Lounge Singapore

The new KrisFlyer Gold Lounge won't win any awards, but a refreshing new design and in-lounge showers make it 

every bit an upgrade from before.

👍 The Good

👎 The Bad

Bright and airy, with great tarmac views 

Separate areas for dining, lounging and productivity

In-lounge showers and toilets

Carb-driven F&B selection

Limited shower rooms
KrisFlyer Gold Lounge Location
The KrisFlyer Gold Lounge is located on Level 3 of the Terminal 3 departures concourse, occupying the space formerly inhabited by the dnata lounge. 
After clearing immigration, turn left at the giant Louis Vuitton store and take the first escalator you see on the right (just after the Cosmetics & Perfumes by Shilla store). The walk should take no longer than two minutes. 
Access and Operating Hours
The KrisFlyer Gold Lounge is open 24 hours a day, and access is available to passengers departing on a Singapore Airlines or Star Alliance flight in:
First Class
Business Class
Premium Economy Class or Economy Class, with Solitaire PPS Club, PPS Club, KrisFlyer Elite Gold, Club Vistara Platinum or Gold, Velocity Platinum or Gold, Flying Club Gold or Star Gold status
First Class, Solitaire PPS Club, PPS Club, KrisFlyer Elite Gold members may bring one guest into the lounge, provided he/she is departing on a same-day Singapore Airlines flight.
Star Gold members may also bring one guest, but he/she must be travelling on the same flight as the member. This is in line with Star Alliance's tightened lounge access rules that took effect from May 2021
While First, Business Class, Solitaire PPS and PPS Club passengers are technically eligible to visit this lounge, it probably isn't the one they'll want, as the SilverKris Lounges offer a much superior selection of F&B and facilities.
Remember, Silver > Gold, at least where the lounges in Singapore are concerned!
Lounge Overview
The new KrisFlyer Gold Lounge has capacity for 350 passengers, more than double the previous lounge (165 passengers). Floor space has also been increased from 500 sqm to 1,100 sqm.
Walking into the lounge may give you a sense of deja vu, like you'd somehow been here before. In fact, you might very well have.
The KrisFlyer Gold Lounge opened in April 2021 as the stand-in SilverKris Lounge, when the existing facility began its renovations. It served as the SilverKris Lounge up till November 2021 when the permanent one opened, after which the doors were closed again for further work. 
Review: Singapore Airlines temporary SilverKris Lounge Changi Airport
So what has that time been used for? Well, here's a few before and after pictures for your consideration.
You'll probably notice the furniture has changed. Gone are the red and yellow armchairs, replaced with more muted beige and grey ones which match the decor more closely.
You'll also notice the bronze structures rising from the middle of the lounge. These are specially-crafted lights, which design is meant to mimic the flight paths of aircraft departing Singapore for destinations further afield. There's other changes too, but we'll talk about those as we go along. 
To the immediate right of the entrance are two dark marble communal tables with high chair seating. Wireless charging pads are built into the table top, and each table takes up to 10 guests. 
To the immediate left is a spillover seating area with pairs of blue armchairs and console side tables. 
Further in, the lounge branches out into an open-air area with soaring ceilings and skylights that let in sunlight from the outside. It's a dramatic change from the previous KrisFlyer Gold Lounge (I'm thinking of the T2 one in particular), which often felt dark and claustrophobic. 
Seating here is densely configured and comes in two main forms: tightly-clustered armchairs running the length of the windows…
…and deep-blue couches with small round tables attached.
If there's one thing the KrisFlyer Gold Lounge has going for it, it's the views. The floor to ceiling windows have the best tarmac view of any of the four Singapore Airlines lounges in T3, even if the polka dots on the windows (placed there for energy efficiency) interfere with photography.
Two TV screens along the wall provide information on departures (Terminal 2's is blank, but not for long), but otherwise the lounge does not make boarding calls.
The dining area has been expanded significantly. Previously, there were only ten two-top dining tables, now there's almost two dozen. 
Two additional communal tables are available towards the rear of the lounge…
… but what's particularly noteworthy are the four work desks. Each desk has been partitioned into two, and hence up to eight passengers can use this area. It's curious that Singapore Airlines chose these over productivity pods, but I think space was at a premium. 
At the very rear of the lounge is an additional seating enclave, which used to be a sealed off area for First Class passengers back when this was the temporary SilverKris Lounge. It's now been converted into dining table seating, with booth seats lining the walls and a couple of stand-alone tables.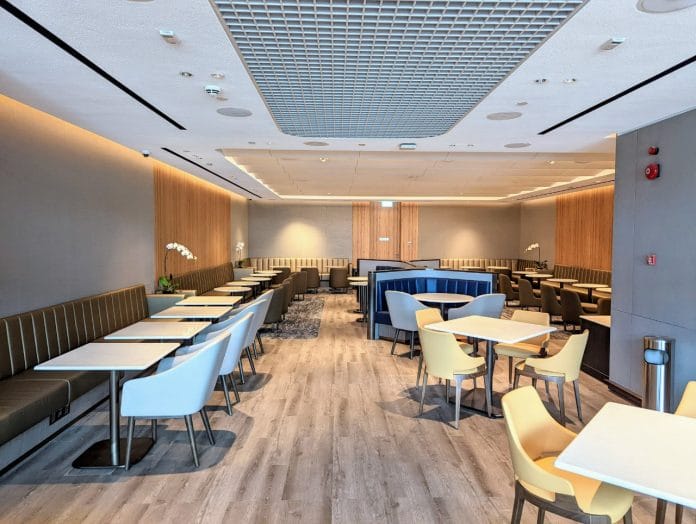 KrisFlyer Gold Lounge Seating
Wi-Fi & Power Outlets
The complimentary Wi-Fi network in the KrisFlyer Gold Lounge clocked in at ~11 Mbps up and down, which is adequate enough for most uses. However, it's notably slower than some of the other Wi-Fi speeds I've clocked at other T3 lounges, in particular DBS Asia Treasures.
If there's one thing you won't need to worry about at the KrisFlyer Gold Lounge, it's power outlets. These have been crammed into every space imaginable, whether it's in-between seats or on table tops, under tables or affixed to carpentry. 
As mentioned earlier, wireless charging pads can also be found at the communal tables. 
Food & Beverage
Self-serve buffets have returned to airport lounges, and the KrisFlyer Gold Lounge serves up a mix of Asian and Western items (with a heavy leaning towards the former). 
Cold options include a salad bar, prepacked sandwiches and fruit.
The hot food selection features dim sum, bee hoon, fried rice, pasta, and a make-your-own laksa station. It's rather basic and very carb-heavy, with buffalo wings being the only substantial protein option. 
Chicken bolognese spaghetti
As for drinks, guests can help themselves to the usual assortment of soft drinks (Coca Cola Classic and Light, Sprite), boxed juices, and Tiger or Heineken beer. 
Two fully automatic Boncafe coffee machines provide a caffeine fix, though you shouldn't expect barista service.
TWG teabags and an automatic hot/cold water tap are also available.
A small selection of spirits and mixers are present, allowing guests to fashion their own cocktails.
This self-pouring beer machine has been on standby for months now, but staff tell me it's finally ready to go, and hopefully by the time you read this it'll be dispensing frothy beer (Tiger, of course). 
And finally, the wine. You get one white and one red, portioned out by a digital wine dispenser. The resistive touchscreen requires quite a bit of force to trigger, so don't be afraid to push hard.
No champagne is offered, which is understandable- though it'd have been nice to see a cheaper prosecco or cava in its place for some variety. 
Showers & Toilets
Veterans of the KrisFlyer Gold Lounge will know that showers and toilets were a major issue. Namely, there weren't any. Anyone who wanted to get clean or answer the call of nature had to leave the lounge and visit toilets elsewhere in the terminal, a downright glaring omission. 
Thankfully, the new KrisFlyer Gold Lounge has private shower rooms. They aren't luxurious by any means, but get the job done. 
The catch? Shower rooms don't have attached toilets, and there's only three of them (plus one more accessible unit). With the sheer volume of eligible passengers, there's likely to be a long wait during the morning and evening rush; be sure to put your name down as soon as you arrive!
There's no fixed shower head here; only a handheld shower. Water pressure is adequate, but bathroom amenities come from unbranded wall-mounted bulk dispensers. For an airline normally so obsessive about attention to detail, this feels like a poor oversight. At least create a nicer-looking label!
Wall-mounted hairdryers are available, and guests can request dental or hygiene kits from the staff.
As mentioned earlier, the lounge has one accessible shower unit. Unlike the regular shower rooms, this one foregoes the glass enclosure (for obvious reasons), and adds an attached toilet. 
A well-maintained nursing and changing room is available for parents, and they even included a set of power outlets in case you need to plug in any baby-related paraphernalia. 
Conclusion
The new KrisFlyer Gold Lounge is every bit an improvement over its predecessor, although to be fair that wasn't exactly a high bar to beat.
All the same, status-holding passengers in Economy and Premium Economy Class will finally enjoy in-lounge showers and toilets, as well as separate areas for dining, lounging and working. It's an altogether better conceptualised space than the old KrisFlyer Gold Lounge, and with double the capacity, better equipped to handle the evening rush.
What do you make of the new KrisFlyer Gold Lounge?