Travelling through Changi Airport post-COVID was a surreal experience indeed. I'm planning to write a separate post on that, but first, let's take a look at the temporary SilverKris Lounge at Changi Terminal 3. 
🍺 Bavarians at the Gate
🇸🇬 Singapore- Germany VTL 🇩🇪
For the uninitiated, Singapore Airlines is in the midst of a S$50 million renovation of its Terminal 3 lounges, a project it expects to complete by the end of 2021. By the time this is done, we'll have brand new editions of the SilverKris First and Business Class section, The Private Room and the KrisFlyer Gold Lounge. 
American firm Hirsch Bedner Associates (HBA) has been engaged for the SilverKris and Private Room overhaul, and even though their portfolio is predominantly hotel-driven (e.g. Four Seasons Singapore), I'm sure they can bring some of that jazz to the lounge space.
In the meantime, all eligible passengers are funnelled to a temporary facility. Why should we even bother with a review, when the real deal will open by the time most people take back to the skies? 
One simple reason: the temporary SilverKris Lounge will eventually become the permanent KrisFlyer Gold Lounge, and if you're a KrisFlyer Elite Gold or Star Gold member in Premium Economy or Economy Class, this is where you'll be directed to. 
If you're interested in a lounge walkthrough, check out the video below. 
🍸tl;dr: Temporary SilverKris Lounge

Singapore Airline's temporary SilverKris lounge isn't flash, but it gets the job done. It's a massive improvement from the previous KrisFlyer Gold facility, and First/Business Class passengers have something even better to look forward to. 

The Good

The Bad

A la carte dining is a big improvement from the previous buffet

Individual shower rooms finally available (albeit without toilets)

Gets overcrowded late at night

Only three showers 

Champagne only available in First Class section
Access and Operating Hours
The temporary SilverKris lounge is open from 0500 hours to 0230 hours daily. Access is available to any passenger flying on a Singapore Airlines or Star Alliance-operated flight in:
First Class
Business Class
Premium Economy or Economy Class, with Solitaire PPS Club, PPS Club, KrisFlyer Elite Gold or Star Alliance Gold status
Solitaire PPS Club, PPS Club, KrisFlyer Elite Gold members may bring one guest into the lounge, provided he/she is departing on a same-day Singapore Airlines flight.
Star Gold members may also bring one guest, but he/she must be travelling on the same flight as the member. This is in line with Star Alliance's tightened lounge access rules that took effect from May 2021
Transit passengers are allowed to visit the lounge, but only those originating from Category I or II countries. 
Getting to the Lounge
The temporary SilverKris Lounge is located on level 3 of Terminal 3, just one floor up from the main departures concourse. 
Once you pass through immigration, make a left at the giant Louis Vuitton store and head in the direction of the A gates. 
You'll see an escalator on your right with a standee for the lounge; it's impossible to miss. Take the escalator up to level 3. 
Once you're up to the escalator, you'll see the entrance to the SilverKris lounge. 
Your boarding pass will be checked and you'll be asked to perform a SafeEntry check-in. 
If you happen to be unvaccinated or partially-vaccinated, you might be wondering how the ban on dining in affects the airport. The short answer is that it doesn't- if you're in the transit area. Unvaccinated or partially-vaccinated travellers can use the lounge as per normal, or dine at any of the airside restaurants for that matter. I suppose you're technically outside Singapore at this point. 
The Lounge
While this may be the temporary SilverKris Lounge, it's also going to be the permanent KrisFlyer Gold Lounge one day. So Singapore Airlines hasn't cut corners, and it's every bit a great leap forward from the former KrisFlyer Gold facility. 
The lounge is split into a T-shape, with an open-air design that lets in the atmosphere from the concourse below. While it overlooks the tarmac, you won't see much thanks to flaps on the outside that presumably help the terminal reduce its cooling bill. 
Immediately to the left is a small area with booth and armchair seating, and a small television mounted on the wall (the screen nowhere near large enough for a lounge this size). 
On the right is a pair of dark marble communal tables with high chair seating, good options for solo travellers. 
The lounge then branches out into an open-air area, with numerous two-seater coffee table and arm chair arrangements. The tables bear a strong resemblance to those from the old KrisFlyer Gold Lounge, and I wouldn't be surprised if the furniture has been repurposed.  They're relatively small, making them not ideal for two people who wish to dine. 
A long blue sofa provides further seating options for singles, with alternate spaces blocked off by social distancing pillows (a phrase I never thought I'd type).
For those who find the tables elsewhere too small or too low, a limited number (10) of two-top dining tables are available.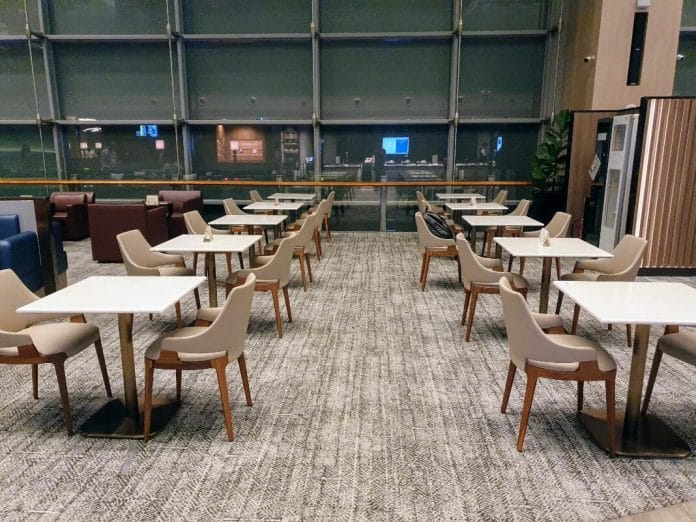 The SilverKris Lounge doesn't have a separate area for First Class passengers; in fact, the only form of segregation is a separate section for transit passengers. I'm not quite sure what the point of this is however, since they still walk through the same areas, use the same bathrooms and help themselves to the same self-serve beverages.
If it's any consolation, the only transit passengers who can visit the lounge are those from countries that Singapore has deemed "safe", so I suppose the risk has been properly calibrated.
At the far end of the lounge is the food and beverage area, which I'll talk about more in a separate section below. 
A magazine rack is located near the F&B area, but its contents have been emptied out. I'd say this was because of COVID, but then again, the magazine racks in the neighbouring SATS Premier Lounge are fully stocked. 
A pair of monitors provides information about departure times. The blank Terminal 2 screen is a sad reminder of its closure in May 2020, the first time Changi Airport completely suspended operations at a terminal. On the bright side, we'll see a new-and-improved Terminal 2 ahead of schedule, with upgrading works expected to be completed by 2023.
One feature I'm amazed has found its way to the SilverKris lounge is the LG Styler steam closet. This was previously in the SilverKris Terminal 2 Lounge, and all along I thought it was just a temporary product placement. Instead, it's become something of a fixture through the years. 
The lounge seats about 120 guests, and started out fairly empty when I arrived at 7.30 p.m. By 9.30 p.m it was half-full, and at 10.30 p.m was almost at capacity. 
If this is the situation right now, I'm concerned about how the lounge will handle crowds when travel returns in earnest. It doesn't look like they can fit in any more tables and chairs, and in any case, social distancing restrictions might preclude them from doing so. 
Power & Productivity
Complimentary Wi-Fi is provided throughout the SilverKris Lounge. Speeds clock in at around 11 Mbps up and down, which is good enough for HD Netflix and Zoom video calls. However, it's far from the fastest Wi-Fi at Changi; I've clocked faster speeds at the Qatar Airways and Qantas lounges in Terminal 1. 
Universal power outlets and USB ports are available below the blue sofas…
…and beneath the communal tables. 
Those who opt for the communal tables will have the added advantage of wireless charging pads. Each of the two tables has five charging pads, and it worked flawlessly with my Samsung Galaxy S10.
Food & Beverage
Since self-serve buffets are temporarily disallowed, the SilverKris Lounge has adopted an a la carte menu with made-to-order items (although a more accurate description might be assembled-to-order, since I can't imagine them individually cooking each item). 
Scattered throughout the lounge are QR codes to access the menu and place orders. 
You won't be able to view the menu unless you're connected to the SKL Wi-Fi network, so don't even bother if you're reading this at home. 
A total of nine main courses are available (three Asian, three Western and three Vegetarian), as well as two salads, a soup, an appetizer and a kid's platter. I find it amusing that every item has a spiciness level listed next to it, and laksa is listed as "not spicy". 
For those of you who just can't decide, helpful mock-ups of each dish are on display. 
A small selection of snacks and cereals is also offered, with mock-ups in case you've forgotten what Koko Krunch looks like. 
After you've placed your order, you'll receive a confirmation and an estimated wait time. 
You're supposed to monitor the page and head to the service counter to pick up your order when it's ready. 
But it's slightly confusing because certain guests had buzzers which pinged them when it was time for collection. I figure these are the ones who went up to the counter to order, which is an option for the technologically-impaired. 
The first dish I tried was the grilled chicken steak with spaghetti aglio olio. The chicken cutlet, dare I say, tasted a bit like a non-spicy McSpicy- juicy and moist. The pasta had a pleasant kick from the chili, and the side of chopped capsicum added a nice crunch to the dish. 
The laksa was what I'd call "very good for lounge laksa". A hearty broth, prawns that were a step above the usual soulless frozen variety, and two soft quail eggs. 
The beef lasagne won't pass any nonna's inspection anytime soon, but I've had far worse. 
Just to feed my inner child (I'm eating for two, you know), I ordered the kid's platter as well. You can't really go wrong with fries and nuggets. 
On the whole, I must say I was surprised by the quality. It was certainly much better than any buffet I previously enjoyed at the SilverKris Lounge, and while it's no replacement for The Private Room, I'll take it. 
A strange feeling came over me as I was eating my food, and it took a while before I realised what it was: there was music in the background. This may sound odd to foreign readers, but for context, Singapore has banned restaurants from playing music ever since COVID started. The rationale is that music causes customers to raise their voices, which results in more aerosol generation and great risk of COVID transmission.
Make of that what you will, but this was my first meal set to music in almost 18 months. 
Drinks are self-serve, and let's get one burning question out of the way: no, there isn't any champagne, not on display, and not on request. I have no doubt it'll return when the new SilverKris Lounge opens, but until then the first bubbles you'll taste will be onboard. 
It's a shame, really, given that I can't think of any health-related reason not to serve it (considerations for your liver aside). Passengers are free to pour their own shots of gin and whiskey, after all.
Singapore Airlines instead serves one red and one white option, though neither is a particularly inspiring choice:
Wines are served from an electric dispenser. This spits out two portion sizes, although you can obviously press the button to your heart's content. Do note that the resistive touchscreen requires quite a bit of force to trigger, so don't give up if at first you don't succeed. 
Juices and mixers (plus lemons and limes, for those who fancy some cocktail garnishes) are displayed on open shelving, with warm and inviting lighting. 
In the fridge are further options like Heineken beer, Perrier, 100 Plus, Coke and Sprite.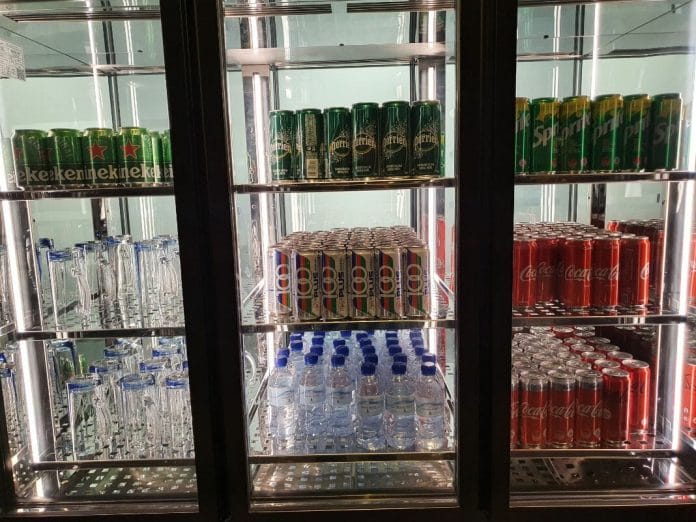 It looks like a draft beer option will eventually be offered, from a machine that reminds me of the ones in the ANA/JAL lounges. 
Guests can help themselves to generic bottled water, though Changi's at-the-gate security screening model means there's little point taking them out of the lounge. 
A pair of professional-looking coffee machines are also available for those who fancy a cuppa. 
And for those who prefer tea, TWG teabags and a hot water tap round out the offerings. 
McVite's digestive biscuits and Oreos are offered as accompaniments to tea. I never thought I'd see Oreo cookies being served in a SilverKris lounge, but then again COVID has surprised us all.
Showers & Toilets
Veterans of the former SilverKris Lounge will know that one of the big bugbears was the lack of private shower cubicles. All showers were located within the main toilet, creating a locker room kind of vibe. But as bad as that was, KrisFlyer Gold Lounge users had it worse- there wasn't even a toilet! 
Thankfully that's all changed. The SilverKris Lounge has three individual shower rooms, located in a separate area from the bathroom. I suspect this will be woefully inadequate once travel opens up, but it's still an improvement from the status quo. 
If there's one negative about these shower rooms, it's that they don't have their own dedicated toilet; you'll need to do your business elsewhere. 
In terms of style, these showers are still a far cry from what you'll find in other airlines' flagship lounges. Only a hand shower is offered, with no corresponding rainfall option. 
Shampoo and body wash are provided from nondescript wall-mounted pump dispensers. It's a shame because the previous SilverKris lounge had upgraded to much nicer-looking toiletries before COVID struck.
Cologne from Penhaligon's Quercus range is available, the same sort you'll find on board. Also available are hand cream, dental kits, shavers and combs. A wall-mounted hairdryer completes the set. 
The toilet has been given an aesthetic to match the showers, and oddly has a hairdryer of its own (why?) plus similar amenities to the shower rooms. 
Passengers travelling with infants will be pleased to know that there's a dedicated baby care room, complete with a changing table and feeding area. 
The future SilverKris Lounge is coming
If you want a peek at the new SilverKris Lounge (though really, you can't see anything), head out of the temporary facility and turn right. You'll see boardings with Singapore Airlines branding and a big "Coming Soon" message.
This eventually terminates in a dead-end, near the escalator that leads down to the level 2 departures concourse (which is blocked off). I saw some workers entering the area at around 10 p.m, so it looks like they may be working round the clock. 
Interestingly enough, the project board says that the lounge should have been finished by Q2 2021. Chin up, those of you who've had to deal with contractors, you're not alone…
Conclusion
Singapore Airlines' temporary SilverKris Lounge is a more than adequate placeholder while we await the unveiling of the renovated facilities. The dine-on-demand menu is a step up from the former buffet, individual shower suites are a vast improvement from the former situation, and it's a solid place to relax or catch up on work.
That said, I do have concerns regarding how it will cope when travel picks up again, given how lounge capacity is already stretched in the evening. I foresee issues with finding a seat or securing a shower, but I suppose they'll cross that bridge when they get to it. It's also unfortunate the lounge has declined to offer a champagne option, given that it caters to First and Business Class passengers too at the moment. 
Truth be told, this lounge was never meant to be a flagship product. It's no secret that Singapore Airlines reserves the best for its SilverKris Lounges, so the real litmus test will come later this year when we see their unveiling.