After more than two years of COVID-disrupted renovations, Singapore Airlines has soft launched its new SilverKris Lounge at Changi Airport Terminal 3. This marks the first phase of a S$50 million overhaul of its flagship lounges, overseen by hospitality designers Hirsch Bedner Associates (HBA). 
The new lounges will boast a 30% increase in customer capacity, as well as new facilities, more open spaces, and a wider selection of F&B options. It's a much-needed upgrade for an airline that's unbeatable in the air, yet often lags behind in terms of ground experience. 
Doors at the new SilverKris Lounge opened at 5 a.m on 23 November 2021, and I visited the facility en route to Sydney via the Australia VTL. In this post, I'll give you the full rundown of what you can expect on your next flight out of Changi, but for those of you who just can't wait, here's the highlights:
15 individual shower suites with toilets (and TOTO bidet seats) are available
Champagne has returned to the Business Class section (it was absent from the temporary lounge)
A full-service bar is available in the evenings
I've also done a walkthrough video (excuse the Normandy-landings camerawork)
Read on for the full details!
Access and Operating Hours
The new SilverKris Lounge is open 24 hours daily. Access is available to any passenger flying on a Singapore Airlines or Star Alliance-operated flight in:
First Class
Business Class
Premium Economy or Economy Class, with Solitaire PPS Club, PPS Club, KrisFlyer Elite Gold or Star Alliance Gold status
Solitaire PPS Club, PPS Club, KrisFlyer Elite Gold members may bring one guest into the lounge, provided he/she is departing on a same-day Singapore Airlines flight.
Star Gold members may also bring one guest, but he/she must be travelling on the same flight as the member. This is in line with Star Alliance's tightened lounge access rules that took effect from May 2021
Note that access for KrisFlyer Elite Gold and Star Alliance Gold members in Premium Economy/Economy Class is a temporary measure only. When the KrisFlyer Gold Lounge reopens in Q1 2022, these passengers will be redirected to that facility. 
Transit passengers are allowed to visit the lounge, but only those originating from Category I, II or III countries.
Getting to the Lounge
The new SilverKris Lounge is located on level 3 of Terminal 3, just one floor up from the main departures concourse. 
To get here, make a left at the giant Louis Vuitton store just after clearing immigration.
You'll see an escalator on your right with a standee for the lounge; it's impossible to miss. Take the escalator up to level 3. 
Here's where you would have found the entrance to the temporary SilverKris Lounge (and site of the future KrisFlyer Gold Lounge), but it's been boarded up. 
Instead, turn left and head down the corridor, passing the SATS Premier Lounge on your right and the DBS Asia Treasures Lounge on your left. 
You'll see some construction boarding on your right….
…but soon enough, will come across the entrance to the brand new SilverKris Lounge. This occupies the footprint of the old First Class lounge and Private Room. 
Lounge Overview & Seating 
Once you've scanned your boarding pass at the entrance, you'll find the lounge opens out into an open-air concourse filled with a mix of individual, group and communal seats.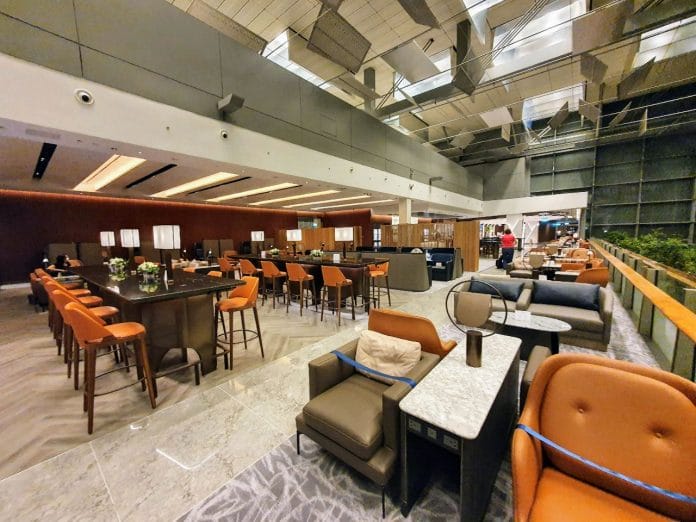 Solo travellers can choose from one of the individual armchairs laid out in rows of four. 
If you're travelling in a group, one of these four-cover seating pods would better suit you (although some seats are currently blocked off due to social distancing).
And if you're in a larger group (or solo, but miss out on the individual seats, try for one of the communal tables) with bar stool seating. 
I'm definitely a fan of the colour palette HBA has chosen for the new lounge, with shades of burnt orange and deep blue providing a striking contrast to the muted tan leather and white marble table tops. Furniture and fittings are contemporary, and it's a welcome update from the sometimes stodgy interiors of the previous facility. 
Productivity Pods
A total of nine productivity pods can be found near the entrance (turn right after entering the lounge). These are tastefully outfitted in leather, with a reading light and wraparound design that provides aural and visual isolation from the rest of the lounge. 
Each pod has a wireless charging pad, universal power outlet and 2x USB-A ports. 
Dining Area
The SilverKris Lounge has two dining areas (I'll talk about the F&B options in a separate section below). 
The first is found near the entrance, and is more of a secondary facility for grabbing a light bite. Singapore Airlines calls this "a relaxed cafe setting for customers with a short transit".
A few couch seats opposite the bar (see F&B section) provide a nice place for larger groups to sit and people watch.
To get to the second dining area, continue further into the lounge, passing by a KrisShop pop-up display and a series of customer service desks.
You'll then enter the main dining hall, featuring plenty of seating and live cooking stations.
Given the size of this place, it may well be a spillover area even for those who aren't hungry.
Viewing Areas
I wouldn't say the new SilverKris Lounge offers the best of views for avgeeks, but there are a few opportunities for plane spotting at the A gates from selected locations. 
The first is near the bar, with four chairs positioned along a communal table.
The second is in the dining area, where the seats near the windows offer a broader view of the tarmac.
Do note that Changi Airport uses special frosted glass and flaps to help the terminal reduce its cooling bill, so your photos may not turn out very well. 
Sleeping area
At the rear of the lounge is a partitioned off area with 14x Rolf Benz slumberettes. Blankets and pillows are available on request. 
Each cubicle has its own adjustable reading light, plus 2x universal power plugs and 2x USB Type-A charging ports. However, wireless charging is not available here. 
No reservation is required for the sleeping area; it's first-come-first-serve.
Wi-Fi & Productivity
The complimentary SKL Wi-Fi network clocks speeds of 9.7 Mbps down and 10.2 Mbps up. It's not the zippiest I've ever seen, but the connection was good enough for YouTube HD streaming and Whatsapp video calling. 
However, it's notably slower than the public Wi-Fi that all Changi passengers can enjoy- that clocked in at 29 Mbps down and 30 Mbps up. 
For those in need of power, universal power outlets, USB Type-A ports and wireless charging pads are abundant throughout the lounge. These can be found beneath tables, in between chairs, pretty much everywhere you might need one. 
The lounge notably does not have a business centre, but the nine productivity pods (see above) are arguably a superior alternative, offering greater amounts of privacy and isolation. 
Food and Beverage
The SilverKris Lounge has two main dining areas.
The first is found near the entrance, and is more of a secondary facility for grabbing a light bite. As expected, the fare here is lighter- think cut fruits, garden salads, sandwiches and cereals.
There's also a fridge stocked with soft drinks, sparking water, mixers and juices, plus two bean-to-cup coffee machines and a selection of TWG teas. 
Slightly further in is the lounge's flagship bar, which features both a self-serve area…
…as well as a manned section. This looks stunning from every angle, and after COVID dies down, I expect it'll be quite the social epicentre. 
From 6 a.m to 10 a.m, this serves as a barista area, with made-to-order coffee from an impressive looking machine. 
There's a break after that, but it returns from 5.30 p.m to 1 a.m, with visitors enjoying a fully-tended bar serving up all kinds of libations.
I am also delighted to announce that champagne has made a return to the SilverKris Lounge. While this was already present prior to COVID, it disappeared in the temporary facility- at least in the Business Class section.
Interestingly enough, this Champagne Jacquart Mosaique Brut was the pour that Singapore Airlines served in Premium Economy Class- before doing away with champagne in that cabin altogether. Perhaps the SilverKris Lounge is their way of clearing stock.
The dining hall is where the serious eating happens. Due to COVID-19, self-service buffets are not available (although guests can help themselves to a few individually wrapped items in the chiller). Instead, hot food is ordered through a QR code affixed to tables.
During my visit, breakfast was being served. The following options were available. 
I didn't stick around for lunch, but the options should be exactly the same as the previous facility, so check out this post for the details. 
There's no table service in the Business Class section, so you'll need to monitor your device (or the order collection screens) and pick up your order at the window when it's ready.
Waiting times were at least 20 minutes, and since this was the first day of operations, there were teething issue galore- incomplete orders, long delays, stuff like that. The staff tried their hardest, but it was still very chaotic, and they'll need some time to find their feet with the new setup.
In terms of the food, I'd say the laksa is a definite must-try. 
Guests can also help themselves to individually-plated and shrink wrapped salads, fruit, and pastries from the chillers.
Drink options in this area are similar to those in the first, namely coffee machines, TWG tea, and self-service alcohol.
Restrooms & Showers
There are two restrooms in the lounge, a smaller one located near the bar area, and a much larger one in the dining hall area.
For a better…experience, head to the second restroom, because it has fancy TOTO bidet seat toilets. Toilets in the first restroom are simpler affairs with only a bidet hose.
Showers have always been the Achilles heel of the Singapore Airlines lounges at Changi. It's incredible to think that prior to COVID, even First Class passengers had to make do with shower rooms located inside the main restroom, without their own attached toilet. In a time where competitors are offering spa cabanas and all kinds of frills, that was simply not good enough.
Thankfully, this has now been rectified. Visitors to the new SilverKris Lounge will have access to 15 shower suites, each with its own toilet.
And not just any toilet- it's a TOTO bidet seat that opens automatically when you're near, mists itself, and says (telepathically at least) "I am here master, give me your blessing".
The new shower rooms are every bit befitting a brand like Singapore Airlines, outfitted in a mix of white and grey marble, with luxuriously large rain shower heads. 
If there's one thing I dislike about the shower suites, it's that SIA has gone cheap on the toiletries. These generic green pump dispensers look flat out of place in the otherwise premium setting. I mean, at least give them a fancy label or something. 
Still, this is a massive upgrade from the former SilverKris Lounge. 
Conclusion
There's no doubt in my mind: this new SilverKris Lounge is every bit an improvement over the previous facility. Gorgeous design, thoughtfully-designed areas for working, resting, eating and lounging, a much-needed upgrade for the showers, and an overall premium look and feel make this a lovely place to unwind. 
The chaotic ordering system for dining still needs work, but that will surely settle down in the weeks to come, as staff get used to the new service routines and procedures in this lounge. 
Well worth coming early to the airport for.
What do you make of the new SilverKris Lounge?