If you're flying with a budget carrier out of Kuala Lumpur, you'll be using KLIA Terminal 2 (formerly known as klia2).
While this terminal has less frills, travellers with a lounge membership will still have access to three lounges, two landside (Sky Suite, Plaza Premium) and one airside (Travel Club Lounge, split over two locations).
I visited all three on my way out, and the Sky Suite Lounge is the hands down winner. 
🛋️ tl;dr: Sky Suite Lounge

The Sky Suite Lounge is a hidden gem in KLIA T2, even if its landside location makes it slightly less convenient.

👍 The Good

👎 The Bad

Very quiet and peaceful compared to the other Priority Pass options at KLIA T2

Good selection of food and drinks

Squeaky clean bathrooms with nice amenities

Complimentary fast-track immigration pass (till 31 Dec 23)

Located before security and immigration, which means you need to leave earlier than you would otherwise plan
🆕 Something Old, Something New
Sky Suite Lounge: Location
The Sky Suite Lounge is located in KLIA Terminal 2, near the J & K domestic departure gates. 
The lounge is located at the end of a long corridor, and you might miss it completely if not for the standee. But this obscurity may also be an advantage, because it keeps the lounge relatively empty. 
Let's deal with the elephant in the room: yes, this lounge is before immigration and security, which means you'll need to leave a bit earlier than usual. But I'd much rather spend time here than at the airside Travel Club Lounge, which is significantly more crowded, with lower quality food & drinks. 
Likewise, the Sky Suite Lounge is better than the other landside option of the Plaza Premium Lounge, which suffers from overcrowding and an inferior location (after checking in, you'll need to retrace your steps back to the gateway@klia2 mall to visit).
If you're worried about running into delays, Priority Pass and LoungeKey members can redeem a free fast-track immigration pass till 31 December 2023.
Sky Suite Lounge: Access and Operating Hours
The Sky Suite Lounge is open 24 hours daily.
Dragon Pass, Priority Pass, and LoungeKey members receive complimentary access, along with selected credit cardholders.
Paid access is also available a MYR 180 (~S$52) for a 3-hour pass. 
Sky Suite Lounge: Overview
The Sky Suite Lounge is a relatively small facility, with room for maybe 40 passengers. Most of the furniture is laid out in a square in the centre, with matching armchairs for couples, and sofas for larger groups. 
Inside a separate seating annex were a few high tables and chairs; I think this is meant to be a sports bar or something, given that this is also where the beer was kept.
Outside the bar were three Ogawa massage chairs, free for anyone who wanted to unwind a bit.
Universal power outlets were scattered throughout the lounge, and the lounge taps KLIA's public Wi-Fi network.
Sky Suite Lounge: Food & Beverage
The Sky Suite Lounge offers a self-serve buffet with a range of hot and cold options. Items were regularly topped up, and again I can't help but draw a comparison between the tranquility here and in the Plaza Premium Lounge, where the crowd descended on the food as soon as it was brought out. 
Cold options included bread, pastries, cut fruit, sandwiches, salads and yoghurt.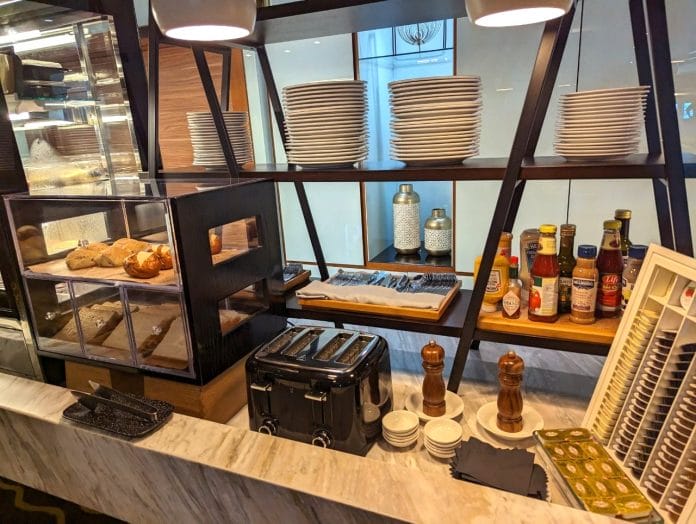 Over in the hot food area were three options: an eggplant dish, a roast chicken dish, and a Thai-style fusilli pasta. They were surprisingly good quality, certainly better than what you'd find over at the other KLIA Terminal 2 lounges. 
Under the heat lamps were junk food options like burgers, French fries and potato puffs. 
Soft drinks and juices were in the fridge. This lounge doesn't serve wine, so the only alcohol is the beer in the bar area. 
Sky Suite Lounge: Toilets
The Sky Suite Lounge has its own male and female toilets, so you don't need to leave the lounge to relieve yourself. 
Disposable toothbrushes and shaving kits are provided, together with Peter Thomas Roth body lotion and Guild + Pepper hand wash. 
Conclusion
I've flown out of KLIA Terminal 2 many times, and can't believe I've only discovered the Sky Suite Lounge now. It's an oasis of calm, certainly much better than the other Priority Pass alternatives.
The only problem is that it's located before security and immigration, but really, I'd aim to spend as much time as possible here and as little time airside as possible.