Over the years I've reviewed every Business Class seat in the Singapore Airlines fleet, most of them multiple times. But then in 2021, a new product was added to the mix.
Well, technically new, anyway. 
In 2021, Singapore Airlines absorbed SilkAir and took over its entire fleet of Boeing 737-800 and Boeing 737-8 MAX aircraft. The MAXs were immediately sent to be refit with spanking new Business Class seats, equipped with all the creature comforts you might expect in this day and age.
The 737-800s? That's another story entirely. 
✈️  tl;dr: Singapore Airlines B737-800 Business Class

Old, tired and uncomfortable, SIA's Business Class recliner seat is good for nostalgia, but bad for pretty much everything else.

👍 The Good
👎 The Bad

Nostalgia factor is off the charts

At least there's in-seat power

Old, tired seats with s

agging lumbar support and leg rests

No direct aisle access for 50% of passengers

No electric seat controls, storage space, seatback IFE, Wi-Fi or other modern conveniences

Priced exactly the same as flights with more comfortable Business Class seats
🆕 Something Old, Something New
The unwanted airplanes
When Singapore Airlines first announced its intention to integrate SilkAir, the original plan was to transfer the carrier's B737-800 aircraft to Scoot. SIA would take over the newer B737-8 MAX aircraft and fit them with new Business Class seats, with the goal of "every Business Class seat a flat bed" by 2020.
But following the fatal crashes of two B737-8 MAX aircraft, transfer plans were halted and SIA ended up inheriting nine B737-800s when SilkAir was merged into its parent company in 2021. Two were quickly withdrawn from service, but the remaining seven had operating leases expiring between September 2024 and January 2026. 
This put SIA in an awkward position. The timeline was too short for a refit, but too long to keep the status quo. From a customer experience perspective, there'd be few things more jarring than stepping off one of SIA's long-haul flights with a full-flat bed, seatback IFE and Wi-Fi, and onto a connecting flight with SIA livery but none of those modern conveniences. 
In the end, the airline bit the bullet and kept the recliner seats, but gave them some new upholstery. It also deployed the B737-800 on its shortest routes (or longer routes with lower yields like Kathmandu), in what I can only assume is an attempt to minimise customer dissatisfaction.
That's why despite their similar-sounding names, the B737-8 MAX and B737-800 offer very different passenger experiences.
❓ Business Class on Boeing 737-800 vs 737-8 MAX
 
 

B737-800

B737-8 MAX

Seats

12

10

Configuration

2-2, 2-2, 2-2

2-2, 1-1, 2-2

Seat Width

21″

19-22″

Seat Pitch

39″

44″

Bed Length

N/A

76″

Recline

8″

Full flat 

IFE Screen

N/A

16″

Power Outlets

1x power outlet




1x USB port

1x power outlet
2x USB ports

Wi-Fi

N/A

Free

Nostalgia Factor

Off the charts

N/A
For a full overview of the Business and Economy Class experience on the B737-8 MAX, refer to the posts below.
Hands on: Singapore Airlines' new B737-8 Business Class seat
It's funny in a way, but the Business Class seats on the B737-800 have the odd distinction of being both the newest and the oldest in the SIA fleet!
❓ Is it really the oldest?
In terms of year of introduction, the B737-800 Business Class is actually not the oldest. It was introduced in 2014, one year after SIA unveiled its 2013 Business Class seat that's found on its long-haul A350-900 and B777-300ER aircraft. 
However, the B737-800 Business Class seat traces its lineage to the turn of the century (see next section), and in that sense the concept is certainly older!
Singapore Airlines B737-800 Business Class
Singapore Airlines has a total of 12 Business Class seats on the B737-800, in a 2-2 configuration. This, unfortunately, rules out direct aisle access for 50% of passengers (and means the remaining 50% will be disturbed whenever their seatmate wishes to use the loo).
It may surprise you to know that this seat actually has a proper name: the B/E Aerospace Millennium, hinting at the era in which it was conceptualised (and if you like it so much, you can buy some surplus seats to decorate your home; do allow 14 days for shipping).
This product was originally designed for the US domestic First Class market, entering service in 1998 with the now-defunct US Airways. The main selling point was its all-mechanical functionality, a lightweight alternative to electric-motor Business Class seats.
Back in the SilkAir days, these seats had dark leather upholstery with contrasting white headrest covers. This has now been replaced with a slightly lighter leather, and matching headrest cover. The orange chequered pillows add a splash of colour, and on the whole it looks like a wider version of SIA's existing Premium Economy seat. Perhaps that's intentional to avoid sullying the image of SIA's Business Class, a subtle reminder that this should be seen as Economy+ rather than Business-.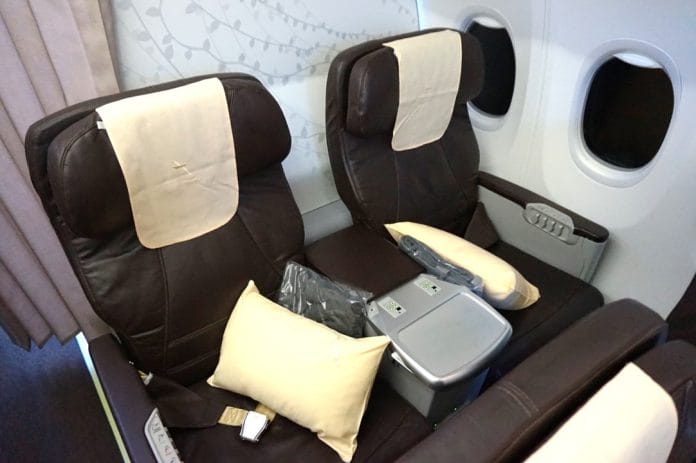 There isn't a whole lot of best seat/worst seat to analyse here: get an aisle seat if you're flying alone, pick the first row if you want a little extra legroom, and hope you get an empty seat next to you. 
It goes without saying that the cabin is not particularly private either. The seats lack privacy partitions, so you'll see your seatmate if you so much as glance sideways.
I sat in the last row of Business Class, and while I was concerned that the recline would be restricted, there's actually a little offset built between the seats and the dividing wall so you're not robbed of any recline. A pillow and plastic-wrapped blanket were waiting at each seat. 
Once seated, you'll have a big slab of grey to stare at, because there's no seatback monitor (cue boomer "everyone's staring at screens way too much these days anyway" criticism). All you'll find is a literature pocket with the duty-free catalogue and safety card.
Also, cast your eyes down to the floor and you'll notice there's a slight obstruction, which prevents you from storing larger carry-ons here. In fact, aside from the literature pocket there's no storage space for this seat, period.
Seat controls are a blast from the past. They're entirely mechanical, which means you'll need a bit of elbow grease to manoeuvre your seat into position. Separate levers control seat recline, lumbar support, leg rest and foot rest extension.
But because these seats are so old, their joints don't function as well as they should. On the aircraft I was flying, the lumbar support was so saggy it didn't take long for lower back pain to set in (solvable with a strategically-placed pillow, fortunately). Likewise, the footrest flopped around when any serious weight was placed on it.
For an even bigger hit of nostalgia, turn your eyes to the centre console, where a pair of volume and channel control buttons reside. There's a one-pin audio jack, perfect for plugging in a flimsy pair of plastic headphones and listening to a riveting low-bitrate recording of early 2000s elevator music (or at least it would be, if the system still functioned).
I didn't expect that seats this old would have power outlets, but was pleasantly surprised to find them located between the seats, together with a USB Type-A port. It takes a bit of fumbling to reach, and the outlet is positioned upside down, but you'll get it working eventually. 
Since there's no seatback screens, the preflight safety demonstration is played on overhead monitors that fold down from the ceiling. These weren't used for the rest of the flight.
So where does that leave inflight entertainment? Well, the B737-800 uses SilkAir's legacy SilkAir Studio wireless streaming setup, with a new UX to reflect the SIA branding. This system streams content to your personal device, or if you're in Business Class, iPads distributed by the cabin crew (these aren't offered on the Kuala Lumpur route).
Beneath the centre console is a fold-out cocktail table that just about fits one glass, albeit precariously. 
The main tray table is stored in the armrest, and can be either partially or fully deployed. When partially open, you can store your drinking glass in a shallow dimple (which probably won't hold up to much turbulence). The tray table isn't very sturdy, however, so enthusiastic typing will be met with a bouncing effect. 
On the whole the seat is pretty much what you'd expect from Business Class in the early 2000s, when airlines held off on innovation for fear of cannibalising First Class demand. I suppose you could say it's a charming relic in that sense, but I imagine you'd feel much less sanguine if you redeemed a large chunk of miles in the expectation of something better.
Food & Beverage
Orange juice, apple juice, water and bellinis were served as pre-departure drinks. The bellini is a new offering introduced in February 2023, and before you ask, it's not being made fresh on board. It appears to be a pre-mix, as the photo below shows. 
And then came something strange and magical: a hot towel.
After a long, COVID-induced suspension, hot towels returned to First and Business Class in September 2023, with Premium Economy and Economy Class due to get theirs in December 2023.
Hot towels come with the airline's signature Batik Flora scent, created for SIA by local artisanal perfume label Scent by SIX. The floral-driven fragrance includes notes from the Aquatic Ginger, Common Dianella, Seashore Purslane, Simpoh Lak, Utania Nervosa and White Kopsia. I don't know what most of those flowers are, but this was my first SIA hot towel since February 2020. Just like that, the world was back to normal again.
While the flight between Singapore and Kuala Lumpur is blocked at around 70 minutes, the actual time in the air is remarkably short. Here's a rundown of how things went:
4.05 p.m: Departure from gate
4.21 p.m: Take-off
4.28 p.m: Seatbelt sign off
4.34 p.m Meal served
4.48 p.m: Start descent
5.07 p.m: Cabin crew landing stations
5.17 p.m: Landing
5.27 p.m: Arrival at gate
That leaves a very narrow window for meal service, and rules out a hot meal (question for someone who knows better: is there any reason they can't heat the meals on the ground and serve them in the air?).
Previously, this meant the Kuala Lumpur route would receive the dreaded "sandwich service", served cold in an unappetising-looking clear plastic wrapper.
Fortunately, it's been recently upgraded to something more presentable: a chicken Caesar salad, or vegetable poke bowl.
They're both still cold, but the presentation is much more in line with what you'd expect in a Business Class cabin (and to those who say "who needs a meal on such a short flight?", consider that passengers on tight connections through Singapore may have no time to dine in the lounge).
Since I fancied something more carb-heavy, I took the vegetable poke bowl over the chicken Caesar. Unfortunately, it tasted terrible. The rice was hard like bullets, the beancurd was mushy, and the little slivers of vegetables added little flavour. It's a visual improvement, but far from a slam dunk.
With regards to beverages, Singapore Airlines does not cater its full compliment of alcohol and wines on the Kuala Lumpur, Medan and Penang routes. This means you're limited to one red and one white, with no champagne served.
| | | |
| --- | --- | --- |
| Wine | Type | Vivino |
| 🇦🇺 Dandelion "Lionheart of the Barossa" Shiraz 2020 | Red | 3.9/5 ★ |
| 🇦🇺 Pewsey Vale Vineyard Riesling 2020 | White | 3.8/5 ★ |
SIA has restored physical menus in Business Class, but this flight is so short that you don't get a copy. You might want to browse the online version at inflightmenu.singaporeair.com before the flight and take a screenshot for your reference (remember, there's no Wi-Fi on the B737-800!).
Lavatory
The B737-800 has three lavatories; two at the back for Economy Class, and one at the front for Business Class. As expected on a narrow body, it's cramped quarters here. If you have serious business to conduct, you might be well-advised to conclude it before take-off or after landing. 
The Business Class lavatory stocks the standard Penhaligon's hand lotion, facial mist and cologne from the Quercus range, along with individual bottles of hand sanitiser. 
Which routes does the B737-800 serve?
Singapore Airlines currently has seven B737-800 aircraft in active service:
At the time of writing, you can find them deployed on the following routes:
Kathmandu
Kuala Lumpur
Penang
Phuket
With the exception of Kathmandu, these routes are all less than two hours long, where the shortcomings of these dated seats will hopefully be less apparent. 
Moreover, these routes will often have at least one non-B737-800 alternative, so choose your flight carefully and you'll be in for a better experience. To see which aircraft is rostered for a particular flight, click on the "More details" button.
The B737-800 is denoted by "B737-800 NG" on the schedule (the NG, somewhat ironically, standing for "Next Generation"). 
Remember: there's no discount in terms of miles or cash for flying on a B737-800!
Conclusion
Let's be clear: if it wasn't for the sake of a review, there's no way I'd have redeemed my miles for Business Class on the B737-800 (much less paid cash!).
This seat is a relic, an oddity that SIA would not have on its books but for a series of unfortunate events. In fact, it has more in common with Scoot Plus, at least where the hard product is concerned. There's no flat bed, no storage space, no privacy, no seatback IFE, no Wi-Fi, no nothing. And while you may not need all that on a flight to Kuala Lumpur, spare a thought for the folks flying to Kathmandu, or anyone who's paid SIA's elevated prices expecting the kind of experience they've seen in the advertisements!
If it's any consolation, this seat is living on borrowed time. As the months go by, your odds of encountering it in the wild will keep decreasing. And when the final B737-800 lease expires in January 2026, we can close the chapter on this odd period in SIA's history, and at last relish the dream of every seat a flat bed.