The Idea
AMEX-issued AMEX cards are not ideal for earning miles- the highest base earning rate is 0.83 miles per S$1, well below the 1.2-1.6 standard given by local banks
Premium AMEX cards come with hefty annual fees which cannot be waived easily after the 1st year
Premium AMEX cards also do not have compelling benefits like lounge access, private club access or complimentary hotel loyalty memberships (only provided by the invite-only Platinum/Centurion cards)
The only worth-it card is the Krisflyer Ascend card (which you should never spend more than S$1 on)
---
The Details
I have no big love for AMEX cards in Singapore, at least those issued by AMEX themselves. They're expensive, they don't waive annual fees, their earning rate is terrible and the perks on their premium cards aren't anything to get excited about.
But I still owe it to you to explain why AMEX cards are a colossal waste of plastic, so here goes
Let's run down the AMEX product offering in Singapore. I'm only going to talk about the cards which can be applied for by the everyman- ie not the Krisflyer PPS Amex cards nor the invitation-only Platinum Card (although it should be noted the earn rates on these cards are terrible too)
The table below summarises 5 different AMEX cards available in the market
| | | | | | |
| --- | --- | --- | --- | --- | --- |
| | AMEX Rewards | AMEX KF Gold | AMEX KF Ascend | AMEX Platinum Credit Card | AMEX Platinum Reserve |
| Earn Rate (S$1) | 0.56 | 0.63 | 0.83 | 0.69 | 0.69 |
| Min Income | S$30,000 | S$30,000 | S$50,000 | S$50,000 | S$150,000 |
| Annual Fee | S$53.50 (1 year waiver option) | S$117.70 (1 year waiver) | S$256.80 (1 year waiver option) | S$321 (1 year waiver option) | S$535 |
| FAR Card | No | No | No | Classic | Classic |
| Sign up Bonuses | 13,333 miles with S$1.5K spend in first 6 months | 5,000 miles with first spend5,000 miles with S$5K spend in 6 months50% bonus miles with S$5K spend in 1 year, additional 50% with S$12K capped at 8,000 mile bonus | 5,000 miles with first spend15,000 miles with S$5K in 3 months OR 35,000 miles with S$10K in 3 months(requires full payment of annual fee) | None | 27,778 miles with S$5K spend in first 6 months |
| Spending Bonuses | S$1=0.84 miles at 5 favourite placesS$1=0.84 miles if annual spend >S$5K | S$1=1.25 miles on SQ spend | S$1=1.67 miles on SQ spend | S$1=3.47 miles at selected EXTRA merchants (~90, mostly luxury stores) | S$1=3.47 miles at selected EXTRA merchants (~90, mostly luxury stores) |
Remember that I don't hate all AMEX cards- the Krisflyer Ascend Card is ridiculously good value (though probably not for reasons AMEX intended)
But otherwise,  earning rates are hopelessly complicated, especially for the Krisflyer cards. Even with all the fancy bonuses applied, you'd still be better off with getting 1.6 miles per S$1 (soon to be 1.4) with UOB PRVI Miles. Heck, they can't even be generous with SQ-related spend. Citibank PremierMiles AMEX gives 2 miles per S$1 spent at SQ, whereas these guys are at best 1.67.
Below are my other gripes
Dismal Miles Earning Rate
Membership Rewards (MR) points can be redeemed at a rate of 9 MR to 5 miles with Krisflyer, AsiaMiles, Avios, DynastyFlyer, Enrich and Royal Orchid Plus.
In other words, 1 MR gets you 5/9th of a mile. We know that S$1.60 spending with the AMEX Platinum Card gets 2 MR, so S$1 generates 1.25 MR or 0.7 miles.
Yes, AMEX has what they call EXTRA partners where you earn 10 MR per S$1.60. But this list is extremely limited and features luxury brands that you're unlikely to make regular spend on. In fact, of the ~90 EXTRA partners, only the following seem remotely useful
Harvey Norman
Reebonz
EpiLife
So at best, you're earning 3.5 miles per S$1 here. That's a lot, but considering how little you will spend at such outlets, this is hardly useful. Several high end restaurants feature on the EXTRA partners list- all of which you'd get 4 miles per S$1 if you used a UOB Preferred Platinum Card
Note that my criticism extends to miles earning. I've not studied the AMEX Membership Rewards catalogue closely, and they may have some options which make the cards more worthwhile. They'd better, because their base earning rates are less than half what the best miles earning cards in Singapore get you.
Hefty Annual Fees with No Waiver
First year fee waivers are possible for all the cards except the Platinum Reserve (however, not paying the annual fee prevents you from taking advantage of some of the key earning bonuses AMEX emphasises in their marketing + you can't get the fee waived if you already own an AMEX-issued AMEX)
Subsequently, however, AMEX does not grant waivers, particularly for its flagship series of Platinum cards- the Platinum Credit Card has a S$321 annual fee (vs S$256.80 for the UOB PRVI Miles AMEX). The Platinum Reserve hits a lofty S$535. Reports online and personal experience tell me that AMEX does not offer fee waivers for its cards, especially the Platinum series
Perhaps this is because they believe the additional benefits the Platinum series brings are worth the annual fee in themselves. But…
Limited Additional Benefits
At the Platinum Card roadshows marketers like to play up the supposed perks of the Platinum series, one of which is the FAR card (formerly known as the Feed-at-Raffles card).
The Platinum Credit Card and Platinum Reserve Card come with the Classic Tier of FAR, which would you back S$425 if you bought it elsewhere. FAR gives a scaling type benefit at restaurants at Fairmont, Swissotel The Stamford and Swissotel Merchant Court
| | |
| --- | --- |
| Number of diners | Usual member reductions |
| Member plus 1 guest (2 adults) | 50% |
| Member plus 2 guests (3 adults) | 33% |
| Member plus 3 guests (4 adults) | 25% |
| Member plus 4-9 guests (5-10 adults) | 20% |
| Member dining alone | 10% |
50% off is great, sure, but that's only if you bring along a sucker friend (unless you're willing to dine on Monday, the most perfect day for a long leisurely meal, in which case you can get 50% off for up to 5 people. Public holidays not included)
You also get some spa and accommodation discounts off ridiculously marked-up prices. Oh, and 10% off at Raffles City Dry Cleaners. No, really.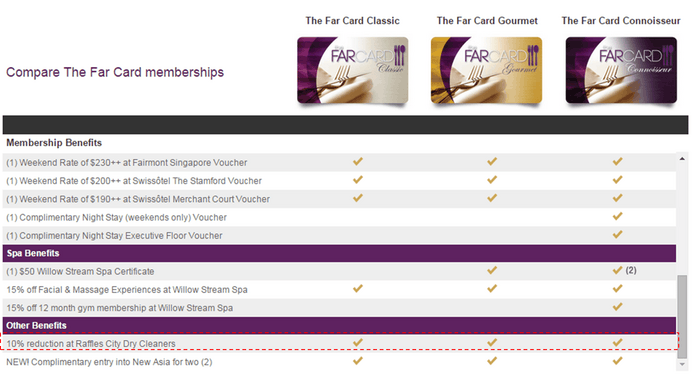 But hey! 12% off at Zuji!
"The hotel savings is not eligible for hotel reservations at properties belonging to the following chains: (a) Accor Hotels (Accor Hotels, Pullman Hotels and Resorts, Sofitel, Ibis, Mercure, Grand Mercure, All Seasons, Novotel, Mgallery, hotelF1, Formule, Sea Temple, Quay West, The Sebel and Citigate), (b) Hilton Hotels Corporation (Conrad Hotels and Resorts, Hampton Inn, Hilton Garden Inn, Hilton International, Double Tree by Hilton, Embassy Suites, Homewood Suites by Hilton and Waldorf Astoria Hotels and Resorts), (c) Intercontinental (ANA Hotels, Crowne Plaza Hotels, Holiday Inn, Hotel Indigo, Intercontinental Hotels, Special Properties, Staybridge Suites and Candlewood Suites), (d) Marriott International (Bulgari Hotels & Resorts, Courtyard by Marriott, Marriott Hotels, JW Marriott, EDITION, Marriott Vacation Club, Renaissance Hotels, The Ritz-Carlton, Fairfield Inn & Suites by Marriott, SpringHill Suites by Marriott, Residence Inn by Marriott and TownePlace Suites by Marriott, (e) Starwood Hotels & Resorts Worldwide (aloft Hotels, Le Meridien, Luxury Collection, Sheraton Hotels, The St. Regis, W Hotels, Westin Hotels and Resorts and Element Hotels), (f) Shangri-La Hotels and Resorts (Shangri-La Hotels, Shangri-La Resorts, Traders Hotels and Kerry Hotels), (g) Marina Bay Sands, (h) Venetian Macau Resort, (i) Sands Macao Hotel (j) Banyan Tree Macau (k) MGM Macau (l) Chatrium Hotel & Residence, (m) Hansar Group, (n) Carlson (Country Inn & Suites, Park Inn, Park Plaza, Raddison), (o) Fairmont (Fairmont Hotels, Raffles, Swissotel), (p) Hyatt (Andaz, Grand Hyatt, Hyatt, Hyatt House, Hyatt Place, Hyatt Regency, Park Hyatt), (q) Langham Hospitality (Eaton Hotel, Langham Hotels & Resorts, Langham Place) and (r) Melia Hotels International (Gran Melia, Innside, Me by Melia, Melia Hotels & Resorts, Paradisus Resorts, Sol Hotels)"
Oh.
I keep trying to find some redemptive value in these cards. They don't come with lounge access (well, the 4 vouchers from the AMEX Ascend aside), they don't have private club access (you'd think that for S$535 the Platinum Reserve would at least throw that in), they don't have overseas spending bonuses.
AMEX roadshows sort of remind me of that time I was at the IT Show and this salesgirl was trying real hard to push a laptop on me. I asked why it only had 1 year limited warranty when all the other models had 2 years. She said, and I quote "Oh sir, the manufacturer is so confident about the quality of this laptop they believe that you only need 1 year's warranty"
Remember to read about what cards you should be getting for your general purpose and specialised spending!